Hydrocephalus is a disease resulting from increased spinal fluid in the brain. It can lead to abnormal enlargement of spaces in the brain (ventricles) and other serious complications. 
Though it can happen to anyone at any age, newborns and small children are the most frequently affected. If you're wondering what causes hydrocephalus, there are many potential causes, such as hereditary conditions, head trauma, infections, and tumours.
Seizures, eye issues, and cognitive impairment are just a few of the severe complications resulting from hydrocephalus. Hydrocephalus may, in rare circumstances, prove lethal.
Although hydrocephalus is treatable, it's essential to be aware of the symptoms so you can get assistance if necessary. A shunt or drain is frequently inserted into the brain as hydrocephalus treatment to release pressure. To restore the harm caused by hydrocephalus, individuals with fluid in the brain may also require surgery. Many persons with hydrocephalus symptoms can live everyday, healthy lives if they receive the proper care.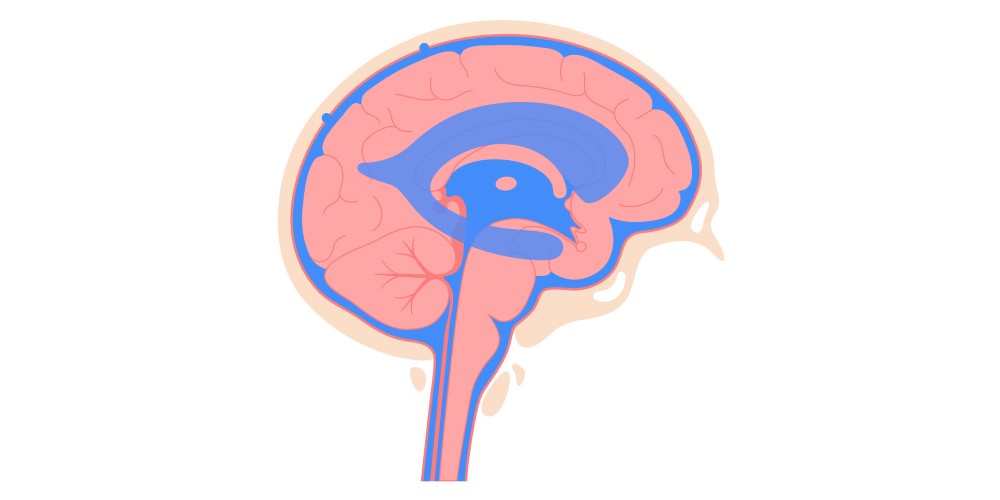 Types of Hydrocephalus
There are three primary forms of the pathology:
Open when all the ventricles are dilated, but there are no obstacles to the flow of the fluid;

Occlusive when there is an obstacle in the course of the flow of the cerebrospinal fluid, and the paths are blocked;


Resorptive when there is insufficient suction in the subarachnoid space.
Depending on where the fluid is localized in the brain, there are:
Internal hydrocephalus, i.e., excess fluid in the ventricles

External, when the fluid accumulates in the subarachnoid space.
In open-type hydrocephalus in adults and children, the ventricles stretch and put pressure on the brain's substance, which causes thinning and degeneration of nerve tissue. When there are obstructions in the way of the cerebrospinal fluid, pressure is exerted on different parts of the brain. Tumors, trauma, and inflammation cause obstructions. With some forms of stroke, the brain's substance is dissolved, and its place is taken by fluid. Approximately the same processes occur in old age.
The causes of the disease are congenital abnormalities in the brain due to features of fetal development and acquired resulting from trauma and disorders.
Depending on the nature of the course, hydrocephalus is of two types:
Stable: the pressure of the spinal fluid is slightly elevated, but it is not increasing;
Progressive: treatment measures do not lead to stabilization of the volume of the spinal fluid, and atrophy of the cerebral substance is possible.
The risk of cerebral hydrocephalus persists at any age, both in adult patients and children. 
What are the Main Hydrocephalus Symptoms?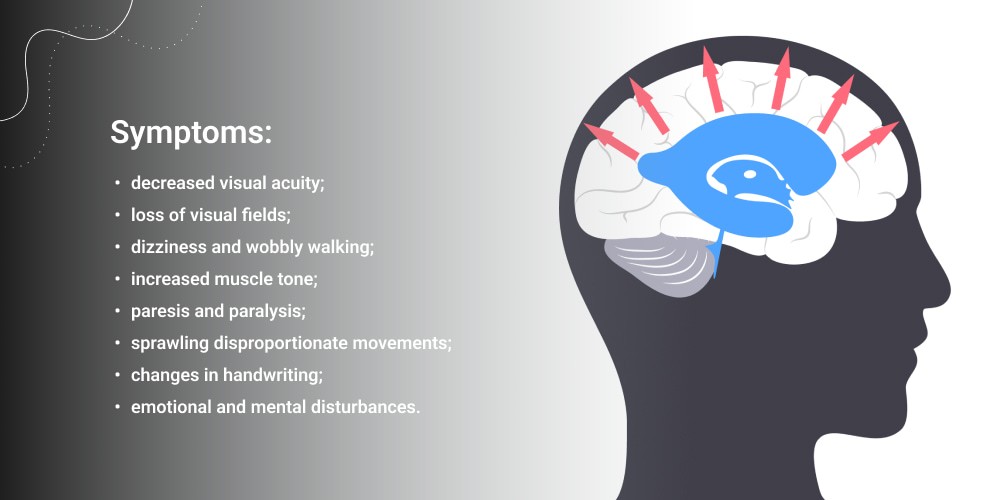 The manifestations of the disease differ in children and adults. Symptoms of hydrocephalus depend on the degree of pathology, the patient's age, and the disease's form and extent.
In young patients, the disease is severe, almost always leading to developmental delays. Since the skull bones are not fused, a child with hydrocephalus has a huge head, and swollen veins can be seen on it. The great fontanelle is tense but does not pulsate. In severe forms, the sutures of the skull separate. Appearance is characterized by thin skin on the head, protruding ears, difficulty looking upwards (the "setting sun" symptom), and deep-set eyes. Children are developmentally delayed, turn and sit up later than their peers, and have little interest in their surroundings.
If the pathology is eliminated in the first year of life, the child's normal mental and physical development is possible.
In adolescents, hydrocephalus may be complicated by infectious diseases, convulsions, loss of consciousness, and bradycardia.
The primary manifestation of hydrocephalus in adults is a persistent and excruciating headache and a lack of response to pain medications. A feeling of pressure on the eyes, pain when moving the eyes, nausea, and vomiting are characteristic.
Additional neurological symptoms of cerebral hydrocephalus in older children and adults may include:
decreased visual acuity;

loss of visual fields;

dizziness and wobbly walking;

increased muscle tone;

paresis and paralysis;

sprawling disproportionate movements;

changes in handwriting;

emotional and mental disturbances.
In some patients, there is an abrupt transition from indifference to euphoria, elation to apathy, etc. Sometimes, a person who has not previously exhibited anger begins to behave aggressively.
What Causes Hydrocephalus?
You already know what hydrocephalus is, but now let's find out what the causes of this disease are. There are three leading causes of the pathology:
excessive production of spinal fluid;

disorder of circulation;

impaired absorption.
All these disorders arise from a variety of causes, among them:
tumors;

infections;

head injuries;

bleeding in the brain;

chronic subarachnoid hemorrhage;

meningitis.
In babies, congenital hydrocephalus can also be caused by infections the mother has had during fetal development. Examples are HIV, syphilis, toxoplasmosis, and rubella.
How is the Treatment for Hydrocephalus?
The therapy's primary goal is to reduce brain pressure and normalize cerebrospinal fluid circulation. The treatment method depends on the patient's age, the type of hydrocephalus, and its severity.
In young patients with congenital hydrocephalus, neurosurgeons usually place a shunt. This medical device helps drain the cerebrospinal fluid from the brain and redirect it to another area of the body where it can be absorbed.
If hydrocephalus develops in adults, an endoscopic ventriculostomy is most commonly performed. During this procedure, a small hole is made in the bottom of the third ventricle. A tube is inserted into this hole, which allows cerebrospinal fluid to flow out of the ventricle.
In some cases, doctors resort to stereotactic surgery when the circulation of cerebrospinal fluid cannot be normalized by shunt or endoscopic ventriculostomy. It is a high-precision type of neurosurgery that uses computer mapping to guide the surgeon's instruments to specific areas deep inside the brain.
After these procedures, you will need lifelong follow-up by a team of specialists. They will monitor your health and cerebrospinal fluid circulation and adjust treatment as needed.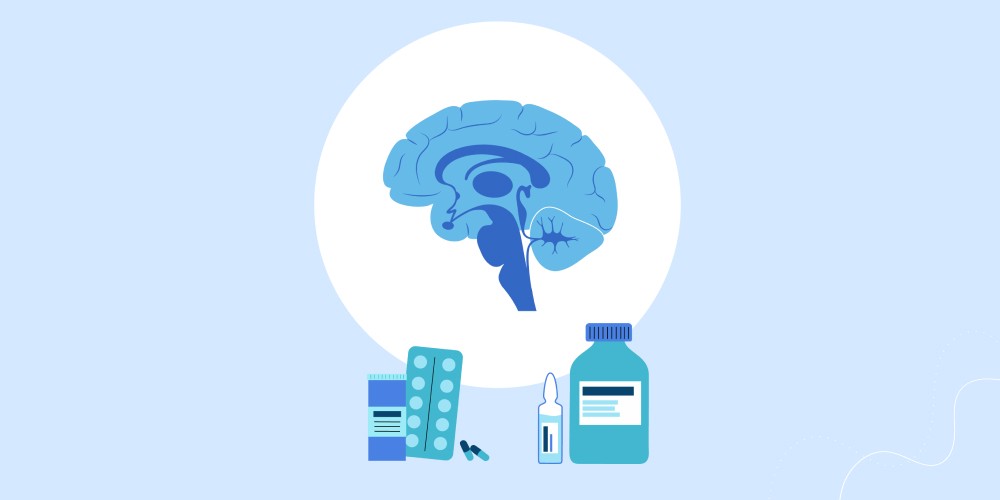 Lone Star Neurology Can Help You
At LoneStarNeurology, hydrocephalus is treated by board-certified neurologists who specialize in cerebrovascular disease and endovascular neurosurgery. We will work with you to develop an individualized treatment plan to meet your specific needs.
If you or a loved one suffers from hydrocephalus, don't wait any longer to seek help. Find the clinic closest to you and hurry to make an appointment. Contact us today to schedule an appointment.
FAQ
What is the leading cause of hydrocephalus?
The three leading causes of hydrocephalus are excessive spinal fluid production, a circulation disorder, and impaired absorption. All these disorders arise from various causes: malformations of the nervous system; intrauterine infections; inflammations of the brain matter and membranes; craniocerebral traumas; brain hemorrhages; cysts; tumors. In babies, congenital hydrocephalus can also be caused by infections the mother has had during fetal development. Examples are HIV, syphilis, toxoplasmosis, and rubella.
How long can you live with hydrocephalus?
The length and quality of life for people with hydrocephalus vary greatly. Most children born with hydrocephalus who receive treatment will have an average lifespan. However, if left untreated, hydrocephalus can be fatal.
How severe is hydrocephalus in adults?
Hydrocephalus is a severe condition that can cause death if left untreated. In adults, hydrocephalus is most often caused by head injuries, stroke, or meningitis. Treatment for hydrocephalus typically involves placing a shunt in the brain to drain excess cerebrospinal fluid.
How is hydrocephalus detected?
Hydrocephalus is typically detected through medical history, physical examination, and neuroimaging studies. The most common neuroimaging study used to diagnose hydrocephalus is an MRI.