The human is a very complex organism, the correct functioning of which depends on many factors. And even a small failure in our body can lead to catastrophic consequences. So, one of the serious failures of our bodies is hydrocephalus.
It is a condition in which cerebrospinal fluid (CSF) accumulates abnormally in the brain. The excess fluid can put pressure on the brain, leading to several possible symptoms. If you or a loved one have been diagnosed with it, it's essential to understand what you can do to manage the condition. 
This article will outline some of the basics of this disease, including causes, signs, and treatment options. Stay with us for future articles that will go into more detail about specific aspects of conditions.
What Are the
Hydrocephalus Types
?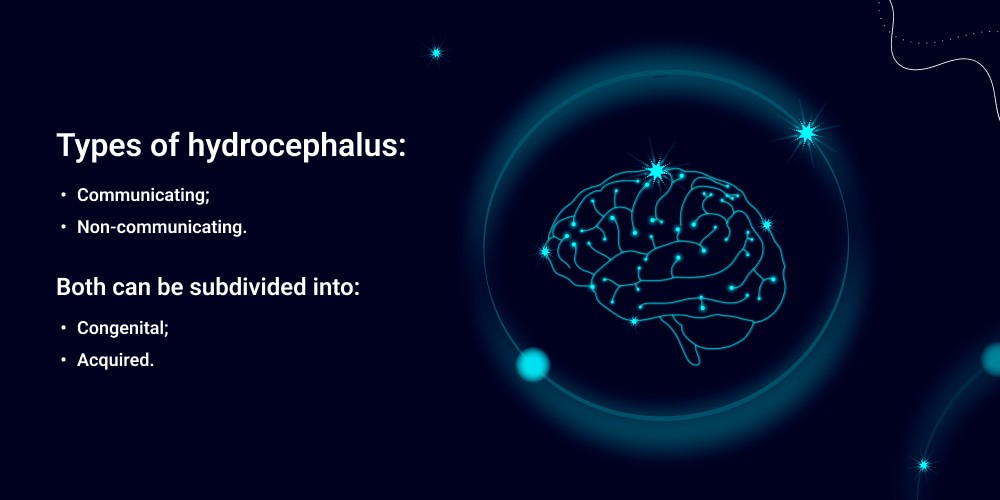 It can be divided into the following types:
Communicating.

Non-communicating.
Both can be subdivided into:
They differ only in that the first type is obtained at birth, while the second type of disease can be obtained throughout life.
Communicating hydrocephalus can also be subdivided into:
Normal pressure (NPH). 

Ex vacuo. 
Each type of disease has its characteristics, symptoms, signs, and causes, and it may also differ in treatment approaches. Not to be mistaken about what kind of disease you have, you definitely need to see a doctor for the correct diagnosis.
What Is Non-Communicating Hydrocephalus? 
This type of disease is characterized by the fact that the fluid is blocked in one of the passages between the ventricles, which blocks the movement of fluid at all. This disease is very serious and can lead to death if left untreated. In this case, surgical intervention is used.
The symptoms are as follows:
Young children may develop a soft spot on their head. Developmental delays or excessive sleepiness and nausea may also occur.

Older children often develop nausea, constant desire to sleep, poor eyesight, balance problems, and personality changes.
Signs include:
Head circumference expansion.

Increased intracranial pressure (ICP).

Optic disc edema (a condition that causes swelling of the optic nerve, which can lead to vision problems).
What Is Communicating Hydrocephalus? 
In this type of disease, fluid can still move between the ventricles because it is blocked after exiting the ventricles. Symptoms may include:
Nausea.

Bad appetite.

Anger.

Insomnia.

Lack of strength.

Poor eyesight.
In addition, there are also other signs by which the disease can be determined:
Wrong head shape.

Balance problems.

Incorrect movement of the eyeballs.

Problems with urination.
Normal Pressure Hydrocephalus
Like other types, this one affects the human brain. Under normal conditions, cerebrospinal fluid moves through the ventricles and enters the bloodstream. But during the disease, the fluid does not move but accumulates in the ventricles. As a consequence, this leads to excessive pressure and problems with the brain. Symptoms include:
Balance problems.

Incontinence.

Problems with cognitive abilities.
The cause of this type of disease is difficult to detect, but the problem often occurs in older people. But the problem appears due to changes in the structure of the brain, pressure of the cerebrospinal fluid, or a combination of both. Sometimes, it can be caused by a head injury or another type of injury.
Hydrocephalus Ex-Vacuo
We can say that this condition is more like hydrocephalus, but it is not exactly as it occurs as a result of a head injury. The most common symptom of this type of disease is dementia. Other symptoms may include: 
Difficulty walking.

Loss of bladder or bowel control.

Personality changes.

Depression.

Double vision. 

Headaches.

Difficulty speaking. 
Ex vacuo hydrocephalus is often caused by another underlying condition, such as Alzheimer's disease or a stroke. When these conditions cause damage to the brain tissue, it can lead to a decrease in CSF production. In addition, in this condition, the patient has a problem with ventricular enlargement, not with fluid outflow.
Acquired Hydrocephalus
This is much less common than birth type, occurring in only about 1% of all cases. It occurs when there is an obstruction in the flow of cerebrospinal fluid (CSF) that leads to a build-up in the ventricles. 
Signs may include: 
Headaches.

Vomiting.

Blurred vision.

Problems with balance and coordination.

Dementia.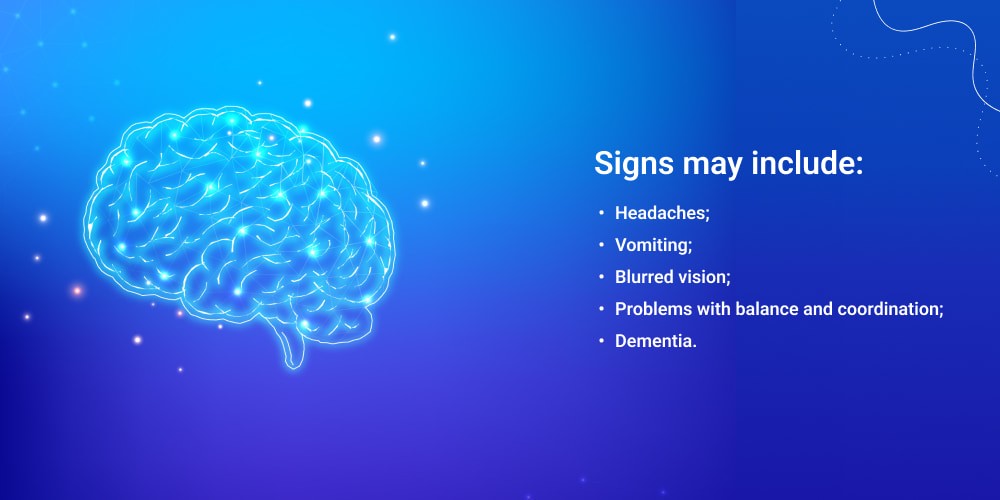 There are several possible causes of acquired hydrocephalus, including:
Head injury.

Infection.

Tumors.

Inflammatory diseases.

Normal pressure hydrocephalus (NPH).
Acquired hydrocephalus can also be caused by certain medications or procedures, such as:
Ventriculoperitoneal shunt placement.

Ventriculoatrial shunt placement.

External ventricular drainage.
Congenital Hydrocephalus
This type is considered one of the most stressful and dangerous, as it can occur in infants who, due to their age and development, cannot describe their feelings and will not be able to talk about the problem. That is why the professionalism of doctors is of key importance in this situation.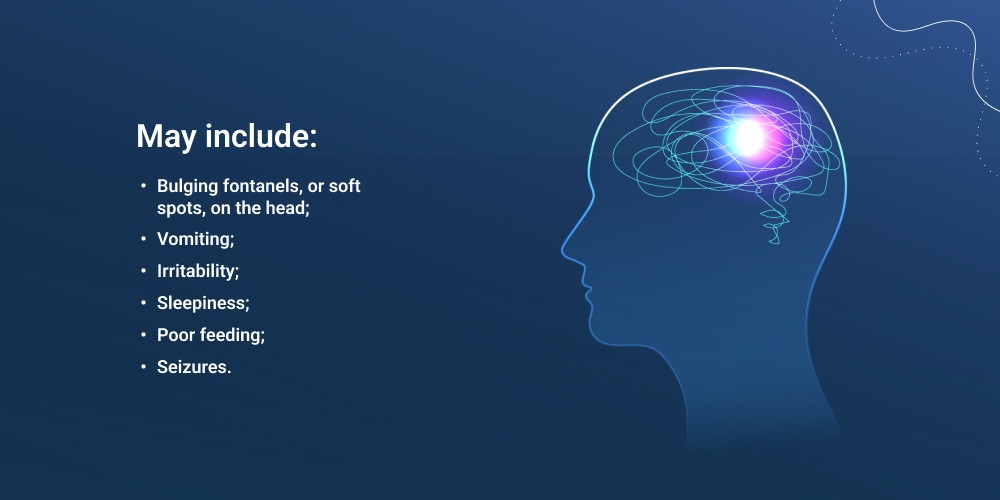 The most common symptom of congenital hydrocephalus is an unusually large head circumference at birth.  Other may include: 
Bulging fontanels, or soft spots, on the head.

Vomiting.

Irritability.

Sleepiness.

Poor feeding.
If left untreated, the disease can lead to intellectual disability, developmental delays, paralysis, and death.
It can be caused by a number of factors, including infection during pregnancy, genetic abnormalities, and problems with brain development in utero. This condition can also be caused by intraventricular haemorrhage, or bleeding in the brain in newborns. 
How Is Hydrocephalus Diagnosed?
It is usually diagnosed based on symptoms, medical history, and imaging studies. A physical exam may reveal an increase in head circumference, abnormal eye movements (called "sunsetting"), or abnormal reflexes. Neuroimaging studies such as computed tomography (CT) or magnetic resonance imaging (MRI) can be used to confirm the diagnosis of it.
Prevention
Although this disease cannot be completely prevented, there are some things you can do to reduce your risk of getting this disease in the future:
Ensure your regular and mandatory vaccinations are up to date. Also, conduct proper treatment and prevention of infections that are susceptible.

Take care that your head can't get injured. Wear a helmet while cycling, riding a motorcycle, or doing other activities when your head may get hurt. Also, do not forget about the seat belt in the car, and get a child seat if you have a child.

Consult a neurologist regarding meningitis vaccinations.
How Is Hydrocephalus Treated?
Therapy will depend on the cause of the disease.
With the help of surgery, communicating hydrocephalus can be treated. During the procedure, the surgeon will remove blockages and ensure a normalized outflow of cerebrospinal fluid.
Non-communicating hydrocephalus is treated with a shunt. Thus, with this method, the fluid that remains in the ventricles will be diverted to another area of the human body where it can be absorbed.
You can also contact our clinic for assistance in receiving high-quality, timely, and effective treatment and therapy. Fill out the form on our website, call us, or use the contact button. After contacting the clinic, our manager will contact you and provide you with all the information you need to improve your condition.
Bottom Line 
As you can see, this disease has many varieties and can greatly harm the human body. That is why it is so important to study such diseases and pay attention to the slightest changes in your body.
FAQ
What happens after the shunt surgery?
The actual surgery to implant a shunt usually takes an hour in the operating room. Following that, you will be closely monitored for 24 hours. In most cases, you will be in the hospital for two to four days.
How do you classify hydrocephalus?
Classification of hydrocephalus:
Communicating hydrocephalus.

Non-communicating hydrocephalus.

Congenital hydrocephalus.

Acquired hydrocephalus.

Normal-pressure hydrocephalus.

Hydrocephalus ex vacuo.
What are the complications of hydrocephalus?
They are:
Tenderness and redness along the shunt line.

A hot temperature.

Headache/vomiting.

Stiffness in the neck.

If the shunt drains into your stomach, you may experience stomach pain.

Baby irritability or sleepiness.
How long is recovery from hydrocephalus?
Returning to work or school within a week is not uncommon, but this depends on whether your job is passive or active. Heavy lifting, strenuous exercise, and contact sports should be avoided for 4-6 weeks after hydrocephalus surgery.