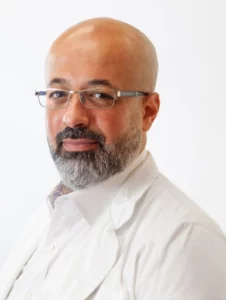 Hakam Asaad MD
Hakam Asaad, MD.  completed his medical school in Jordan, then he did 2 years of internal medicine residence at the University of Missouri at Kansas City.  He then completed his Neurology residency as well as Clinical Neurophysiology fellowship at UT Southwestern Medical Center at Dallas.
He is board certified in Neurology, Clinical Neurophysiology, Vascular Neurology and Sleep Medicine.  He has been in private practice in Nebraska for 13 years, before moving back to Dallas. Besides treating general neurology patients, he has special interests in migraine, Parkinson's, epilepsy, sleep disorders, stroke and neuromuscular diseases.
In his free time, he plays violin, squash, basketball, kickboxing, cycling and CrossFit.
Dr. Asaad treats patients in our Dallas and Frisco locations.
Board Certifications
American Board of Psychiatry and Neurology
Sleep Medicine (Psychiatry and Neurology)
Clinical Neurophysiology (Psychiatry and Neurology)
Neurology (Psychiatry and Neurology)
Education and Training
Medical School – Jordan University of Science and Technology Faculty of Medicine, Bachelor of Medicine, Bachelor of Surgery
Our Offices Where the Provider Works