In sports, where triumphs and defeats collide in thrilling contests, a silent adversary often lurks beneath the surface: сranial trauma. Athletes of all ages and backgrounds constantly risk traumatic brain injury (TBI). We will be your compass in the complex topic of traumatic brain injuries in sports.
Such injuries are prevalent in the field of sports. This industry has an increased risk of receiving any physical injuries, including craniocerebral injuries. Often, after such an injury, athletes recover for a long time. So, we will find out how to effectively treat such damage and how to prevent it.
We will embark on a journey that highlights the staggering statistics and potential consequences and the latest advances in prevention, diagnosis, and treatment strategies. We will explore how technology, education, and advocacy shape a safer future for athletes worldwide.
Develop a culture of awareness, safety, and sustainability in the world of sport with us. Together, we can champion the cause of protecting the minds behind the games we love.
Why are Brain Injuries in Sports so Common?
Traumatic cerebrum injuries during sports are pretty common due to several interrelated factors:
The physical nature of sport. Many sports involve physical contact, collisions, and high-speed movements. This increases the risk of head injuries. Sports such as American football, rugby, boxing, and hockey are mainly known for their physicality.
Competition. The competitive nature of sports often forces athletes to take risks and push their limits. This can lead to more frequent accidents and injuries, including head injuries.
Insufficient education.

Athletes, coaches, and parents may sometimes need to be adequately informed about the risks of head injuries. It is also essential to recognize and respond to them. Ignorance can lead to underreporting of injuries and inadequate care.

Insufficient protective equipment. Many sports provide protective equipment. But it may not always be enough to prevent head injuries. Helmets, for example, can reduce the risk of serious head injury. But they cannot wholly exclude him.
Application of rules.

The application of rules and penalties for dangerous plays or hits may vary from one sport to another. Inconsistent law enforcement can contribute to developing a culture of aggression.

Youth sports. Traumatic

brain injuries in sports

are not limited to professional athletes. They are also found in youth sports. Young athletes may be less experienced and more prone to accidents.

A culture of endurance.

In some sporting cultures, perseverance and the feeling of pain are emphasized. This can prevent athletes from reporting head injuries or seeking immediate medical attention.
So, the prevalence of such injuries in sports is understandable. We should know which head injuries occur in players and how to prevent them.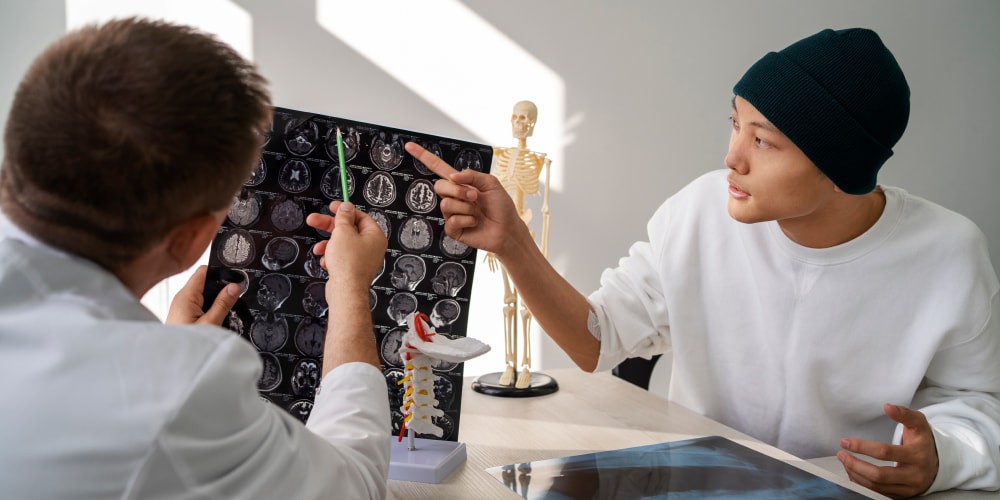 Types of Sports Head Injuries
Head injuries are a severe concern in various sports. These injuries can have serious consequences, both short-term and long-term. This dramatically affects the health and performance of the athlete.
Common types of sports head injuries include traumatic brain injury (TBI). Concussions are also prevalent and can cause a variety of symptoms. This makes their rapid diagnosis and treatment crucial. Additionally, more severe head injuries, such as skull fractures and hematomas, can result from a high-impact collision and require immediate medical attention. Facial fractures are also often associated with sports incidents. They can have significant consequences for an athlete's facial function and appearance.
Understanding these types of sports head injuries is essential for athletes and coaches. This will help them take preventive measures and provide appropriate care. So, let's take a closer look at these injuries.
Traumatic Brain Injury
Traumatic brain injury (TBI) is a severe injury to the brain. It can occur during sports due to a sudden blow, push, or blow to the head. TBI can range from mild to severe. This can lead to a wide range of symptoms. This includes loss of consciousness, memory problems, changes in mood or behavior.
Concussion
Concussions are one of the most common types of head injuries in sports. They are considered mild brain injuries in sports. Trauma occurs due to a sudden and decisive blow to the head. This causes the brain to move inside the skull. Symptoms may include headache, dizziness, confusion, memory problems, and sensitivity to light. Athletes with a concussion must receive timely medical care.
Skull Fracture
A skull fracture occurs when there is a break or cracks in the bone of the skull. A significant blow to the head usually causes this type of injury and can be severe. Symptoms may include swelling, bruising, pain at the site of the damage, and bleeding. Immediate medical attention is crucial for skull fractures.
Hematoma
A hematoma is a collection of blood outside the blood vessels. Hematoma of the head can often occur in sports. This happens when blood accumulates in the brain tissue or between the brain and the skull. Depending on the location and size of the hematoma, it can be life-threatening and require surgical intervention.
Facial Fractures
Facial fractures are not a direct head injury. They are often found in contact sports. Such injuries can occur as a result of blows to the face. These fractures may involve the bones of the nose, cheekbones, jaws, or eye sockets. Symptoms may include pain, swelling, deformity, and difficulty moving the affected facial features. A quick examination by a medical professional is essential to assess the extent of the injury.
Athletes, coaches, and sports organizations need to rank safety and take steps to prevent head injuries during sports.
Football Brain Injuries
There are several head injuries and neurological problems that athletes in this sport can experience. This happens due to frequent and robust collisions during games and training.
One of the main problems is chronic traumatic encephalopathy (CTE). It is a degenerative brain condition associated with repeated head trauma. Trauma can lead to cognitive, behavioral, and emotional changes. They often do not become apparent until years after the injury. This has dramatically increased awareness of the long-term effects of playing football.
In addition, sport related concussions are common in football. These minor head injuries can occur due to grabs, collisions, or blows to the head. Proper diagnosis and adherence to return-to-play protocols are critical to player safety.
Football organizations have implemented various measures to reduce the risk of cerebrum injuries. These include improved helmet technology, rule changes, and educational programs. However, understanding brain injuries in football remains essential to player safety.
Boxing Brain Damage
Boxing is a combat sport that involves deliberate punches. It poses a brain hazard due to repeated blows to the head and face.
Boxing-related brain damage primarily manifests as chronic traumatic brain injury (CTB). It includes conditions such as chronic traumatic encephalopathy (CTE). CTE is a neurodegenerative disease associated with repeated head trauma. Several cognitive, emotional, and behavioral symptoms characterize it. It has attracted considerable attention in recent years due to its connection to several high-profile cases in boxing.
Boxers are susceptible to acute cerebrum injuries such as sport-related concussions. They can be the result of solid blows to the head. These injuries can have immediate consequences and require medical attention and recovery time.
Efforts to mitigate boxing brain damage include improved safety measures. Among them are better protective headgear, rule changes, and increased medical supervision. However, understanding the risks associated with boxing's brain damage is vital.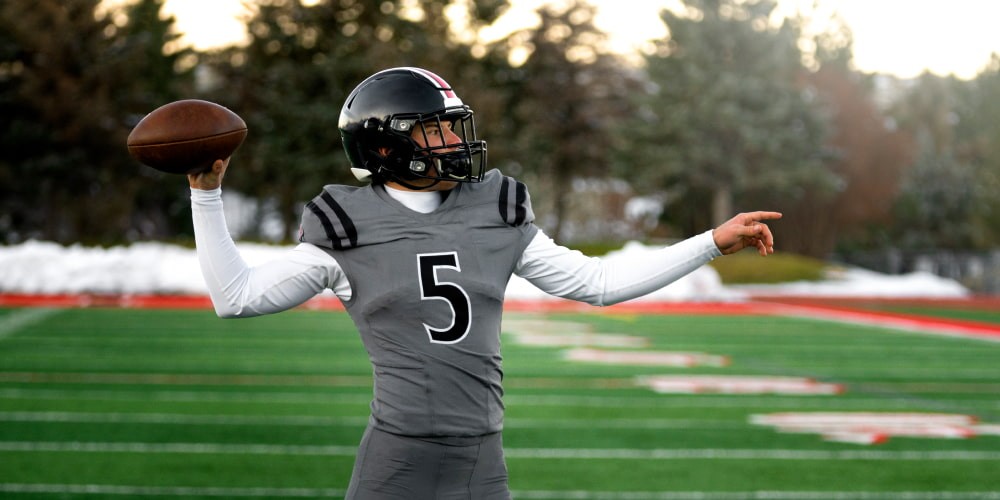 Prevention and Safety Measures
Prevention of head injuries is of primary importance for the well-being of athletes. Implementation of effective preventive measures can significantly reduce the risk of head injuries. For this, you can use.
Protective equipment
Helmets In contact sports such as football, hockey, and cycling, wearing helmets is essential. Helmets are designed to absorb impact and protect the skull and brain.
Caps Mouthguards can prevent dental injuries and, to some extent, reduce the risk of sport-related concussions.
Changes to the rules
Sports organizations must constantly evaluate and update the rules. These changes may include harsher penalties for dangerous play or modifications to gameplay.
Education and training
Athletes, coaches, and officials should be trained to recognize the symptoms of head injuries. For example, proper tackling techniques in soccer can reduce risks.
It is essential to encourage a culture where athletes report injuries and symptoms.
Medical evaluation and return-to-play protocols
After a head injury, athletes must undergo a thorough medical examination. This ensures that players only return to action once they have fully recovered.
Research and technologies
Ongoing research into helmet technology may lead to the development of safer equipment and playing conditions.
Prevention and security measures should be the result of joint efforts. Both coaches and athletes need to take care of them.
Conclusion
Sports-related head injuries are a significant concern in various sports disciplines. These injuries can have far-reaching consequences for athletes. This affects their well-being and long-term health.
Understanding the types of head injuries is vital for athletes, coaches, and sports organizations. This knowledge forms the basis for implementing effective preventive and safety measures. These include protective equipment, rule changes, education, and medical evaluation.
Preventing sports head injuries is a matter of individual safety and collective responsibility. Athletes and their coaches should work on this.
If such injuries occur, it is essential to seek help in time. Specialists from Lonestar Neurology will help you with this. We will not only provide timely treatment but also help with preventive examinations. 
Athletes should consult doctors regularly. Head injuries may not manifest themselves at first. Some consequences show themselves after several years. Therefore, if you have the slightest suspicion, contact us. We will conduct all the necessary examinations and, if necessary, prescribe the required treatment. So, apply!
FAQ
What are the most common sports head injuries?
The most common sports head injuries include traumatic brain injury (TBI):
concussion,

skull fractures,

hematomas,

facial fractures.
Why is boxing linked to brain damage more than other sports?
Boxing involves repeated blows to the head. This can lead to chronic brain injury. This is how regular traumatic encephalopathy develops.
What are the long-term effects of football brain injuries?
Long-term effects of head injuries in football can include:
cognitive impairment,

memory problems

mood swings,

increased risk of neurodegenerative diseases.
These effects may become apparent years after the injury.