Taking care of someone is a big responsibility. And especially when it concerns a brain cancer patient. Such people often have mood swings, and they need to have someone around. And if you are a caring person, it can be a difficult task for you over time. So, you need to know how to cope with it correctly:
Take daily breaks;

Look after your mental and physical health;

Educate yourself;

Provide emotional support to the patient.
Brain cancer patients often experience personality changes. Besides, their cognitive abilities deteriorate, leading to difficult communication with them. Sometimes it can affect your emotional and physical state. It starts with the fact that you feel tired. 
But over time, it can turn into depression, irritability, and anxiety. So, to avoid such troubles, remember also about your health. You should take a break from patient care and pay attention to your health. It will help balance your and your patient's health.
What is a Brain Tumor?
A brain tumor is a mass of affected cells that grows in or around the brain, developing as these cells enlarge. It leads to an increase in intracranial pressure. And its growth has a specific character of headache. 
Also, common symptoms for brain cancer patients can be visual and speech impairments. Besides, it includes convulsions, nausea, memory impairment, and vomiting. So, it is crucial to undergo proper treatment to reduce the severity of such manifestations.
There are two kinds of brain tumors: benign and malignant. A benign brain tumor manifests slow growth and doesn't have expressed symptoms. A malignant brain tumor tends to invade healthy areas of the brain and expand. 
Also, this disease has primary and secondary tumors. The first one grows directly from brain tissue. And the second one is metastatic brain cancer. Its cancer cells spread from their original site to the brain. 
How to Help Someone with a Brain Tumor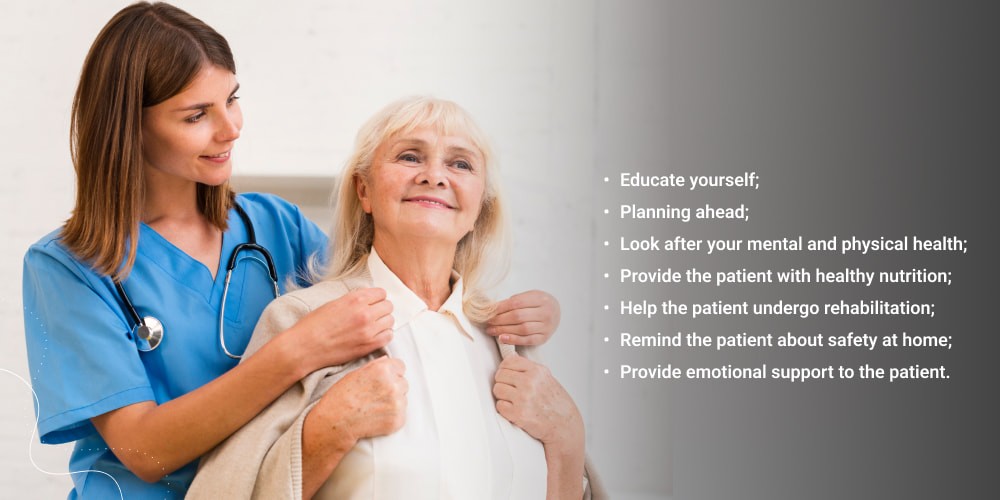 If you are a caring person, try to learn more about brain tumors. Go with the patient to doctor's appointments and know about treatment. You should understand what your next steps are in patient care. 
But, regardless of the help, you should provide as a caring person, you also need to remember about yourself. If you do not look after your condition and do not give yourself rest, it can develop into anxiety over time. As a result, you will not be able to provide the person with proper care. So, to oversee the brain tumor patient without difficulties, follow the next tips: 
1. Educate Yourself
As soon as you start being a caring person, it is crucial to educate yourself. You need to learn as much information as possible about the disease. For example:
Find out what metastatic brain cancer is and its symptoms. 

Be interested in the treatment and consequences of the disease. 
This way, you will understand the person you are caring for more easily and be ready for any changes in the illness. And the treatment will be easier to give because you will know what needs should be done.
2. Planning Ahead
Brain cancer can progress quickly and lead to the worst consequences. Therefore, discussing with the patient what you will do in such cases is essential. And also, you need to decide what treatment they will follow. You can talk about this with the patient personally and sign it in the form of a legal document:
Hospice care.

The document notes that even in the worst state of health, o

nly the

brain cancer patient

decides how

they will be treated.

Advance directive.

A document states that you will mak

e decisions for the patient If their illness progresses.
3. Look after Your Mental and Physical Health
Living with someone with a brain tumor can be worrying and nervous. Because you always think about someone's health and eventually forget about your own. As a result, it negatively affects your emotional state, leading to harmful consequences. So, it is crucial to maintain your physical and mental health. For this, make sure that you:
E

at well. 

Have time for your own needs.

Rest for at least 30 minutes at the end of the patient care day.

Make time for the holiday.

Take 10-minute patient care breaks to ease your emotional state.
Contact the support service if you have lost the motivation to care for someone. It will be better for you and the patient.
4. Provide the Patient with Healthy Nutrition
When someone asks how to help someone with a brain tumor, most say you should spend all your time with the patient. But there is another important factor that people should remember, and that is the diet. So, it is necessary to eat only healthy food. Because improper nutrition can serve as a reason for reducing the effectiveness of therapy. So, a patient with a brain tumor must consume enough vitamins and such products as:
seafood;

vegetables;

fruits;

green tea;

nuts.
Eating such food helps restore vitality, improve the general condition, and prevent the patient from losing weight.
5. Help the Patient Undergo Rehabilitation
People with metastatic brain cancer have changes in coordination and speech. There are also significant personality changes. So, you need to: 
Maintain contact with the patient's rehabilitation team. 

Help your patient pass health

examinations.

Keep doctors informed about patients' health results. 
Also, be interested in what you can do to improve the patient's care.
6. Remind the Patient about Safety at Home
Patients with brain tumors have memory problems:
They can often forget what you tell them. 

Even if you tell the patient about home safety rules, they can ignore them.
For example, you said not to leave the iron on, and the patient forgot about it. So, it is crucial in such cases to be close to the patient and prevent them from such situations.
7. Provide Emotional Support to the Patient
At the end stage of brain cancer, the patient shows such signs as irritation and negativity. It is due to personality changes that lead to aggression. But in such cases, it is worth remembering that it is not the person's fault. It is due to personality changes that lead to aggression. If you don't know how to help someone with a brain tumor this case, provide emotional support:
Help them deal with their emotions. 

React calmly to everything. 
If this does not work, contact medical support.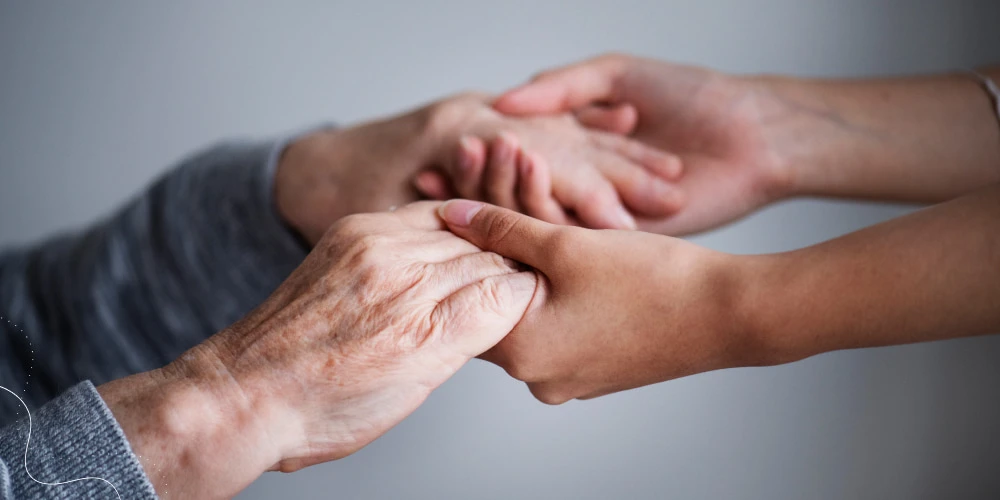 When you Should Stop Being a Caregiver
Sooner or later, you stop being a caring person. There are several reasons for this:
the patient's re

covery;

the patient is subject only to the care of doctors in the hospital.
Whatever the reason, it's always sad. When you care about someone, you get used to this person. Thus, it becomes difficult to part with the patient. Especially when a person's condition has worsened and you can't fix it. 
So, whatever the reason, you should prepare for it and not get depressed. Because anxiety and stress lead to harmful consequences that are difficult to cope with. If your brain cancer patient recovers, you can visit them occasionally. 
But if a person dies from metastatic brain cancer, it is worth contacting psychologists. They will find a solution for you to deal with such a situation.
A Word From Lone Star Neurology Doctors
Living with someone with a brain tumor is quite difficult. Because the disease can have complex consequences on the patient's behavior.
Lone Star Neurology experts say that while caring for someone, you should also devote time to your health. Only a healthy person can take care of a sick patient. So, it is essential to stay positive and keep working towards your goals. 
Lone Star Neurology doctors can help patients recover by providing proper treatments and rehabilitation. We focus on state-of-the-art knowledge in neurology, cutting-edge technology, and long-standing personal relationships with our patients.  
FAQs 
What should you not say to a brain tumor patient?
Never say that you know what the patient is feeling. Also, don't say you know people who have such a disease. Each patient tolerates symptoms differently. So do not talk about other people's experiences and compare the patient with them.
What is the life expectancy after a brain tumor?
A person can recover from brain cancer, but not everyone has such a chance. Usually, 36% of people can live 5 years after the appearance of a brain tumor. And 31% of people live 10 years after this disease.
What can you say to someone with a brain tumor?
If you have friends or relatives with a brain tumor it's important to support them. For this, you can say the next phrases: 
"Please let me know how I can help."

"I'm not sure what to say, but I want you to know I care."

"If you would like to talk about it, I'm here."
What are the final stages of a brain tumor?
At the end stage of brain cancer, the patient has such signs as delirium and frequent seizures. The person becomes very sleepy and has swallowing problems. Also, the last stage of brain cancer provokes acute headaches.