A brain tumor is a severe disease that has many harmful consequences. So, starting treatment for this condition in the early stages is crucial. But it is different, so doctors distinguish the following methods:
Radiation;

Chemotherapy;

Brain tumor surgery;

Drugs;

Radiosurgery.
Detecting a brain tumor is not an easy task. It can be benign or malignant. A malignant brain tumor is a cancer. It progresses rapidly and affects human health badly. A benign tumor, on the contrary, grows very slowly and does not have cancer cells. But if you do not start its brain tumor treatment, it can turn into a malignant tumor over time. 
Of course, a benign brain tumor is less harmful than a malignant one. But to detect it in the initial stages is difficult. You can have excellent health and not even suspect any diseases in the body. And when you don't check your health state, this invisible tumor develops. Then the symptoms of this disease begin to appear. As a result, they need an immediate brain cancer cure.
Diagnosis of Brain Tumor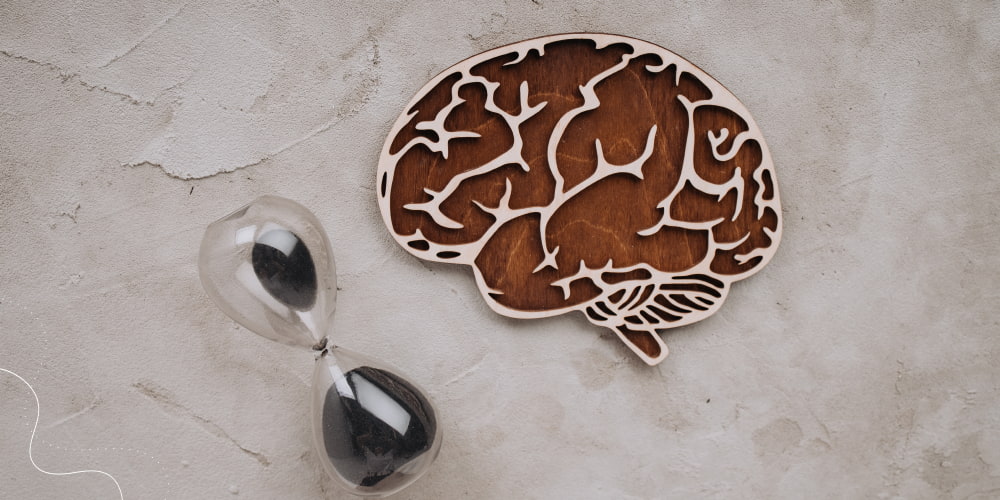 Diagnosis of a brain tumor is difficult due to symptoms that can indicate other diseases. If doctors suspect the presence of a brain tumor, they can prescribe some tests for patients:
computed tomography;

magnetic resonance imaging;

positron emission tomography;

single-photon emission computed tomography.
For the diagnosis of brain cancer, you first need to undergo physical examinations. For this, you need to contact a neurologist. During the consultation, the doctor checks vision, hearing, reflexes, and coordination. When neurologists suppose a tumor in the brain, they prescribe an MRI. MRI allows them to scan soft tissues, identify the neoplasm location and make a 3D model of the brain.
Instrumental imaging methods show the localization and the grade of tumor. But it is not always possible to determine the type with their help. In most cases, doctors define a brain tumor biopsy for this patient. It is carried out as an independent procedure or during an operation for removing a brain tumor. Based on the selected tissue sample, the neurologist determines the type of disease. 
They consider whether it is benign or malignant. Brain tumor biopsy determines the degree of aggressiveness of brain cells. Besides, it defines their structure. According to its results, doctors establish the final diagnosis.
Brain Tumor Complications
If you do not give a proper cure for brain cancer, it can cause complications. Such complications include weakness, visual acuity changes, headache, hearing loss, and convulsions. They can pose a significant threat to life and get worse every day. Let's analyze them in detail:
Complications:

What are the consequences?

Weakness

A brain tumor can destroy any part of the brain. Each part of the brain is responsible for specific bodily functions. So it can lead to their disruption. For example, it can cause weakness in some organs. 

Changes in visual acuity 

A brain tumor can cause optic nerve problems. The optic nerve is the part of the brain that processes visual information.

Headaches

A brain tumor that causes increased pressure in the brain can provoke headaches. It can be a severe headache accompanied by nausea and vomiting. 

Hearing loss

Brain cancer can affect the auditory nerves. And often, such a

brain tumor

complication requires

surgical

intervention.

Convulsions 

A brain tumor can cause brain irritation. It can lead to seizures.
Besides, there is the worst complication. It is a cerebral coma. If a person suffers from this, it can lead to death in most cases.
Side Effects of a Brain Tumor
Even if you conduct proper brain tumor treatment, the disease can cause side effects. The most common side effect are: personality changes, seizures, and difficulties with memory. They can appear due to tumor progression or improper therapy. Let's consider them in more detail:
With the onset of brain cancer, every third person has changes in their character. It manifests anxiety, aggression, apathy, forgetfulness, mood swings, and irritability. Most frequently, the emotional state suffers from this. A person experiences a depressive state and gives behavior signals unusual for society. It happens because brain cancer affects healthy brain cells. As a result, there are inevitable failures in the body's processes. They affect the personality.
Not everyone with a diagnosis of brain cancer experiences seizures and epilepsy. These conditions are rare. But sometimes, side effects can provoke it. It happens when the tumor is in the cortex of the brain. Or convulsions can be a consequence of brain tumor surgery. 
The brain is the essential organ responsible for our memory. And if a brain tumor influences its processes, it can lead to its deterioration. In such cases, you need an extra cure for brain cancer. 
Read about warning signs of brain tumor in our other article.
Types of Brain Tumor Treatment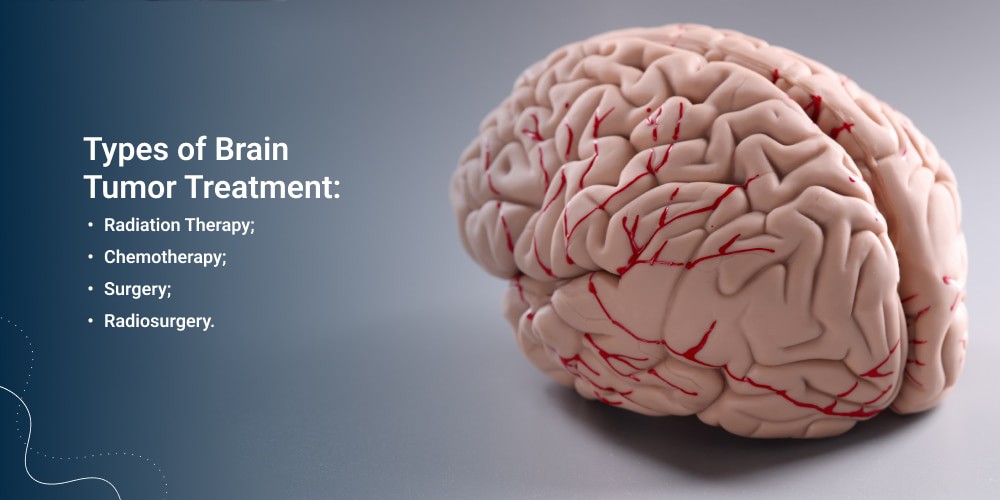 Brain cancer is in a hard-to-reach place. So, therapy is a complex process. Any neoplasm inside the brain can cause compression of the brain tissue. Thus, early diagnosis of brain cancer is crucial. When doctors detect it, they carry out various types of brain tumor treatment:
Radiation Therapy
This procedure reduces or destroys the cancer cells that form the brain tumor. There are three types of radiation therapy:
Intensity-modulated radiation therapy (IMRT)
This radiation therapy uses sophisticated software and three-dimensional images from a CT scan. It better focuses high doses of radiation on the tumor. Also, it reduces the number of side effects.
Program therapy with visualization (IGRT)
This method helps to perform brain tumor surgery with great accuracy. This therapy uses real-time imaging using CT scans or X-rays. It ensures ideal positioning and immobility of the tumor during treatment.
Stereotactic radiation therapy
This method uses innovative methods. They allow patients to be still during the treatment. It enables you to perform brain tumor surgery with many types of computer systems.
Chemotherapy
Chemotherapy is a method of cancer treatment based on the use of drugs to destroy cancer cells. As a rule, doctors prescribe this method to the patient individually. It helps to cure brain cancer in approximately 40% of cases:
In general, chemotherapy stops or slows the growth of cancer cells. Every time a new cell forms, it goes through a process to become fully mature. 

This process consists of several phases and is called the cell cycle. Every time during chemotherapy, the doctor tries to find a balance. It is between the effectiveness of combating cancer cells and the reduction of side effects. 

On the positive side, most normal cells recover over time after exposure to chemotherapy. But mutated cancer cells usually do not. 
It is why chemotherapy is good at killing many types of cancer cells, at the same time removing a brain tumor.
Surgery
Surgical treatment is a classic method of defeating brain cancer. Removing a brain tumor is one of the most challenging interventions in medicine. There is a great variety of neoplasms. They have a direct connection with nervous tissue. It's why each neoplasm is different in the complexity of surgery:
If specialists operate at an early stage of the disease, the patient has every chance of a full recovery. 

At later stages, surgical intervention can reduce pronounced symptoms. Also, it improves the patient's quality of life. 
In neurosurgical practice, tumor removal doctors often perform using laser and ultrasound methods. But this is in those cases when the neoplasm is too large. Or it is in an area of ​​the brain inaccessible to the surgeon.
Radiosurgery
The basis of radiosurgery is the high dose of ionizing radiation to the tumor. A single amount of radiation delivered to the body during radiosurgery is so high. Thus, it provokes cell death in one session. Radiosurgery has two main types according to the localization of tumors:
for the treatment of brain tumors (SRS);

for the treatment of tumors localized outside the brain (SBRT).
Such a classification has no importance for the patient. It only reflects the chronology of the development of radiosurgery technologies. But regardless of radiosurgery type, you must undergo a brain tumor test before it.
Treatment by Brain Tumor Type
There are more than 100 types of brain tumors. Histological features distinguish astrocytomas, oligodendrogliomas, and glioblastomas. The last of them is the most aggressive. It grows into neighboring areas of the brain and is difficult to treat. In contrast, astrocytoma gives a more favorable prognosis. It is because of its most benign course among all brain tumors. But sometimes, it can turn malignant, requiring an extra cure for brain cancer: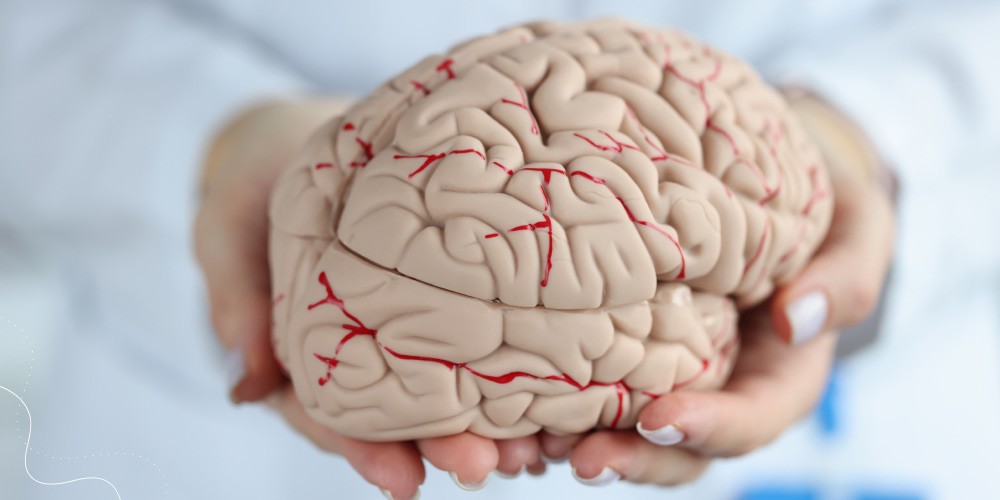 Oligodendroglioma
Oligodendroglioma is a brain cancer arising from a glial cell called oligodendrocytes. There are two types of oligodendroglia:
Highly differentiated oligodendroglioma. A tumor that grows slowly and has a particular shape.
Anaplastic oligodendroglioma. It develops much faster and does not have a defined shape.
You need to undergo brain tumor surgery to treat any of these types. It is risky because it is a complex surgery. So, drug therapy can also be a treatment option for oligodendroglioma. But it gives minimal results. It's due to the difficulty penetrating past the blood-brain barrier. Thus, surgery, radiation therapy, and chemotherapy are the most effective ways of oligodendroglioma. 
Astrocytoma
Astrocytoma is cancer from mutated astrocytes – brain and spinal cord cells. At first, it is a benign tumor, which can transform into a malignant one over time. Depending on the severity of astrocytoma, specialists use such methods of brain tumor treatment:
operative intervention;

chemotherapy;

radiation therapy;

combining different programs.
This type of brain tumor characterizes aggressiveness and rapid growth. So, its treatment requires urgency and a comprehensive approach. Consult your doctor to know what kind of treatment you need for astrocytoma. They conduct a brain tumor test, according to which they prescribe the type of treatment.
Glioblastoma
Glioblastoma is an oncological disease that affects the brain's glial cells:
It develops asymptomatically in the early phases. 

But in the later stages, it grows rapidly and aggressively. 
Currently, there are no drugs that would allow treating this disease completely. But if you start treating after the diagnosis of this brain cancer, you can ease the manifestation of it. Treatment of glioblastoma, in most cases, involves a complex approach. It consists in defeating the malignant process with several methods of treatment.
A Word From Lone Star Neurologists
There are many diagnostic and treatment methods of improvement. So, ensuring health progress is the primary goal of treatment measures from the moment of diagnosis.
Lone Star neurologists provide brain cancer diagnosis and treatment. Doctors will advise specific recommendations you should follow. And to achieve better results in the cure of brain cancer, Lone Star Neurology doctors recommend starting it at the earliest stages. It will help prevent the disease progression and treat it faster.
FAQs 
Can a brain tumor be treated?
It depends on whether the tumor is malignant or benign. Usually, doctors treat brain tumors with radiation therapy, chemotherapy, surgery, or radiosurgery. You can use these methods and cure brain cancer.
What are the first warning signs of a brain tumor?
It usually manifests as a headache. Each time it becomes sharper and more potent. Also, the initial symptoms can include:
vision problems;

unpleasant vomiting and nausea;

difficulty with coordination;

memory problems.
Can a brain tumor be detected in a blood test?
No. Blood tests do not indicate the presence of a brain tumor. IMRT and CT scans detect it. And blood analysis can only help to check the general state of health. Also, it determines the functioning of other organs.
How does a brain tumor affect daily life?
How a brain tumor will affect your daily life depends on the tumor's location in the brain. It typically affects the emotional state. A person becomes anxious and aggressive. Also, it impacts the deterioration of memory and motor coordination.