Your health and well-being are critically important. Early detection of diseases like breast cancer can be lifesaving. It is why new screening technologies are constantly advancing medical care.
Magnetic resonance imaging, or MRI, is one such innovation now used by doctors to detect breast cancer and other abnormalities. An MRI scan for breast cancer utilizes magnetic fields and radio waves. It is to produce detailed 3D images. Precisely it allows radiologists to analyze breast tissue for signs of cancer. 
For high-risk women, breast MRIs can be an essential screening tool. It is for finding cancer that may be missed by a mammogram alone. Precision biopsies enabled by MRI lead to more accurate diagnosis and staging. MRI breast scans are also helpful in monitoring how breast cancers respond to chemotherapy, radiation therapy, or other treatments. Differences in tumor size, shape, or enhancement can indicate how well medicines work.
So, MRI technology represents a significant advance in breast cancer detection. You can make the most informed choices about your health by understanding how MRI scans work.
Understanding Breast Cancer and the Need for Accurate Diagnosis
Breast cancer is a complex disease that requires accurate diagnosis. Early detection of it is critical to successful treatment and survival. While mammograms have long been the standard for initial breast cancer screening, MRI scans play an increasingly important role in diagnosis and monitoring.
When it comes to breast MRI, patients ask themselves what to expect. In fact, it can provide a lot of helpful information about your health. Breast MRI imaging is a unique way to study the detailed image of the body inside. This procedure is necessary when your breasts are at risk of developing cancer. Three-dimensional photos provide a more detailed view of breast tissue than traditional mammograms. MRI scans can detect small tumors, even in dense breast tissue. And it helps medics identify the location, size, and features of any potential tumors.
Once diagnosed, MRI also helps oncologists properly stage cancer treatment. By pinpointing the tumor's precise size, MRI scans guide decisions about treatment. It can be mastectomy surgery, chemotherapy, and so on. During and after treatment, MRI monitoring helps quickly identify cancer for prompt treatment.
Generally, breast MRIs save lives through earlier detection of this disease. By understanding your risk factors, you can make the right choice for your health and peace of mind.
What is an MRI Scan?
A non-invasive medical imaging method is an MRI. It uses a magnetic field and radio waves. They provide accurate pictures of the tissues and organs within your body. It can find any health problems in your breast that seek treatment. The following is how breast MRI imaging functions: 
MRI scanners contain large magnets that produce a strong magnetic field. It aligns the protons in water molecules in your body.

Radio waves are then directed at your body. They knock the protons out of alignment.

When the radio waves turn off, the protons realign and release signals. The scanner measures them. 

These signals give information about the density and location of tissues in the body.

A computer then processes the signals to create clear, detailed images of the inside of your body.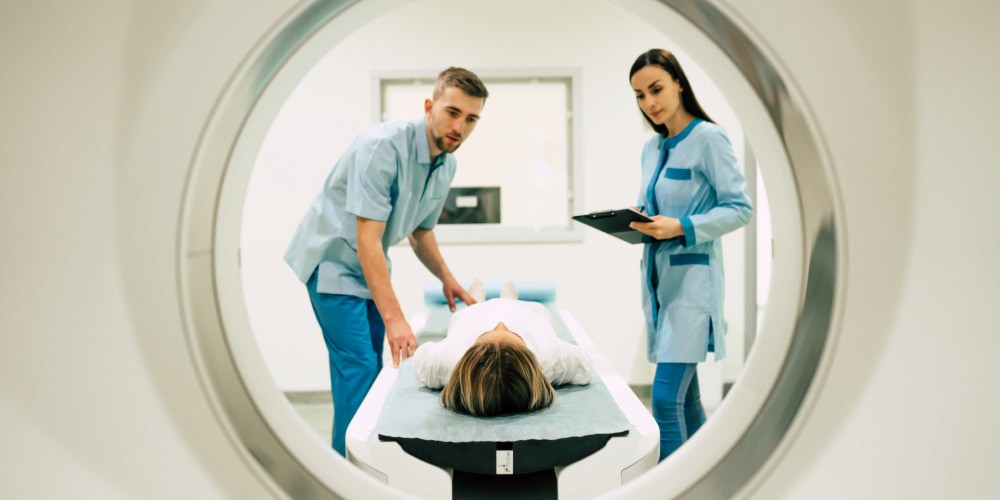 Advantages and Limitations of
MRI Scans for Breast Cancer
Medicine never stands still. Experienced specialists constantly surprise with new methods of assessing people's health. And MRI is no exception. Due to its ability to explore the body inside, it has many advantages. But like any medical method, it also has its drawbacks. Thus, before going through this procedure, you should familiarize yourself with it:
Advantages

Limitations

Non-invasive procedure

MRI scans are non-invasive. It means they do not need any incisions or invasive procedures. Patients simply lie down and are within the MRI machine. It makes it a comfortable and painless experience compared to other diagnostic methods.

Limited availability of expertise

Interpretation of breast MRI needs special knowledge. However, not all healthcare facilities have radiologists. And there are also few medical professionals who have experience interpreting breast MRIs. This limitation may affect patients' access to accurate and timely diagnosis. To perform an MRI  breast cancer diagnosis, patients need to find another hospital. It can be even in different regions.

No radiation exposure

Unlike X-rays and CT scans, MRI scans do not use radiation. It makes MRI scans for breast cancer a safer option for repeated examinations. It's exceptionally good for younger patients who may be more sensitive to radiation.

High cost

MRIs tend to cost significantly more than mammograms. Insurance plans do not cover them. So, it requires higher out-of-pocket costs.

Multidimensional imaging

MRI scans provide multidimensional imaging. It allows you to get a comprehensive evaluation of the breast. This imaging technique provides detailed information about many things. It involves the size, location, and characteristics of the tumor. This info helps with accurate staging and treatment planning.

Claustrophobia

and discomfort

MRI machines have a narrow and confined space. It can trigger feelings of claustrophobia or discomfort for some individuals. It may cause anxiety or demand sedation to complete the scan.

Monitoring treatment response

This method plays a crucial role in monitoring the response to breast cancer cures. Among them can be chemotherapy or radiation therapy. MRIs can assess tumor size changes. Accordingly, they provide valuable information for adjusting treatment plans.

Need injections

This procedure for breasts needs an injection of contrast dye to enhance the images. Some patients may have adverse reactions to the contrast dye. Or they can experience side effects like nausea.
Breast MRI
Procedure and Preparation
When consulting doctors, you should not follow strict rules or instructions. But when you go through specific procedures, the opposite happens. There are several requirements for the patient when undergoing breast MRI imaging. For example, first, you must remove all metal things from yourself. It can be rings, earrings, or pendants. In general, it is all your jewelry.
Usually, during this procedure, the specialist tells you what to do. They state that you need to lie in a calm state. Do not stress the central nervous system, and do not get nervous. If the sound of the MRI machine disturbs you, they will give you headphones.
So, there are no difficulties in this. Before starting the breast examination, tell the doctors about your problem. Share with them your tests, organism studies, and medical history. It is important that the doctor knows exactly what they need to focus on. And what are the general steps you need to take for breast MRI preparation? Keep reading:
1. Clothes
On the day of the breast MRI procedure, wear comfortable and light clothes. Don't wear anything with fasteners or lots of buttons. It may take time to change clothes during the procedure. After all, to lie down in the MRI machine, you will have to change into a hospital gown. Besides, remember to remove metal jewelry. Remove all piercings, if any, and other jewelry. To conduct this study, the use of metal is a prohibited thing.
2. Breast MRI: what to expect
Remember that during the MRI, you must be calm and motionless. Some people are claustrophobic. And for them, MRI is not a very pleasant process. You should know that for an MRI, you should lie down in a sizable tubular structure. It is open from both sides. But despite this, claustrophobes may still be afraid of the lack of space there. Thus, if you are afraid, you should tune in to calmness before the procedure. If you have a hard time doing this, consult a doctor. They can calm you down with special methods or drugs.
3. Food
Many patients ask if there are any restrictions on eating before MRI. Yes, they are. Before the MRI scan for breast cancer, you should refrain from eating and drinking for 2-4 hours before the procedure. The main reason for these prohibitions is to ensure the clarity of images obtained from MRI. Eating before the process can change signals from soft tissues. It can complicate image interpretation and diagnosis. If you have certain questions about the diet before MRI, contact a specialist. They will give you more accurate data about it and guidance.
4. Allergy
Some people are allergic to contrast. If you encounter it during an MRI, it will cause you extra problems. Thus, if you suspect this allergy, inform your doctor about it. They may give you certain medicines for this to ease the allergic reaction. Specialists usually carry out the MRI process for this. It is to give the pills time to work on your body.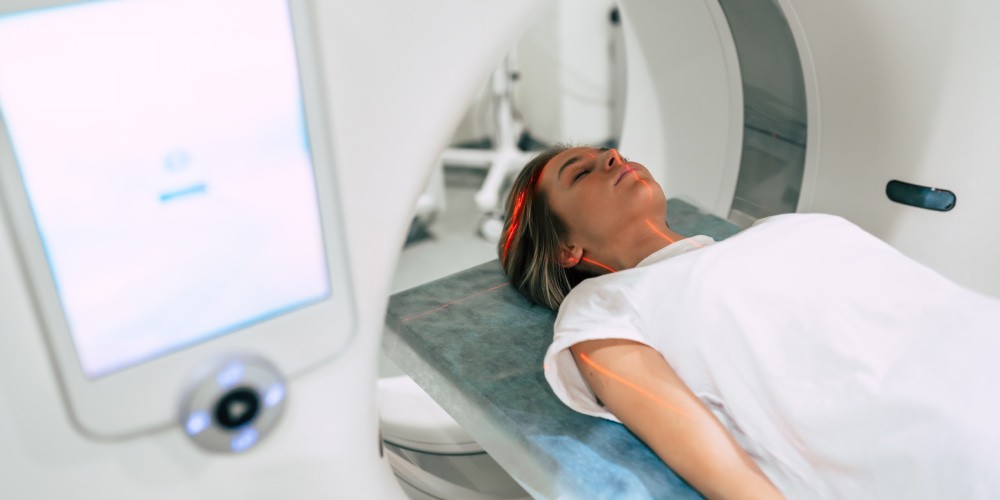 Breast MRI: What to Expect
During the Scan
When conducting such a procedure, it is important to know all its nuances. You should understand what you may encounter and what you should be ready for. So the following are things you should expect during an MRI breast cancer diagnosis:
You will be positioned facedown on a padded scanning table, with your breasts in cutouts. The table will be inside the MRI machine. The photos are captured using a short tunnel with powerful magnetic coils.

The technician will supply you with headphones to listen to music. It is for blocking out the machine's harsh noises. You can also use noise-canceling headphones or earplugs.

Maintaining complete stillness during the scan is critical to avoid fuzzy images. The technician may provide padding and straps to help keep you in the appropriate posture.

If you were given a contrast dye, you may experience a chilly sensation. It feels like it circulates through your body. It is very typical and will pass fast. Inform the specialist if you are in any pain.

Throughout the scan, the technician will watch you from an adjacent room. They can converse with you anytime by using the scanner's speaker. Please notify them if you need anything.

After the scan, you can get dressed and resume your daily activities. The radiologist will check your photos. Then, they report the findings to your doctor. The medics will discuss it with you at a follow-up consultation.
Conclusion
Medical technologies pleasantly impress with their possibilities. And MRI is one of them. By using breast MRIs, radiologists have the best imaging technologies. They can find breast cancers early when they are most treatable. It ensures faster, easier, and better treatment and recovery.
You can consult with Lone Star Neurologists if you have any questions about this illness. We will understand your body's details and help you draw conclusions. Based on them, we will assign you the appropriate effective treatment.
FAQ
What is the difference between mammography and breast MRI?
Mammography uses low-dose X-rays to examine the breast tissue. And MRI uses magnetic fields and radio waves to generate images.
Who should consider undergoing a breast MRI scan?
The breast MRI is good to do for:
women with a high risk of breast cancer due to genetic mutations;

women with dense breast tissue that is difficult to examine via mammogram alone;

women with suspected breast cancer to help determine the size and spread;

women with breast implants to check for ruptures or leaks and to examine breast tissue.
How often should breast MRI be performed for high-risk individuals?
High-risk individuals often undergo annual breast MRI scans. But it is an individual procedure that depends on many factors. It includes family history, genetic mutations, and personal risk factors.
How accurate is breast MRI in detecting breast cancer?
Breast MRI has shown excellent accuracy in detecting breast cancer. The sensitivity rates range from 88% to 100%.