Few advances in modern medicine have been as revolutionary as magnetic resonance imaging (MRI). MRI technology has long been famous for its diagnostic capabilities. In recent years, it has taken center stage in the critical area of brain damage detection. We delve into the complex world of MRI for brain damage. We will reveal its fantastic journey from a scientific curiosity to an indispensable tool.
You can better understand the inner workings of the brain, guided by the wonders of magnetic resonance imaging, which illuminates the tangled neural pathways within. MRI scans have redefined our understanding of brain injury and disease. We will help you unlock the secrets of this non-invasive radiation-free imaging technique.
Join us as we unravel the mysteries of MRI. We'll tell you everything you need to know about this groundbreaking technology and its vital role in preserving the most complex and valuable organ in the human body, the brain.
Understanding MRI for Brain Damage Detection
Magnetic resonance imaging has become an indispensable tool in medical diagnostics. Currently, it is essential for detecting and understanding brain damage. Here are the fundamental principles and technical aspects of MRI:
Principles of MRI.

MRI works on the principle of nuclear magnetic resonance. It uses the magnetic properties of hydrogen nuclei in the water and fat molecules of the human body. MRI creates detailed images of the brain's internal structures by exposing these nuclei to strong magnetic fields.

Image formation.

Understanding brain damage with MRI is essential to know how the images are formed. MRI scanners produce high-resolution pictures of cross-sections or slices of the brain. These images show variations in tissue composition. This helps clinicians identify abnormalities such as lesions, tumors, or traumatic injuries.

Contrast in MRI. Different MRI sequences and differences offer a clear picture of brain tissue characteristics. Understanding these contrasts helps distinguish healthy tissue from damaged areas.
Functional MRI (fMRI). In addition to structural imaging, fMRI measures blood flow and oxygenation changes. This is invaluable for assessing brain function in patients with neurological disease.
Advanced methods. Recent advances include diffusion tensor imaging (DTI). It helps study white matter tracts and spectroscopy to assess brain metabolites. These techniques improve our ability to detect brain damage at the microstructural level.
Understanding the basic concepts of MRI is essential to understanding its vital role in modern medicine.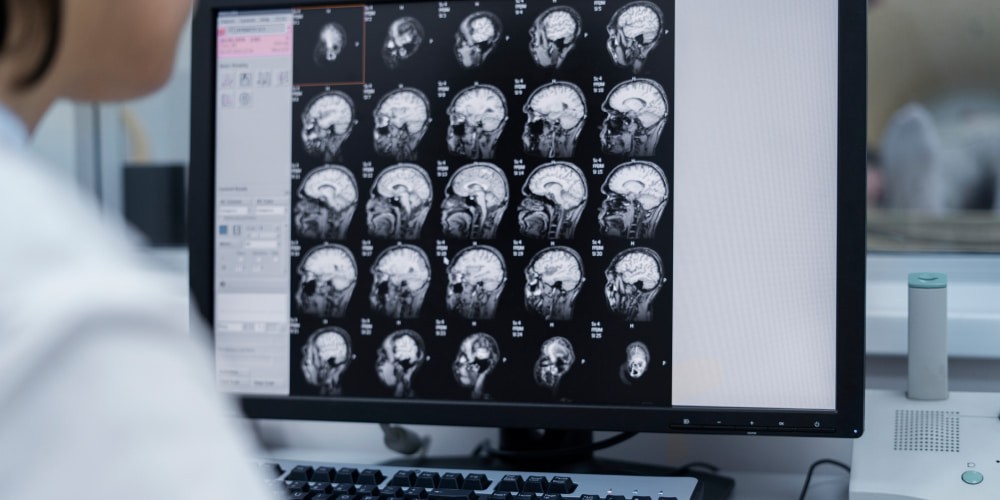 Can MRI Detect Brain Damage?
Magnetic resonance imaging (MRI) has become a cornerstone in medical imaging. She is known for her ability to provide a detailed view of the human body. One hot question that is often asked is whether MRI can effectively detect brain damage. The answer is clearly yes, and in this section, we explore how MRI accomplishes this critical task.
MRI is a highly qualified method of detecting structural abnormalities of the brain. It can see various forms of damage. It can also be traumatic injuries from accidents, concussions, tumors, and strokes. The research can produce accurate, high-resolution images of the brain's anatomy. MRI allows medical professionals to detect lesions, hemorrhages, or atrophy. They are the ones that indicate damage.
Can MRI Detect Brain Damage?MRI is particularly good at characterizing brain lesions. Different MRI sequences provide clear contrasts. This helps distinguish between normal and damaged brain tissue. T1-weighted images offer excellent anatomical detail. T2-weighted or FLAIR sequences highlight abnormalities such as edema or scar tissue.
Functional MRI (fMRI) can shed light on the effects of brain damage on cognitive function. It measures changes in blood flow and oxygenation. It detects altered patterns of brain activity due to injury or neurological disease. This is especially valuable for understanding how brain damage affects cognitive abilities.
The sensitivity of MRI to subtle changes makes it important for early detection. This allows clinicians to use MRI for brain damage to detect it at an early stage. It also facilitates rapid intervention and potentially prevents further deterioration.
MRI provides a noninvasive, radiation-free means of comprehensively evaluating brain structure and function.
Types of brain damage detectable with MRI
MRI can effectively detect and characterize the following types of damage:
Craniocerebral injury (TBI).

MRI for

brain injury

is of key importance in the evaluation of craniocerebral injuries. These include concussions and more severe head injuries. It can also detect contusions, hemorrhages, and diffuse axonal damage. 

Ischemic stroke. Strokes caused by blockage of blood vessels in the brain leave characteristic patterns on MRI. Diffusion-weighted imaging (DWI) is particularly useful for early detection. Perfusion MRI can assess blood flow to affected areas.
Hemorrhagic stroke.

MRI can easily identify strokes caused by ruptured blood vessels. Blood appears hyperintense on T1-weighted images and hypointense on T2-weighted images. This is clear evidence of bleeding.

Brain tumors.

MRI is the imaging method of choice for detecting brain tumors. It can distinguish different types of tumors and assess their size and location. It can also help in planning surgery. Contrast agents improve the visibility of the tumor.

Neurodegenerative diseases. Can MRI Detect Brain Damage? Alzheimer's disease,

Parkinson's disease

, and multiple sclerosis show clear MRI findings. MRI helps visualize brain atrophy, white matter lesions, and abnormal protein deposits.

Vascular anomalies.

MRI can detect vascular abnormalities such as aneurysms, arteriovenous malformations, and venous thrombosis. MRA and MRV are specialized methods of assessing the state of blood vessels.

Infections and inflammation. Brain abscesses or encephalitis, and inflammatory conditions can be visualized with MRI. Gadolinium-based contrast agents improve the detection of inflammatory lesions.
White matter disease. MRI helps diagnose white matter diseases such as leukodystrophies. Diffusion tensor imaging (DTI) can provide insight into white matter integrity.
Hydrocephalus.

MRI helps evaluate conditions such as hydrocephalus. It occurs when there is an abnormal accumulation of cerebrospinal fluid in the ventricles of the brain. It provides information about the size of the ventricle and the degree of compression of the brain.

Functional MRI. fMRI is not a direct detection of damage. But it reflects changes in brain activity, offering to understand functional deficits.
The versatility of MRI makes it a vital tool for detecting and characterizing a wide range of brain injury types. Also, doctors often use MRI for brain injury.
Limitations of MRI
Magnetic resonance imaging is not without its limitations. Here are some of the main limitations associated with MRI:
Cost and availability.

MRI machines are expensive to purchase and maintain. This makes them less available in some regions or healthcare facilities. The high cost can also lead to longer wait times for patients who need an MRI scan.

Restrictions for patients. Patients with claustrophobia or severe anxiety may find MRI uncomfortable. Patients with metal implants or devices may not be eligible for an MRI due to safety concerns.
Motion artifacts.

MRI images can be significantly affected by patient movements. This may blur or distort the image. This will be a problem for pediatric or agitated patients.

Rendering time. An MRI scan often takes longer than an X-ray or CT scan. Long scan times can be uncomfortable for patients.
Noise. MRI machines make loud, repetitive noises during the scan. This is a concern for some patients. Hearing protection is required, but noise can still cause trouble.
Limited availability of functional MRI (fMRI). Functional MRI has limitations in spatial and temporal resolution. It may not accurately capture rapid changes in neural activity.
Conflicting conclusions. In some cases, the results of brain MRI may be inconclusive. They may conflict with clinical symptoms, leading to diagnostic problems.
Obesity and size restrictions.

Some MRI machines have size limitations. They may not accommodate overweight or claustrophobic patients.

Risks of gadolinium-based contrast agents. Using gadolinium-based contrast agents in MRI has raised concerns about possible side effects. This is especially possible in people with impaired kidney function.
Limitations in tissue characteristics. MRI has limitations in characterizing certain tissue types or distinguishing between benign and malignant tumors without more tests.
Despite these limitations, MRI remains a versatile and indispensable imaging tool. It plays a vital role in diagnosing a wide range of diseases.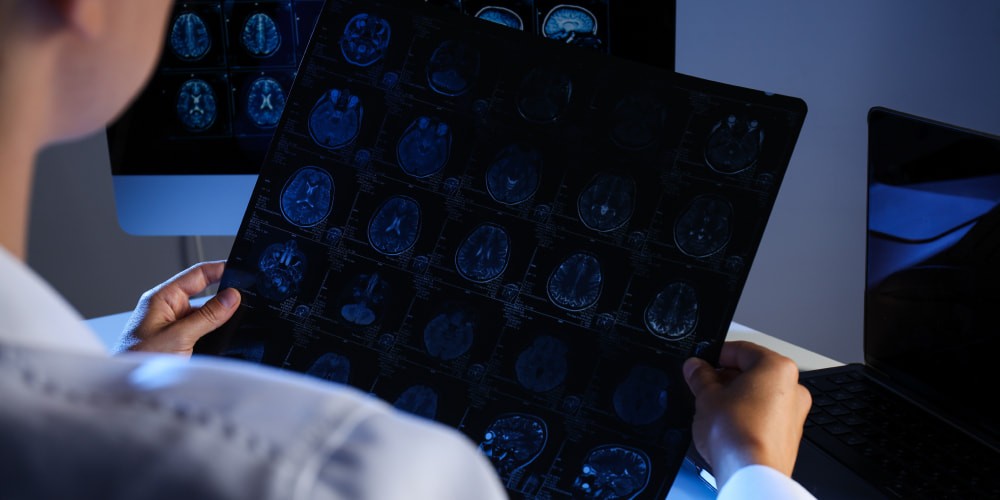 What Does a Brain MRI Show?
MRI provides detailed images of the brain's anatomy and can reveal a wide range of information about its structure and function. Here's what an MRI of the brain can show:
A standard brain MRI provides high-resolution images of brain structures. This includes the cerebral cortex, white matter, gray matter, and deep brain structures.

MRI is highly effective in detecting abnormalities in the brain. Among them are tumors, cysts, and vascular malformations.

MRI is a crucial tool for detecting both ischemic and hemorrhagic stroke. It can visualize areas of restricted blood flow or bleeding in the brain.

An MRI of the brain can reveal the degree of damage after traumatic injuries. They can identify contusions, hemorrhages, or diffuse axonal damage.

MRI can detect brain infections. Contrast-enhanced MRI can highlight areas of increased permeability of the blood-brain barrier.
Such a study of the brain is a universal imaging tool. It provides essential information about brain structure, lesions, abnormalities, and function.
Results of Brain MRI
When performing an MRI of the brain, the results can yield valuable information about a person's neurological health. Here's what you can expect from brain MRI results:
Anatomical details.

Brain MRI provides detailed images of the brain's anatomy. The results show the general shape and size of the brain, helping to identify any abnormalities.

Normal brain.

What does a brain MRI show? In many cases, brain MRI shows a structurally normal brain with no evidence of lesions. This provides reassurance about a person's neurological health.

Lesions and anomalies. The MRI results will clearly show their location, size, and characteristics if there are any abnormalities. This information is critical for diagnosis and treatment planning.
Vascular anomalies.

The results can identify a variety of vascular abnormalities.
Results of brain MRI generally provide vital information for diagnosing and treating a wide range of diseases.
Conclusion
In medical diagnostics, MRI for brain damage acts as an incredible ally in the search for unraveling the secrets of the human brain. Its ability to create high-resolution images has revolutionized the field of neuroimaging. It has become a cornerstone in diagnosing and understanding various neurological conditions.
MRI of the brain provides much information about the patient's condition. It offers insights into traumatic brain injuries, strokes, neurodegenerative diseases, and even functional aspects of brain activity.
Brain MRI results are more than just an image; they are windows into the confusing world of neurology. Lone Star Neurology is a clinic where they will help you perform an MRI at the highest level. Our specialists will gladly advise you and answer all your questions. Apply now!
FAQ
How long does a brain MRI take?
A brain MRI usually takes 30 minutes to an hour. It depends on the specific scan and the patient's condition.
Is MRI the best method for detecting brain damage?
MRI is one of the best methods for detecting many types of brain damage. This especially applies to structural abnormalities. But other methods are also used depending on the clinical situation.
Can I undergo an MRI if I have metal implants?
It depends on the type of metal implant. Some implants are MRI-safe, while others may pose risks or limitations. Consult your healthcare provider.