About 69 million traumatic brain injuries are reported worldwide each year due to various accidents.
A traumatic brain injury, also known as a TBI, can occur when, for example, the head is suddenly and violently struck against an object or when the skull is pierced with a thing. 
In the aftermath of a blow, the bones of the skull, the soft tissues of the face and head, and the facial skeleton may be affected. Intracranial injuries such as damage to the brain substance and its membranes may also occur.
While any head injury can be severe, TBI is particularly serious because it can cause permanent brain damage. 
Lone Star Neurology decided to write an article in which we take a closer look at head injuries, symptoms and signs of brain damage, and treatment options. 
Read on to understand what to do in case of such a problem.
Leading Causes of a Head Injury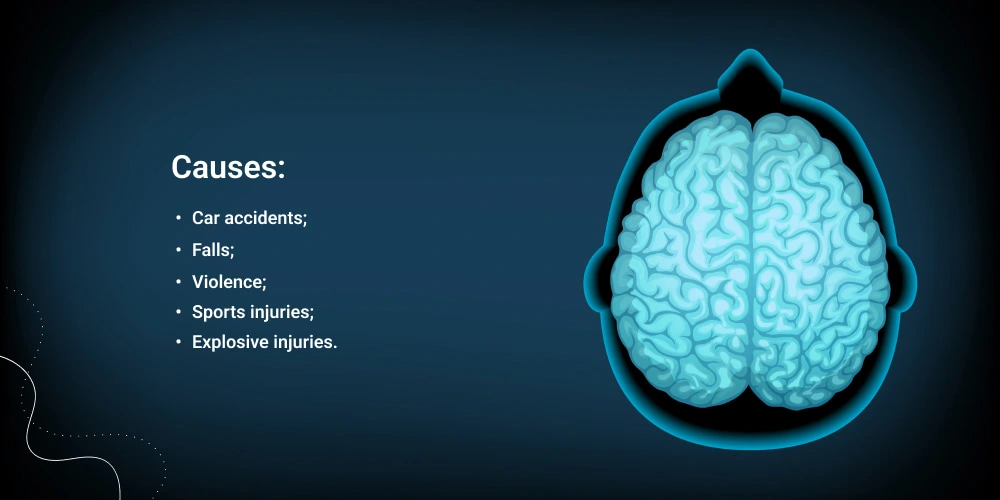 There are many reasons a person may suffer head injuries of varying severity, including closed and open injuries. Here are some of the most common reasons people get TBIs:
Car accidents: In the United States and many other developing countries, car accidents are the leading cause of TBIs. They account for about 21% of all traumatic

signs of brain damage

.

Falls: Falls are the second leading cause of TBI. They account for only 1% fewer cases than car accidents. This injury usually affects people over age 70 and children under 10, but no one rules out accidental falls between the ages of 11 and 70.
Violence: Violence is the third leading cause of TBI and includes intentional (such as assault and subsequent

bang on the head

and other body parts) and unintentional (such as child abuse) acts of violence.

Sports injuries: traumatic brain injuries can also occur during sports. Soccer, hockey, boxing, and unsafe horseback riding are some of the most dangerous sports regarding

closed head injuries

.

Explosive injuries: traumatic brain injuries caused by explosions are most commonly seen in military personnel. However, careless handling of pyrotechnics can also be included here.
How Long After a Head Injury Can Symptoms Occur?
Symptoms may appear at different intervals depending on the type of head injury. They may occur immediately after the traumatic accident or may not be noticeable until several days or weeks later. 
It is because, after an injury, the brain swells and puts pressure on the skull, which can lead to further damage. 
It is important to note that some people may not experience any initial symptoms after a bang on the head but may have long-term effects of the injury.
Traumatic Brain Injury Examples
Now let's look at what types of injuries can occur:
Concussions are one of the most common brain injuries. They occur when there is a change in the function of the brain as a result of a blow to the inner walls of the skull.
It develops more often with closed head injuries. Functional disorders characterize it without morphological changes: loss of consciousness, nausea or vomiting, headache, and retrograde amnesia. These disorders are temporary and reversible.
Edema refers to swelling of the brain, which can result from any cranial trauma, such as a back of the head bump from a fall. Because the skull cannot expand to accommodate the swelling, the swelling can cause pressure on the brain. 
Diffuse axonal damage causes damage to the axons of brain cells, making them unable to function. No bleeding is associated with diffuse axonal damage, but there may be swelling. This closed head injury can eventually lead to loss of some function. 
It is characterized by a prolonged (up to 2-3 weeks) comatose state and pronounced trunk symptoms. Respiratory rate and rhythm disorders are observed. Vegetative conditions are expressed.
Intracranial hematoma is characterized by an accumulation of blood in the brain or empty spaces around the brain caused by a ruptured blood vessel. There are different types of hematomas depending on their location in the brain. 
Skull fractures are rare, mainly after a bump to the back of the head. However, they can cause changes in brain function and possible infection. 
There are four types of fractures: linear, depressed, diastatic, and skull base fracture.
The most common type of fracture is a linear fracture, considered a closed head injury. With this type of fracture, a common fracture occurs but without displacement. This type of fracture does not require treatment. Usually, if a person has this type, the doctor observes the patient in the hospital for a short amount of time, and then the patient returns to everyday life with few restrictions.
The next type is a depressed fracture. This type is so called because it pushes the skull inward due to trauma. This fracture may result in

bruising of the head

, wounds, and abrasions. Depending on the severity, surgery may be necessary.

Diastatic fractures occur at the suture lines of the skull. Fractures of this type occur primarily in children and adolescents because the skull suture lines fuse in childhood and may not be as strong as in adulthood.
The last and most severe type of fracture is a skull base fracture. In this case, people may experience

bruising

all over

the head

, especially around the eyes and behind the ears. This type of fracture requires close observation in the hospital.
Main Head Injuries Symptoms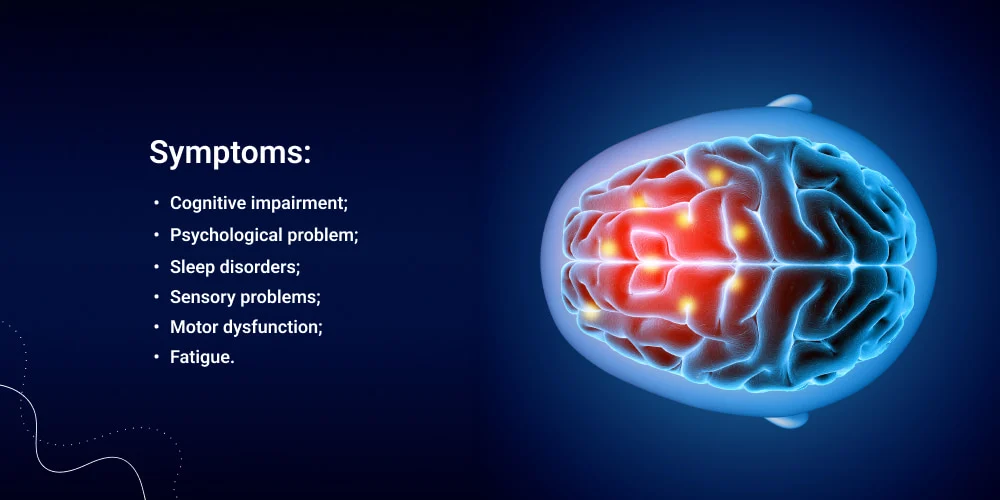 The main symptoms of traumatic brain injury can be classified as follows:
After a closed head injury, concentration, attention, memory, and thinking problems are common. The severity of these impairments depends on the extent of the injury. 
People with traumatic brain injury may have trouble controlling their emotions. These include irritability, anxiety, depression, and mood swings. Anger and aggression are also common. 
Sleep disorders like insomnia are also common. People with traumatic brain injury may have difficulty falling asleep or staying asleep. 
These include vision, hearing, taste, smell, and touch changes. People with traumatic brain injury may also experience other symptoms, for example, severe pain. 
It may include weakness, paralysis, loss of coordination, and problems with fine motor skills. 
People with traumatic brain injury often feel tired and may need more sleep than usual. 
What Are Some Immediate Signs of Traumatic Brain Injury?
One of the most common immediate signs of traumatic brain injury is loss of consciousness. However, not everyone who loses consciousness has TBI.
Other signs and symptoms of head injuries that may occur immediately after a traumatic accident include:
confusion

disorientation

slurred speech or other communication problems

nausea and vomiting

headache or neck pain

changes in vision

changes in sleep patterns

sensitivity to light or noise

mood changes or irritability

fatigue or drowsiness
What Are Some Late Signs of Brain Damage?
Some late signs of traumatic brain injury include:
Sensory problems include ringing in the ears, bad taste in the mouth, and vision changes.
How Is a Brain Injury Diagnosed?
Diagnosing the exact degree of difficulty after a person has been injured is impossible. To do this, it is necessary first to take the injured person to the hospital and perform various examinations.
A physical examination and determination of symptoms will help diagnose a head injury. The doctor will be sure to clarify how the person was injured and, if necessary, may refer them to a subspecialist, as a head injury can cause neurological problems and require further medical monitoring.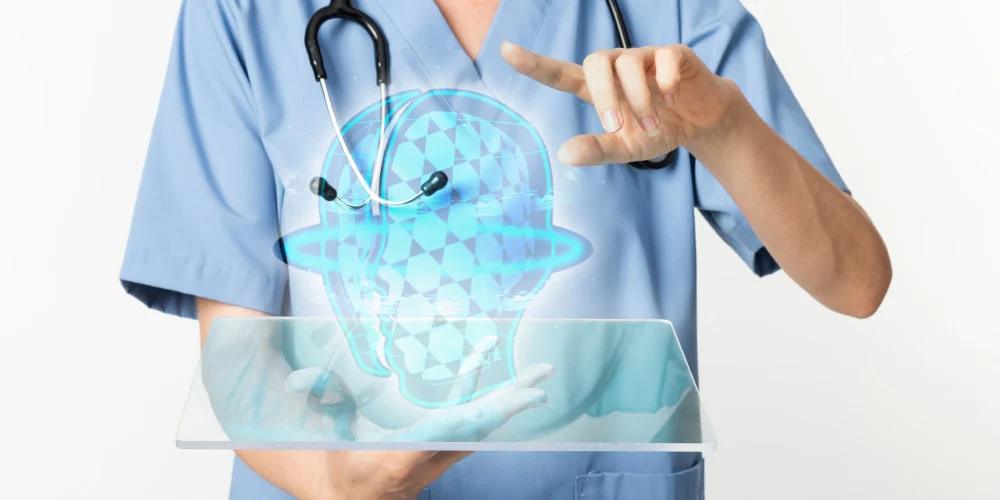 Diagnostic tests may include:
Blood and urine tests.
X-rays. This test uses electromagnetic energy beams to create images of internal tissues, bones, and organs on roentgen film.
Computed tomography. This procedure uses a combination of X-rays and a computer to produce detailed images of any part of the body, including bones, muscles, fat, and organs. A CT scan is more detailed than a regular X-ray.
Electroencephalogram (EEG). This procedure records the brain's continuous electrical activity using electrodes attached to the scalp.
MRI. This test uses large magnets, radio waves, and a computer to produce detailed images of organs and body structures. It does not use X-rays.
It does not mean that after you bang on the head, you need to have every one of these tests; the doctor will tell you what is best to choose.
What Are the Ways to Treat a Head Injury?
Which way will treat your head injury will depend on your symptoms, age, and general health. 
After diagnosing your injury, your doctor will decide, which can range from applying an ice pack to surgery.
If the bang on the head was too severe, you might have your intracranial pressure checked. It is done because a head injury can lead to brain swelling. Because the skull covers the brain, there is only a tiny amount of space left for it to swell. It causes an increase in pressure inside the head, which can lead to brain damage.
Intracranial pressure is measured in one of two ways: 
The first involves inserting a tiny hollow tube (catheter) into the brain's fluid-filled region (ventricle).

The second method involves inserting a tiny hollow device (bolt) into the gap between your skull and brain through your skull.
The physician will insert one or both devices in the intensive care unit (ICU) or operating room. They will then connect the device to a monitor that continuously shows the pressure inside your skull. If the pressure rises, it can be treated immediately. While the device is in place, you will be given medication to make you feel comfortable. Your doctor will remove the device when the swelling has gone down, and it is unlikely that it will increase.
Lone Star Neurology Can Help You
If you have suffered a head injury and don't know if it is severe or not yet, don't hesitate to come to our Lone Star Neurology clinic. Our top specialists know all about the nature and types of head injuries, so they'll give you the right treatments and recommendations.
Lone Star Neurology has several clinics, so see which clinic is closest to you and make an appointment as soon as possible to find out if you have cortical abnormalities or not.
FAQs
How do I know if my head injury is serious?
You need to go to the hospital because only after a diagnosis will the doctor be able to tell if the injury is severe or not. It is best to go to the hospital as soon as you are injured.
How do you know if your brain is bleeding after hitting your head?
If bleeding is inside your skull, you may lose consciousness, but this is not always the case. It is best to see a doctor measure your intracranial pressure and find out if there is bleeding.
What qualifies as traumatic brain injury?
A traumatic brain injury is considered if contact damage occurs after your head hits something.
What is the most common traumatic brain injury?
The most common traumatic brain injury is a concussion. It can be both mild and more complex.