With the football season and the summer period in full swing, it is very important to remember what kind of injuries you can get due to accidents and negligence. You should know about the symptoms, causes, and warning signs of traumas. So, one example of an injury from a fall or blow would be a concussion. 
While concussions are usually not life-threatening, they should not be taken lightly. If you think you may have a concussion, seek medical attention right away. 
Symptoms of a concussion can vary from person to person but may include headache, dizziness, nausea, vomiting, confusion, and memory loss. The cause of a concussion can also vary – it could be from a fall, car accident, or sports injury. However, knowing the warning signs is essential to seek them properly. Read on to find out all the details of this disease.
Concussion: What Is It?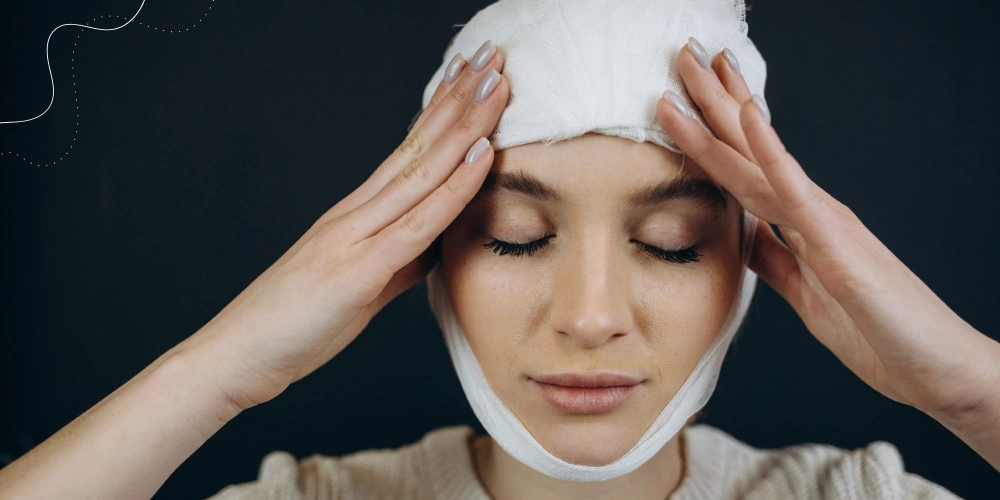 A concussion is a traumatic brain injury that can occur when you hit your head or when an object hits your head. 
This condition is often caused by:
Car accidents.

Falls.

Sports-related injuries.

Fights.
Concussions can be mild and severe. It also has short- and long-term effects: 
While mild can lead to memory, concentration and balance loss.

Severe concussions can lead to more serious consequences like seizures, coma, and death.
Treatment for a concussion usually involves rest and limiting activities that can make symptoms worse. In some cases, medication may be prescribed to help with headaches or sleep problems. 
Physical or occupational therapy may also be recommended to help with recovery. Most people with a concussion recover within a few weeks, but some experience symptoms for months or longer.
What Are The Symptoms Of Concussion In Adults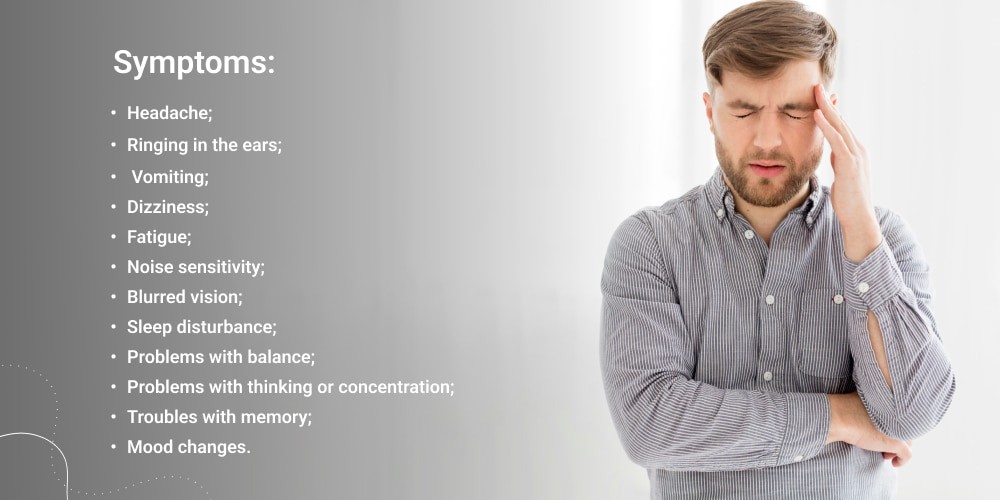 Most head traumas will present with some combination of the following symptoms:
Headache.

Ringing in the ears.

Vomiting.

Dizziness.

Fatigue.

Noise sensitivity.

Blurred vision.

Sleep disturbance (trouble falling asleep or sleeping more than usual).

Problems with balance.

Problems with thinking or concentration (feeling like you're in a fog).

Troubles with memory.

Mood changes (irritability, sadness, anxiety, or feeling more emotional).
The signs and symptoms of a concussion may appear immediately after the injury or may not be noticeable for hours or days. These symptoms can last for days, weeks, or even longer. If you think you or someone you know may have a concussion, you should consider visiting the doctor.
The
Concussion Side Effects
in Children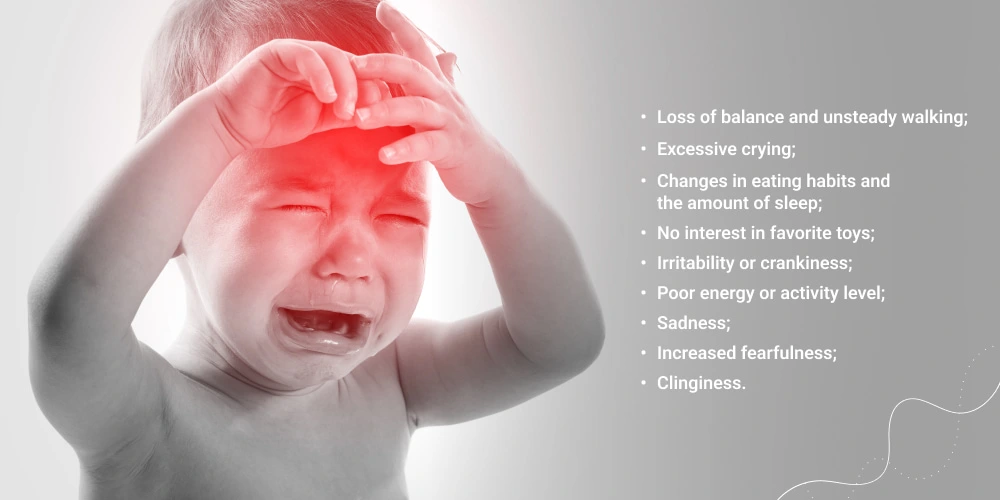 Concussion symptoms in children may be different from those in adults. In addition to the symptoms listed above, concussion symptoms in children may include: 
Loss of balance and unsteady walking.

Excessive crying.

Changes in eating habits and the amount of sleep.

No interest in favorite toys.

Irritability or crankiness.

Poor energy or activity level.

Sadness.

Increased fearfulness.

Clinginess.
If your child has had a head injury and exhibits any of these symptoms, it's essential to see a doctor immediately.
What Are
Warning
Signs of a Concussion?
There are a few warning signs that may indicate a more severe concussion. If you or someone you know experiences any of the following after a head injury, it's essential to seek medical attention. Among the warning signs there are: 
Answering questions slowly.

Demonstrating changes in mood, behavior, or personality.

Loss of consciousness, even if it's just for a few seconds.

Persistent headache that gets worse over time.

Increasing vomiting or nausea.

Slurred speech.

Drowsiness or trouble waking up.

Weakness, numbness, or decreased coordination.

Worsening confusion or irritability.

Seizures or convulsions.

Increasing bruising around the injury site.

Clear fluid drainage from the nose or ears.
Even if the symptoms seem mild, concussions can have serious long-term effects.
When You Need to Visit a Doctor
If you or someone you know has had a head injury, it's important to watch for signs and symptoms of concussion. Another way to know if I have a concussion is to visit the doctor. If you notice the following symptoms, you should seek for medical help: 
Intense, extended headache in different head parts constantly changes its nature but does not disappear.

Change in speech, lack of coordination.

Repeated vomiting.

Involuntary muscle contractions.

Violation of the blood circulation of the brain and subsequently loss of consciousness.

Bright and reusable symptoms within 10-14 days.

Increase or subsidence of symptoms (vomiting, weakness).

Lethargy, outbursts of emotions.
You can figure out about concussion do's and don'ts in our other article.
What Causes a Concussion?
The brain of each person has a consistency similar to gelatin. Every day we make head movements that shock and soften the brain due to the cerebrospinal fluid inside our head.
During a hard blow to the head or neck, our brain may begin to slide back and forth inside the skull. Your brain can be affected by a sudden acceleration or deceleration in head movement. This can occur as a result of: 
An accident.

Impact.

Fall.

Other sudden movements in the head area.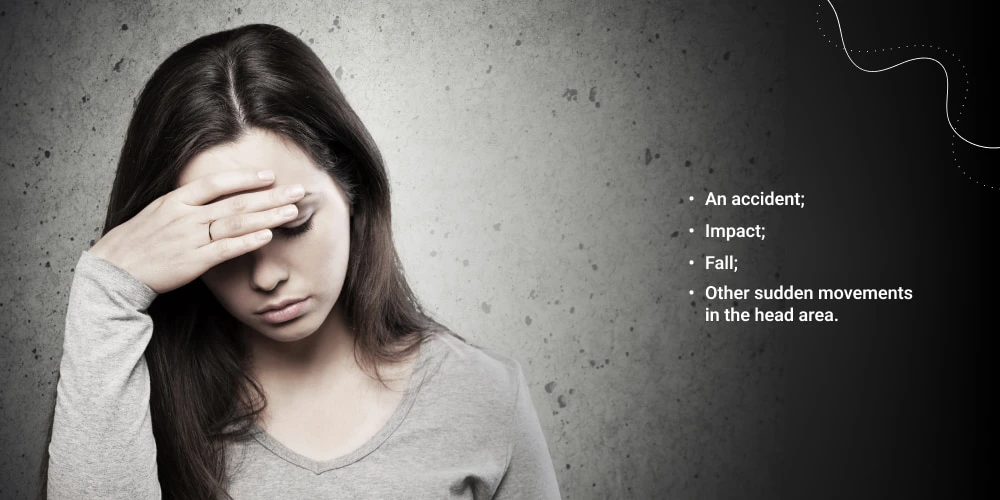 Injuries like these can affect how your brain works. This is most often associated with short-term changes in your: 
Behavior.

Thinking.

Perception.

And other symptoms of a person's concussion.
A concussion can make you more sleepy, tired, and confused. This is because there is a cerebral haemorrhage. The above mentioned signs may appear immediately after the trauma, but head injury symptoms can also reveal themselves days later and sometimes weeks. However, as a rule, such damages don't go unnoticed and have consequences. Therefore, you should see a doctor after a solid blow to the head, even if you do not feel signs of a concussion. 
Sometimes a cerebral haemorrhage can be fatal and lead to death. If you feel that your symptoms are worsening and it becomes more challenging for you to speak, think and understand what is happening around you, it's the best time to see a doctor because your life may depend on it.
Where Can I Get Appropriate Treatment? 
An important step in the treatment of any disease is its diagnosis. Most often, such an injury as a concussion can be determined using a neurological examination. The test includes checking:
The vision.

Hearing.

Strength.

Sensitivity.

Reflexes of a person. 
Coordination and balance tests are also carried out. The last thing that is checked is cognitive testing. All these tests are responsible for indicators of memory, concentration, and assessment of perception of information.
In addition, patients with more severe symptoms such as convulsions, persistent vomiting, headache, brain integrity should be checked. This is done by using x-rays. The image shows the nature of the damage and indicates whether there is cerebral hemorrhage or cerebral edema. Suppose you feel that you are constantly sick after a fall from a bicycle or as a result of a fight. In that case, you lose consciousness and cannot usually exist. Most likely, you have a severe stage that requires the immediate intervention of a specialist.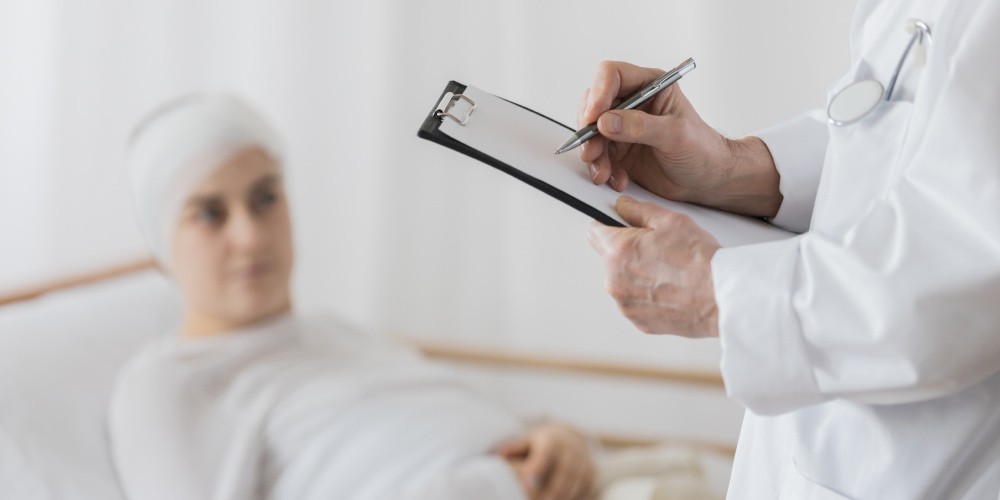 As far as treatment is concerned, the methods differ depending on the damage to your brain. In almost all mild concussions, rest is the best treatment. This includes rejection of:
Sports.

Work with physical activity.

Household chores with the need to actively work with head and neck.
In addition, you will also need to get rid of heavy loads on the functional part of the brain. Therefore, you will need to keep your screen time to a minimum. 
You can read more about recovery from concussion in our Lone Star blog.
Remember:
Watching TV, using a phone, computer or other devices, and reading books will be prohibited during concussion treatment.

You will also need to give up studies and other activities that require active thinking participation.
Surgical intervention is indispensable in cases where the concussion is more severe, and the cerebral haemorrhage has already occurred.
To get the effective treatment, use the contact button on our website and wait for the answer. Remember that only a doctor can tell if you have a concussion and prescribe the right treatment.  
FAQs  
What do you do for a severe concussion?
A mild concussion is accompanied by a loss of consciousness for 30 and more minutes. If you notice symptoms are worsening, you should consult the doctor immediately.
Can a person realize they have a concussion?
In general, yes. But sometimes, the concussion symptoms can be subtle and may not appear immediately. It can take days and even weeks. As a result, you can have this problem but don't even realize it with no symptoms.
Can you go to sleep with a concussion?
Generally, adults and children can safely sleep after a concussion once they have visited their doctor or an emergency room. Although sleeping after a concussion is considered safe, assessing a person's symptoms when asleep is more challenging.
How dangerous is it if I don't see a doctor when I have a concussion?
If you don't want to visit the doctor after trauma, you can develop bleeding or a blood clot that can be life-threatening if not promptly diagnosed.