In the landscape of human anatomy, there is a complex structure: the cervical spine. This slender vertebrae column houses the most delicate and vital part of our nervous system: the spinal cord. However, like any architectural marvel, it, too, can run into structural problems. Some of the most common conditions in this area include cervical disc herniation. This condition can cause excruciating pain and disrupt the rhythm of daily life.
People have a desire to understand and diagnose this ailment. That is why modern medicine relies on a wonderful tool – MRI images of disc herniation. It is a window into the hidden world of our body. It reveals the secrets of the cervical spine with unrivaled clarity. 
Join us for a journey through the corridors of this marvel of technology. We will begin reading a comprehensive guide to cervical herniated disc MRI. Next, we'll look in-depth at the symptoms of cervical herniated discs, diagnosis, and treatment options. We will shed light on a condition that affects countless people.
What is a Herniated Disc?
A herniated disc is also known as a disc protrusion or ruptured disc. It is a spinal condition in which the soft inner core of the intervertebral disc penetrates through the harder outer layer. It can cause nearby nerves to become compressed or irritated. It causes pain, numbness, or weakness in the affected area. 
Herniated discs typically occur in the lumbar or cervical spine. They are often the result of age-related wear and tear but can also occur due to trauma. Treatment options range from conservative methods to more invasive interventions. It all depends on the severity of symptoms and the patient's condition.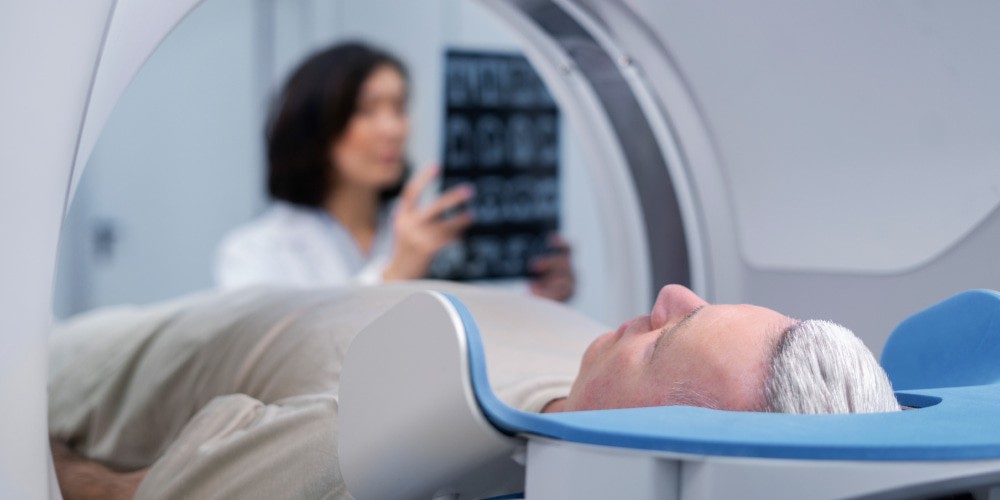 MRI of Herniated Disc in Neck
The complex network of bones, nerves, and soft tissues is a marvel of natural engineering. However, even this amazing structure is not immune to wear and tear. A herniated disc is among the common diseases that can disrupt the harmony of the cervical spine. Next, we will delve into the world of magnetic resonance imaging. We will be able to uncover the mysteries and intricacies of a herniated disc in the neck. You will gain insight into diagnosis, treatment, and a path to relief.
The Process of MRI Scanning
MRI, or magnetic resonance imaging, is a non-invasive medical imaging technique. Cervical herniated disc MRI allows you to obtain detailed images of the body's internal structures. During MRI, the patient is in a cylindrical apparatus. The apparatus generates strong magnetic fields and radio waves. Under the influence of these forces, the nuclei of hydrogen atoms in the body's tissues emit signals. Special sensors register them. A computer then processes these signals to create high-resolution images. These images help diagnose various diseases, including herniated discs in the neck.
How MRI Detects Disc Herniation
MRI scan of a herniated disc allows you to detect a herniated disc. It utilizes the different properties of tissues in the body. Spinal discs contain water. When exposed to the powerful magnetic field of an MRI scan, the hydrogen atoms in the water are aligned. Radio waves then act on them, disrupting this alignment. When the hydrogen atoms return to their original state, they emit signals. The MRI machine picks up these signals. Analyzing these signals, the MRI creates detailed images of the spinal discs. It allows doctors to detect abnormalities such as herniated discs. 
Deciphering MRI Images of Disc Herniation
Deciphering MRI images of disc herniation involves analyzing the nuances of the image. Radiologists evaluate herniated discs' shape, size, and location in the spinal discs. They look for signs of compression of nearby nerves or the spinal cord. In addition, the scans can provide information about the degree of hydration of the disc. It can indicate its health and degeneration. By interpreting this data, specialists gain valuable insights into the degree of herniation. They develop appropriate treatment plans for patients with spinal disc problems.
Symptoms of Cervical Herniated Disc
A herniated disc can disrupt the delicate balance of our daily lives. Understanding the symptoms is very important. It will help in the timely recognition and treatment of this disease. The manifestations of a herniated cervical disc can vary widely. From tingling to excruciating pain. Next, we will look at how this condition can make itself known. It can help people and medical professionals navigate the often confusing picture of symptoms. 
Neck Pain
Neck pain is a common and often excruciating symptom. This discomfort usually occurs when a herniated disc irritates or compresses nearby nerves. The pain can range from dull to sharp, shooting pain. You may feel it in your neck, shoulders, arms, or even hands. Understanding the nature and intensity of neck pain is crucial. It will help diagnose an MRI of a herniated disc in the neck. 
Numbness and Tingling Sensations
Symptoms of a herniated cervical disc often include numbness and tingling. When the herniated disc presses on nerves in the neck, it can disrupt the normal flow of nerve signals. This disruption results in a sensation of numbness. Patients often describe this sensation as "needles and pins." Numbness and tingling serve as important indicators of nerve compression. They are key indicative factors for cervical herniated disc MRI.
Muscle Weakness
Muscle weakness is a characteristic symptom of cervical disc herniation. When a herniated disc impinges on nerves, it can disrupt the transmission of signals. This disruption of communication can lead to muscle weakness. Patients may experience difficulty in:
Grasping objects

Lifting their arms

Performing daily tasks

And so on
Identifying and addressing muscle weakness is crucial. It will help treat cervical disc herniation and prevent further complications.
Radiating Arm Pain
Radiating arm pain is a characteristic symptom of a cervical herniated disc. Is the herniated disc compressing or irritating the spinal nerves? It often causes sharp or shooting pain. It occurs in the neck and radiates to one or both arms. This pain can be of varying intensity. Additionally, you may experience tingling, numbness, or weakness in the affected arm(s). Understanding the nature and duration of arm pain is very important. It will help to effectively diagnose and treat cervical disc herniations.
Decreased Range of Motion
A decreased range of motion in the neck is a common consequence of a cervical herniated disc. As it progresses, it can lead to stiffness and a limited range of motion. Patients may find it difficult to turn their necks or tilt their heads comfortably. This limitation can affect daily activities. Recognizing and addressing this decrease in neck mobility is critical.
What Causes Cervical Disc Herniation?
The origin of cervical disc herniation is a multifaceted mystery. And it is influenced by several factors. Each of the factors affects the spinal discs located in our neck. Next, we will understand the causes and contributing factors of the disease. We will unravel the mystery of this common spinal condition. From age-related degeneration to sudden trauma. We will look at the various factors that can cause displacement.
Aging and Degeneration
Aging and degeneration play a key role in developing cervical disc herniation. As we age, the spinal discs in the neck undergo natural wear and tear. Over time, these discs lose hydration and elasticity, becoming more susceptible to damage. As a result of the degenerative process, the disc's outer shell weakens. It makes it easier for the soft inner core to bulge or herniation. Understanding the effects of aging and degeneration on the cervical spine is important. It can be a good indication for an MRI scan of a herniated disc.
Traumatic Injuries
Traumatic injuries can quickly turn a healthy cervical spine into a herniated disc site. Sudden accidents, falls, or bumps can exert a tremendous force on the neck. It leads to displacement of the spinal discs. As a result of these injuries, the outer layer of the disc can rupture. The inner nucleus can bulge and compress nearby nerves or the spinal cord. These injuries emphasize the importance of preventative measures and proper medical care.
Repetitive Strain
Repetitive strain can gradually contribute to the development of a herniated cervical disc. Prolonged repetitive motions can put excessive strain on the cervical spine. These can include:
Violation of posture

Lifting weights

Constant bending of the neck
Over time, this strain can weaken the spinal discs. And this will lead you to the formation of a herniated disc. People whose work or habits involve repetitive movements should be especially aware of the potential risks and take preventive measures to know what causes cervical disc herniation.
Genetics and Hereditary Factors
Genetics and hereditary factors can also play a role in cervical disc herniation. This disease is often attributed to aging and lifestyle. However, evidence suggests that genetic predisposition may make some people more susceptible. Certain characteristics can be inherited. It affects the likelihood of developing degeneration and a herniated disc. You must understand the genetic component of cervical disc herniation. It emphasizes the importance of developing individualized prevention strategies. Early intervention will benefit those with a family history of spinal disease.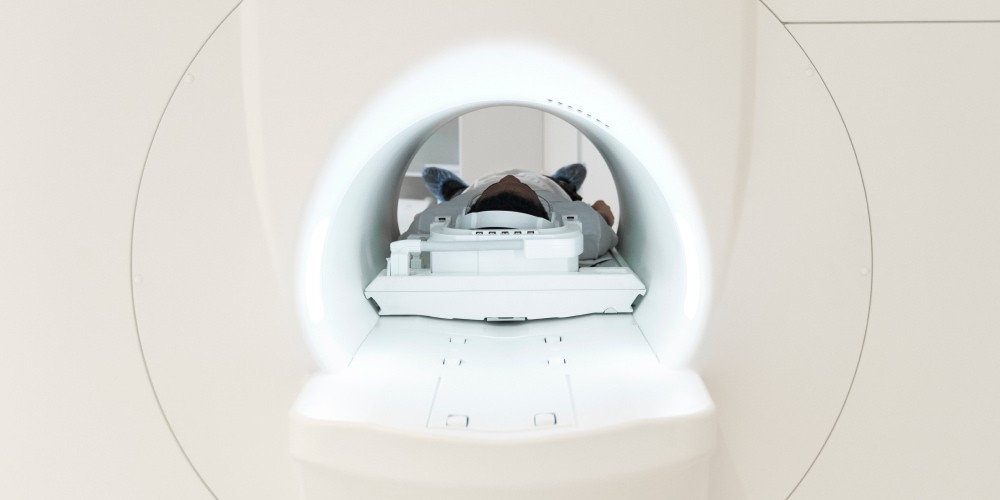 MRI vs. Other Diagnostic Tools: Why MRI?
There are many options in the world of medical diagnostics. Each has its own advantages and limitations. Are we talking about detecting and evaluating a herniated cervical disc? One tool is the gold standard: magnetic resonance imaging. Next, we'll examine why MRI is a leader among diagnostic modalities. We'll shed light on its unique capabilities, accuracy, and safety. Join us as we explore the compelling reasons why. You will understand why an MRI of a herniated disc in the neck is the preferred choice.
Clarity and Detail
MRI's unrivaled clarity and detail are the main reasons for its advantages. Unlike X-rays or CT scans, MRIs use powerful magnets and radio waves. It is how it can produce highly detailed images of soft tissue. This exceptional accuracy allows specialists to visualize even little-noticeable hernias. Doctors can even see nerve compression and related structural changes. Thanks to MRI, the complex landscape of the cervical spine is displayed in minute detail. It ensures accurate diagnosis and informed treatment planning for herniated disc patients.
No Radiation Exposure
One of the most important advantages of MRI images of disc herniation is the absence of radiation exposure. X-rays and CT scans use ionizing radiation. MRI uses magnetic fields and radio waves to create images. It makes MRI a safer method, especially for pregnant women. Eliminating radiation risks not only increases patient safety. It makes MRI the preferred choice for repeat exams and ongoing condition monitoring.
Direct Visualization of Nerve Roots
MRI's ability to directly visualize nerve roots is the most important advantage. Unlike some other imaging techniques, MRI provides detailed multidimensional images. It allows specialists to accurately locate and assess nerve root compression. This level of understanding helps determine the severity of the disease. The doctor can make treatment decisions and help patients understand the extent of neurological damage. MRI's ability to visualize nerve roots is key to its diagnostic superiority.
Conclusion
In the challenging field of cervical disc herniation diagnosis, magnetic resonance imaging is the unrivaled champion. Its amazing clarity, lack of radiation exposure, and direct visualization of nerve roots make it a leader among diagnostic tools. MRI provides an accurate and comprehensive view of health conditions.
At Lone Star Neurology, we recognize the importance of MRI in diagnosing cervical disc herniation. Our commitment to advanced technology and patient-centered care ensures the most accurate examination and puts patients on the path to effective treatment and recovery.
FAQ
What is the difference between a bulging disc and a herniated disc?
Bulging discs involve disc extension, while herniated discs involve disc material rupture.
How long does it take for a cervical herniated disc to heal?
Healing time varies but can take several weeks to months.
Are cervical herniated discs common?
Cervical herniated discs are relatively common spinal conditions, causing neck and arm symptoms.