Do you need to visualize your internal organs and tissues? Fortunately, modern medicine gives patients such an opportunity. All you need to do for this is to use X-ray tomography. It is one of the most powerful and safe tools in disease diagnosis.
This method is based on the use of X-rays. They penetrate the patient's body and tissues absorb them of different densities. By combining the received data with computer processing, X-ray tomography creates images of organs and tissues. It allows doctors to get total information about the patient's health.
In light of the continuous development of medical technologies, computed tomography (CT) is becoming an integral element in the diagnostic process. Implementing this method allows medical specialists to detect and accurately localize pathologies timely. It increases the chances of successful treatment and recovery of patients.
Understanding X-ray
Computed Tomography (CT)
It is a fairly recent and very useful method of medical diagnosis. You can examine bones, internal organs, blood vessels, and tissues using this research technique.
The circle-shaped computed tomography scanner is a sizable apparatus. Throughout the examination, the patient is lying on a table that moves inside the tomograph. The X-ray tube rotates around the body while the table is in motion. The computer processes the images, and as a result, you get accurate three-dimensional layer-by-layer images. During the examination, the patient should lie still. The patient should breathe calmly to get clear, non-blurred images.
Generally, people should get CT scan images for the following reasons:
various injuries;

fractures, blows;

diseases of the spine, joints, and bones;

diagnosis of

neurological disorders

;

respiratory diseases;

checking the state of blood vessels and blood flow, etc.
X-ray computed tomography is entirely painless. Moreover, it does not cause claustrophobia in the patient. The scanning process takes less than one minute. If the examination is for using contrast enhancement, the scan does it several times. After the procedure, the doctor studies the obtained images on the computer screen. And after that, they write a conclusion.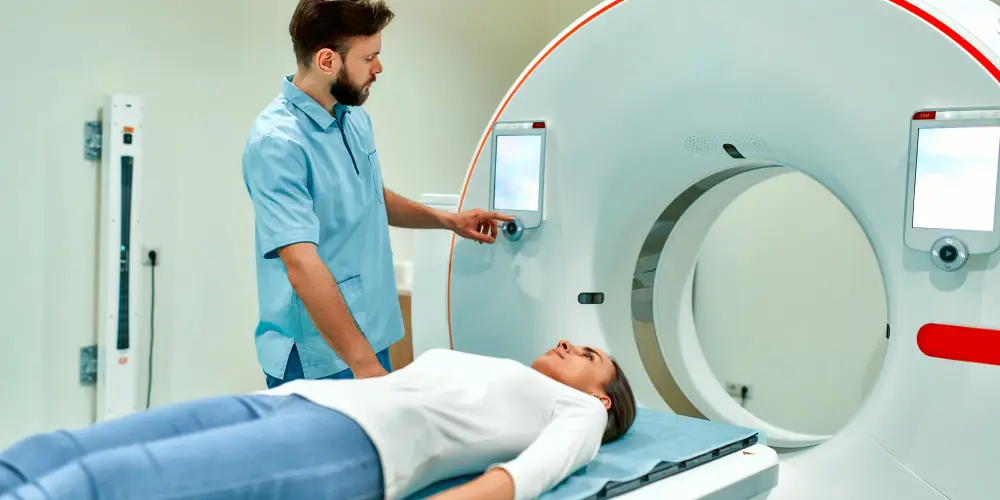 Advantages of X-ray Computed Tomography
Medical imaging plays a crucial role in modern medicine. It allows doctors to look inside the body without invasive procedures. And one such popular method is X-ray tomography.
There are two main types of CT scanners: conventional and helical. Traditional CT scanners take multiple images of the body from different angles. And spiral CT scanners take continuous CT scan images as the patient moves through the scanner. Helical CT scans work faster than conventional CT scans. In any case, both of these approaches have their advantages. This way of studying the human body is fundamental in medicine. It would be much more difficult to cope with human diseases without it. For this reason, doctors value CT very highly and give it many advantages. Do you want to know which ones? Read on:
1. Diagnostic insight
CT provides unsurpassed diagnostic capacity and penetration. CT imaging systems work based on tomographic slices. They produce high-resolution images of organs and tissues. This technology lets doctors get a clear view of internal structures from all angles. Thanks to this, they can detect pathologies such as cancer, bleeding, infections, etc.
2. Ease of use
It is a relatively simple method of diagnosis. It includes a level of preparation for use and selection throughout the study. The size of the equipment has also become smaller. It allows it to be in hospitals with minimal floor space requirements.
3. Surgical planning
Another significant advantage of X-ray computed tomography is its use for complex surgical planning. Before conducting complex operations, doctors often refer to CT data. They provide precise localization of pathology and anatomical details. It allows surgeons to confidently choose the most optimal approach to surgery and reduce the risk of complications.
4. Scanning speed
X-ray offers a quick scan. It allows you to get an image in a short period of time. It is especially important for critically ill patients. Or it is helpful when urgent diagnostic procedures are necessary.
5. Management of radiotherapy
It plays a critical role in cancer radiotherapy. Doctors can accurately determine the size of brain tumors and precisely plan radiosurgery procedures. It allows you to reduce damage to healthy tissues.
6. Prevention
Computed tomography (CT) is also helpful in preventive studies. It helps to detect conditions in the early stages when symptoms are not yet apparent. It provides an opportunity to start treatment from the early stages. Or if you're treating something, CT can give you results on its effectiveness. After examining one's organs, you will know whether the illness is progressing or, on the contrary, not.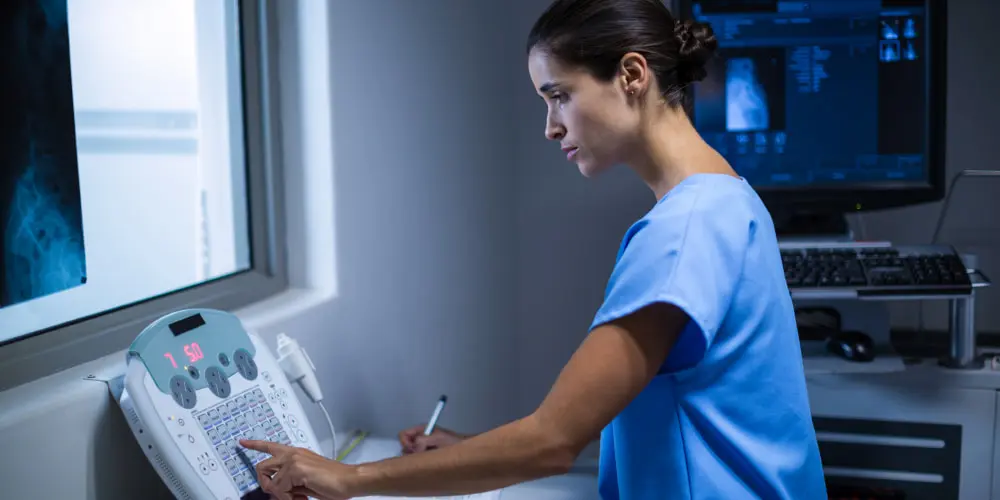 Exploring Computed Tomography (CT) in Medical Imaging
Thanks to the most modern medical imaging technologies, computed tomography is trendy to us. Can you imagine exactly how CT gives you such accuracy in diagnosis? The answer: in its cross-sectional CT scan images that reveal the secrets of your body.
The CT generates a horizontal beam of X-rays, rotating around the patient. The built-in detector registers the rays after passing through the body. And then it becomes a reality. A unique program creates high-resolution images. It is as if you are viewing your inner body in existence. This effect occurs thanks to high-quality visualization.
In general, X-ray tomography is an essential method of medical imaging. It is beneficial not only in diagnosing the condition of internal organs and tissues. It is also helpful in studying some biological systems of the body. CT can also be used in educational medicine and space medicine. That is why it is a very valuable tool in treatment.
Applications of CT in Medical Imaging
You already know that CT can help in the diagnosis of various diseases. But it can also be instrumental in many fields of medical imaging. Let's take a closer look:
Thanks to the high resolution of CT, it is possible to detect the presence of cancerous tumors. The essential advantage of CT is obtaining 3D images of organs and tissues. It makes detecting cancer of the stomach, lungs, liver, and other organs possible.
CT in the study of bones and joints
It also allows for studying the structure and function of bones and joints. CT can be used to evaluate injuries to bones and joints. These can be ligament tears, fractures, and osteoporosis.
CT imaging of the cardiovascular system
The use of X-ray computed tomography in medical imaging can also be helpful in the study of the cardiovascular system. It can be for obtaining extra information about the heart and blood vessels. CT can also help detect arrhythmias and other heart problems.
Conclusion
X-ray CT is fast, highly accurate, and versatile. It makes it an ideal choice for diagnosing and monitoring various ailments. And its safety adds even more value to this method. Very often, such an approach to disease detection is prescribed by neurologists. After all, it helps to identify problems in the central nervous system.
Do you suspect similar problems with your health? Lone Star Neurologists are here to help you. Our specialists are professionals in their field. So, they know what you need to overcome disorders. So, contact us to treat your illnesses and be healthy.
FAQ
What is the difference between X-ray tomography and traditional X-rays?
X-ray tomography and traditional X-rays differ in their imaging capabilities. X-rays produce 2-dimensional images. They provide a basic overview of the body's internal structures. But, X-ray tomography takes imaging to offer 3-dimensional views. It includes organs, soft tissues, and blood vessels. 
Yes, CT scans are safe. But it is crucial to use them judiciously and follow recommended guidelines. It is to cut radiation exposure.
How long does a CT scan take?
Generally, a CT scan takes about 10 to 20 minutes. It is to ensure a fast and effective diagnostic process. The duration of it can vary based on some factors. It involves the complexity of the examination. Also, it includes the specific body part being scanned.
Can I undergo a CT scan if I have metal implants?
In many cases, you can undergo a CT scan even if you have metal implants. But it's essential to inform your healthcare provider about any metal implants. Because some may interfere with the imaging quality or cause artifacts on the scan.