Welcome to "Greater Occipital Nerve Block Guide." This text discusses an innovative approach to relieving debilitating head and neck pain. And it will help you with the technique of blocking the greater occipital nerve (GON). Painful sensations can significantly impair a person's quality of life. The GONB procedure has become recognized as an effective method of pain management. Therefore, relief has become possible.
This guide is a valuable source of information. Medical professionals? Or do you wish to gain a deeper understanding of GONB? We will look, in principle, at its performance, indications, and other details. Either way, find the possibilities of occipital nerve blockade. Discover a future of reduced pain and improved well-being.
What Is the
Occipital Nerve Block Procedure
An occipital nerve block procedure is a medical intervention. Doctors use it to relieve pain in people who suffer from it. The occipital nerves are located at the base of the skull. They are crucial in transmitting sensory information from the back of the head and neck to the brain.
During a GONB procedure, a medical professional injects a local anesthetic. It is usually administered by an anesthesiologist or pain management specialist. Additionally, the doctor may inject a corticosteroid directly around the greater occipital nerve. This targeted injection helps interrupt pain signal transmission along the nerve pathway. It will provide effective relief for patients. If patients are experiencing persistent neck or head pain, it will no longer be present.
The doctor usually performs the procedure on an outpatient basis. The patient will experience minimal discomfort. Before the injection, the doctor thoroughly cleans the injection site. They may use ultrasound or other imaging techniques to insert the needle precisely.
Patients typically experience varying degrees of pain relief. They often have quick results that last for weeks or months. Doctors may recommend repeated occipital nerve block techniques for permanent relief. But this depends on the patient's response and the nature of their condition.
Importantly, the occipital nerve block procedure involves certain risks. But in fact, any medical intervention can provoke certain problems. In equal cases, the doctor is guided by your reaction.
Benefits and Potential Applications of
Occipital Nerve Blocks
The occipital nerve block technique has several advantages. It has a variety of applications in the treatment and relief of pain. Some of the main advantages and ways of e application we can include:
Pain relief

. It is the main benefit of the occipital nerve block. It can provide significant pain relief. If you suffer from chronic headaches, this will help you. These injections interrupt the transmission of pain signals along the occipital measures. They can bring the relief that patients need.

Non-invasiveness

. An

occipital nerve block

is a minimally invasive procedure. It means patients can avoid the risks associated with more complex solutions.

Elimination of systemic medications

. If you are someone who doesn't respond well to pain medications, this option is definitely for you. The blockade is a targeted alternative. It reduces the need for extensive use of medications.

Diagnostic tool

. This method can also serve as a diagnostic tool. It can help determine the source of head and neck pain. Does the patient experience a temporary urge for pain after injections? It may confirm that the occipital nerves are involved in the pain pathway.

Improved quality of life

. The

greater occipital nerve block

provides an increase in quality of life. All because the person no longer feels debilitating

headaches and migraines

. It means he will be more comfortable in his daily activities.

Complement to other treatments

. Doctors can use this procedure in combination with other treatments. For example, you can use the blockade with physical or drug therapy.

Repeat treatments

. Patients can safely receive the next dose of the blockade after some time. In doing so, the blockade will provide a sustained reduction in pain symptoms.
However, remember that it is important for you to consult a qualified professional. It is the only way you will be able to determine if the occipital nerve block procedure is the right treatment option for you.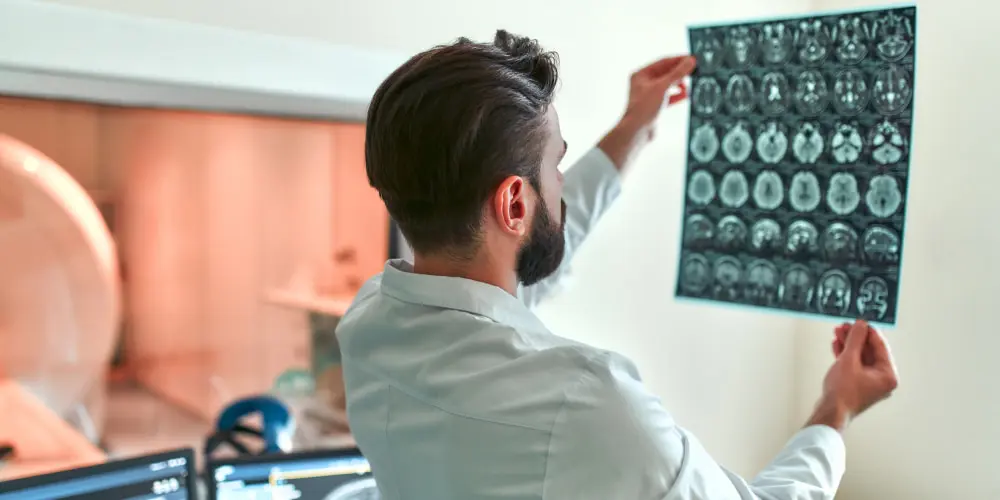 Technique
of the Greater
Occipital Nerve Block
The technique of the procedure offers a precise and careful approach. It should ensure that medications that prescribed accurately. Below we give an overview of the procedure:
Positioning of the patient

. Typically, the physician will suggest that the patient sit or lie face down. It provides comfort and access to the injection site.

Cleaning the injection site

. Healthcare providers sterilize the skin around the base of the skull. Here you'll find the greater occipital nerve.

Local anesthesia

. The doctor will use a local anesthetic to anesthetize the injection site. It will reduce discomfort during the

occipital nerve block technique

.

Needle insertion

. The doctor will insert a thin needle near the greater occipital nerve. They often use ultrasound for this.

Insertion of the medication

. After properly positioning the needle, the doctor injects a mixture of local anesthetics. In some cases, the doctor may add a corticosteroid.

Observation

. For a short period, doctors observe the patient. This way, they can make sure there are no adverse reactions.
The occipital nerve block procedure usually takes only a few minutes. Shortly afterward, patients can return to their normal activities. Relief from head and neck pain comes after a few hours. This effect usually lasts for several weeks. But the holistic result depends on the individual patient.
Indications and Efficacy of Occipital Nerve Blocks
Doctors may prescribe occipital nerve block to people who suffer from chronic headaches. If a person has a migraine or occipital neuralgia, an occipital nerve block will help. These conditions may be resistant to traditional pain treatments. Therefore, a greater occipital nerve block is a valuable alternative.
Doctors have documented the effectiveness of the block. It provides significant relief for many patients. Studies have shown that blockade can significantly reduce the severity and intensity of headaches. The non-invasive nature of the procedure makes it safe for people with problems.
The occipital nerve blockade has proven effective for many people. However, the degree of pain relief and its duration may vary from patient to patient. First and foremost, the patient needs to consult with a medical professional. It will help determine the appropriateness of this method depending on the patient's condition.
Risks and Side Effects of Occipital Nerve Blocks
Yes, the occipital nerve block technique is generally safe. However, there are potential risks and side effects. These may be associated with this procedure. We can include:
Infection at the injection site

. Rare, but this risk exists. If the doctor is incompetent, the patient can get an infection.

Allergic reactions

. Some people may experience allergic reactions to medications.

Temporary numbness or weakness

. A local anesthetic may cause temporary numbness or weakness in the surrounding area.

Bruising or bleeding

. A small bruise may appear if it is difficult to insert the needle. Usually, Patients get over these problems quickly.

Exacerbation of pain

. Occasionally, an

occipital nerve block

may not provide the desired pain relief. It depends on the body's response.
As with any medical procedure, discussing possible risks and side effects with your healthcare provider before undergoing an occipital nerve block is important.
Conclusion
In conclusion, greater occipital nerve block is a promising and effective method. Due to its non-invasiveness and minimal side effects, it has become a popular option. It brings meaningful relief and improves the overall quality of life of patients.
This procedure is constantly being improved. Therefore, doctors are unlocking the potential of occipital nerve blockade more and more each time. Patients can get respite from centurial pain and enter the future feeling better.
If you are ready to eliminate debilitating pain, contact our clinic. Lone Star Neurology offers our patients the most advanced and safe options available. With our skilled and caring staff, you'll forget what pain feels like. Schedule an appointment soon, and return to your normal life without pain.
FAQ
What is a greater occipital nerve block?
An occipital nerve blockade is a medical procedure that involves injecting medication into the area of the occipital nerve. It helps relieve chronic head and neck pain.
How is the occipital nerve block procedure performed?
A physician performs the occipital nerve block procedure. He injects a local anesthetic around the greater occipital nerve.
Is the greater occipital nerve block technique different from other nerve block procedures?
Yes, a large occipital nerve block technique is specific to the occipital nerves. It makes it different from other nerve block procedures.
How long does the pain relief from occipital nerve blocks last?
Relief after an occipital nerve block can vary. But the duration can be anywhere from a few weeks to a few months. Some patients may retain the feeling for a longer period.