Dysphagia – what is it? When you first hear this word, it can be frightening. It sounds like some scary diagnosis from which people no longer live. But don't be so pessimistic. It's not as scary as you might think.
So, let's start with the fact that it is a disease we can characterize as difficulty swallowing. That is, it is difficult for a person to swallow anything. Of course, this can significantly affect a person's overall quality of life and health. It can have serious consequences if left untreated. Fortunately, there is an effective therapy for dysphagia and improving swallowing function.
This text will look at various options for treating dysphagia, including home treatment. We'll look at both traditional and innovative approaches for diagnosis and treatment. Join us on this journey. You will explore the world of dysphagia therapy and an improved life experience.
Diagnosis and Assessment of Dysphagia
So, you already know that dysphagia is a condition that affects swallowing problems. Anyone can get this condition for various reasons. And no matter what the cause of your dysphagia is, one thing is important. You need to start treatment for dysphagia as soon as possible.
What are the most important steps in developing an effective treatment plan? Of course, it is an accurate diagnosis and a comprehensive evaluation. Healthcare professionals use a range of diagnostic methods and assessment tools. It is the only way they can determine the specifics and severity of the swallowing disorder. We have prepared some examples for you.
Health professionals can diagnose dysphagia using these and other diagnostic methods accurately. Doctors will be able to determine the underlying causes. They can assess the severity of the swallowing disorder. This information will also serve as the basis for developing a treatment plan. Doctors will carry out targeted therapeutic measures, such as dysphagia exercises. It is the only way to improve your swallowing function and general well-being.
Clinical Evaluation
A speech-language pathologist (SLP) conducts a thorough clinical evaluation. It includes taking a detailed medical history and a physical examination. And make sure the doctor observes your swallowing function. The doctor may assess oral motility and coordination.
Videofluoroscopic Swallow Study (VFSS)
It is also known as a modified barium swallow. It is an imaging study that involves swallowing different foods and liquids. A radiologist and a doctor observe the process using X-rays. This real-time imaging helps to make the therapy for dysphagia clearer.
Fiberoptic Endoscopic Evaluation of Swallowing (FEES)
In this procedure, the doctor inserts a flexible endoscope through the nose. It provides a direct view of the pharynx and larynx during swallowing. It helps to assess the movement and coordination of the structures in swallowing. The doctor can identify potential problems during this examination.
Dysphagia Questionnaires and Scales
Various standardized questionnaires and scales are available to assess the impact of dysphagia on an individual's quality of life and to measure swallowing-related symptoms and functional limitations. Examples include the Eating Assessment Tool (EAT-10) and the Swallowing Quality-of-Life questionnaire (SWAL-QOL).
Electrical Impedance Tomography (EIT)
It is a fairly new technology that helps with swallowing therapy for dysphagia. It measures the change in conductivity in the throat during swallowing. It provides information about the flow of the saucer in real-time. It can help detect Swallowing Anomalies in a non-invasive way.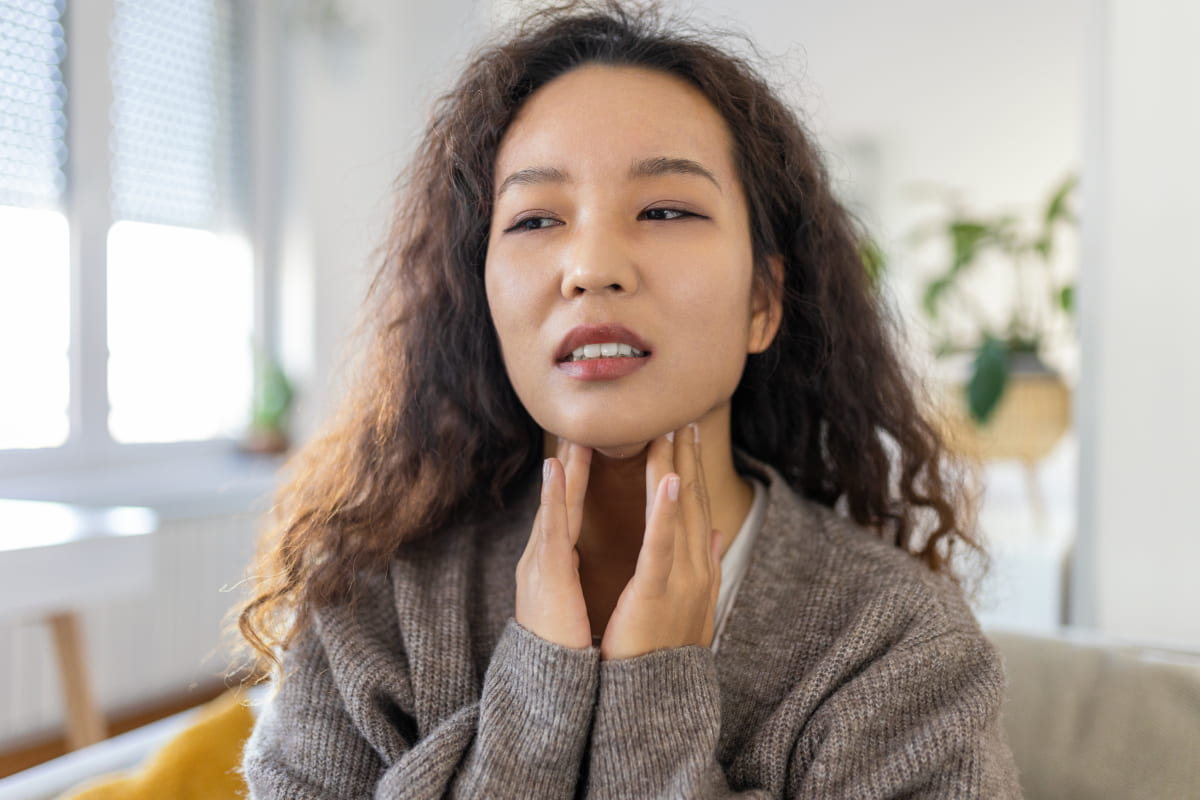 Multidisciplinary
Treatment of Dysphagia
Effective treatment of dysphagia requires a local approach. A multidisciplinary healthcare team must be involved. In this team, we can usually include several types of doctors. They all use their experience to develop dysphagia exercises and other methods. These specialists combine their knowledge and skills. Then they look at the different aspects and provide comprehensive treatment. Here are some key contributors to the interdisciplinary treatment of dysphagia:
Speech-Language Pathologists

. They play a central role in the assessment and

treatment of dysphagia

. They assess swallowing function and develop exercises. 

Otolaryngologists

. These physicians specialize in diseases and disorders of the ear, nose, and throat. They evaluate the structural integrity of the airways. They may perform surgical interventions if necessary.

Dietitians

. Nutritionists also play a far-reaching role in the

therapy for dysphagia

. They provide dietary recommendations and develop modified diets. They ensure safe swallowing and adequate nutrition. It is the dietitians who work closely with people. They make individualized meal plans. Therefore, dietitians take into account any specific dietary restrictions of the disease.

Occupational therapists

. Occupational therapists focus on improving functional abilities. Therapists deal with fine motor skills and other problems.

Radiologists

. Radiologists contribute to the diagnostic process. They do imaging studies. They interpret these studies to identify structural abnormalities or swallowing dysfunction.

Psychologists/consultants

. The disease has a significant impact on emotional well-being and quality of life. Psychologists provide support through

swallowing therapy for dysphagia

. Counselors or psychologists also counsel patients' families to address psychosocial aspects.

The collaboration between these specialists allows for a comprehensive approach to treatment. They work together to eliminate the underlying causes of dysphagia. They monitor the process and make necessary adjustments to the treatment plan. By combining their knowledge and experience, the multidisciplinary team strives to optimize swallowing function. They are committed to improving the quality of life of people with dysphagia.




Swallowing Exercises for Dysphagia

Swallowing exercises are an important component of dysphagia therapy. Typically, doctors direct them to improve strength, coordination, and muscle control. Doctors have developed this exercise for a specific swallowing disorder. Therefore, they promote safe and effective swallowing. Below we list some commonly used swallowing exercises for dysphagia.

It is important to note that a doctor should only prescribe dysphagia exercises. You should also perform this exercise under the guidance of a speech-language pathologist. It is the specialist who evaluates the specific swallowing difficulties. Then they select exercises tailored specifically to your individual needs. Doctors monitor your progress and make any necessary adjustments.

In addition to these exercises, specialists may recommend other strategies. Combined with other therapeutic measures and dietary changes, exercise plays a vital role. They will help to renew your swallowing ability and improve your quality of life.

Shaker Exercise

This exercise primarily focuses on strengthening the neck and throat muscles. A person should lie on their back and raise their head to look at their toes. Do not lift your shoulders off the ground while doing this. Repeat several times to improve the opening of the upper esophageal sphincter.

Masako Exercise

This exercise targets tongue-base retraction, which is essential for effective swallowing. The person holds the tip of the tongue between the front teeth. Then he needs to swallow while maintaining this position. This treatment of dysphagia helps to improve swallowing control.

Effortful Swallow

This exercise involves swallowing with increased effort and intentional force. A person concentrates on squeezing the muscles used for swallowing. It creates stronger and more coordinated swallowing. This exercise can help improve the strength and coordination of the swallowing muscles.

Supraglottic Swallow

This dysphagia exercise is especially helpful for people with poor airway protection. It involves taking a deep breath, holding it, swallowing, and then coughing to clear the throat. This exercise helps improve the closure of the vocal folds and prevent aspiration.

Dysphagia Home Treatment

Professional intervention by medical professionals is crucial in therapy for dysphagia. However, there are also several strategies and practices that people can use at home. With dysphagia home treatment, you can maintain swallowing function. Here are some home treatments:

Changing your diet

. It is the first and most important step in

swallow therapy for dysphagia

. You must change the texture and consistency of

food and liquids

. This way, you will make swallowing safer and easier. Make your foods mashed or shredded. But remember, it is important to follow your healthcare provider's instructions. That way, you can ensure proper nutrition and hydration.

Food habits

. The next important step is to change your eating habits. Start by taking smaller bites. Chew your food more thoroughly and eat slowly. It can reduce the risk of being under pressure and aspiration.

Proper hydration

. Getting enough hydration is another important step in the

treatment of dysphagia

. Drink small amounts of water throughout the day, and use a straw. This way, you won't overload your swallowing mechanism. However, consult your healthcare provider first.

Positioning techniques

. Optimal positioning while eating can promote safe swallowing. Sit upright with your head tilted slightly forward. It will make removing food from your throat easier and minimize the risk of aspiration.

Swallowing exercises

.

Swallow therapy for dysphagia

also involves exercises. Doctors direct exercises to specific swallowing muscles.

Precautions

. It is very important to be aware of the potential dangers of eating. Be sure to eliminate distractions. Create a calm environment while you eat. This way, you will focus your attention specifically on swallowing.

Of course, applying a home treatment strategy is helpful. But you need to keep in regular contact with your healthcare provider during therapy for dysphagia. Only a medical professional can monitor your progress and make any necessary adjustments. Doctors will give you constant support and guide you on the right path.

FAQ

What type of therapy is used for dysphagia?

The type of therapy used for dysphagia is often speech therapy or swallowing therapy.

What is the rehabilitation strategy for dysphagia?

The rehabilitation strategy for dysphagia involves exercises, dietary modifications, and compensatory strategies for safe swallowing.