Are you experiencing intense headaches, a rigid neck, and feelings of sickness? These signs could state a possible infection in the central nervous system. It comprises the brain and spinal cord.
Prompt diagnosis and treatment are necessary for this critical system infection. Because it poses a severe health risk. The central nervous system's control over essential bodily functions makes infections potentially life-threatening and requires immediate medical attention.
Either viruses or bacteria predominantly cause central nervous system infections. Viral infections such as herpes or enteroviruses can attack the brain and spinal cord. Bacterial infections can lead to ailments like meningitis, encephalitis, and a brain abscess. The most common symptoms of CNS infections are headache and fever. Hence, it is crucial to get a medical check-up to diagnose the root cause correctly.
Understanding
Infections in the Central Nervous System
Understanding the causes and symptoms of CNS infections is critical for prompt diagnosis and treatment.
The CNS comprises the brain and spinal cord. When an infection affects the CNS, it can lead to meninges, brain, or spinal cord inflammation. 
Signs of a CNS infection include:
Headache, stiff neck, and fever: The most common symptoms. A severe headache, especially if accompanied by a stiff neck and high fever, could indicate meningitis or encephalitis.

Confusion or impaired thinking: Not thinking clearly can be a symptom of encephalitis.

Seizures or convulsions: Seizures may occur with encephalitis, meningitis, or other CNS infections. Seek emergency care immediately if someone experiences seizures.

Weakness or

numbness

: Inflammation putting pressure on nerves can cause weakness, numbness, or paralysis.
CNS germs require immediate medical care. It can prevent you from severe neurological issues. So, consult a doctor when you notice symptoms that point to this condition.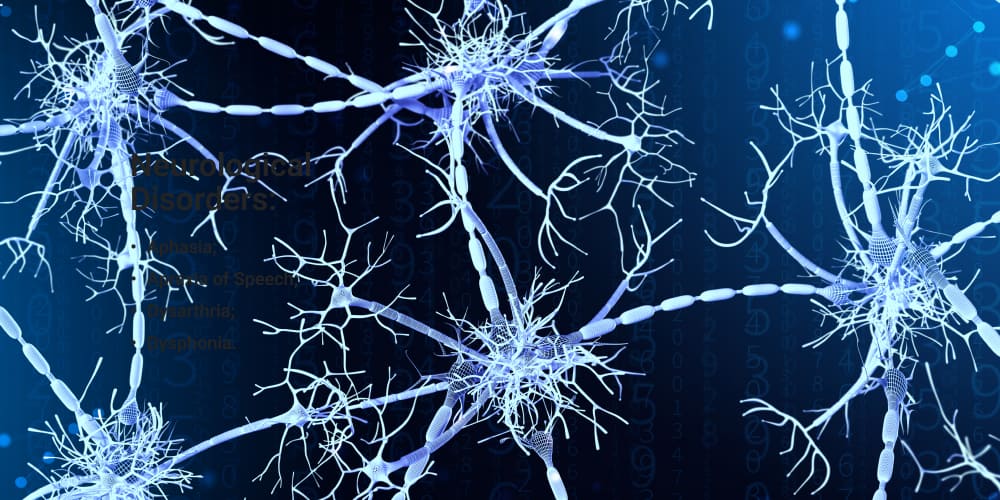 Common Infections Affecting the Central Nervous System
Your central nervous system is a complex network of nerves and brain structures. They control human functioning. But sometimes, this vital system can be threatened by common infections. Each of them has its characteristics and symptoms. Mainly, they affect the spinal cord and brain:
One such

central nervous system infection

is acute encephalitis. Various microorganisms can cause it. It can also be transmitted through insects. This inflammation can damage nerve cells and cause severe symptoms.

Another well-known example is viral mononucleosis. It can also affect the CNS. The

Epstein-Barr virus

causes this viral disease. And in most cases, it entails symptoms such as loss of strength, fever, and throat irritation.
These infections are just two of the many diseases that can affect the CNS. Although they seem scary, it is crucial to know that most people who become infected recover. However, they still pose a significant health risk. So, it is crucial to take preventive measures to avoid this. Do you want to learn more about these types of CNS infections to detect them earlier? Read on:
Encephalitis
Encephalitis is an inflammation of the brain tissue. The most common causes are herpes simplex, West Nile, and enteroviruses. Symptoms of encephalitis include:
Headache;

Fever;

Confusion or impaired thinking;

Seizures;

Loss of consciousness or coma.
This problem requires urgent treatment. Therefore, see a doctor immediately if you have these symptoms of CNS infection.
Brain Abscess
A brain abscess results from an infection in the brain. It is a reason for bacteria or fungi that enter the brain. Symptoms of a brain abscess include:
Persistent headache;

Seizures;

Weakness or paralysis on one side of the body;

Nausea and vomiting;

Loss of coordination or balance.
Doctors use imaging scans, blood tests, and a brain biopsy to diagnose an abscess. Treatment involves surgically draining and intensive antibiotic therapy. Without treatment, this CNS infection can be fatal.
Bacterial
Infections in the Central Nervous System
Children are taught to wash their hands from childhood. Because when they don't do that, bacteria will appear in the body. And when they wander around it, they can cause many diseases. Some of the most challenging bacteria are those that enter the CNS. Once there, they pose a significant threat. They can cause infection in the central nervous system, which can lead to complications.
One example of a bacterial infection in the nervous system is meningitis. 

Another bacterial infection that can affect the nervous system is a brain abscess. 
Such bacterial infections usually require treatment with antibiotics. In case of complications, doctors take more serious treatment measures. So what other bacterial CNS infections are there? Keep reading:
Bacterial Meningitis
It is an infection of the meninges. It is the membranes surrounding the brain and spinal cord. It can be a reason for bacteria such as Streptococcus pneumoniae and Neisseria meningitidis. Symptoms of this central nervous system infection include:
Fever;

Headache;

Stiff neck;

Confusion;

Seizures. 
If you detect it early, you can treat bacterial meningitis with antibiotics. But it can lead to brain damage, disability, or death if you do not adequately treat it.
Tuberculosis (TB) Meningitis
It usually occurs in people with an active form of tuberculosis. The bacteria can enter the bloodstream and spread throughout the body. If they reach the meninges, they cause inflammation. This process can damage the meninges and render a variety of symptoms:
General fatigue;

Loss of appetite;

Headache;

Seizures;

Changes in consciousness.
You need a medical consultation to diagnose and treat this type of CNS infection. Early diagnosis and adequate treatment can help prevent complications.
Brain Abscess caused by Bacteria
It forms when pus accumulates in the brain tissue due to an infection from bacteria such as Staphylococcus aureus or streptococci. Symptoms of this central nervous system infection include:
Headache;

Fever; 

Weakness;

Confusion;

Seizures. 
Depending on the location and size of the abscess, symptoms may vary. It usually leads to nerve tissue damage. So, it is crucial to detect this disease as early as possible.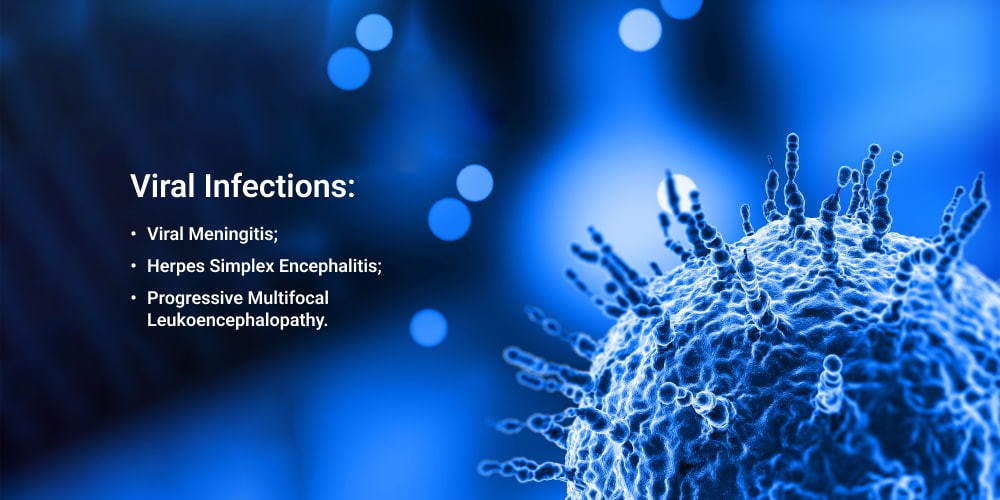 Viral Infections in the Central Nervous System
Viral infections pose a particular threat to human health. These cunning pathogens can penetrate protective barriers. For example, this happens through the blood-brain barrier, from where they can affect the nervous tissue. 
One of these viruses that causes CNS infections is the Neurotrophic Inflammatory Virus. Once it enters the body, it begins to multiply and affects the nervous tissue. It can lead to severe consequences, including paralysis and other neurological defects.
Modern medicine focuses its efforts on studying such central nervous system infections. But over time, more and more of them appear. So it requires more time to learn. But at least you should be familiar with the primary viral infections. Among them are:
Viral Meningitis
Viral meningitis is a cause of viruses such as enteroviruses. It is the most common cause of meningitis. Symptoms include:
Fever;

Headache;

Stiff neck;

Sensitivity to light. 
While usually self-limiting, you may need hospitalization for pain management.
Herpes Simplex Encephalitis (HSE)
Herpes simplex type 1 (HSV-1) is a rare but severe form of viral encephalitis known as HSE. Symptoms of this CNS infection include:
Fever;

Headache;

Focal neurological deficits;

Impaired consciousness. 
Without treatment, HSE is fatal in 70% of cases. Antiviral drugs such as acyclovir can reduce morbidity and mortality.
Progressive Multifocal Leukoencephalopathy (PML)
Progressive multifocal leukoencephalopathy is a demyelinating infection in the central nervous system. It is a consequence of the reactivation of the JC virus:
PML occurs primarily in immunocompromised individuals. 

Progressive neurological deficits, impaired cognition, weakness, and ataxia characterize it. 
Although rare, PML can be fatal within 6-12 months without treatment. Restoration of immune function may stabilize disease progression.
Fungal and Parasitic
Infections in the Central Nervous System
These diseases are among humanity's most complex and dangerous illnesses. Various microorganisms cause these CNS infections. A characteristic feature of fungal and parasitic infections is their ability to multiply. They spread extremely quickly throughout the body. And most often, the central nervous system is affected. 
One of the most famous parasites that can attack the nervous system is Toxoplasma gondii. This parasite can go through contaminated food or water. It causes coordination disorders and even mental disorders.
Early detection of such central nervous system infections is critical. And what other fungal and parasitic infections are there? Read the following examples:
Cryptococcal Meningitis
It often affects people with weakened immune systems. If you leave it untreated, it can be life-threatening. Symptoms of it can include:
Headache;

Fever;

Nausea, and vomiting;

Vision problems.
Its treatment involves antifungal medications. They are usually fluconazole or amphotericin B for at least 6-12 months.
Cerebral Toxoplasmosis
In people with weakened immunity, the parasite can reactivate and spread to the brain. It causes Cerebral Toxoplasmosis. Symptoms of this CNS infection include:
Headache;

Confusion or delirium;

Seizures;

Fever;

Nausea and vomiting.
People need blood tests and imaging scans for their diagnosis. Usually, for its treatment, doctors prescribe antiparasitic medications to reduce inflammation.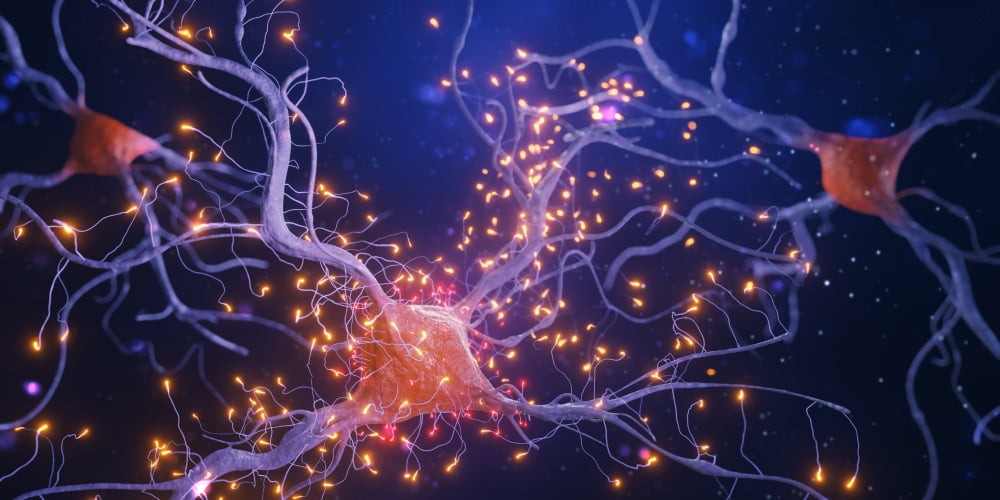 Symptoms of Central Nervous System Infections
Symptoms reflect specific problems in the body. And they are all different. Infectious diseases have certain symptoms. After all, it manifests itself clearly and noticeably. Significantly when it seriously disrupts the body's central nervous system. Knowing these signs is very important to prevent progression. The sooner you recognize it, the sooner you can treat it. So the most common symptoms are:
A common symptom of a central nervous system infection is a headache. You may feel a dull, sharp, or throbbing sensation in your head. This manifestation can range from mild to severe. 
Fever is one of the most common signs of CNS infection. Your body temperature may rise as you try to fight off invading microbes. Fever is usually above 101 degrees Fahrenheit or 38.3 degrees Celsius. 
Changes in mental state or perception
Such states can also lead to changes in thinking, awareness, and behavior. Confusion, delirium, memory problems, and drowsiness may occur. 
Infections of the central nervous system may cause seizures. The cause is inflammation, swelling, or direct injury. If a seizure occurs, immediate medical attention is required.
A Word From Lone Star Neurology 
Everything around us can carry certain infections. Dirty hands or mosquito-borne conditions can threaten your body in one way or another. And it has serious difficult consequences for your nerves.
If you are facing such problems, contact Lone Star Neurologists. Our specialists use modern methods of treatment and examination. So we can detect your neurological issues early and help you recover.
FAQ
What causes infection in the central nervous system?
Bacteria, viruses, fungi, and parasites cause it. These pathogens can enter the CNS and provoke infections.
What is the most common central nervous system infection?
The most common is viral meningitis. It is a relatively common infection, especially during the summer and fall.
Do CNS infections go away?
Yes, you can do it with appropriate medical interventions. They allow the infection to go away completely.
How long does it take for CNS to heal?
It depends on the type and severity of the condition. With effective treatment, you can heal it in weeks or months.