Parkinson's disease (PD) is a degenerative disease of the central nervous system that often impairs motor and non-motor functions. It can range from mild to severe and significantly affect the quality of life. Dysphagia, or difficulty swallowing, is one of the most common non-motor symptoms of Parkinson's disease. Initially, people with Parkinson's may not even realize they have trouble swallowing, as the disease can manifest itself at any point. But how do you live with it?
In this blog article, we'll take an in-depth look at what dysphagia in Parkinson's disease is and what its symptoms are. We'll also look at ways to help patients with Parkinson's disease cope with dysphagia and keep food and drinks from making you uncomfortable. Read on to find out how to manage and live happily.
What is
Dysphagia
in
Parkinson's
?
As we have written before, dysphagia can be defined as difficulty swallowing. When it comes to Parkinson's disease, patients may not immediately understand why they have difficulty swallowing food or liquids. Dysphagia occurs when the muscles in the throat and esophagus don't work correctly. Accordingly, people with Parkinson's can experience this in most cases. There can be problems with chewing, moving food from the mouth to the stomach, and even getting food or liquid into the lungs.  
In general, dysphagia can result from many different causes, and in people with Parkinson's disease, it is most often caused by loss of muscle control, as we mentioned above. The muscles in the throat and esophagus are controlled by neurons that are affected if a person has Parkinson's disease. When these muscles don't work correctly, dysphagia can occur.
Dysphagia can affect the quality of life quite dramatically. It can lead to weight loss and malnutrition because people with dysphagia may avoid eating because of the difficulty. But there are other severe symptoms of Parkinson's disease and dysphagia.
What are the Symptoms of Parkinson's Dysphagia?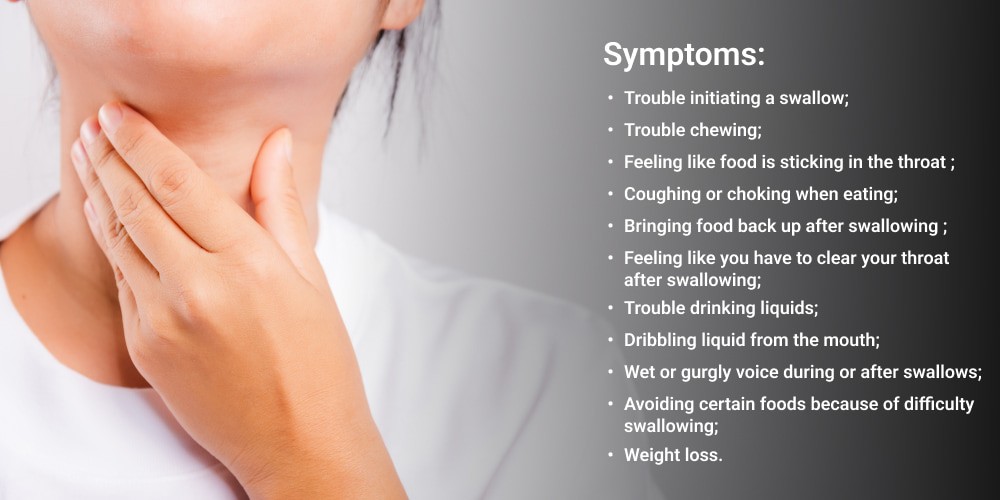 The symptoms of dysphagia vary from person to person. They may also change over time as the disease progresses. Common symptoms include:
Trouble initiating a swallow

Trouble chewing

Feeling like food is sticking in the throat

Coughing or choking when eating

Bringing food back up after swallowing

Feeling like you have to clear your throat after swallowing

Trouble drinking liquids

Dribbling liquid from the mouth

Wet or gurgly voice during or after swallows

Avoiding certain foods because of difficulty swallowing

Weight loss
These are just some of the symptoms that can bring trouble into the life of a person with dysphagia in Parkinson's disease.
Parkinson's Dysphagia Treatment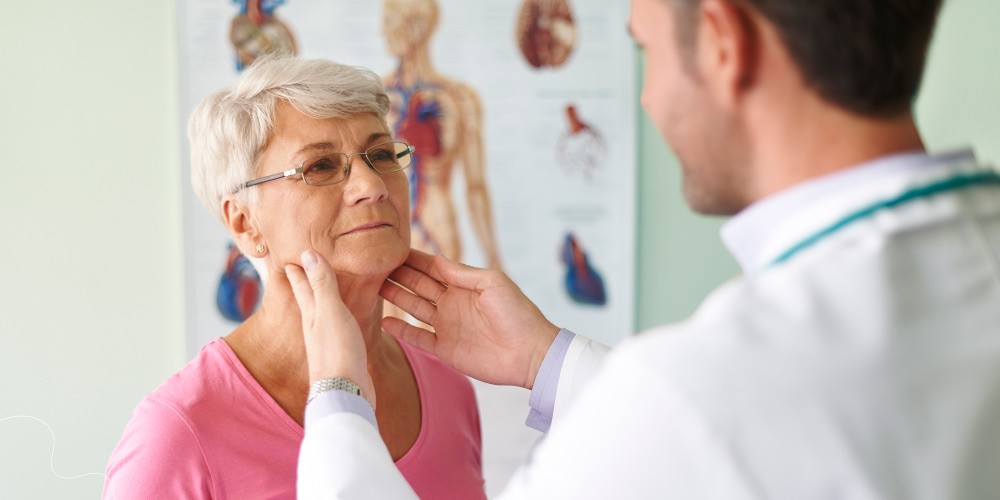 Unfortunately, there is no one-size-fits-all treatment for dysphagia in Parkinson's disease. To choose the best approach for treatment, you need to know the severity of the condition. Treatment options include:
Dietary changes: For people with mild dysphagia, changing food consistency may be enough to make swallowing easier. It may include making mashed or chopped foods and adding thickeners to liquids.
Exercise: Exercises that strengthen the throat and esophagus muscles may help some people with dysphagia. A variety of exercises, you can find here.
Speech therapy: A speech therapist can teach

Parkinson's and dysphagia

patients to swallow differently to make swallowing easier. A speech therapist can also help you learn to compensate for muscle weakness.

Surgery: In some cases, dysphagia may require surgery to treat it. It may include inserting a feeding tube or implanting a device stimulating the nerves that control swallowing. Only your doctor can make this decision.
Although dysphagia is not curable, changing your diet and lifestyle can help you manage the condition and improve your quality of life. If you are experiencing any symptoms of dysphagia, it is essential to see your doctor to get an accurate diagnosis, and find the best treatment for you.
Read more about the role of Parkinson's diet in our LoneStar blog.
How will Your Lifestyle Changes
There are a few things patients with Parkinson's can do to make dysphagia more manageable.
Eat smaller meals more often: This will help you avoid feeling too full, making swallowing difficult.
Sit up while eating: This position will help food pass easily through your throat.
Chew your food thoroughly: Chewing food thoroughly will make it easier to swallow.
Avoid sticky, hard-to-swallow foods: Foods like peanut butter or chips can be challenging to swallow and may cause choking.
Drink plenty of fluids: It will help keep your mouth moist, making it easier to swallow.
Bottom Line 
If you or a loved one has Parkinson's disease and dysphagia, lifestyle changes can help manage the disease and improve the quality of life. Talking to your doctor about the best way to manage your dysphagia is essential.
At Lone Star Neurology, you can get the advice and help you need from knowledgeable doctors. We care about every one of our patients, so we look forward to seeing you at one of our clinics.
FAQs 
What stage of Parkinson's is difficult to swallow?
Dysphagia can occur in any stage of Parkinson's disease, but it is most common in later stages.
Can Parkinson's disease cause dysphagia?
Yes, Parkinson's disease can cause dysphagia. Dysphagia is a condition that makes it hard to swallow. It can be caused by muscle weakness or damage to the nerves that control swallowing.
Why do Parkinson's patients have trouble swallowing?
The main reason is that Parkinson's disease causes a breakdown of the muscles in the throat and esophagus. This muscle breakdown makes it difficult to swallow.