Most people who play sports or travel encounter the problem of muscle cramps at least once. Painful muscle spasms can be extremely unpleasant and cause a lot of discomforts. But some of them can cause a lot of pain.
Full-body muscle cramps are visualized or palpated in the affected muscle. And it's not uncommon for the cramps to recur until the muscle relaxes. Almost all people have experienced these problems. Body cramps all the time are common in adults, and as we age, they become more common. A cramp can occur in any muscle. The calf muscles and the muscles of the anterior and posterior thigh surfaces are most often affected by cramps.
Given the various causes of muscle cramps, it can be difficult for someone who is not a medical professional to understand what is going on in such cases.
This blog article will look at what causes cramps all over the body. We will also look at their symptoms and the best ways to treat them if they do occur. Let's not procrastinate, and let's get started.
What is a Muscle Cramp?
Cramps are involuntary muscle contractions. Muscle cramps are unforeseen, uncontrolled contractions of the muscle fibers. It can be in one muscle or a group of muscles. Cramps quickly follow each other, which causes stereotypical rapid movements with different amplitudes. 
It is usually accompanied by pain and may reduce the mobility of that part of the body until it passes. After the spasm, the pain persists for some time. The patient also complains of stiffness at the sites of the spasms.
During muscular work, the overload gets distributed over different muscle groups. But in practice, this is rarely the case. Besides, the whole biomechanics of the skeleton gets affected. Constant contraction of the muscles requires a significant expenditure of energy. Such a seemingly simple problem can lead to disorders in the body.
The variety of seizures encountered in clinical practice does not fit into this classification. Here are some examples: 
muscle cramps;

muscle spasms;

muscle tightness;

muscle fatigue;

muscle twitches.
Symptoms Of Muscle Cramps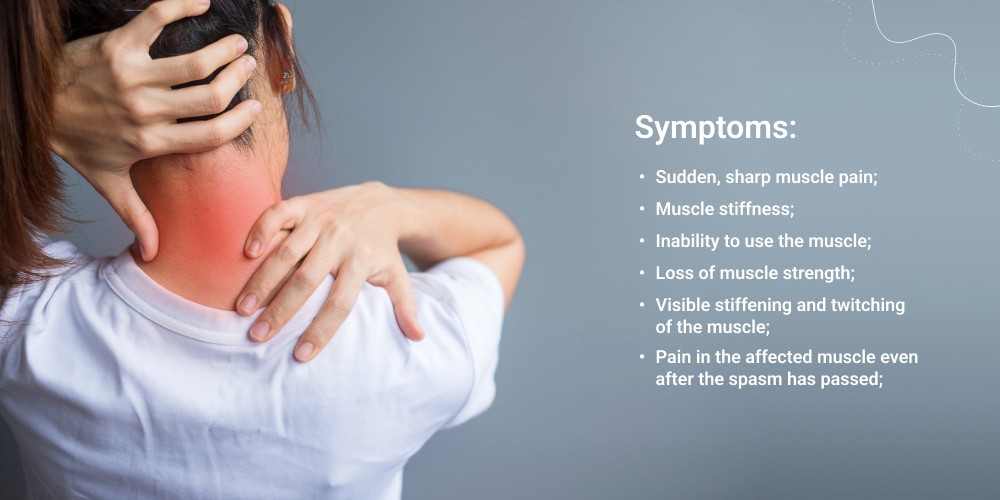 Don't understand why you experience painful muscle spasms? Thanks to nerve endings, muscle tissue is sensitive to damage or irritation. It responds by releasing substances that stimulate pain.
Symptoms range from mild discomfort to severe pain. A visible hardening of the muscle may accompany severe pain. Symptoms of muscle cramps throughout the body include:
Sudden, sharp muscle pain

. Muscle cramps usually occur suddenly and cause muscle pain. It can range from mild to severe.

Muscle stiffness

. Muscle spasms can cause muscle stiffness. These are sudden contractions of muscle fibers. They cause the muscle to feel stiff or tight.

Inability to use the muscle

. Do you feel

full-body muscle cramps

? They make it difficult or impossible to use the muscle affected by the cramp.

Loss of muscle strength

. Muscle spasms can cause weakness or loss of muscle strength in the affected muscle.

Visible stiffening and twitching of the muscle

. Muscle spasms often cause visible hardening or twitching of the muscle. You can especially see this in the legs.

Pain in the affected muscle even after the spasm has passed

. Muscle spasms can cause pain in a muscle that persists even after it has relaxed.
These are the most common symptoms of muscle cramps all over the body.
What Causes Muscle Cramps? 
Want to know what causes cramps all over your body? Well, we have some answers for you:
Muscle overstrain
Many people gradually form a new "bad habit." We can relate this to changes in daily life. For example, the muscles of the shoulder girdle, neck, back, and right arm are subjected to a lot of damage because they are constantly in front of the computer. And staying in one posture for a long time leads to overstretching of the muscles. From that, you get cramps.
Another good example is athletes, such as soccer players. They are constantly running around the field and making the same movements. Constant, identical movements also lead to muscle strain.
Physical exertion
You may feel "Soreness" in the body after physical activity. And body cramps all the time can occur in untrained people as well as in professional athletes.
Muscle fatigue
Muscle fibers can no longer contract and relax properly when they become tired. It leads to muscle spasms or cramps in the affected muscle group. The lactic acid builds up in the muscle, which increases its sensitivity and caused it to stiffen.
Dehydration
Dehydration can also be a factor in muscle cramps. Lack of water affects muscle function, which leads to muscle spasms.
Lack of minerals as well as vitamins
Along with dehydration, a lack of essential minerals such as magnesium and potassium also contributes to muscle spasms if not replenished in time. A deficit of vitamins B and D can also lead to muscle cramps.
Stress
Our lifestyle plays a huge role in muscle cramps. Stress can lead to muscle tension, increasing muscle spasms risk.
Now you know why you are getting cramps all over the body and the symptoms that come with it. But now, let's learn how to diagnose muscle cramps.
How are Muscle Cramps Diagnosed?
Diagnosing muscle cramps is a challenge for medical professionals. It is because many other conditions also cause muscle contractions and pain. To make an accurate diagnosis, the doctor must gather a complete medical history and physical examination to determine the risk factors for developing muscle cramps. 
The doctor may then request laboratory tests. This way, they will rule out any underlying medical conditions. Further diagnostic tests may include: 
Nerve conduction or electromyogram (EMG) studies

. The doctor needs this information to assess the presence of certain neuromuscular diseases. 

X-rays

. It will help to detect any muscle or joint abnormalities that may be causing muscle spasms. 

Ultrasound scans

. The ultrasound measures muscle activity. And it identifies muscle fibers that are failing to contract and relax usually.

MRT

. Magnetic resonance imaging can identify muscle and joint injuries. They can be a cause of muscle spasms.
The doctor can make an accurate diagnosis using a combination of these tests. After identifying the cause, the doctor will find a way to treat it. Muscle cramps all over the body will no longer be a problem.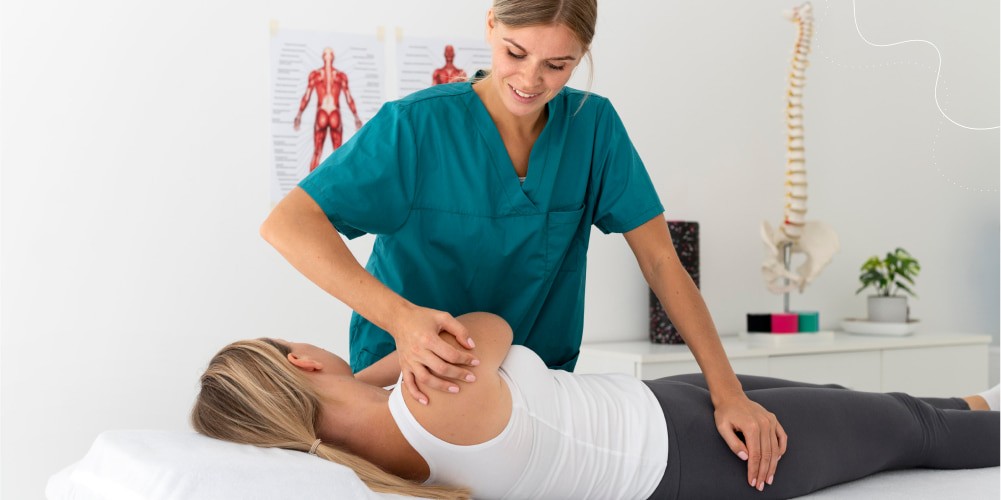 Muscle Cramps Treatment
Treatment of muscle cramps all over the body depends on their cause. But there are some general recommendations. They can help you reduce muscle cramps:
Stretching

. Stretching your muscles helps relax them and reduce the intensity of the cramps.

Massage

. Massage can help relax muscle fibers and relieve muscle spasms.

Heat therapy

. Heat reduces muscle tension. It relieves muscle pain and stiffness. It also increases blood flow in the affected area. 

Medications

. Depending on the cause of the muscle spasms, your doctor may prescribe medications. You can take muscle relaxants and other drugs.

Proper nutrition and hydration

. A balanced diet is necessary to keep your muscles healthy and prevent

full-body muscle cramps

. Regular hydration with water or electrolytes will also be helpful.

Physical therapy

. Physical therapists can teach specific stretching exercises. These will help reduce muscle tension and improve muscle strength.
It is also crucial to avoid muscle tension and overstretching. You can prevent painful muscle spasms with preventive measures. 
LoneStar Neurology Clinic
The team of our neurological clinic employs the best, highly qualified doctors. Every day they help many patients stabilize their conditions. Also, they cure many neurological diseases, if possible. With the help of modern equipment, we carry out accurate diagnostics. It allows us to identify diseases early. Sign up for a consultation with our neurologist right now by phone: 214-619-1910.
FAQ
Why am I getting muscle cramps all over my body?
Muscle cramps throughout the body can result from the following causes:
muscle fatigue;

dehydration;

electrolyte imbalance;

muscle injuries;

and certain medical conditions.
What is the best thing to do for muscle cramps?
The best thing to do is to stretch the muscle, apply heat or massage, and rehydrate with water or electrolytes. Your doctor may also prescribe muscle relaxants or other medications.
When should I be worried about muscle cramps?
See a doctor if muscle cramps last longer than a few minutes or if you experience muscle pain and cramps all over your body. Your doctor will determine the cause and provide the necessary treatment.
Is it reasonable to let a muscle cramp?
No, letting muscle cramps go on for too long is not recommended. If muscle cramps last longer than a few minutes seek medical help. Stretching and other treatments can help reduce the intensity of muscle spasms.