Human muscles are essential for performing daily tasks. With the help of muscles, we move, take objects and even smile. But there are groups of diseases that can affect the muscles. One such disease is myopathy.
This serious disease can greatly affect muscle function. Besides, the disease also affects the appearance of the patient. Such a disease can significantly impair a person's daily routine. And it can lead to the occurrence of psychological diseases.
In our article, we will tell you about what myopathy is. We will also tell you about the symptoms of the disease. And also we will show you the types and causes of this condition. Read our article to the end to gain the necessary knowledge and be able to distinguish this disease. This will help you if you experience symptoms and early signs of myopathy.
What Is Myopathy?
It is a serious condition. It belongs to a type of muscle disease. There are many types of conditions today. All of them affect the muscles and their work in different ways. But this serious disease generally leads to the same frequent effects. These effects are weakening and wasting of the muscles.
As a result, the effects can adversely affect a person's daily routine. Due to the disease, the patient can barely move normally. This leads to the fact that the daily routine becomes difficult for a person with the condition.
The disease also often leads to psychological problems. This is because the disease often affects a person's appearance. This causes discomfort in the patient. And it leads to the development of depression and low self-esteem. That is why therapy should include a set of measures. They are to prevent negative effects and complications.
Symptoms of Myopathy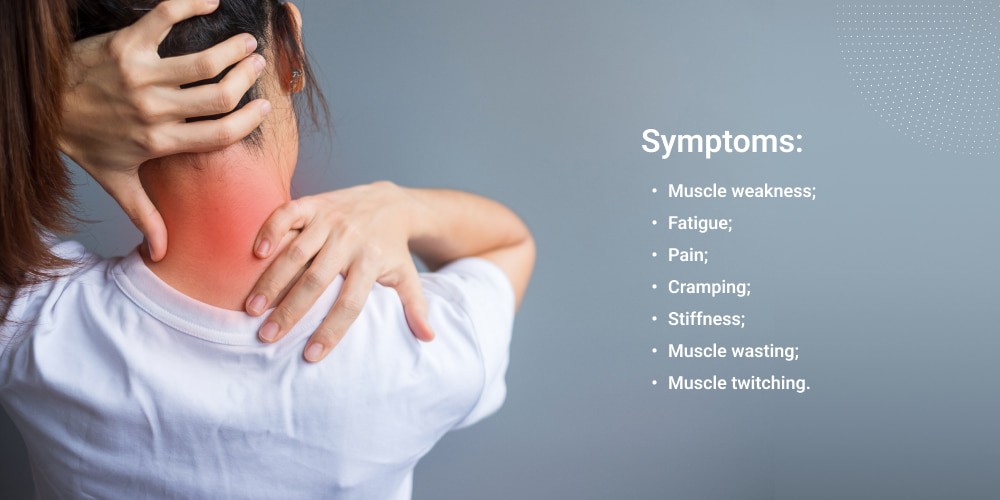 It is a group of muscle disorders. It can cause weakness, wasting, and sometimes pain in the muscles. The symptoms can range from mild to severe. And they can vary depending on the underlying cause of the condition:
Muscle weakness. One of the most common symptoms is weakness, which can range from mild to severe. This can affect one or many muscle groups. And it can make it difficult to perform everyday activities.
Fatigue. People with the disease may experience fatigue and tiredness, even after minimal physical activity. This can result from the muscles not receiving enough oxygen and nutrients. This causes them to tire easily.
Pain. Some experience muscle pain, ranging from a dull ache to sharp, stabbing pain. This pain may be present at rest or when the muscles are used.
Cramping. It is a common

symptom of myopathy

, especially after physical activity. An imbalance of electrolytes in the muscle fibers can cause this. This leads to an abnormal contraction of the muscle.

Stiffness. People may experience stiffness in their muscles, making it difficult to move. This stiffness may worsen in the morning and improve as the day progresses.
Muscle wasting. Over time, the condition can cause muscle wasting. The muscles can shrink and become smaller in size. This can result in a visible reduction in muscle mass and muscle strength.
Muscle twitching. Some individuals may experience muscle twitching or spasms. It can be a sign of nerve damage or muscle damage.
In conclusion, the symptoms can vary greatly. But this depends on the underlying cause of the condition.
What Causes Myopathy
The common causes include:
Inherited genetic mutations. Some forms are inherited and caused by mutations in specific genes.
Trauma or injury. Physical trauma or injury to the muscles can result in a condition.
Inflammatory conditions. Certain conditions like polymyositis or dermatomyositis cause muscle weakness and lead to

disease

.

Endocrine disorders. Hormonal imbalances in thyroid disease or adrenal gland disorders result in

disease

.

Infections. Certain infections, such as Lyme disease or human immunodeficiency virus (HIV), are other things

that cause myopathy

.

Toxins and medications. Certain toxins and medications, such as alcohol or statins, result in muscle damage.
Nutritional deficiencies. A lack of certain nutrients like vitamin D or carnitine results in muscle weakness.
It's important to note that the cause may not be known in some cases. Consultation with a doctor is necessary for an accurate diagnosis and treatment plan.
Myopathy Types
Myopathy is a broad term that refers to a group of disorders. There are many different types of myopathy muscle disease. Each has its specific symptoms and underlying causes. Some of the most common types of the condition include:
Duchenne Muscular Dystrophy (DMD). DMD is an X-linked genetic disorder that primarily affects boys. It causes progressive muscle weakness. It's especially in the legs and pelvis. And it can lead to mobility problems, difficulty breathing, and heart problems.
Limb-Girdle Muscular Dystrophy (LGMD). It is a group of genetic disorders that primarily affect the muscles of the hips and shoulders.
Becker Muscular Dystrophy (BMD). This is a less severe form of muscular dystrophy that is also caused by a genetic mutation. It causes progressive muscle weakness. But it happens at a slower rate than DMD and may not become clear until later in life.
Polymyositis. Polymyositis is an autoimmune disorder that causes inflammation of the skeletal muscles. It can lead to progressive muscle weakness, difficulty swallowing, and breathing problems.
Dermatomyositis. It is another autoimmune disorder that causes muscle weakness as well as a skin rash. The rash can be associated with photosensitivity (sensitivity to sunlight). And it can lead to red, scaly patches on the skin.
Mitochondrial. Those are a group of disorders caused by abnormalities in the mitochondria. They are the structures in the cells that produce energy. These disorders can cause muscle weakness, fatigue, and problems with the heart, and brain.
Centronuclear. They are a group of genetic disorders causing muscle weakness and wasting. It's especially in the muscles of the face, neck, and limbs.
Congenital. They are present at birth and cause muscle weakness and wasting. Some types of congenital

myopathy muscle disease

may also cause heart problems.

Endocrine. They're caused by a problem with the hormones that regulate metabolism. These disorders can cause muscle weakness and wasting. And they can also affect the heart, brain, and other organs.
Inflammatory. They are a group of disorders that are caused by an immune system attack on the muscle fibers. Some of the most common types of the inflammatory condition include polymyositis and dermatomyositis.
Bottom Line 
As you can see, myopathy is a serious disease for any person. And the signs of myopathy can vary from person to person. That is why it is very important to look for competent and modern methods of treating the disease. You can rule out complications and a debilitating condition with the right therapy. And the normal life cycle may return soon.
FAQs 
Some types of myopathy can occur due to genetic mutations, and they can be uncurable. But other types of myopathy may be treatable with:
Medications.

Physical therapy.

Lifestyle changes.
What are the signs of myopathy?
The signs of myopathy can vary depending on the underlying cause and severity. Common signs include muscle weakness, muscle wasting, and fatigue. Some people with myopathy may also experience muscle pain, cramping, and stiffness.
How do you know if you have myopathy?
You must see a doctor for a diagnosis if you are experiencing muscle weakness, wasting, or pain. Your doctor may order tests such as a muscle biopsy, electromyography, or blood test. They are to determine the cause of your symptoms and diagnose myopathy.
What does muscle myopathy feel like?
Some experience muscle cramping, stiffness, and a feeling of heaviness in their muscles. The severity of the symptoms can vary. It depends on the underlying cause and the extent of muscle damage.