Muscular dystrophy (MD) is a hereditary disease in the muscular system. It can be in several forms, such as:
Duchenne;

Facioscapulohumeral;

Becker;

Limb-girdle;

Oculopharyngeal.
These conditions affect some of the functions that are responsible for the patient's physical activity. In addition, it can affect the functioning of the heart, respiratory organs, and even vision.
Such a disease can appear in a child at a fairly young age. The severity of the course of it is related to the age at which it appears and its form. Some types of MD appear only in boys, and some are the same in both sexes. As for how long a person will live while getting sick, there is no exact answer. It all depends on the form of the disease and other factors. The patient lives only up to 20 years with one form of the disease. In other forms, the patient can live as long as a healthy person.
In this article, we will take a close look at muscular dystrophy. 
What is Muscular Dystrophy?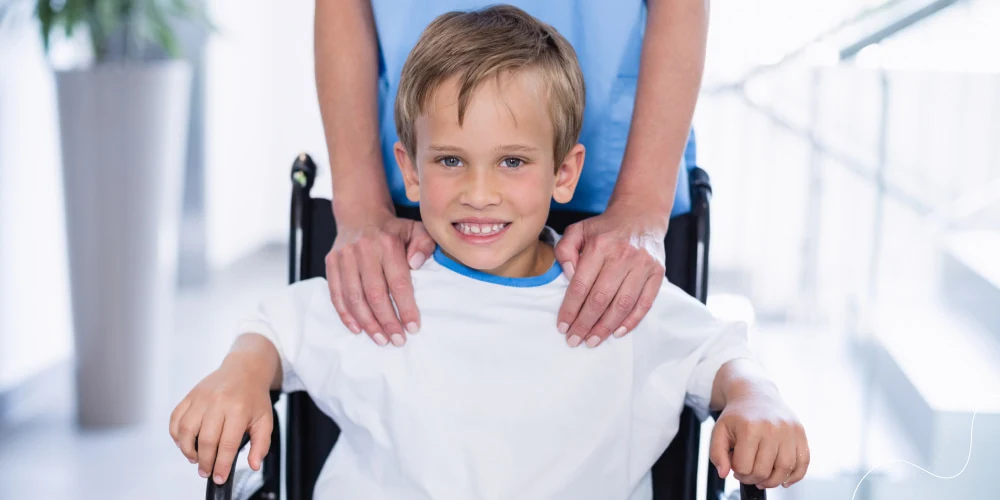 Muscular dystrophy (MD) is a neuromuscular disease. MD ultimately leads the patient to muscle weakness and disability. It is a progressive disease. Unfortunately, over time, the symptoms of the disease worsen. As a rule, in the beginning, this problem affects a certain muscle group. Some types of this disease affect the heart or muscles the patient needs to breathe. 
There is currently no cure for this condition. But doctors use some drugs that help patients feel better.
Among the causes of this disease, scientists note mutations in genes. These genes are responsible for the functioning of human muscles. Therefore, with the progression of the disease, the patient becomes more disabled. This problem may well be genetic. If parents have this disease, it's better to send their child for a genetic test. It will help to identify a predisposition to this disease.
The Most Common Muscular Dystrophy Types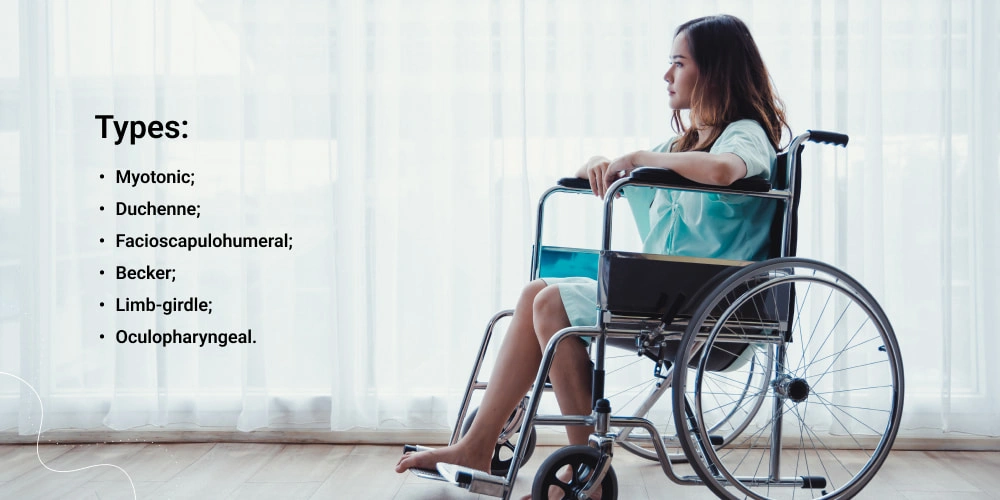 Each type of MD may have its symptoms. Many of them allow the patient to live for a long time without serious consequences. Symptoms of some types of this disease may be noticeable at an older age. 
Also, we should say that many types of MD do not affect the number of years a person can live. But some of them can cause heart or breathing problems. It's a dangerous condition. Also, if MD affects the ability to swallow, it can be a dangerous situation for a patient's life.
We have prepared descriptions of several types of MD. Let's find out a little more about this.
Myotonic
This form also consists of progressive muscle weakness and muscle deformities. Most often, this form of disease affects the small muscles. So, for example, initially, this may affect the work of the muscles of the face or neck.
This type of disease can appear during any period of life. In terms of gender, it affects both men and women. This form of MD can progress quite slowly. Sometimes people with this disease do not get a severe disability. However, they need to control their pulse and heartbeat. Also, adolescents may have cataracts due to this form of MD.
Symptoms of the myotonic can be as follows:
Muscle stiffness;

Cataract;

Excessive sleep or drowsiness;

Difficulty swallowing;

Problems with behavior or learning;

Slow heartbeat;

Arrhythmia.
Such patients may have difficulty with general anesthesia and childbirth on time.
Duchenne
Most often, this type of disease occurs in boys. Sometimes this condition also occurs in girls. However, girls take it more easily. Symptoms of this type of MD appear at about two years of age. The muscles of the pelvis and thighs are the first to be affected. Because of the disease, these muscles may appear larger than other children's.
Symptoms of Dushina's disease:
Difficulty walking or other physical activity;

Difficulty getting up;

S

peech delay;

Behavioral difficulties.
Children with this problem may need a wheelchair closer to their teens. It is because children with this disease cannot walk independently.
Also, dilated cardiomyopathy appears in adolescents with this form of muscle atrophy. Closer to the age of 20, children with this pathology have problems with breathing.
So, this disease affects the heart's muscles and breathing. People can die from heart problems or respiratory failure before the age of 30.
Facioscapulohumeral
It's also muscle deformity called muscular dystrophy. This type of MD happens to both sexes. However, men are more likely to receive this diagnosis. Boys are exposed to the disease earlier and have a more severe condition. A third of patients with this disease are unaware of the presence of the disease until the age of eighteen. This problem progresses slowly.
Symptoms of this type can be as follows:
Sleep with open eyes;

Inability to completely close the eyes;

Inability to purse

your

lips;

Pain in the shoulders;

Weakness in the muscles of the legs.
This condition progresses slowly. Therefore, it may not reduce life expectancy.
Becker 
It also usually affects boys. This problem usually affects the same parts of the body as Duchenne disease. The first signs of it can be seen in childhood. However, the condition may be mild for the child. So, the symptoms of this disease can be:
Late walking skills;

Muscle cramps during exercise;

Reluctance to play sports at school.
As the disease progresses, children may find running. Also, there can be problems with walking fast, or climbing stairs. Adults with this disease may find lifting objects above the waist difficult.
Limb-girdle 
It refers to some conditions that cause weakness at the base of the arms and legs. Among the first signs of this disease are problems with the hip girdle. Symptoms often appear in adolescence. Men and women are equally affected by this disease.
Symptoms of a lumbar disease can include the following:
Muscle weakness in the hips and arms;

Loss of muscle mass in the affected areas;

Backache;

Tachycardia;

Arrhythmia.
The disease can cause problems such as difficulty lifting objects, running, or getting up from a low seat.
Oculopharyngeal
It is a rare form of muscular dystrophy. If a patient has such a disease, symptoms may not be noticeable until 50. It affects the muscles of the eyes and throat.
Symptoms of this form of MD may include:
Dropped eyelids;

Difficulties in swallowing;

Restriction of eye movement;

Weakness of the limbs in the area of the shoulders and hips.
The patient's eyelids may droop. So, they can cover the eyes and impair the quality of vision. Also, patients may experience double vision. Furthermore, patients can face difficulty swallowing food or liquid. This form of disease can lead to chest infections due to improper swallowing of food.
Prognosis for Muscular Dystrophy
A number of years a patient can live with MD depends on its type. So, some patients can live a full life. Their duration does not differ from the life expectancy of healthy people. But for other patients, the consequences may be worse.
One of the main reasons for the decrease in life expectancy is the occurrence of cardiovascular diseases. Each type of MD can affect the heart's function and cause cardiomyopathy.
To understand a more accurate prediction regarding life expectancy, it is worth considering each type separately.
We have prepared a table that shows a life expectancy depending on different forms of MD.
Myotonic

This type of MD occurs more frequently than others. The first signs appear at the age of 2-6 years. Usually, by 12-13, a teenager with this problem needs a wheelchair.

Duchenne

On average, people with this form of disease live for about 16-20 years. In some cases, patients live longer. It may be the case if the disease begins later or the complications are not too severe.

Facioscapulohumeral

Having such a problem, the patient can live as long as healthy people.

Becker

With this form of

the

disease, people live for about 30-40 years. Symptoms of this form of dystrophy appear at a later age. They are better tolerated than myopathic dystrophy.

Limb-girdle

It does not affect life expectancy too much.

Oculopharyngeal

This form of MD does not affect how many years the patient will live. But this is one of the

rare muscle diseases

, and little research has been done on it. Such a disease can be dangerous because the patient has difficulty swallowing. Because of this, food can enter the respiratory tract. However, with proper treatment, the patient can live as long as healthy

ones

.
Bottom Line 
So, we examined in detail such a disease as muscular dystrophy. Also, we have told you about several forms of this condition. This disease is genetic and can affect life expectancy differently. If you or someone you know has symptoms of this problem, you should see a doctor. Timely diagnosis and treatment can help you live a fulfilling life with this disease.
The Lone Star Neurology team employs highly qualified specialists in the field of neurology. Also, we work using high-quality and expensive equipment. Thanks to this, we aim to detect the disease early and help the patient cope with it in the best possible way. Sign up for a consultation with our specialists right now: 214-619-1910.
FAQs 
What type of muscular dystrophy is most common?
Myotonic muscular dystrophy is the most common form of muscular dystrophy. It is equally common in men and women.
What are usually the first signs of muscular dystrophy?
Doctors call muscle weakness the main symptom of muscular dystrophy. It tends to progress with the age of the patient. Other symptoms depend on the specific form of the disease.
How does a person get muscular dystrophy?
Most often, the patient gets muscular dystrophy (MD) by inheritance. It develops after receiving the defective gene from the parents. This disease occurs due to mutations in genes. These genes are responsible for healthy and proper muscle function.
Is it possible to cure muscular dystrophy?
To date, there is no cure for muscular dystrophy. But some methods can help the patient adapt to his disease.