Tension headache is an unpleasant problem patients often face. As a rule, it does not lead to disability and is not associated with the presence of serious diseases.
Among the main causes of tension headaches are:
Frequent stress;

Long intervals between meals;

Abuse of alcohol, coffee, or any pills.
There are several types of tension headaches, which depend on the frequency of attacks. We will talk about this in detail in our article.
It is also necessary to say that changing your lifestyle is the main way to get rid of a tension headache. Sleep, nutrition, and rest are the main factors in this problem.
In this article, we will look at the main signs and a cause of tension headaches, as well as how to change your lifestyle to eliminate this problem.
A Tension-Type Headache (TTH) Overview
Firstly, we need to answer the frequent question, "what is a tension headache?".  A tension headache usually occurs in people who spend most of their time at the computer or studying and forget the rest. Also, people who receive a lot of stress every day and do not relax after a busy day can face a tension headache. Let's take a closer look at the causes and symptoms of this condition.
Symptoms of Tension Headaches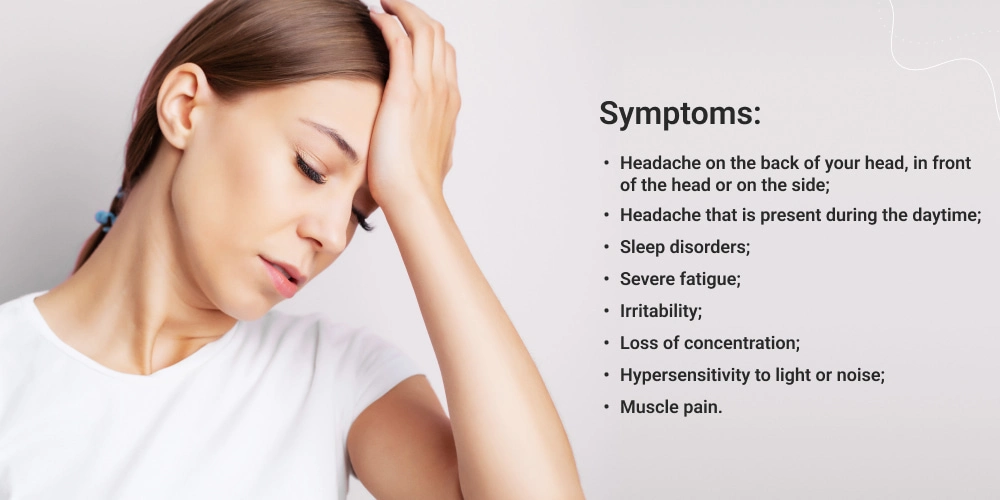 If you have a tension headache, you can face these symptoms: 
Headache on

the

back of

your

head

, in front of the head or on the side;

Headache that is present during the daytime;

Severe fatigue;

Irritability;

Loss of concentration;

Hypersensitivity to light or noise;

Muscle pain.
Cause of Tension Headaches
People who experience tension headaches often wonder if "stress can cause headaches?" Yes, one of the reasons for the appearance of a tension headache is constant stress and nervous tension, which is often combined with excessive demands on oneself. Other reasons include long intervals between meals, alcohol, cigarettes, and several other things. Let's take a closer look at why you might experience tension headaches.
Let's consider in more detail some causes of tension headaches:
Insufficient amount of rest;

Hustle;

Stress;

Depression;

Anxiety;

Fatigue;

Large intervals between meals;

Low iron content in the body;

Excessive alcohol consumption;

Abuse of caffeine;

Unbalanced diet;

Dehydration;

Smoking;

Cold, flu, or sinusitis.
Types of TTH
Doctors distinguish several types of tension headaches. These types of headaches differ in the frequency of attacks. You can read the descriptions of each type yourself and understand which one you have. So, distinguish the following types of headaches:
Episodic tension headaches. Such pain does not occur often. If you experience tension headaches less than 15 days a month, you have an episodic type of headache.
Chronic tension headaches. You may think you have chronic tension pain if you experience attacks for more than 15 days in a single

month or mor

e than three months in a row.
Tension-Type Headache and Lifestyle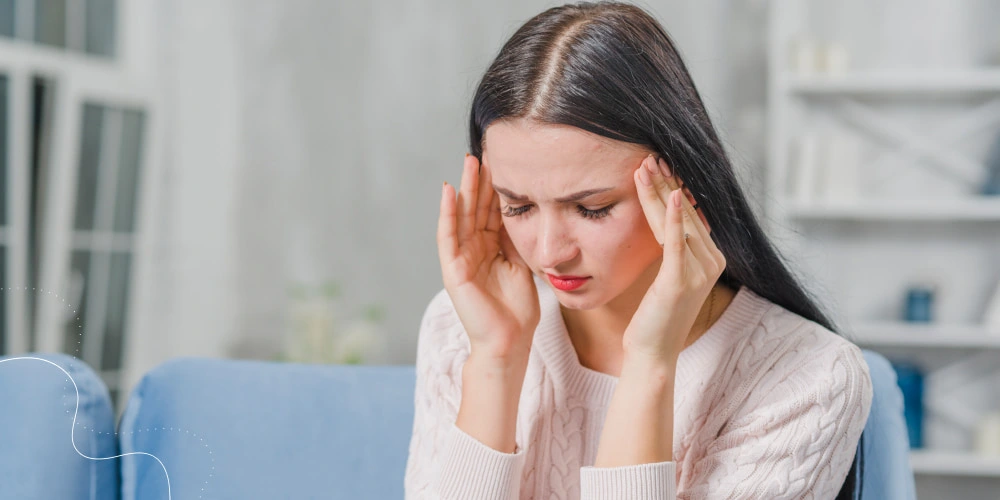 To eliminate the unpleasant symptoms of a stress headache, you must reconsider your lifestyle. It applies to the number of hours you allocate for sleep, its quality, rest, attitude to life situations, and other important aspects of life.
We have prepared for you some essential recommendations regarding lifestyle changes so that you can get rid of your chronic headache.
Careful Planning
You need to learn how to be organized and plan your affairs in advance to avoid unpleasant situations associated with deadlines at work or school.
Take Breaks
If you need to work or study material for a long time, do not forget to take breaks and give yourself a quality rest at this moment.
Find your Hobby
It would help if you had your favorite thing to do in your free time to switch after work and relieve stress. If you have a new attack of stress headache and want to get rid of its symptoms, you can do something you like. It will help you reduce tension and thus relieve pain.
Engage in Physical Activity
Scientists have long noted the benefits of physical activity for relieving tension and stress. Give at least half an hour a day to your favorite type of physical activity if you have no contraindications to this. Work especially on the neck, back, and shoulders. Since it is the tension in these places that provokes the appearance of a tension headache.
Make Time for Quality Sleep
Ventilate your bedroom before bed and get about 7-8 hours of sleep each night.
Work on your Posture
As we have already said, the tension in the shoulders and back affects the appearance of a headache. Connect so that you are relaxed in these places and do not slouch.
Drink Enough Water Every Day
Drink several glasses of water, even if you are not very thirsty. Also, enrich your diet with fruits and vegetables that contain natural water.
Review your Diet
Your diet must be balanced. If you skip meals, you may experience a headache attack. Also, try to eat at the same time every day. Add fruits, vegetables, and whole grains to your diet.
Reduce your Intake of Caffeine and Alcoholic Beverages
It's another way to eliminate symptoms of a stress headache. Try to drink as few free drinks as possible. Drink as little coffee, tea, and alcoholic and non-alcoholic drinks as possible. It is better to replace it all with clean water.
Reduce your Intake of Painkillers
Your goal is not to get used to pills that relieve pain but to eliminate the problem. If you decide to take a headache pill, use the minimum dose written in the instructions. Also, don't take painkillers more than once or twice a week.
Keep a Headache Diary
It is an excellent method to track down the cause of headaches. Record in your diary any changes in your condition that you notice. For example, if your doctor advises measuring your blood pressure daily, enter the readings in a diary. If you have changed your diet, also note your changes in a diary. In this way, you will be able to quickly find out how certain foods, drinks, pills, and other things affect your headache.
If you have a new attack of tension headache, think about and write down the possible causes. Be sure to describe all the events before the onset of the headache. Perhaps you fought with someone, or you did too much work.
Divide your diary pages into multiple columns. Each of them will be responsible for certain details. Let one column contain daily blood pressure readings, the second is mood, the third is well-being, and the fourth is whether you took your pills today. Also, add your daily diet columns to track how your body reacts to certain foods.
Complete the columns with the information you see fit. Keeping such a diary will be useful not only for you but also for your doctor. He can draw certain conclusions from your notes and quickly find the cause of your chronic tension headaches.
Bottom line 
Thus, we have considered the symptoms and the cause of tension headaches. Basically, they are associated with fatigue, constant stress, unbalanced nutrition, and insufficient sleep. An important factor in the treatment of tension headaches is maintaining a healthy lifestyle. Reconsider your attitude to life situations and find more time for sleep and rest. If your headaches have been going on for a long time and nothing helps you, this is a reason to see a doctor. 
We advise you to contact our clinic. Our highly qualified neurology specialists can help each patient fight against the disease. We use the most modern methods of diagnosing neurological diseases. Among the diseases that we successfully diagnose and treat are:
Alzheimer's disease;

Tension headache

;

Brain tumors;

Epilepsy;

Diabetic neuropathy;
It is just a short list of diseases that we help our clients cope with. If you or your relative suffers from headaches, make an appointment with us. We will help to exclude the presence of severe diseases and get rid of your problem as soon as possible.
FAQs 
Can tension headaches be prevented?
Yes, you can prevent tension headaches if you get enough rest, sleep, a balanced diet, and avoid stress. It is also necessary to give up cigarettes, alcohol, junk food, and, if possible, caffeine. If you make lifestyle changes, you may be able to prevent tension headaches or relieve symptoms if you're experiencing a similar problem.
How long does a tension-type headache last?
A tension headache can last from half an hour to several days. During the period of pain, you can take pain killers. However, do not take pills more than twice a week. Your main task is to find the cause of your headache and get rid of your problem.
How is a tension-type headache different from a migraine?
A tension headache feels like constant pain and one that can be tolerated. A migraine is a severe headache that comes in pulsations and requires immediate relief in the form of pills or injections.
When should I call an ambulance?
You should call an ambulance if, in addition to a headache, you feel severe dizziness, nausea or vomiting, double vision, loss of balance, and severe photosensitivity. In such a situation, it is really important to seek medical help in time, as it can be something more serious than a tension headache.