A life without pain and dependence on painkillers is a perfect life. The phrase "The mysterious molecule of the century" appeared in 2000. And the world neurological community called botulinum toxin like that. The most common belief is that these medications are useful only in cosmetology. They have the practice of removing expression lines. But this is only one of the many facets of botulinum toxin use.
Botulinum toxin preparations have become reliable helpers for neurologists around the world. It is useful in the fight against chronic headaches of various genesis:
tension headaches with chronic spasms of the muscles surrounding the skull;

pain in neck muscles on the background of neurosis and overstrain;

chronic fatigue;
Injection with Botox for migraines will help you if:
You have a headache every day or almost every day.

You feel pain in the neck area that spreads to the head.

Migraine attacks occur twice a week or more.

Ineffectiveness of earlier drug therapy, chiropractic care, IRT, etc.
Read our article further to learn more about what Botox does for migraines.
What is Botox for Migraines?
The usefulness of botulinum toxin in treating migraine was accidentally discovered. Many women had Botox injections for wrinkles. And they began to note that during the period of action of the drug, less frequent headaches. After that, scientists conducted special studies. And it turned out that botulinum toxin has a favorable effect on migraine. Currently, the method is well-studied and has evidence.
The drug acts on the very mechanism of pain development. A doctor injects, according to protocol, into the head and neck muscles at specific points. Chronic headaches are excruciating. There are situations when even strong painkillers no longer help.
Botulinum therapy is often prescribed for chronic migraine:
frequent attacks or headaches constantly – more than 15 attacks per month for 3 months or more;

there is an insufficient effect of drug treatment or intolerance to drugs.
The effect of Botox on chronic migraines is valid for a certain period. As a rule, in the first year of treatment, you will need to repeat injections every three months. The duration of the drug's effect depends on the body's personal characteristics. After 2-3 procedures, the doctor determines the effectiveness of therapy. And he can increase the interval between injections to 4-5 months.
What is the advantage of botulinum therapy in the treatment of headache and migraine?
Botox helps with headaches and offers several advantages in the treatment of headaches and migraines:
Targeted Pain Relief.

Botulinum injections are strategically administered to specific areas associated with:
headache;

migraine triggers. 
This targeted approach focuses on the source of pain, providing localized relief. 
Neurotransmitter Modulation.

Botulinum interferes with the release of neurotransmitters like substance P and glutamate. They play a role in transmitting pain signals. By blocking these neurotransmitters, botulinum therapy disrupts pain pathways and reduces pain perception. 

Preventive Strategy.

Botulinum therapy is often used as a preventive measure. Regular injections can help reduce the frequency and intensity of headaches and migraines. It allows individuals to experience fewer severe episodes.

Reduced Medication Dependence.

With Botox for migraines, individuals may rely less on pain medications. They could have side effects or potential for overuse, leading to medication-overuse headaches.

Long-Lasting Effects.

A single botulinum treatment session can provide relief for several months. It offers sustained benefits and minimizes the need for frequent interventions.  

Improved Quality of Life. By reducing the severity of headaches, botulinum therapy enhances the quality of life. enabling them to function more effectively in their daily activities.
Suitable for Chronic Migraines.

Botulinum therapy is

FDA-approved

for treating chronic migraines. It is 15 or more headache days per month. It can be effective for individuals who haven't responded well to other treatments.

Minimal Downtime.

Botulinum injections are minimally invasive, requiring little to no downtime. Patients can typically resume their normal activities shortly after the procedure.

Personalized Approach.

You can see

neurologist using Botox for migraines, and therapy session is usually tailored to:
the patient's specific symptoms;

pain syndrome.
This allows the treatment to be suitable to individual needs.
Supportive Care.

Botulinum therapy can be part of a comprehensive approach to headache management. It complements lifestyle modifications and other treatments.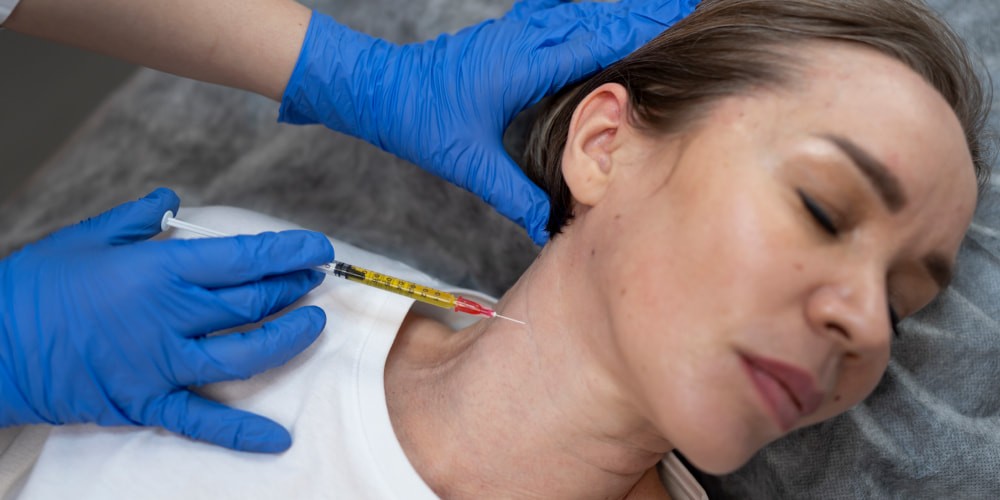 What Does Botox Do for Migraines?
The drug has a myorelaxing and analgesic effect (3-6 months). Local injection of the drug into spasmed muscles leads to:
long-term relaxation;

breaks the vicious circle of chronic headache formation. We are talking about muscle spasms – pain – increased muscle spasms, etc. 
Botulinum toxin also blocks pain receptors of the:
trigeminal nerve system;

occipital nerves.
Botulinum therapy refers to the preventive treatment of migraine. It can reduce the frequency and severity of attacks. Prolonged botulinum toxin therapy can convert chronic migraines into episodic ones.
Advantages of Botox for migraines are:
appears the result in 3-7 days;

duration and severity of episodes are usually reduced by 3 months;

few contraindications and high safety;

well tolerated by the patient;

is combined with other methods of therapy;

has a reversible effect;

allows you to reduce the intake of drugs against migraine.
Botox for chronic migraines is usually carried out with a thin insulin syringe into the:
Gordian;

frontal;

frowning eyebrow;

temporal and occipital;

upper vertebral muscles at several points in each of them.
Doctors perform this according to the scheme developed by US neurologists. In the USA, since 1995, doctors have developed the method. Since 2004, the government has included it in the medical insurance program in the USA. Injections are usually accompanied by slightly unpleasant and quickly passing sensations. The doctor calculates a drug dose individually for the patient. It depends on the clinical picture of the disease. The average dose per procedure is 100 units of Botox. You can read more about what Botox does for migraines below.
Muscle relaxation
When doctors inject Botox into specific muscles, it targets nerve endings. They release a neurotransmitter called acetylcholine. Acetylcholine transmits signals between nerves and muscles, leading to muscle contractions.
Botox contains botulinum toxin. It temporarily inhibits the release of acetylcholine from nerve endings. This interruption prevents communication between nerves and muscles. It effectively paralyzes or weakens the targeted muscle. As a result, the muscle becomes relaxed and less active.
This muscle relaxation has various applications:
from reducing wrinkles in cosmetic procedures;

to managing medical conditions such as muscle spasms and migraines.
 The relaxation of muscles can reduce tension and strain. It can address various issues related to muscle overactivity. Botox helps with headaches and contributes to improved quality of life for individuals seeking relief.
Blocking substances that stimulate the pain center in the brain
Botox exhibits a remarkable capability to intercept the cascade of events. They stimulate the pain center in the brain. Doctors achieve this by targeting neurotransmitters, particularly substances P and glutamate. These neurotransmitters play an important role in the transmission of pain signals. This occurs from their site of origin to pain processing centers in the brain.
When Botox for migraines goes into specific areas, it disrupts the release of P and glutamate. Substance P, in particular, plays a significant role in:
amplifying pain signals;

triggering the inflammatory response associated with pain. 
Botox effectively dampens the transmission of pain signals along nerve pathways. It happens by inhibiting the release of these neurotransmitters. 
This mechanism is fascinating in treating chronic pain conditions like:
migraines;

neuropathic pain;

muscle spasms. 
By blocking the substances that fuel pain perception, Botox alleviates discomfort. So, it contributes to the broader management of these conditions.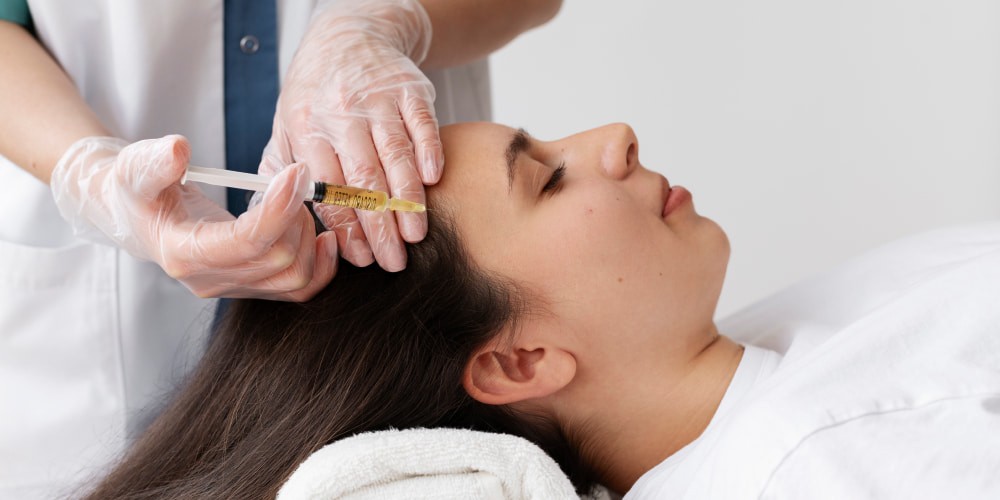 Neurologist Using Botox for Migraines
Before the procedure, a mandatory consultation with a neurologist is required. As a rule, the doctor recommends the patient to keep a headache diary.
What it includes:
date when the attack occurred;

start and end time;

intensity on a scale of 10 (1 – no pain and 10 – intolerable pain);

triggers that caused the pain (a certain food, stress, odor, lack of sleep, the beginning of a cycle, and more);

precursors to pain (flies in front of the eyes, blurred vision, etc.);

taking medications – what kind, in what dosage.

There are also now various smartphone programs that help track headaches.
Detailed and regular filling of the diary by the patient will help the doctor. So he can more effectively select therapy for the treatment of migraine. You can easily watch some cephalologist or neurologist using Botox for migraines.
The drug is injected into points on the face, back of the neck, back of the neck, and upper arm. Such points from 31 to 39 are usually selected by the doctor individually. Injections are painless and safe. The dose of the drug is calculated for each patient individually. It depends on the clinical picture of the disease. The session, on average, takes 10-15 minutes.
It is important to select the required dose and inject the drug to get the maximum effect. Therefore, the procedure should always be performed by a neurologist. As the professional can tell you about how Botox helps with headaches.
Bottom Line
Do not tolerate headaches, which reduces the ability to work and social activity. It is necessary to consult a neurologist or cephalologist in time to reduce the intensity, frequency, and duration of migraine attacks and to avoid the transition of the disease into a chronic form. This approach effectively treats chronic migraines, enabling individuals to decrease or eliminate the use of pain relievers with potential negative effects on the body. In our center, you can find many professionals who perform the procedure of Botox for chronic migraines.
Experienced doctors will accurately determine the presence of indications for such treatment. This guarantees the patient the most effective result with a complete absence of risks and complications. Remember to read other articles about Botox and other medical articles. Therefore, do not hesitate to contact our clinic. 
FAQs
How long does the effect of Botox for migraines last?
The effects of Botox for migraines typically last around 3 to 4 months. After this period, individuals may need to undergo another round of injections to maintain the benefits.
Are there any side effects of Botox for migraines?
There are usually no side effects if the drug is properly administered in the required doses. There may be swelling and discomfort after the session, which subsides during the day. Sometimes there is weakness in the injected muscles or located near the injection site. With certain physiological features, eyelid drooping is possible, which recovers within a month.
Is Botox a permanent cure for migraines?
Botox is not a permanent cure for migraines. While it can provide significant relief and reduce the frequency of migraines, its effects are temporary. Regular injections are necessary to sustain the benefits over time.
How soon can I expect to see results after Botox treatment?
It usually takes a few weeks to start noticing the effects of Botox treatment for migraines. Some individuals may experience improvement after the first treatment, but optimal results are typically seen after two or three treatment sessions. Patience is important as the treatment takes time to fully effect.
How do Botox injections work for migraine?
Botulinum toxin is injected subcutaneously into the patient, blocking signal transmission from the nerve to the affected muscle. This action halts muscle contractions and induces relaxation. The drug is locally administered to spasmed muscles, resulting in prolonged relief and pain reduction. The precise mechanism of botulinum toxin's impact on migraines remains unclear.