Chances are you know exactly what headaches are. And most likely, you have already encountered them more than once. Headache is a disease and a very common one. People of all ages and professions may experience this disease. But there is a different type of this problem – primary headaches. It is a special type, which can be especially debilitating. A primary headache is not an underlying disease. Rather, it is a disease in itself.
There are several basic primary headache types. Each type has its unique characteristics. They may affect a person differently. For example, tension headaches are usually caused by muscle tension. They may feel like a tight ring around the head, while primary migraine is often accompanied by severe pain on one side of the head and may be accompanied by nausea and sensitivity to light.
In this article, we will delve into the subject of primary headaches. We will examine types of primary headaches, including their causes, symptoms, and treatment. By understanding primary headaches, you can manage your symptoms better. You will be able to find relief from this often distressing condition.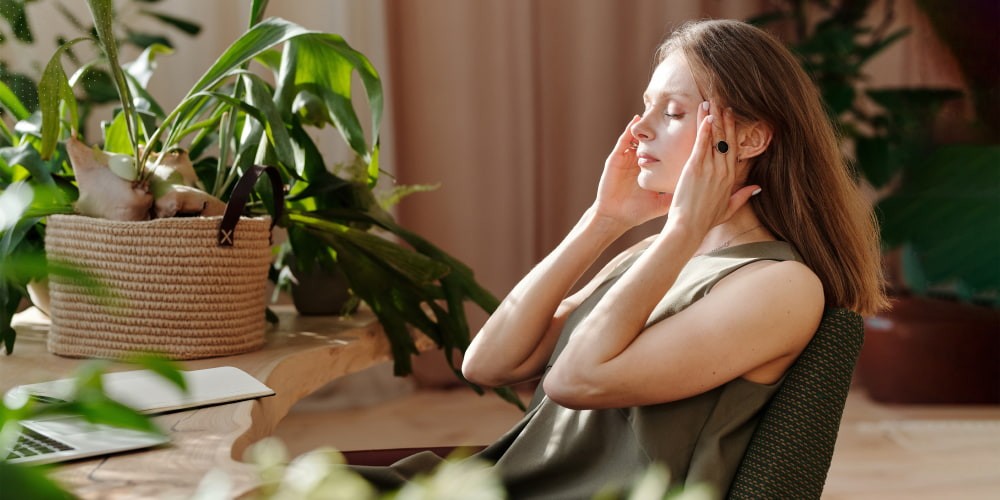 What Is the Cause of
Primary Headaches
?
When a person experiences a headache, the first question is why. Some scientists believe that you feel primary headaches for several reasons. Some of the reasons are a combination of genetic and environmental factors. Researchers have not yet fully understood the underlying mechanisms of the disease. But they proposed theories that led to the development of primary headache types.
The first theory talks about abnormal levels of certain neurotransmitters in the brain. Neurotransmitters are chemicals in the brain. They help regulate pain, mood, and other bodily functions. Primary migraine can cause an imbalance in neurotransmitter levels. For example, low serotonin levels are associated with migraines and other primary headaches.
The second theory talks about changes in blood flow to the brain. With migraine, for example, the blood vessels in the brain may temporarily narrow. A re-expansion follows this. It causes the characteristic throbbing pain. Except there are medications to defend this theory! Drugs that constrict blood vessels are effective in treating migraine.
Environmental factors can also play a role in the development of primary headaches. Some things can provoke or aggravate headaches. These can be, for example:
Stress.
Lack of sleep.
Certain foods.
Certain drinks. 
Due to hormonal changes, you can also get primary migraines. It can be during your menstrual cycle or pregnancy. 
Overall, the exact cause of primary headaches is not fully understood. It varies between individuals and primary headache types. However, understanding the potential underlying mechanisms can help you. You can develop treatment approaches and improve the treatment of primary headaches.
Types
of
Primary Headaches
Primary headaches are a broad category of headaches. But the difference is that these headaches are not caused by an underlying disease or injury. There are several types of primary headaches, including:
Migraine Headache.
Tension Headache.
Cluster Headache.
There are also some other primary headache types. Other primary headache types include trigeminal autonomic cephalalgia. Also, you may find other, even rarer, types of headaches. For example, there may be hemicrania continua and new daily persistent headaches.
The treatment of primary headaches may be different for each person. It depends on the type and severity of the headache. In some cases, over-the-counter pain relievers may be effective. In other cases, prescription medications or other interventions may be needed to manage the symptoms and prevent future headaches. For example, you may require nerve blocks or lifestyle changes. Let's take a closer look at each type of primary headache.
Migraine Headache
Primary migraine is a type of primary headache. About 12% of the population suffers from this type of problem. We can characterize migraine as intense and throbbing pain. People usually feel it on one side of the head. You may feel uncomfortable pain in conjunction with other symptoms.
Doctors believe you get a migraine because of changes in the brain and blood vessels. During a migraine, there may be a temporary narrowing of the blood vessels in the brain. Then there is a re-expansion of the blood vessels. It is these factors that cause the characteristic throbbing pain. 
Also, you can provoke primary migraine by various other factors. These can be various defects in your health, such as:
Hormonal changes.
Stress.
Certain foods or drinks.
Changes in your sleep patterns.
Changes in the weather.
Migraine treatment may include over-the-counter or prescription medications. Remember, you cannot prescribe your treatment for primary headaches. Your doctor should do this. Your doctor can write you a prescription:
Non-steroidal anti-inflammatory drugs (NSAIDs)
Triptans
Prophylactic drugs.
Doctors may also ask you to change your lifestyle. They will recommend that you avoid provoking factors and get enough sleep regularly. These can all help prevent or reduce the frequency of migraines.
Tension Headache
Tension headaches are the most common type of primary headache. About 80% of the population suffers from this problem at some point in life. 
Tension headaches are often caused by head, neck, and shoulder muscle tension. You can get these from stress, poor posture, or lack of sleep. You can also get them from certain foods or drinks, such as:
Treatment for tension headaches may include over-the-counter pain relievers, such as:
Acetaminophen.
Ibuprofen.
Etc.
Your doctor may also prescribe stress management techniques, such as:
Relaxation exercises.
Massage
Cognitive behavioral therapy.
Lifestyle changes can also help prevent primary headaches of this type. In some cases, doctors may recommend prescription medications or other interventions. For example, your doctor may prescribe nerve blocks or acupuncture.
Cluster Headache
Cluster headaches are a rare type of primary headache that affects less than 1% of the population. We can describe these headaches as extremely unpleasant pain. People feel this pain on one side of the head. These primary headaches are extremely rare. But their rarity, they compensate for their duration. The pain lasts for weeks or months, after which there are periods of remission.
Scientists believe cluster headaches relate to disorders in the hypothalamus. The part of the brain regulates the biological clock and other body functions. But the exact cause of these abnormalities has not been fully elucidated. Genetics and environmental factors may play a role.
The patient often describes cluster headaches as "drilling" or "burning" pain. And unfortunately, these primary headaches can also include symptoms.
Treatment of cluster headaches may include:
High-flow oxygen therapy.
Taking triptan drugs.
Or nerve blocks.
In some cases, doctors may prescribe prophylactic drugs. These may include verapamil or lithium. You can take these to reduce the frequency and severity of seizures.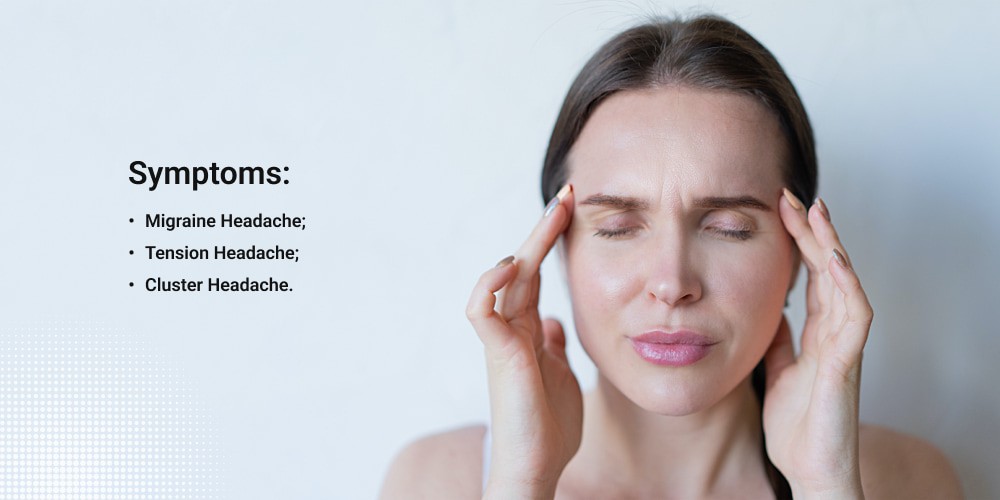 Symptoms of Primary Headaches 
So you know what primary headaches are and what their types are. What primary headaches have in common is that an underlying disease does not cause them. But, each of the three types of primary headache has different symptoms.
It is important to note that not all headaches are primary. Headaches can also be secondary. That is, you get it because of a medical condition. For example, it could be sinusitis, head trauma, or medication overuse. 
Are you experiencing frequent or severe headaches? It is important to see a healthcare provider for an evaluation. The healthcare provider will help determine the underlying cause of your headaches. They will develop an appropriate treatment plan.
It is essential to take headaches seriously. Frequent or severe headaches can interfere with daily activities and quality of life. Here are the symptoms you should pay attention to:
Migraine Headache
Here are the symptoms you may experience with primary migraine:
Intense throbbing or pulsing pain, often on one side of the head

Nausea or vomiting

Sensitivity to light, sound, or smells

Blurred vision or aura (flashing lights, zigzag lines)
Tension Headache
Here are the symptoms you may experience with these primary headaches:
Mild to moderate pain or pressure that feels like a band around the head

Tightness or stiffness in the neck or shoulder muscles

Sensitivity to light or noise

Fatigue
Cluster Headache
Here are the symptoms you may experience with these primary headache types:
Excruciating pain that often starts suddenly and is usually located around one eye

Redness and watering of the eye on the affected side

Stuffy or runny nose on the affected side

Restlessness or agitation
Are you experiencing a sudden or severe headache, a headache that interferes with your daily activities? Contact us for help! At our Lone Star Neurology clinic, you will find the best doctors. We know exactly how to help you. Contact our clinic today. We can help you get rid of your pain.
FAQ 
What are the three types of primary headaches?
The three types are tension-type, migraine, and cluster headaches.
How do I know what kind of headache I have?
To begin with, pay attention to the symptoms. Be sure to consult a medical professional for an accurate diagnosis and treatment.