Cluster headaches are a type of severe pain that rarely occurs in humans. This type of disease often occurs in groups or clusters. This is where the disease got its name from.
Fortunately, in modern times there are medical approaches that can successfully treat or alleviate the condition of patients. First of all, this is achieved in a complex through medication, therapy and sometimes with the help of surgery. There is evidence that therapy as a lifestyle change has a positive effect on the condition of people. This includes avoiding stressful situations and significantly reducing the amount of alcohol consumed.
Most often, this type of disease occurs in adult men. Women are the least affected by this disease. Children are even less so. Unfortunately, it is not known for certain what exactly causes these pains. Many experts believe that the matter is in the trigeminal nerve, which goes from the brain to the face. Fortunately, cluster migraine is not contagious and cannot be transmitted like the flu.
Scientists distinguish two types of the disease:
The first happens in cycles. This means that the patient experiences pain in one period of life and lives without pain in another one.
The second type is accompanied by literally daily pain and has no remission. With such a disease, a person cannot function normally and feels constant fatigue.
What Provokes Cluster Headaches?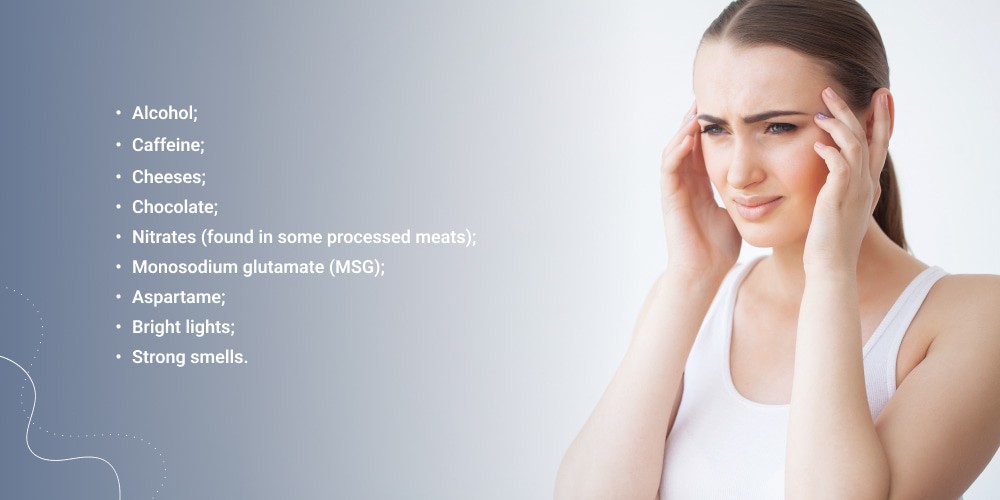 Many different factors may provoke them. These include:
Alcohol.

Caffeine.

Cheeses.

Chocolate.

Nitrates (found in some processed meats).

Monosodium glutamate (MSG).

Aspartame.

Bright lights.

Strong smells.
Cluster headache attacks may also be triggered by changes in sleep patterns or interruption of the body's natural circadian rhythms. They have been linked to smoking as triggers and as possible factors for developing the condition.
Therefore, if you want to stay healthy and not have problems with your body, you need to maintain a proper sleep pattern of 7 to 9 hours a day, as well as consume the right food and try to get rid of bad habits. Of course, nothing will happen to you if you sometimes eat junk food or don't sleep well a couple of days a week, but everything should have a proper dose.
What Is
the Range of
Cluster Headaches
Symptoms?
Unfortunately, cluster headaches do not give clear signs of when the acute phase will be and can begin suddenly at any time. However, sometimes people may feel nauseous, similar to a migraine. Some people who have lived for many years with this pain have learned to roughly determine the onset of an attack and can prepare for it.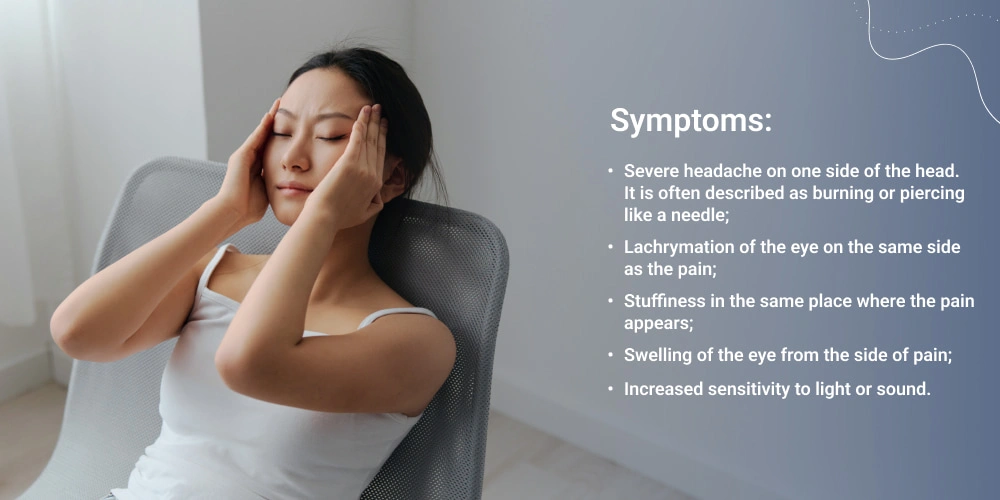 Among the most famous symptoms of the disease are known:
Severe

headache

on

one side

of the head. It is often described as burning or piercing like a needle.

Lachrymation of the eye on the same side as the pain.

Stuffiness in the same place where the pain appears.

Swelling of the eye from the side of pain.

Increased sensitivity to light or sound.
In terms of pain intensity, people often describe cluster pain as the worst they have ever experienced. This is also illustrated by YouTube videos of people having a pain attack and recording their reactions.
The disease often occurs in people who smoke or drink alcohol a lot. If the patient has a cluster stage, alcohol and smoking are contraindicated for him, as they can be triggers. If the acute phase is not observed, alcohol and cigarettes can be consumed, as they will not provoke relapses. However, their amount must be reduced.
All cluster migraines are excruciating and debilitating. An attack can last from 15 minutes to 3 hours. However, the most frequent cases last 30 minutes.
Cluster periods last both a week and months. And attacks can occur 1 or 3 times a day. They can be so severe that they wake a person from sleep and can lead to suicide, because it is unbearably.
What Are
the Main
Cluster Headache Causes
?
The exact causes of cluster headaches are not known. However, they have been linked to several different factors, including:
Changes in brain chemistry: cluster headaches have been linked to abnormalities in certain neurotransmitters, including serotonin and histamine. Cluster headaches may also be associated with changes in blood flow to the brain.
Family history: cluster headaches tend to run in families, which suggests that they may have a genetic component.
Hormonal changes: cluster headaches are more common in men than women and sometimes occur during puberty or pregnancy. This suggests that hormones may play a role in the development of this condition.
What Are the Possible Complications of Cluster Headaches?
Cluster headaches can often be quite debilitating. They can interfere with work, school, and social activities. In some cases, they can lead to depression or anxiety. If you experience cluster headaches, you must talk to your doctor about managing the condition and minimizing its impact on your life.
Cluster headaches can also be associated with many serious complications, including:
Subdural hematoma: cluster headaches have been linked to an increased risk of subdural hematoma, a condition in which blood accumulates outside the brain.
Anterior cerebral artery aneurysm: cluster headaches have also been linked to an increased risk of anterior cerebral artery aneurysms, a condition in which the artery wall weakens and bulges.
Meningitis: cluster headaches have been linked to an increased risk of meningitis, a potentially fatal inflammation of the membranes that surround the brain.
Eyestrain: cluster headaches can cause eyestrain, leading to vision problems.
It can be a difficult condition to manage. If you experience a headache, you must talk to your doctor about the best way to treat it. 
You can read about how does lifestyle affect headaches in our other article.
How Are Cluster Headaches Diagnosed?
Cluster headaches are usually diagnosed based on the pattern of headaches and a person's symptoms. Your doctor may also perform some tests to rule out other possible causes of your headaches.
Can Cluster Headaches Be Prevented?
Unfortunately, this disease cannot be prevented. However, doctors have many preventive measures that can significantly improve the patient's condition and lead him to the stage of remission.
Ways of
Treatment
Cluster Headache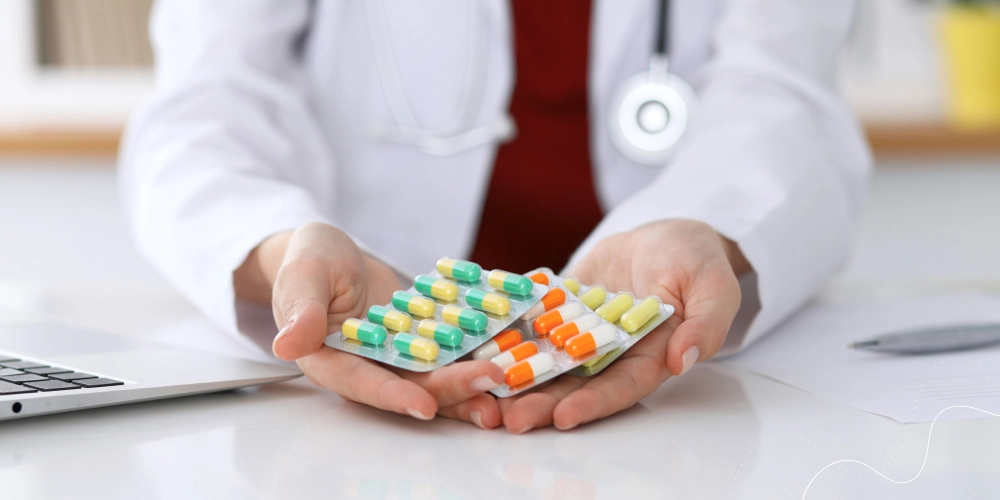 There is no cure for cluster headaches, but there are treatments that can help lessen the frequency and severity of attacks. Some people find relief with over-the-counter pain medications, while others may require prescription medications or other therapies. 
There are many different treatment options available, and the best approach for you will depend on the severity of your symptoms and the frequency of your attacks. Cluster headaches can be treated with: 
Medication. 

Lifestyle changes.

A combination of both.
Cluster headaches can be a difficult condition to live with, but there are treatments available that can help to reduce the pain and frequency of pain. 
Medication for Cluster Headaches
Some different medications can be used to treat cluster headaches. These include:
Pain relievers: over-the-counter pain relievers such as ibuprofen or acetaminophen can help to

relieve

the pain of

cluster headaches

.

Triptans: cluster headaches are often treated with triptans, a class of drugs that includes sumatriptan (Imitrex) and zolmitriptan (Zomig). Triptans work by narrowing the blood vessels around the brain, which can help to relieve the pain of cluster headaches.
Ergotamines: cluster headaches may also be treated with ergotamines, a class of drugs that includes caffeine. Ergotamines can help to constrict the blood vessels around the brain, which can reduce the pain.
Steroids: they are another great way

to get rid of cluster headaches.

For example,

prednisone. Steroids can help reduce inflammation and swelling around the brain,

relieving cluster headaches

' pain.

Anti-seizure medications: cluster headaches have been linked to seizures, and cluster headache sufferers may be treated with anti-seizure medications such as topiramate (Topamax) or valproate (Depakote).
Your further condition and therapy depends on the correctness of medication choice for cluster headaches. Therefore, it is important for you to monitor your symptoms and accurately describe them to your doctor. Only this approach will significantly increase the chances of a better result.
Lifestyle Changes
You don't even know what the strong impact your daily habits and activities have. Perhaps even the slightest sound of the refrigerator, the frequencies you do not notice, can significantly affect your state and feeling. 
Maybe because of some small detail, you are constantly tired and cannot find the strength to pull yourself together and do things. In practice, there have been many cases when a person changed his habits and environment, and his condition improved significantly.
Some lifestyle changes that can help to prevent or reduce the frequency of headaches right behind eyes. These include:
Avoiding triggers: cluster headaches often occur in response to specific stimuli, such as alcohol, tobacco, or bright lights. If you experience cluster headaches, it is crucial to avoid these triggers if possible.
Managing stress: stress can trigger cluster headaches and make them worse. If you experience it, finding ways to manage stress is essential. This may include relaxation techniques such as yoga or meditation.
Getting enough sleep: cluster headaches often occur when people are sleep deprived. It is vital to get enough rest if you experience this condition.
Exercising: cluster headaches have been linked to a sedentary lifestyle, and exercise can help to prevent them. If you experience cluster headaches, it is essential to get regular exercise.
Eating a healthy diet:

h

eadache right behind eyes

have been linked to specific dietary triggers, such as caffeine and MSG. To get rid of these triggers, you should consider a healthy diet.
As you can see, one side headaches are a severe disease that is extremely difficult to cure. In addition, this disease can significantly affect your life and cause irreparable harm. The disease can have different forms and consequences. 
Therefore, with such a disease, receiving timely and high-quality help is important. To do this, you can contact our clinic, and professional doctors will take care of you. Just call 214-619-1910 or use the feedback button. After that, you will receive all the answers to your questions and be able to think clearly and live in joy.
Remember that self-medication can be dangerous for your health, so only an expert in the field of medicine will be able to provide the necessary assistance and make the correct diagnosis. Following the doctor's recommendations can improve your condition or completely cure the disease.
FAQs 
How does a person feel during a migraine?
The pain is often moderate to the severe throbbing sensation that worsens with movement and hinders you from performing daily tasks. In certain circumstances, you may have discomfort on both sides of your head and your face or neck.
What is the main cause of cluster headaches?
The exact cause of cluster headaches is uncertain. They have, however, been linked to activity in the hypothalamus, a part of the brain. Smokers tend to be at a higher risk of cluster headaches.
Are cluster headaches serious?
Cluster headaches are not lethal, but they can cause excruciating pain and impair your quality of life. Because they work too slowly, over-the-counter pain medications such as paracetamol are useless for cluster headaches. You will instead require one or more specialist treatments.
Do cluster headaches ever go away?
Cluster headaches can be a lifelong condition for most people, with remission periods increasing with age. To reduce the severity and frequency of severe headaches, three sections of therapy are commonly started at the same time.
Which patient is more likely to have a cluster headache?
Men are more likely to suffer from cluster headaches. Cluster headaches are most frequent in those aged 20 to 50, but the illness can attack at any age.