Diabetic neuropathy is among the most prevalent consequences of diabetes. High blood sugar levels can damage the nerves over time. But how to prevent or stop diabetic neuropathy? You should control your blood sugar levels, avoid smoking and drinking alcohol, exercise and see your doctor regularly to check for any early signs of neuropathy.
It typically affects the legs and feet but can also spread to the hands, arms, and other body parts. Diabetic neuropathy can cause pain, numbness, tingling, and weakness in your hands, feet, or legs. Diabetic neuropathy can also cause problems with the digestive system, heart, and blood vessels, if not prevented. 
There are several types of diabetic neuropathy. They include peripheral, autonomic, proximal, and focal. Diabetic neuropathy therapy may include pain relief medication, nerve-protecting supplements, and changes to your diabetes management plan. In this blog post, we'll discuss six methods to prevent diabetic neuropathy. Keep reading to learn more!
What Helps
with
Diabetic Neuropathy
?
Keeping blood sugar levels under control is the most important thing you can do. This can help prevent nerve damage primarily and improve nerve function if damage has already occurred. Lifestyle changes that can help treat diabetic neuropathy include quitting smoking, eating a healthy diet, and exercising regularly. Early detection and treatment of diabetic neuropathy are essential to prevent or delay the condition's progression. And how to treat and stop diabetic neuropathy?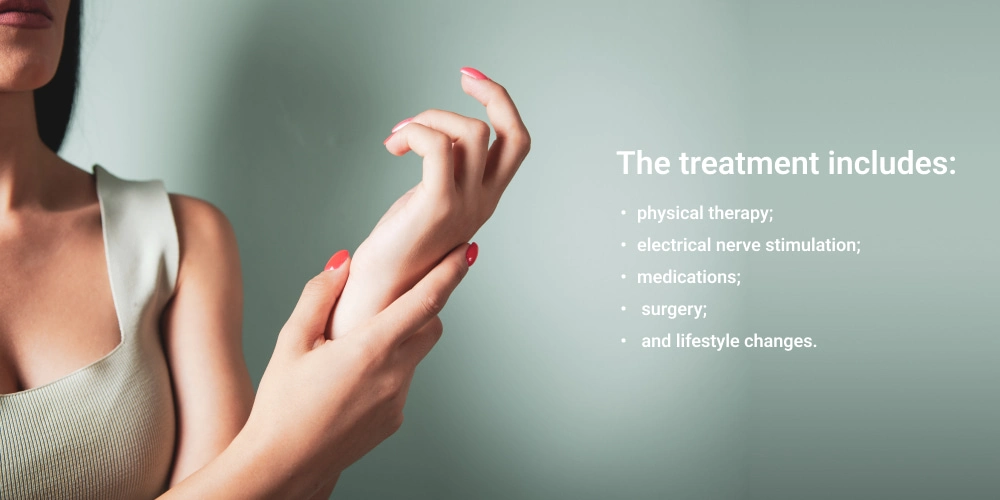 The treatment includes:
 physical therapy;

 electrical nerve stimulation;

 medications;

 surgery;

 and lifestyle changes.
Medications to treat diabetic neuropathy include pain relievers, antidepressants, anticonvulsants, and anti-nerve growth factor agents. Surgery is an option for treating diabetic neuropathy when other methods have failed or are unsuitable. 
It is known that a deficiency of many vitamins and microelements is observed in diabetes. However, eliminating vitamin B deficiency is the most important in treating diabetic neuropathy. Neurotropic vitamins (group B) are coenzymes involved in various biochemical processes. They improve nerve cell energy and prevent the end-product formation of protein glycation. 
How to Prevent Diabetic Neuropathy
? 6 Effective Methods
The main goal of treating and preventing this disease is to optimize glycemic control. Numerous studies conducted in recent years have convincingly proven that achieving an optimal blood glucose level within one day prevents the development of diabetic neuropathy manifestations. And now, let's consider the main steps to prevent diabetic neuropathy in more detail.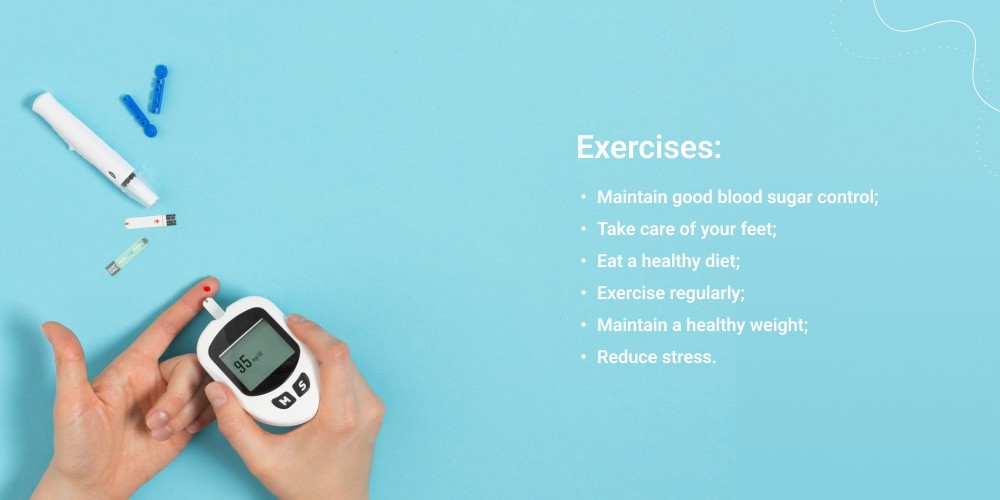 1. Maintain Good Blood Sugar Control
There are many ways to maintain good blood sugar. And what can really help to maintain blood sugar control in diabetic neuropathy? It includes:
monitoring your blood sugar levels;

eating a healthy diet;

exercising regularly;

taking your medications as prescribed;

avoiding smoking and excessive alcohol consumption;

managing stress;

getting regular checkups with your doctor.
2. Take Care of your Feet
Proper foot and leg care is an essential step on how to prevent diabetic neuropathy. If left untreated, it can lead to serious complications, including amputation. You can do several things to take care of your feet and legs:
Check your feet daily for any cuts, bruises, blisters, or other wounds. If you find anything, seek medical attention immediately.

Wear shoes that fit properly and protect your feet from injury. Avoid walking barefoot.

Keep your feet clean and dry. Wash them daily with soap and water, and dry them thoroughly, especially between the toes.

Trim your toenails regularly. Cut them straight and file down any sharp edges.

Exercise regularly. This helps improve blood circulation to your feet and legs.
3. Eat a Healthy Diet
Eating a healthy diet is vital for preventing diabetic neuropathy and providing your body with nutrients. It helps the body heal and repair itself. Eating plenty of fruits, vegetables, and whole grains can help keep blood sugar levels in check. Getting enough protein is also significant, as it helps repair damaged nerves. Good protein sources include lean meats, beans, nuts, and seeds. Limiting refined carbs such as white bread, pastries, and sugary drinks can also help keep blood sugar levels under control. A healthy diet also includes getting enough vitamins B1, B6, and B12, which are vital for nerve health.
If you have diabetes, working with a registered dietitian can help you create a meal plan that meets your individual needs. It is necessary to follow a healthy diet for managing diabetes and preventing neuropathy complications.
4. Exercise Regularly
It is advisable to exercise daily for 20 minutes or more. If your health indicates that you are unprepared for such activities, then brisk walking around the house will be a good start. You should do it 3 or 4 times a week. So, let's see what exercises can help with diabetic neuropathy: 
Aerobic activity: This exercise helps improve blood sugar control and reduces nerve damage.
Strength training: Building muscle can help to reduce stress on the nerves and improve blood sugar control.
Flexibility exercises: Stretching and range-of-motion exercises can help to keep the muscles and joints healthy, which can, in turn, reduce stress on the nerves.
If you have diabetes, it is essential to work with your doctor to create an exercise plan that is right for you.
5. Maintain a Healthy Weight
Maintaining a healthy weight is vital for preventing diabetic neuropathy disease.
You need to ensure that you eat a healthy diet and get enough exercise. If you are overweight, you should try to lose weight gradually. You can do this by eating fewer calories and exercising more. If you are underweight, you should try to gain weight slowly. You can do this by eating more calories and exercising less.  
6. Reduce Stress 
Stress can trigger many health problems, including diabetic neuropathy. Managing stress is just what can help prevent neuropathy development or progression. You should try to relax, get enough sleep, and care for yourself mentally and physically. Identifying stressors and finding healthy coping mechanisms can significantly impact your overall health and well-being. Talk to your doctor or mental health professional if you struggle to manage your stress. They can help you develop a plan to reduce stress and improve your overall health.
Book an Appointment at Lone Star Neurology Doctors
While neuropathy cannot be cured, it can be managed and treated to prevent further damage. If you have diabetes, it is significant to protect your feet and nerve functions. Prevention is always the best action for health, so make sure you are doing everything possible to avoid diabetic neuropathy. If you are unsure how to start, our Lone Star Neurology specialists can help create a treatment plan that works for you.
FAQ
Can you stop diabetic neuropathy?
There is no cure for diabetic neuropathy, but there are treatments that can help relieve the symptoms and prevent further damage. Medications can be used to control pain, improve blood circulation, and protect nerve fibers. In some cases, surgery may be necessary to remove damaged nerves or relieve pressure on the nerves. Some lifestyle changes may help include quitting smoking, eating a healthy diet, and exercising regularly.
What triggers diabetic neuropathy?
Scientists believe it is likely caused by a combination of factors, including high blood sugar levels and nerve damage. Certain medications, infections, and illnesses can also contribute to the development of this condition.  
What foods should I avoid with diabetic neuropathy?
They include:
Sugary foods and drinks. Consuming too much sugar can cause spikes in blood sugar levels.

Processed foods. These foods are often high in sugar and unhealthy fats.

Alcohol. It can cause dehydration.

Caffeine. It can also contribute to dehydration.
Where does diabetic neuropathy usually start?
Diabetic neuropathy most commonly starts in the feet and legs but can also affect the hands and arms. Symptoms may include numbness, tingling, or pain in the affected area. In severe cases, diabetic neuropathy can lead to ulcers or gangrene (tissue death) of the foot or leg.