Diabetic neuropathy is a consequence of metabolic disorders in peripheral nerves. It leads to a change in their structure and functions. The main drugs for this are alpha-lipoic acid drugs and drugs that cut pain syndrome. Besides them, doctors can prescribe the following popular options for diabetic neuropathy medications:
Pain relievers;
Antidepressants;
Opioids;
Anticonvulsants.
Medications for diabetic neuropathy work in different ways. They can relieve pain, improve nerve function, and reduce inflammation. For somebody, diabetic neuropathy medicine can work, but for others – it can not. After all, everyone has a different degree of illness and the body's acceptance of drugs. So, a consultation with a neurologist is essential to determine the correct medication. Besides drugs, specialists sometimes prescribe other types of treatment for diabetic neuropathy. It includes physical therapy, occupational therapy, and lifestyle changes. However, doctors select it for each person individually. They recognize signs and, based on them, choose proper treatment.
Diabetic Neuropathy Diagnosis
Diagnosing diabetic neuropathy involves a combination of a physical exam and various tests. This disease can affect the nerves throughout the body. But most commonly, it affects the feet and legs. So, diabetic neuropathy diagnosis consists of the following steps:
Collection of the patient's history and complaints
To begin with, the neurologist asks the patient some questions. They ask about the symptoms, the onset of the disease, and other conditions. Collecting general information helps to find the cause of the illness faster.
This test measures the electrical activity in muscles. It can help determine if there is muscle and nerve damage.
It is the definition of heart rate variability. For this, doctors conduct a test with deep breathing, a Valsalva test, and a test with a change in body position.
This step of diabetic neuropathy diagnosis involves testing nerve function. It includes reflexes, sensation, and muscle strength.
Specialists take a small skin sample from the affected area. And then, they examine it under a microscope to look for nerve damage.
It tests the speed of electrical impulses in the nerves. It can help determine if there is nerve damage and its severity.
It means testing the function of the autonomic nerves. Those control involuntary functions such as blood pressure and heart rate.
If you have diabetes and are experiencing symptoms such as tingling, numbness, or pain in your feet or hands, talk to your neurologist. They will prescribe diabetic nerve pain medication. Thus, a timely visit can help protect you from the terrible consequences of this illness.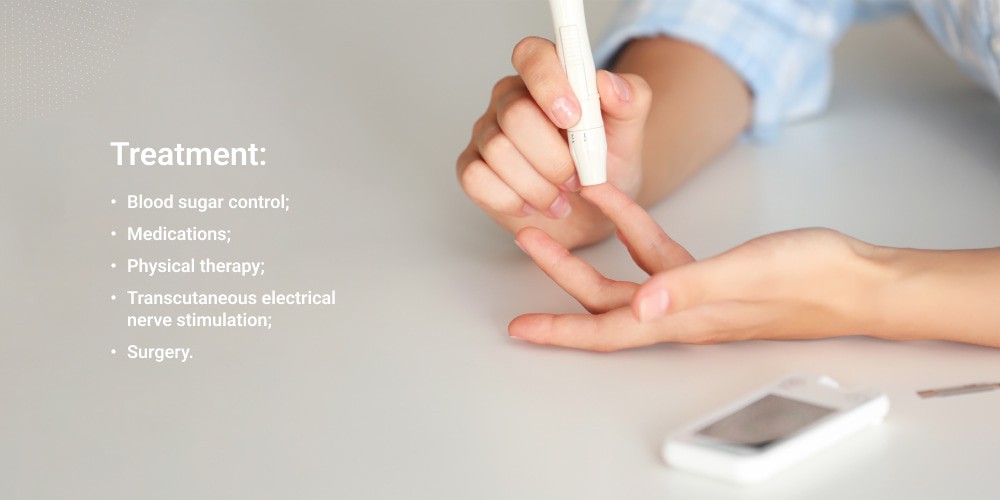 Treatment for
Diabetic Neuropathy
Effective neuropathy diabetes treatment is impossible without achieving diabetes compensation. Specialists carry out the treatment of diabetic neuropathy in stages. First of all, they prescribe antidiabetic tablets or insulin to the patient. And they also measure the level of glucose in the body. During the treatment of this illness, doctors additionally recommend to the patient such diabetic neuropathy medications:
optimal diet;

load mode;

reduction of excess weight;

maintaining an average blood pressure level.
The main course of diabetic neuropathy medicine also includes taking vitamins and antioxidants. They strengthen immunity and slow down symptoms. In case of pain, doctors prescribe the patient anticonvulsants and analgesics. But for the treatment to be faster and more effective, there are other ways to do it:
1. Blood sugar control
Keep your blood sugar levels under control. It is one of the most important ways of neuropathy diabetes treatment. It can help slow down the disease's progression and prevent further nerve damage:
By controlling blood sugar levels through diet, exercise, and medication as needed, you can reduce the amount of excess sugar in the bloodstream. 

It helps prevent further damage to the nerves. 

Besides, it may even allow damaged nerves to heal to some extent.

Controlling blood sugar levels can also help improve circulation. It can further reduce the risk of nerve damage.
2. Medications
There are popular diabetic neuropathy medications that you can use to treat this disease:
Pain relievers.

Over-the-counter pain relievers include acetaminophen, ibuprofen, and aspirin. You can use them to treat mild to moderate pain due to diabetic neuropathy.

Topical creams.

You can apply topical creams containing capsaicin or lidocaine to the affected area. It provides temporary relief from pain.

Anticonvulsants.

They are effective in treating nerve pain associated with diabetic neuropathy. You can also use medications to treat seizures, such as gabapentin and pregabalin. 

Antidepressants.

Doctors can prescribe you antidepressants such as amitriptyline, duloxetine, and venlafaxine. These

diabetic neuropathy medications

work by altering the levels of certain chemicals in the brain.
3. Physical therapy
This option can be helpful for people with diabetic neuropathy. Because it can improve strength and flexibility, reduce pain, and improve balance. These neuropathy diabetes treatments can help reduce the risk of falls and injuries. All these can be a significant concern for people with diabetic neuropathy. So, doing physical therapy is essential for both emotional and physical health:
Sometimes, physical therapists can

create

a customized exercise program. 

This program may include exercises to improve strength in the muscles of the feet, legs, and hands. 

Besides, it involves activities to improve flexibility and range of motion. 

It is tailored to the individual's needs and abilities.
4. Transcutaneous electrical nerve stimulation (TENS)
The next diabetic nerve pain medication is TENS therapy. It involves using a small device:
It sends electrical impulses to the nerves. 

TENS treats a variety of conditions, including diabetic neuropathy. 

It can help relieve pain and improve circulation. 

It's because the electrical impulses delivered by the TENS device cause the blood vessels to dilate. 

This way, it increases blood flow and oxygen supply to the nerves. 
TENS can be used alone or in combination with other neuropathy diabetes treatments. Among options can be medication or physical therapy. But it is important to note that for some, such treatment of diabetic neuropathy can be helpful. And for others, it's, on the contrary, not effective. After all, everyone perceives such a procedure differently. Therefore, you should discuss diabetic neuropathy medicine with a doctor.
5. Surgery
When no type of diabetic nerve pain medication helps, people need surgery. It can relieve pressure on the nerves and reduce pain. There are various surgical procedures that doctors do to treat diabetic neuropathy:
It involves implanting a device that delivers electrical impulses to the spinal cord.
Nerve decompression surgery
This type of surgery treats peripheral neuropathy. The procedure involves releasing pressure on the affected nerves. This way, it removes surrounding tissue or bone.
Joint replacement surgery
For some people with diabetic neuropathy, joint damage can cause mobility issues. Joint replacement surgery can relieve pain and improve mobility.
In severe cases of diabetic neuropathy, amputation may be necessary to remove a limb that has become severely infected or has not healed correctly. But amputation is generally a last resort in diabetic neuropathy medicine.
What Is the Best Medication to Take for Neuropathy?
The best diabetic neuropathy medications depend on the individual case. Besides, it can vary based on factors such as the severity of symptoms, the type of neuropathy, and other underlying health conditions. Some medications that are commonly used to manage diabetic neuropathy signs include:
Capsaicin cream.

Opioid painkillers.
Which is the best of them? Only a neurologist can give you the answer. Based on your symptoms and the stage of the disease, they know which diabetic nerve pain medication will work best for you. Working with a doctor to determine the most appropriate treatment plan is essential. Proper management of diabetes and related health conditions, such as high blood pressure, can also help prevent or slow the progression of diabetic neuropathy.
Determining the best neuropathy diabetes treatment requires a comprehensive evaluation by a specialist. Consider your medical history and other medications. Your doctor will also consider your medical history when determining your best prescription. Certain diabetic nerve pain medications may interact with others you are taking or exacerbate other health conditions. Thus, only this approach to treatment can give you an understanding of which drugs are best for you.
A Word From Lone Star Neurologists
Diabetic neuropathy is a condition that can cause significant discomfort in life. And unfortunately, there are no diabetic neuropathy medications that could cure this disease forever. So, the only option to slow down the progress of the disease is to visit a neurologist. And Lone Star Neurologists can be an excellent option for you. We will help you cope with any neurological conditions of any complexity. Thanks to our medical innovations, we will keep your health in balance. 
FAQ
Which drug is best for diabetic neuropathy?
The best drug for diabetic neuropathy is the one prescribed by your doctor. After all, each body takes the same medicine differently. Accordingly, treatment can be different for everyone. But the most popular drug for diabetic neuropathy is tricyclic antidepressants.
What is the first-line treatment of diabetic neuropathy?
It is the first treatment for a disease that has not yet begun to progress but has only just appeared. It is usually a medicine with no complex composition and a small dose. First-line therapies include tricyclic antidepressants, serotonin–noradrenaline, and anticonvulsants.
What vitamins are good for diabetic neuropathy?
It includes all vitamins of group B. They are the most useful in treating neuropathy because they protect the sheath of nerve endings. Among the products with vitamin B are eggs, pork, beans, and nuts.
What makes diabetic neuropathy worse?
Bad habits can make diabetic neuropathy progress. It includes smoking, drugs, and a sedentary lifestyle. All of these patterns will worsen neuropathic symptoms and aggravate the stages of the disease.