Healthy organic products full of vitamins, minerals, fibres, and other nutritional substances are a background for the stable functions of the nervous system. In particular, dietary formulas optimistically impact the neuropathy therapy program built for many clinical nerve-damaged cases.
Neuropathy is an umbrella name for similar neurological disorders affecting the brain and spinal nerves and is associated with a range of motor, cardiovascular and cognitive dysfunctions. Therefore, its symptoms provoke weakness, numbness, and painful reactions. To prevent neuropathy progression, any person needs to follow specific diets enriched with proteins, carbs, and healthy fats.
The best diet for diabetic neuropathy-diagnosed people or risk groups contains various fruits, vegetables, berries, and some products of animal origin. However, gluten foods, caffeine drinks, alcohol, fast foods, or inorganic GMO ingredients lead to the ailment expansion and develop new types of health problems.
What Is Neuropathy?
Neuropathy is a neurological ailment characteristic of dysfunctional and damaged qualities of the nerve or a group of nerves that facilitate normal muscle functions.
The main signs of neuropathy-related health problems are:
painful perceptions resulting from the pinched nerves;

slow and crucially deteriorated motion functions;

dysfunctional blood circulation and temporary numbness of the affected area;

high nerve vulnerability due to muscle weakness.
Any neurological disorder, including neuropathy onsets, is caused by an unbalanced diet option or a non-active lifestyle. The well-built dietary formula stimulates the essential nutritional intake, optimizing the impulses transmitted through nerve connections.
Any omission of the nutritious diet plan leads to many neuropathy-related health problems. Therefore, clinical research makes parallels between neuropathy signs and insulin-dependent diagnosis. Diabetic patients suffer from peripheral neuropathy, demonstrating motor, sensory and autonomic nerve damage. In this case, balanced daily dietary formulas are a crucial factor dedicated to adjusting glucose rates and mitigating threatening signals accountable for neuropathy progression.
Foods Good for People with Neuropathy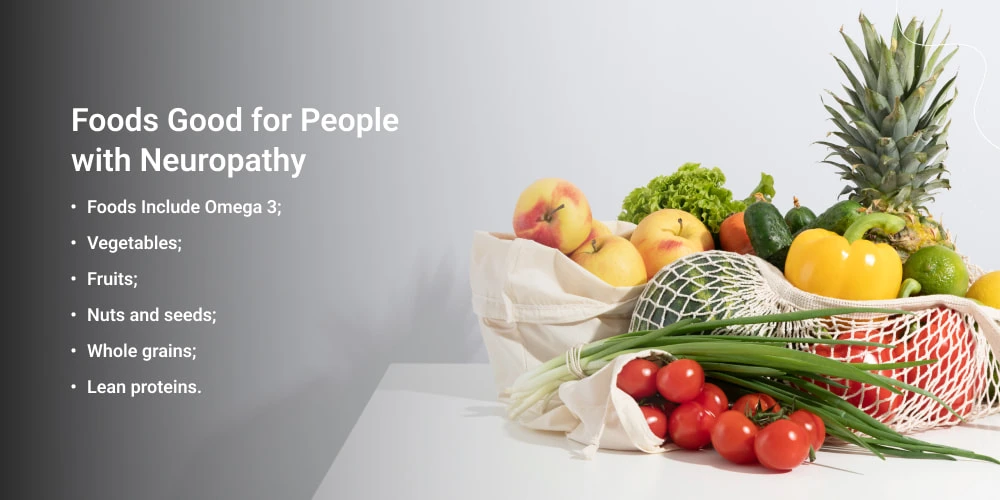 Products approved by the neurological community represent a broad range of healthy and delicious meal ideas which reduce the chances of developing malnutrition and increase the natural barriers to neuropathy blocking.
Indeed, diabetes-positive patients benefit from nutrition-enriched foods with minimal saccharine rates and neuron-damaging substances.
Foods including Omega 3, veggies, fruits, nuts, whole grains, and lean proteins are must-have ingredients for those with particular neurological dysfunctions.
1. Foods Include Omega 3
Omega 3 equals the healthy nervous system due to valuable nutritional substances for neuropathy recovery. Fatty acids consisting of eicosapentaenoic acid (EPA) and docosahexaenoic acid (DHA) provide the brain's required nutrition and reduce blood pressure to adjust glucose rates.
Omega 3 enriched foods that aggravate neuropathy symptoms:
Sardines;
Salmon;
Kidney beans;
Walnuts;
Plant oils except for corn and sunflower samples;
Flax seeds;
Soya beans;
Chia seeds;
Spinach.
2. Vegetables
Vast vegetables refer to neurologically proven foods and are entirely safe for diabetic patients. Most veggies and legumes contain multivitamin complexes like B group, E, C, A, and PP, which optimize body strength and improve the immune system. In addition, diabetic neuropathy diagnosed patients who follow organic plant dietary rules receive good carbs required for the well-regulated digestion system and low risks for diabetes progress.
In particular, you may include some vegetables into your meal plan and enjoy energy boosters for better concentrations without products with high calories:
Leaf veggies (cabbages, salads, Brussels sprouts);
Legumes (parsley, dill, cilantro, mint, etc.);
Tomatoes;
Broccoli;
Asparagus;
Cauliflower.
The list could be added with numerous nutritional vegetables with low sugar rates. Moreover, the offered veggies allow you to combine different samples and cook foods that help people with neuropathy.
3. Fruits
People with diabetic neuropathy are recommended to replace processed and sugar-contained foods with natural supplements. However, fruits and berries should be carefully checked before you start to include them in the meal plan.
Pay attention to sour spices with high rates of fibres, vitamins, and acids, which reduce glycemic indexes and prevent the progression of the neuropathy deterioration signals:
Tropic fruits (kiwi, oranges, pomegranates, citruses);
Garden fruits (apples, apricots, pears, peaches);
Berries (cherries, blueberries, black and red currants, watermelons).
However, sweet foods like melons, grapes, and pineapples could significantly deteriorate the health of diabetic neuropathy patients and are not acceptable for their dietary formula.
4. Nuts and Seeds
Nuts qualify as sources of the macro mineral elements and unsaturated fats to build the strengthened neuron system and flexible muscles. Such foods also include proteins and carbs that improve brain functions that help get rid of neuropathy. Nuts are proven to be intake by vegans and gluten-tolerant people. So, you may choose any kind of seeds to provide organisms with healthy proteins and lipids for anti-inflammatory and antibacterial protection abilities.
Increase raw nuts and seeds in your daily dietary formula to avoid neuropathy progress:
Walnuts;
Cashew nuts;
Pecans;
Peanuts;
Pumpkin seeds;
Flaxseeds;
Almond;
Chia seeds.
5. Whole Grains
Whole grains contain endosperm, germ, and bran which foresee carb backloading advantages for people who wish to eliminate glycaemic index and overcome the accompanying neuropathy signs. These foods contribute to health improvements and reduce painful neuropathy symptoms.
You should add whole grains foods to optimize the digestive and cardiovascular systems and avoid triggers associated with neuropathy development:
Buckwheat;
Amaranth;
Oats;
Quinoa;
Barley.
6. Lean Proteins
Foods that aggravate diabetic neuropathy should contain lean proteins to strengthen muscles and neuron ties. However, nutritionists and diabetologists insist on organic, antibiotic, and pesticide-free products without growth stimulators.
Therefore, you need carefully assess your dietary programs, which comprise:
plain Greek yogurt;
lean beef, skinless poultry, or turkey;
beans and peas;
tofu;
fish white meat.
Foods to Avoid for Neuropathy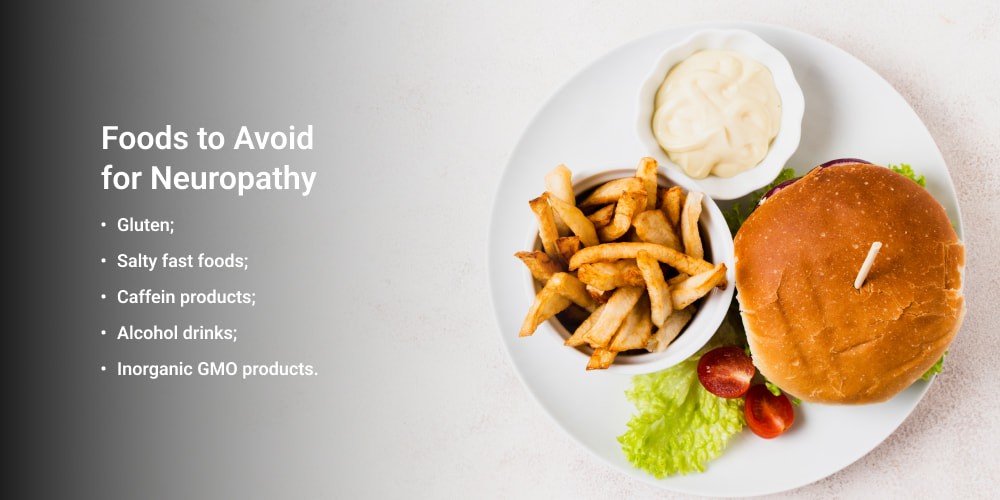 Suppose peripheral neurology signs are stable and complicate normal living activities. In that case, any treating neurologist distinguishes permanent triggers related to unbalanced dietary formulas and increased foods rate, which develop health problems and deteriorate neurological ailments.
In particular, gluten-enriched, salt, caffeine, or sugar-contained products and alcohol drinks cultivated in pesticide and herbicide-labored soils are the main barriers that block neuropathy recovery.
1. Gluten
Gluten or wheat, rye, barley, or triticale-contain protein enhance adverse reactions provided by diabetic neuropathy. Constant consumption of gluten foods duplicates the health problems, especially among people with high gluten sensibility.
As such, allergy-resemble symptoms make neuropathy-positive patients exhaustive without abrupt diet modifications, excluding:
Bakery products;
Sweets;
Chocolate;
Cereals;
Pasta;
Sauces.
2. Salty Fast Foods
Fast foods are sources of many health problems due to saturated fats, spicy ingredients, sugar, and preservatives. Indeed, pizzas, hamburgers, and French fries are the best examples of foods people with diabetic neuropathy disorders require to avoid.
In addition, salty fast foods increase cholesterol rates and heart attack chances. Also, you may face other related neurological diseases and cognitive dysfunctions.
3. Caffein Products
Caffeine stimulates neurological impulses and increases work productivity. However, people with neurological dysfunctions or diabetic neuropathy signs are prohibited from consuming caffeine foods or drinks because they enhance painful pulsing reactions in the affected zones and decline the chances of recovering from the pinched nerve syndrome.
So, a neuropathy-recommended diet should avoid:
Energy drinks;
Coffee;
Tea;
Sweet sodas or cokes.
4. Alcohol Drinks
These drinks are harmful to the neurological system. Despite some benefits of wine and related organic drinks, another alcohol assortment demonstrates several negative impacts:
damage to brain nerves and their ties;
increase glucose rates;
deteriorate cognitive, cardiovascular, movement, and nephrological functions.
5. Inorganic GMO products
Inorganic GMO products with chemical substances for growth stimulation are less effective neuropathy-treating diet options. Such foods provide organisms with micro and macronutrient elements doubtful for the health welfare due to their disputing chemical content. 
Contact Lone Star Neurology to Find out More Information about Individual Neuropathy-Approved Diet 
Neuropathy is a complicated neurological disorder that could hardly be treatable for diabetes-positive patients. As such, recovery approaches are more successful if the neurologists adjust pharmaceutical prescriptions jointly with meal plan corrections. Our Lone Star Neurology doctors build comprehensive treatment programs with medical, dietary, and physical measures for peripheral neuropathy patients with a high glycaemic index. We provide our services in different cities in Texas, including Dallas, Fort Worth, Frisco, and others.
FAQs 
Does diet make neuropathy worse?
Neuropathy symptoms will worsen if your diet habits include fatty and gluten-contained foods, inorganic GMO products, and alcoholic and caffeine drinks. Any failure in dietary formula recommendations provokes several accompanying diseases which deteriorate psychosomatic functions,  damage the digestive system, and increase blood pressure.
How do you calm down neuropathy?
To mitigate neuropathy signs, you may apply some valuable rules:
– regular physical activities like yoga, outdoor walks, and flexibility exercises;
– healthy organic foods to avoid factors with high neuropathy risks;
– medical products and prescriptions recommended by the treating neurologists;
– psychological sessions to eliminate the internal psychosomatic triggers.
Can you drink wine with neuropathy?
Alcoholic drinks damage nerve cells and deteriorate cardiovascular motor and cognitive functions. The neurology qualifies the particular neuropathy type provoked by high alcohol consumption. However, diabetologists consider low rates of red organic wine positively affect the whole health state and strengthen the neurological system.
Does caffeine aggravate neuropathy?
Caffeine refers to neuropathy tolerant products. The constant consumption of caffeine-enriched meals increases painful perceptions typical for neuropathy progress symptoms.
What is the difference between alcoholic neuropathy and diabetic neuropathy?
Alcoholic neuropathy means severely deteriorated or dysfunctional nerve system symptoms provoked by alcohol addiction. Alcohol, sugar, or yeast-contained ingredients lead to harmful reactions, which increase pinched nerve consequences. Simultaneously, diabetic neuropathy has the same signs, which could be expanded due to unbalanced dietary formulas.