The brain is the most critical organ of the human body. It handles many processes and sends signals to other organs. So, your brain must be healthy. To be sure of this, specialists carry out special procedures. And one of them is EEG (electroencephalogram).
It records the electrical impulses of the brain's nerve cells and its departments. So, with it, specialists can determine the brain's electrical activity. It allows them to analyze the brain's physiological state, maturity, and disorders.
This diagnostic method is recommended for patients:
with headaches;

loss of consciousness;

sleep disorders;

convulsive attacks;

craniocerebral injuries;

inflammatory lesions of the brain (meningitis, encephalitis), etc.
The EEG test is a distinctive and unquestionably useful diagnostic method. After all, it aids in illuminating the structure of the processes that the brain employs. It is entirely safe to undergo the examination. Because it has nothing to do with how radiation or electric currents affect people's bodies.
What is Electroencephalography?
Medical methods of brain research are pleasantly surprising more and more. And EEG monitoring is no less impressive. So let's explore deeper and find out what it is.
Electroencephalography is an incredible technology for studying brain activity. It allows you to measure the electrical signals in the brain during its work. EEG recordings can give us essential information about the state of the brain. And it diagnoses a variety of medical conditions.
Close contact with the brain, unattainable for ordinary observation, becomes possible thanks to EEG (electroencephalogram). It uses electrodes that specialists place on the patient's head. These electrodes can register the electrical signs that are generated in the brain. With the help of special equipment, these signals convert into graphic records. It has the name electroencephalogram.
But what do these graphs mean? Each electroencephalogram consists of waves of different frequencies. They reflect other states of the brain. For example, alpha waves (8-12 Hz) occur when patients relax. And beta waves (13-30 Hz) activate during concentration or physical activity. They can state the presence of pathologies, such as epilepsy.
By analyzing these brain waves, you can gain invaluable information. It is about the state of the brain, mental illnesses, and detecting abnormalities. It enables doctors and scientists to understand various aspects of brain activity. They develop new methods of diagnosis and treatment of brain illnesses based on them.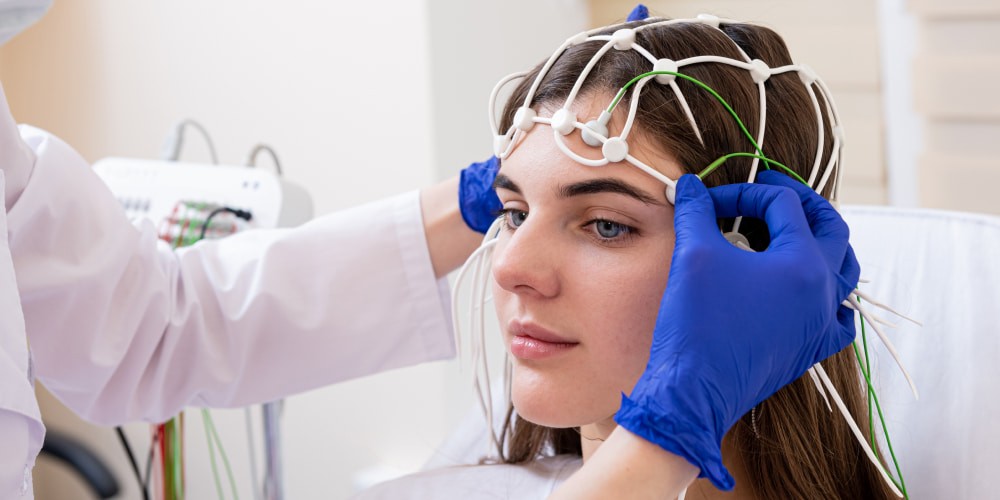 Importance of
Electroencephalogram (EEG) Monitoring
This unique technology is essential for diagnosing neurological disorders, epilepsy, and more.
Pathologies or disorders of the brain can occur at any time in a person's life. You can have ordinary headaches and think that it is just from overwork. But it can be the initial manifestation of a brain disorder. To prevent such hidden diseases and their progression, EEG monitoring is crucial. And its importance lies in many things:
It diagnoses neurological disorders
EEG plays a key role in the diagnosis of various neurological infections. It allows you to detect changes in the brain that may state the presence of pathological processes.
It detects epileptic seizures
EEG allows the detection of epileptic seizures. It helps to establish the time of onset and duration of the seizure. Besides, it determines its type and characteristics. It provides an opportunity to develop effective treatment plans.
It examines brain activity
EEG allows the investigation of functional connectivity and specific responses to external stimuli. It helps to reveal the mechanisms of perception, memory, and other cognitive processes.
It monitors the effectiveness of the treatment
EEG of the brain can be used to check the effectiveness of treatment of brain conditions. It allows you to evaluate brain activity changes after using various treatment methods.
EEG Tests
: Exploring the Brain's Electrical Activity
An electroencephalogram is a completely harmless and painless procedure. Thus, there are no restrictions on its implementation. Specialists use it both for older people and children. But how do they explore the brain's electrical activity? Here are the steps:
they use a special machine (electroencephalograph) to do this;

during the test, doctors place on your scalp small, flat metal discs;

they are connected to the machine;

then they pick up the tiny electrical signals that your brain produces.
EEG (electroencephalogram) has numerous benefits for both individuals and the field of medicine:
They are safe, non-invasive, and painless procedures. It means that people of all ages can undergo this without discomfort.

An

EEG of the brain

helps doctors understand the root cause of seizures. It identifies sleep disorders and monitors brain activity during treatment.

EEG has paved the way for advances in personalized medicine. So, with its progress, specialists identified several types of it:




1. Routine EEG

It is one of the easiest and fastest types. During its course, the patient should sit or lie down. It is as long as the electrodes record info about the brain. It usually takes 20 to 60 minutes. To perform a routine EEG test, doctors do the following actions:

The medic explains how the test will take place and what to expect;

They then apply a gel substance to your skin where the electrodes will be;

Then doctors place electrodes on your head;

After that, medics can give some commands. It's something like opening and closing your eyes and breathing deeply and slowly;

After the necessary data recording period, the doctor turns off the EEG machine.

2. Sleep EEG

The human brain works even during sleep. Thus, it is vital to determine its electrical activity even at rest. For such a study, scientists created sleep EEG monitoring. It is done during the nighttime period of sleep. It usually takes 6 to 8 hours. And medics conduct it as follows:

The doctor places a special helmet with electrodes on your head;

Next, you should fall asleep with the electrodes on your head;

Electrodes record the electrical activity of your brain while you sleep. For this, a particular device records this;

The doctor analyzes data about your sleep and brain during it.

Then, the specialist turns off the machine and removes the electrodes.

3. Ambulatory EEG

Sometimes doctors need more time to conduct an EEG of the brain. In that case, they do this type of procedure. It lasts day and night for one or more days:

First, the medic place the electrodes on your head using gel;

They connect them to a portable recording device. You can carry these electrodes with you;

Throughout the day, the handheld device records your brain's electrical activity;

After the ambulatory EEG period ends, you return to the doctor;

They remove the electrodes from your head and analyze the data obtained.

4. Video EEG Monitoring

It is the most informative method of analyzing brain activity. Such an EEG (electroencephalogram) allows you to assess the brain in all rest phases. It includes the period of wakefulness, dozing, sleep, and awakening. The uniqueness of this video EEG monitoring is that it records a video. It provides detailed information about the brain. And how do doctors do it? They perform the following steps:

The doctor places the electrodes on your head using a gel. And they also install a video camera for recording;

Electrodes record the electrical activity of your brain. And the video camera simultaneously records your external activity and behavior;

Over several days, the doctor collects data about your brain activity;

The doctor carefully records any detected abnormalities or unusual patterns of brain activity;

Including video recordings, they perform an analysis of your brain.

A Word From Lone Star Neurology
So, the brain is an organ that you need to check regularly. But you should do it in case of certain suspicions of brain conditions. If you have worries about it, EEG (electroencephalogram) is what you need. If medics detect any neurological diseases, contact Lone Star Neurologists immediately.
We can help you identify and treat such diseases. Our many years of experience allow us to assist any patient. And it doesn't matter whether it is epilepsy or sleep disorders. We are here to help and treat you.
FAQ
How long is an EEG test? 
An EEG test usually takes about 45 minutes. But it's important to note that the actual time may differ. Because its duration depends on the specific needs and conditions of the patient.
Are EEG tests painful or uncomfortable?
EEG tests are typically pain-free and comfortable. The process involves attaching small sensors to the scalp. It doesn't cause discomfort or irritation and is gentle on the skin.
What is the use of electroencephalograms?
Its main purpose is to detect and analyze abnormal electrical activity in the brain. It is especially useful for diagnosing epilepsy. Also, it studies sleep disorders and checks the effects of medications on the brain.
What should I not do before an EEG test?
Before an EEG test, it is best not to eat a heavy meal and consume alcohol. You should not drink anything with caffeine for 12 hours before the test. Besides, don't take medications or supplements that may alter brain activity.