If a loved one has been diagnosed with dementia, knowing how best to care for them can be challenging. One common problem is making sure there is enough nutritious food. 
If you are caring for a loved one with dementia, you may have noticed that their eating habits have changed. They may no longer be interested in food or have difficulty swallowing. As the disease progresses, they may lose weight and become malnourished.
Ensuring patients with dementia get the best foods to eat is vital. You can make a meal plan based on his needs. And also, some foods are known to help people with dementia.
In this blog article, you will find why dementia patients are not eating and tips on how to deal with a situation where a patient with dementia is not eating. And if you want your loved one to be seen by highly qualified doctors, visit our Lone Star Neurology clinic, and we will be happy to help you.
What Provokes Poor Appetite in Dementia Patients?
Feeding a dementia patient healthy food is becoming increasingly complex, and often the caregiver becomes irritated and sometimes lets the process slide. But a healthy and proper diet for people with dementia is essential.  
There are many possible causes of poor appetite in patients with dementia. Changes in the brain due to Alzheimer's disease can lead to a decreased sense of smell and taste; consequently, the patient does not want eating.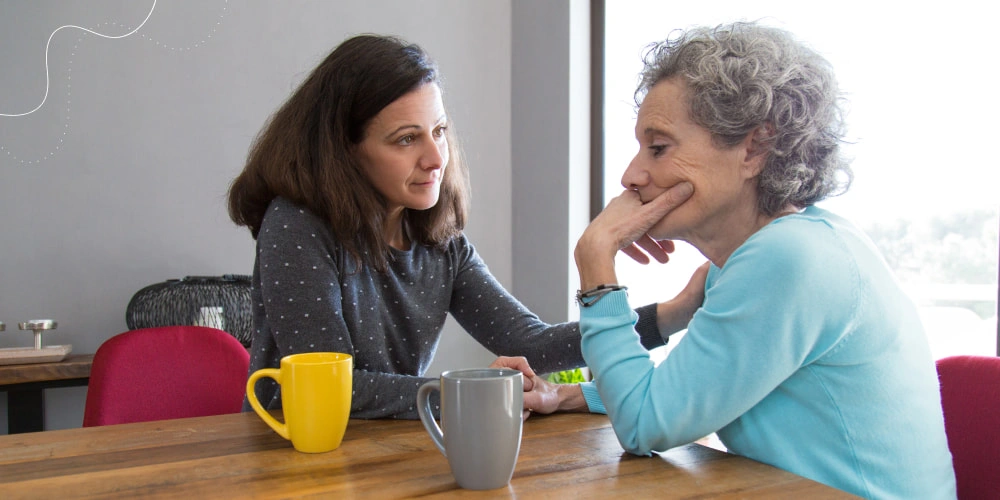 In 2016, Dr. Victor Marchione published an article in Bel Marra Health about eating disorders in people with dementia. He identified several reasons for loss of interest in food: depression, communication problems (patients cannot tell when they are hungry), pain, fatigue, side effects from taking medications, and physical inactivity. 
Here are some other common causes:
Some patients with

late stage dementia

, because of changes in the brain or vision problems, can

not eat

because they do not recognize food or drink.
Others have difficulty concentrating, so they are constantly distracted while eating and may "hover" with a spoon in their hand for long periods. The caregiver may mistakenly assume their ward is complete and remove them from the table. 
Patients may have difficulty using utensils. The patient may be physically demanding to pick up a mug or carry food from the plate to the mouth, especially if dementia involves Parkinson's disease. 
Another reason for not eating is swallowing problems. 
A person with dementia may have altered sensitivity. The patient cannot always adequately determine the food's temperature, which leads to burning. 
Patients also sometimes have difficulty recognizing the feeling of thirst. 
All of this must be under the supervision of a caregiver.
Dementia and Alzheimer's: What is the Difference? – read in our LoneStar Blog.
What Health Troubles Can It Cause?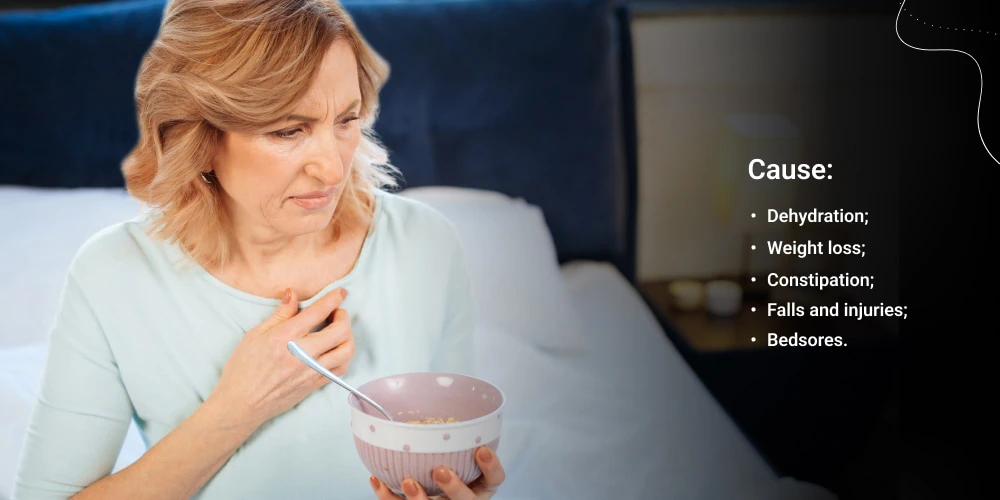 If a person with Alzheimer's is not eating, it is essential to realize that this can lead to severe problems. To give you an idea of what the risks may be, we've compiled the most important ones into one list:
Dehydration: When

Alzheimer's

patients do

not eat

and drink enough, they become dehydrated. The risk of dehydration is further increased by taking medications that have a diuretic effect or increase urination. Symptoms of dehydration include dry mouth, sunken eyes, little or no urine, extreme thirst, fatigue, dizziness and confusion. If not treated promptly, dehydration can lead to seizures, coma, or death.
Weight loss: People with

dementia

, especially in the

late stages

, often eat less or do

not eat

at all. It can lead to malnutrition and weight loss. Being underweight puts people at risk for other health problems such as infections, bedsores, and heart failure.

Constipation: An inappropriate

diet for dementia

that is low in fibre and fluids can lead to constipation. It is a common problem in people with Alzheimer's disease. Constipation can cause pain, bloating, and nausea.

Falls and injuries: When people with Alzheimer's lose weight, their center of gravity changes, increasing the risk of falls and resulting injuries.
Bedsores: People who are bedridden or do not move often are at risk for bedsores. These pressure sores form when constant pressure is on one area of the body, such as the hip. Pressure sores can be excruciating and lead to infection.
What Can Help
Dementia Patients
That
Not Eating
?
Several things can help dementia patients who do not eat:
The first is to determine the best

diet

to

cure Alzheimer's

. A doctor can do it. They can also make sure that the person gets enough nutrients and calories.
Encouraging the patient to eat with other people at meal times. Patients with dementia often feel more comfortable when other people are around.
Providing small meals more often throughout the day rather than three large meals.
It is essential to ensure the food is easy to chew and swallow. It may be easier for the patient to eat mashed or soft foods.
Offer "finger foods" that the patient can eat without utensils. "Finger foods" is usually used for babies who take food with their hands when they start to eat adult food.
Offer a variety of foods with different colors, textures, and smells. For example,

foods that help with dementia

can be mashed or in a different texture.

Put on quiet music or talk while they eat.
Make sure the environment is calm and comfortable. Ensure the lighting is not too bright and the table and chairs are the right height.
Encourage the patient to drink fluids throughout the day.
When caring for a patient with dementia who is not eating, it is essential to discuss their condition with the doctor. The doctor can help identify underlying medical problems that may be causing the pain and provide helpful tips and resources.
Difference Between Dementia and Amnesia – read about it in our LoneStar blog.
What Are the
Best Foods for Dementia Patients to Eat
?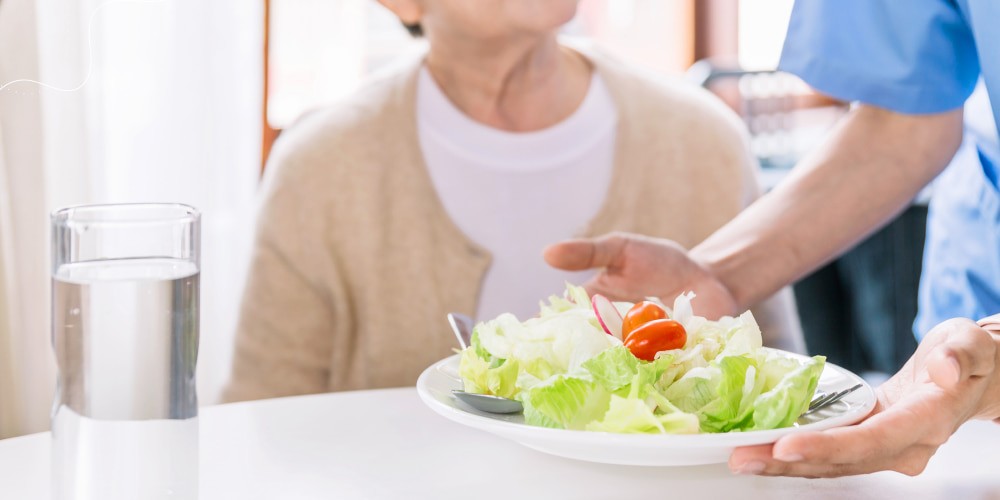 The best foods for patients with dementia are those that are easy to chew and swallow, nutritious and delicious. The Alzheimer's diet cure must individualize according to the patient's needs. However, some general guidelines can and should be followed:
Fruits and vegetables: Fruits and vegetables are an excellent source of vitamins, minerals and fibre. Examples: fruits like apples, kiwi, and bananas can be pureed, and vegetables like tomatoes and carrots can be squeezed into freshly juices. They should be included in the diet of all people, including those with dementia.
Whole-grain foods: Whole-grain foods contain nutrients that are important for health. Examples are oats, buns, and quinoa.
Protein: Protein is necessary for the body to repair and build tissue. Examples are chicken, rabbit, and beef. Protein should also be included in

diets for dementia

.  

Dairy: Dairy products are an excellent source of calcium and other nutrients. They can also be added to the diet of patients with dementia.
Fats: Fats are an essential part of the diet. They are a valuable source of Omega's, which have a positive effect on the processes in the body.
Water: Water is necessary for the body to function correctly. Water should be included in the diet of all people, including people with dementia.
You can read about Brain Exercises for Dementia Patients in out other article.
Lone Star Neurology is the Best Choice
Lone Star Neurology is the perfect choice if you are looking for a top-notch neurology clinic that can help you or a loved one with dementia, especially Alzheimer's disease. 
Our experienced team of doctors will work with you to create a personalized diet and treatment plan to meet your needs and help improve your quality of life. 
Contact us today to schedule a consultation to see how we can help you or your loved one start living the best life possible.
FAQs
What does it mean when an Alzheimer's patient stops eating?
It can be for entirely different reasons: for example, the patient has difficulty chewing, simply forgot to eat, or has difficulty holding the utensils. It is best to see a doctor to determine the cause.
What stage of dementia is not eating?
It can occur at any stage of dementia. However, there are more confirmed cases of late-stage dementia.
How long do dementia patients last when they stop eating?
Each dementia patient is unique, so the period for which patients can give up food varies. On average, patients need up to 45 days.
Should you force a dementia patient to eat?
Everyone needs to eat, but forcing a patient with dementia to eat is not a good idea. It is better to offer them light food options that they are willing to eat.