Alzheimer's disease and dementia are similar conditions, although they are not the same. Common symptoms are that the patient may experience memory loss, irritability, personality changes, and difficulty taking care of themselves and performing daily tasks. As the patient's condition worsens, you will need to help the person with routine tasks, control their financial affairs so that intruders do not take advantage of their condition, and try to help them endure the disease as easily as possible.
There are many ways to help a patient with Alzheimer's or dementia. This may include hiring a professional carer, contacting a dementia caregiver, and self-care.
In this article, we will look at tips for caring for Alzheimer's patients, how to properly help them in everyday matters, and how to create a safe environment for them and establish contact with them.
Learn More About Alzheimer's Disease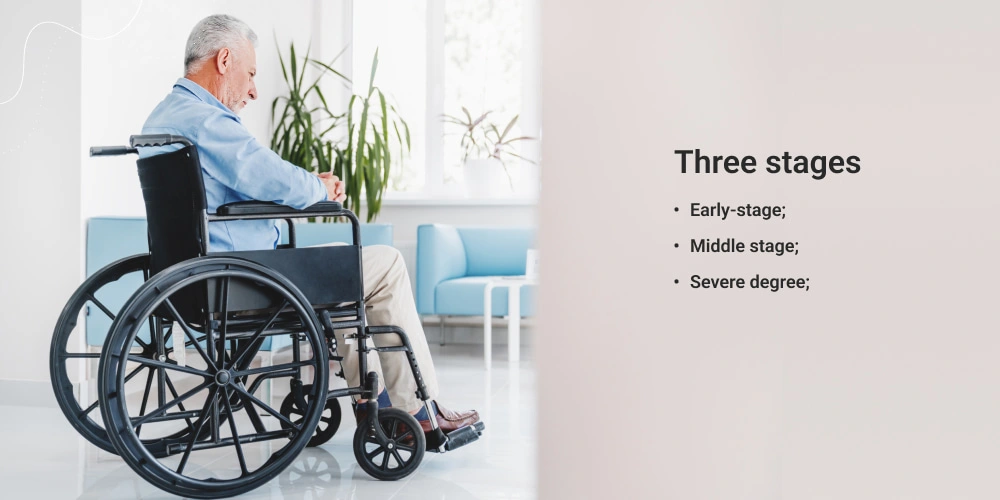 Alzheimer's disease includes three stages – early, middle, and severe.
Early-stage
Usually, patients with dementia and Alzheimer's don't need care in the early stages of the disease. They can do all the necessary things on their own. At this stage, patients may even continue to engage in professional and social activities. This may be noticeable when a person forgets any words or someone's names. Also, in the first stage, patients may notice that it has become more difficult for them to write and solve problems.
Middle stage
At this stage, Alzheimer's may include memory loss, confusion, and other symptoms such as:
Difficulties in recognizing loved ones;

Problems with self-organization and performance of necessary functions;

Inability to perform simple routine tasks, such as putting on clothes;

Anxiety;

Insomnia;

Disorientation;

Change in character and behavior.
Patients with dementia in this stage need the care of relatives.
Severe degree
When the patient is at this stage of the disease, they cannot perform the most straightforward actions and therefore need the care of a close person. At this stage, the patient's relatives help them complete the simplest activities such as sitting, walking, and eating. Patients with a severe stage of Alzheimer's disease do not participate in conversations, do not recognize loved ones, and have difficulty chewing and swallowing.
Read about life expectancy for Alzheimer's Disease & Dementia in our article.
Caring for Alzheimer's Patients in the Early Stages 
Alzheimer's patients may not require self-care in the early stages of the disease.
At an early stage of the disease, help from relatives can be provided in terms of support, assistance in accepting a diagnosis, planning the future, and taking into account the disease.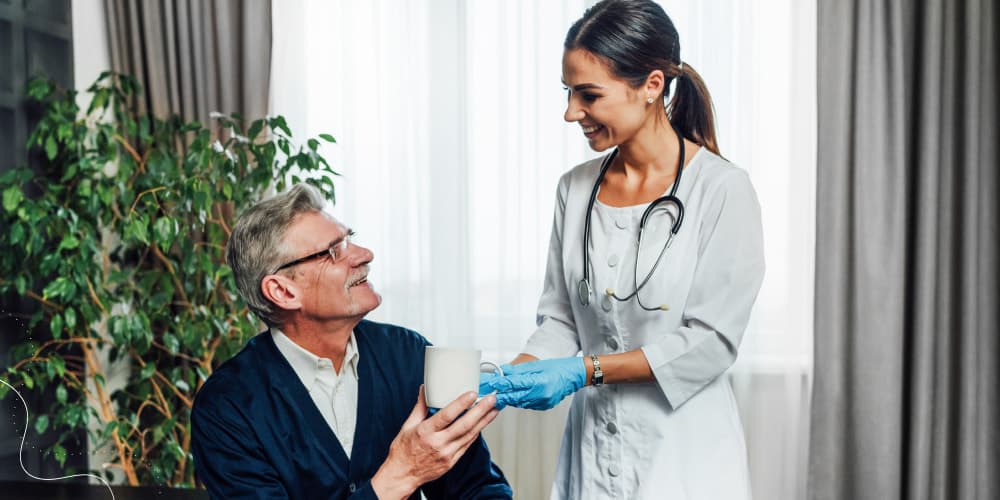 Help Make a Diagnosis
This is the first thing you can do to help your close person. Let them realize what is happening and process the information received from the doctor.
However, do not let your loved one digest what is happening for too long. Firstly, stress can negatively affect the health and well-being of our relatives, and secondly, it is necessary to carry out all additional examinations on time to start following the doctor's recommendations as soon as possible.
Let Your Loved One Express Their Emotions
It is always difficult for any patient to accept their diagnosis calmly. Your close person, for sure, will have such emotions as anger, disappointment, and sadness.
Let your relative express their emotions by sharing them with you. Then encourage them to continue doing the usual activities that fill them with joy and help distract them from problems.
Use Available Resources
Many different resources can provide comprehensive dementia and Alzheimer's care for patients at this stage of the disease.The first thing you can do is find the Alzheimer's Association. Such institutions offer ongoing support to the patient's relatives, providing psychological assistance by telephone, as well as providing counseling and training for caregivers.
You need to learn as much as you can about your family member's dementia. Although the symptoms and course of the disease may be different for each patient, a large amount of knowledge in this area can help you in caring for the patient.
Find Out as Much Information as Possible About Your Loved One's Illness
Even though each patient diagnosed with Alzheimer's may have different symptoms, there are still plenty of benefits associated with people experiencing the same problem.
By communicating with people who have such a problem, you will be able to understand in more detail what your relatives will need, what difficulties may await you in the future, and what actions will help you cope with this situation.
Also, people who share the same problem with your close person will be able to give some caregiving tips for relatives of people with dementia and recommend useful books on this topic, special seminars, and educational resources that teach nursing skills.
Think Ahead About the Future Housing of Your Relative
Although at the initial stage of the disease, the patient can independently perform all the necessary actions, after a while, their condition may change, which will lead to them needing help to perform simple steps.
You need to discuss at an early stage where your relative with Alzheimer's will live when their condition worsens. Discuss with your close person where they would like to live when they need help. If they want to live in your house, start thinking about your future residence.
Keep the Patient in Good Health for as Long as Possible
Another problem that you should help the patient with Alzheimer's disease or dementia to cope with is the worsening of the condition. This happens to every patient, but your task is to slow down this process. 
Try to take all possible measures to help stop symptoms' progression. While there is no cure for some of the symptoms of Alzheimer's, lifestyle changes can be effective in slowing down the course of the disease.
For example, exercise, proper nutrition, quality sleep, stress avoidance, and keeping yourself mentally and socially active can help improve brain health and slow the worsening of symptoms. You can also join the transition to a healthy lifestyle, thereby preventing the occurrence of diseases in the future.
Helping a Patient with Memory Impairment
In the early stages of Alzheimer's, the patient may need cues to remember appointments, names, addresses, or words. You can stick sticky notes around the house with important information or teach him or her to set a reminder on their phone so they don't forget important information.
Caring for Alzheimer's Patients in the Middle Stages
In the middle stage of Alzheimer's disease, the patient needs more of your attention. Your relative may be losing their memory, which may lead to them getting lost in familiar areas. Also, the patient can no longer drive a car, they may stop recognizing loved ones, and their speech may become incoherent. The patient may experience anxiety, frequent mood swings, and insomnia.
If your close person is in the middle stage of Alzheimer's disease, they need your help with routine tasks. Balancing your affairs and the burden of the sick is quite difficult, requiring proper planning and support from friends and relatives.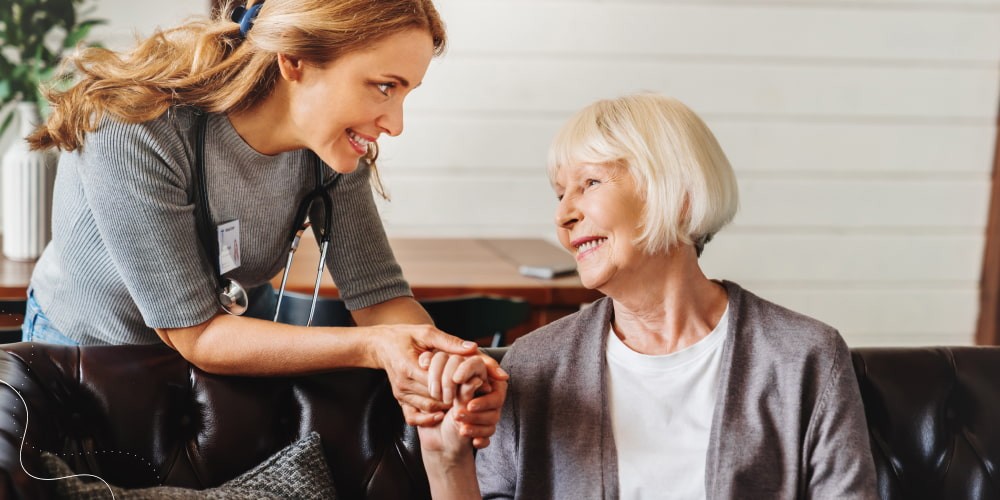 Ask for Help
Most likely, when you begin taking care of an Alzheimer's patient at this stage, you will need support and help from close people. Ask for help from your relatives or contact volunteer organizations that help caregivers care for patients.
While caring for the sick, you also need to keep your own business and hobbies in mind.
Seeking the help of a specialist in patient care will not only help provide better and more professional patient care but also give you time to deal with your personal affairs and recovery.
Contact Professional Caregivers
We can hire a professional carer who can help you care for your relative with Alzheimer's disease or dementia from a few hours a day to 24/7. You can also hire someone to help in the areas of tasks you agree on in advance. This may be helping with household chores, making necessary purchases, or preparing meals.
Daycare offers activities and socialization for patients with problems such as Alzheimer's and dementia. Such centers even provide an opportunity for patients to continue working or attending to other needs. Your task is to find a good care center where they can be looked after and allowed to communicate with other people, work, and engage in interesting activities.
Temporary patient care by professionals frees up time for you to devote to work, travel, and socializing with friends. You can also ask for help from relatives who can bring food and help lo

ok after the patient while you can go about your business.
Take Time to Pondering the Things That Happen
As a patient moves into new stages of dementia, people who are taking care of Alzheimer's patients need to change their expectations about what their relatives with Alzheimer's might be capable of. Try to look at the situation more realistically, taking time to think about the change in the patient's condition.
Keep a Diary
Keeping a diary can help you reflect on what's going on, jotting down successes and reviewing difficult moments. Such a method can help cope with negative thinking, affecting mood and outlook.
Express Gratitude
This may seem inappropriate, but keeping a gratitude list can help you focus on your loved one's abilities and not get stuck in their problems.
Learn to Appreciate What's Happening
In the middle stages of Alzheimer's disease, the patient still has a lot of the same abilities and qualities. Evaluate the positive actions of the patient, focus on those aspects in which the person is still strong, and appreciate their human and professional qualities.
More about difference between dementia and Alzheimer's you can read in our blog.
Alzheimer's Patients' Nutritious Diet 
Starting in the middle stages of caring for a patient with Alzheimer's disease, you will need to take care of their proper nutrition. People with this disease should eat well and drink enough water.
Patients with this disease lose their cognitive abilities, so that the patient may forget about cooking or eating. Because of this, their weight may decrease and worsen their health.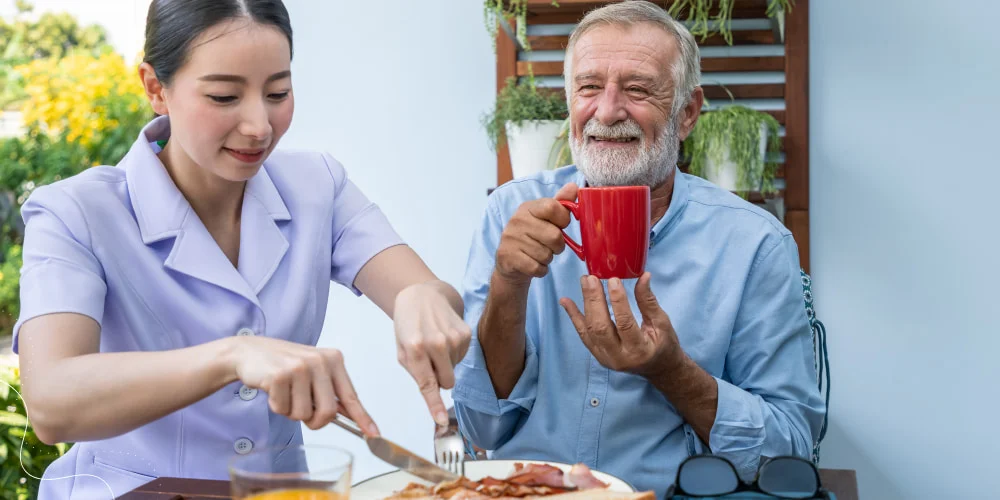 People who help the patients with Alzheimer's disease with cooking food should ensure that:
Serving meals for the patient occurs every day at the same time;

Bright colored dishes are laid out, on which the food will stand out well;

The patient's breakfast portion is large enough;

The patient should take vitamins prescribed by the doctor;

Food for the sick person, such as cheese, sandwiches, or fruit, is cut into pieces;

The patient should eat in silence, turning off the TV and radio;

The products are such that the patient can easily chew and swallow.
Plan Activities and Exercises to Help with Alzheimer's
Although patients with Alzheimer's disease lose their ability to work, you must involve them in the activities they are capable of doing.
Examples of activities you can help the patient with Alzheimer's disease get involved in:
Assistance in food preparation;

Physical activity;

Lessons;

Simple routine tasks such as folding clothes and cleaning;

Work in the garden.
It is also necessary to involve patients in social life and participation in activities such as:
Going to a restaurant;

Visiting museums and parks;

Watching films;

Communication with friends and family members;

Playing board games;

Walks.
If your loved one with Alzheimer's disease goes for walks on their own or visits cultural places, add a piece of paper to their wallet or clothing pocket. On the paper, write that the patient has the disease and give their full name, address, and phone number. All this will help you ensure that if your close person with Alzheimer's disease gets lost, they will be helped to get home.
Communication Tips 
As diseases like Alzheimer's or your relative's dementia progress, you may notice that they communicate differently from other people. More often than not, patients with dementia have trouble finding the right words; they repeat the same things and have difficulty expressing their thoughts.
However, if your relative with dementia has any noticeable cognitive problems in their speech, do not focus on this. Even though your relative may not even show interest in communication, you need to encourage any of their social interactions.
How you can help a patient with Alzheimer's and dementia to save a communication:
Be patient with your loved one;

Establish eye contact with the patie

nt and maintai

n an open posture;

Speak clearly and slowly;

Avoid questions that put a strain on memory by asking questions such as "Do you remember what the events were yesterday?";

Show respect in conversation;

Allow yourself some rest if you feel tense.
How to Create a Safe Environment for Alzheimer's Patients 
As you know, dementia impairs the ability to think and solve problems. This impairs not only the ability to socially interact but also increases the risk of injury.
Also, relatives should think about taking care of an Alzheimer's patient's safety in the apartment. For this, there are several recommendations, such as:
Fall prevention. Check that the floor is free of scattered mats, extension cords, and other objects that could trip the patient and cause them to fall.
Use locks. Add locks to cabinets that contain objects that are dangerous to the p

atient, such as medicines, alcohol, weapons, toxic detergents, and sharp objects.

Observe fire safety regulations. Store matches and lighters where the patient cannot find them. Make sure the fire extinguisher is fresh and the smoke and carbon monoxide detectors have new batteries.
Role of Animal Companion
For Alzheimer's patients, having a pet is a good idea.
Cats, dogs, and other types of animals can provide constant love and companionship for the patient. Patients with an early or intermediate stage of the disease are still able to care for a pet, and this will help them stay active.
If

caring

for a pet is difficult

for

your close person with

Alzheimer's

, you can arrange with neighbors to jointly care for the animal and walk with it. You can also ask a neighbor to ensure your loved one remembers feeding the animal.
There are organizations such as Meals on Wheels America provide pet food. You can also contact various charities that provide animal care services for older people with medical conditions.
When Should you Seek the Help of a Specialist?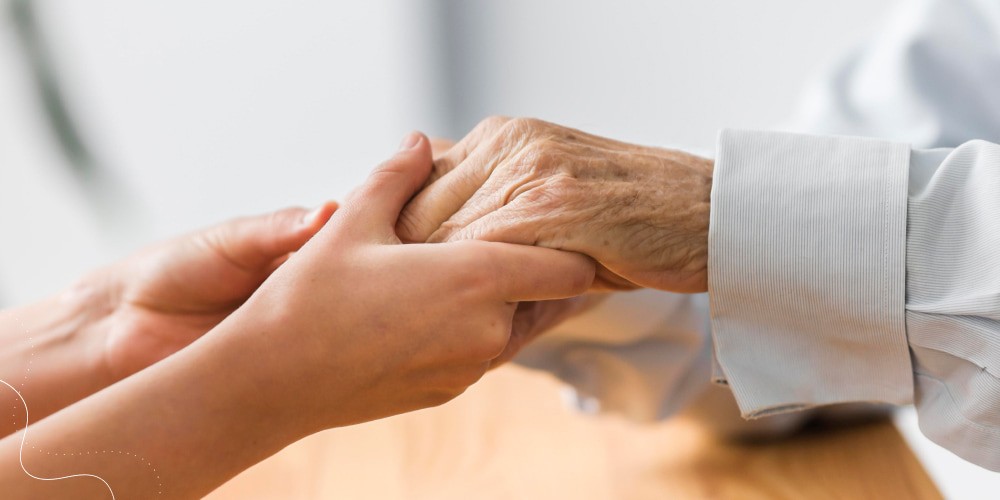 You will need to help the patient with Alzheimer's disease more and more each time. Caregivers may need professional services to help care for a patient. This is especially true for helping with tasks such as bathing, transferring, or changing the patient's clothes. Carers may need the help of professional nursing services when the patient:
Needs constant assistance, which concerns daily and personal activities;

Stops walking independently;

Has seizures;

Unexpectedly loses significant weight;

Often falls and gets injured;

Often experiences anxiety;

Starts getting lost.
Thus, sooner or later, the patient may need the help of professional services. Look for trusted contacts from organizations that provide professional care for people with dementia. You can also chat on the forum with other caregivers who care for relatives with the same condition. They may recommend to you trusted organizations where you can hire a caregiver.
Start the Treatment with Lone Star Neurology 
Alzheimer's disease is a dangerous problem, and as the disease progresses, you will need to help the patient with Alzheimer's disease more and more each time. You can be their caretaker and even get paid for it. However, you may have a limited amount of time you can spend with your loved ones helping them manage their care. So, in this case, you can hire a professional guardian. 
Also, do not forget that Alzheimer's disease and dementia are complex conditions that overshadow the patient and the relatives caring for him. As a caregiver, you also need the support of friends and loved ones, just like the patient. Therefore, continue to lead a social life and involve the patient in it.
If your close person has Alzheimer's or another disease, visit our clinic's website. Call us at (214) 619-1910, and make an appointment.
We treat various neurological disorders such as:
Concussion;

Dementia;

Dystonias;

Peripheral neuropathy;

Epilepsy;

Alzheimer's disease;

Multiple sclerosis.
This is not a full list; our neurologists deal with many diseases. Go to our website to read more about our clinic. Check out the blog with many helpful articles about different diseases, their diagnosis, and treatment.
FAQs 
How do you care for someone with Alzheimer's?
If your loved one has been diagnosed with Alzheimer's, you will need to help your family member adjust to living with the disease. To do this, you can become their guardian, hire a paid guardian, or contact the dementia care helpline.
Can you care for someone with  Alzheimer's at home?
If you are caring for an Alzheimer's patient who is at home, you will need to take care of their food, help them go to the toilet, make sure they take their pills on time, take them to the doctor, help them walk their pet, and assist with paying accounts. Also, you should take care of the safe movement of the patient around the flat, removing all objects from the floor.
How do you make an Alzheimer's patient happy?
A disease such as dementia upsets a person who helps their close person with Alzheimer's or dementia to do daily tasks and the patient themselves, especially when they are still aware of what is happening. Try to cheer the patient up with things like going to the park, museum, or cinema, buying sweets, and communicating with nature and animals.
Do Alzheimer's patients sleep a lot?
Patients with dementia, especially in advanced stages, may sleep for a long time. Relatives of patients may be seriously worried about this. The cause of excessive sleepiness in patients is associated with brain damage, which becomes more extensive as the disease progresses. This leads to the fact that the patient constantly wants to sleep.
Can Alzheimer's patients watch TV?
Watching TV for Alzheimer's patients is not a healthy activity. Scientists from University College London concluded that excessive television viewing leads to memory loss and contributes to the development of dementia. They also noted that people over 50 who watch more than 3.5 hours of TV daily are more at risk of memory loss.