Epilepsy is a severe chronic brain disease or a neurological disorder characterized by frequent seizures. These can be convulsions, hallucinations, loss of consciousness, panic, unexpected aggression, mood swings, and other symptoms. Drug therapy is used to treat this disease. But this is not enough to maintain health, so an epilepsy diet is always prescribed for such a disorder. It includes the consumption of:
non-starchy vegetables

greens

nuts

fruits and berries

meat

fish
This diet includes only healthy foods that are enriched with vitamins, and that can provide nutrients. So, it is considered the best diet for epilepsy because it includes foods that can reduce epilepsy attacks. But this does not mean you can eat everything you think is healthy. Some products may be helpful, but not for those with epilepsy. So, to better understand which products are beneficial, we have prepared for you a list of the best foods for epilepsy patients.
Why do You need to Follow the Diet
It is challenging to prescribe the correct diet for epilepsy, but it is necessary. It will help the body perceive the active substances of anticonvulsants and other drugs. And the combination of a good diet with appropriate medicines from a doctor will improve even health faster. A balanced diet always benefits the body, regardless of disease. But with epilepsy, if you eat the right foods, this disorder will not progress because the nutrients in the foods alleviate the disease. There are also other reasons to follow a diet:
Loss of excess weight, which interferes with the normal functioning of organs.

Reducing the risk of disease.

Improvement of heartbeat and normal blood circulation.

Suspension of epilepsy symptoms.

Increase in energy.

Reduction of stress and anxiety.

Improved brain function and good concentration.

Reduction of epileptic seizures.
Eating foods that are useful for epilepsy and avoiding foods that harm the body is key to health. This way, you can slow down the development of epilepsy and avoid its manifestations. After all, good food contributes to the excellent functionality of the entire body's systems.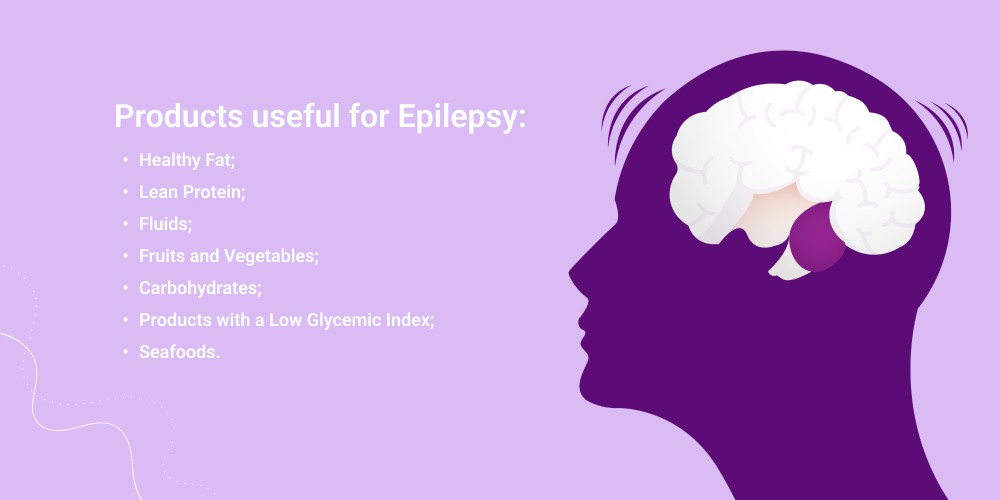 Healthy Fat
Fats are vital for maintaining human health. They are as important for our body as proteins and carbohydrates because they help increase physical activity. Fats also have the advantage that they contribute to the proper functioning of the nerves, brain, and heart. That is why consuming food with fat is essential for people with epilepsy to improve their health. Such food includes:
Eggs

Avocados

Coconut

Olive oil

Yogurt

Seeds
Adding these products to your diet can give the body energy and reduce the body's anxiety during epilepsy.
Lean Protein
Protein contributes to the development of the brain and the formation of new cells. Without a sufficient amount in the body, it begins to consume resources from muscles and tissues. But things like lean protein can help people to avoid such problems with epilepsy. So keep a list of products with lean protein:
Red caviar

Low-fat cheeses

Veal

Pumpkin seeds

Peanut

Turkey

Chicken

Dairy products
Before consumption of these products, you should also monitor the amount of them. Why? Because excess has bad consequences for the body. So we advise you to consult your doctor about the amount of lean protein daily.
Fluids
One of the most important things to avoid problems with epilepsy is drinking enough water. Therefore, there should be a balanced diet and a normal amount of water consumed per day. Doctors recommend drinking 1.8-2.4 liters of water per day. Adequate hydration of the body reduces convulsions, improves the concentration of attention, and contributes to the good functioning of all body systems. So, to retain fluids in the body, it is recommended to eat:
Dairy products

Mushrooms

Almond

Bananas

Cereal products
It can significantly improve a person's condition if they consume such foods regularly, and, as a result, epilepsy will not cause seizures.
Fruits and Vegetables
Their consumption can not wholly cure epilepsy or avoid spasms forever. But since fruits and vegetables are a source of vitamins, they can strengthen the immune system and increase blood flow to the brain. Therefore, the best thing to slow down the disease is to include fruits and vegetables in your diet for epilepsy. It can include:
Beet

Carrots

Grapefruit

Cucumbers

Banana

Cabbage

Pineapple

Cranberry
But, you should know the amount of their use per day to maintain the norm of vitamins in the body. Therefore, we recommend that you consult with a specialist so that they choose the proper epilepsy diet.
Carbohydrates
Many believe carbohydrates should be removed from the diet because they harm health. But it is not so at all. The main function of carbohydrates is energy. They are a source of power, thanks to which our body works. So, they are necessarily needed, but in small quantities. The average daily rate of carbohydrates is about 400 g, but for people with epilepsy, it is about 300. So, we advise you to eat:
Oat groats

Buckwheat

Whole grain bread

Bulgur

Brown rice

Lentils and other legumes

Nuts and seeds
If you still have questions if such foods can cause seizures, then no. It is because they are healthy carbohydrates which can energize your body.
Products with a Low Glycemic Index 
With epilepsy, eating properly and filling the stomach with useful food is essential. It includes products with a low glycemic index. These are primarily natural products that contain a lot of vegetable fiber and help deal with epilepsy. So, the benefit of such food is explained, first of all, by its high fiber content and the low level of industrial processing. Such products include:
Fresh apricot

Pearl groats

Brown lentils

Green bean

Pear

Tomato

Pasta cooked "al dente."

Carrot juice (without sugar)

Kiwi
So if you want the best diet option for epilepsy, we advise you to add them to your diet.
Seafoods
Seafood is an excellent source of high-quality protein, polyunsaturated fatty acids, and vitamins A, B, D, and E. Regular seafood consumption provides the body with essential amino acids. Also, it has a good effect on brain functions because it protects neurons from damage and diseases. Thus, it can ensure clearer brain functioning, and as a result, such foods will cause seizures much less often. So, seafood that should be added to the diet:
Shrimps and crabs

Mussels

Oysters

Seaweed

Squids
But if all these products are artificially grown, they can harm health. Therefore, remember that all seafood must always be fresh and natural to benefit from it.
Read about physical activity in epilepsy to find out a new useful information in our other article.
What Foods Should You Avoid if You Have Epilepsy?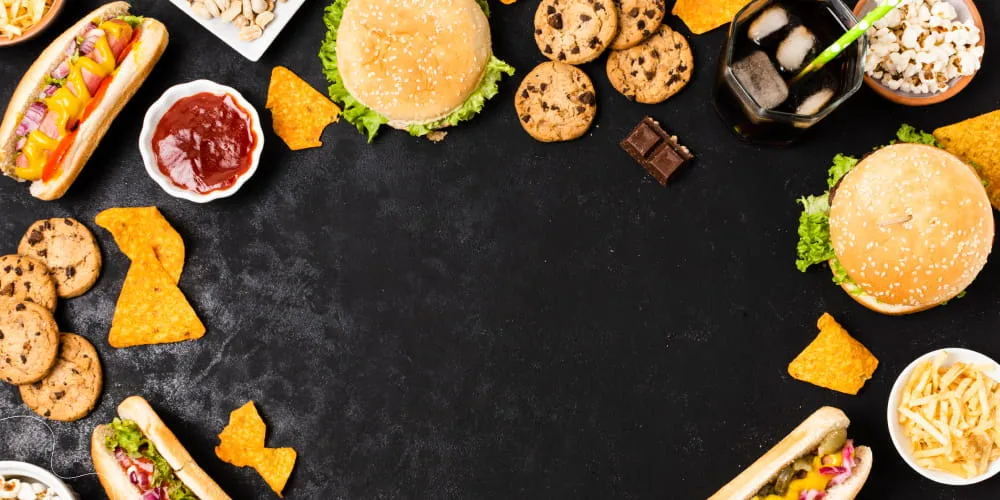 Epilepsy diet cures convulsive syndrome and prevents secondary manifestations of the disease in the body. That is why there are quite a few restrictions on consuming certain foods for people with epilepsy. For example, sugar and caffeine have the worst effect on the body. Their consumption can cause stress that leads to seizures. So, people need to avoid such things with epilepsy. But besides this, some other products also have a bad impact:
Alcohol

– long-term alcohol abuse can increase the risk of developing epilepsy.

Gluten

– the number of epileptic attacks may increase (it is found in such products as sausages, ice cream, chips, and food additives).

Trans fats

– can increase the risk of heart disease (butter, cookies, cakes and margarine).

Sugar

– many sweets cause high blood pressure, constant fatigue and frequent epileptic seizures.

Food with a large amount of salt

– retains fluid in the body, which contributes to increased spasm of blood vessels (crackers, chips, fried seeds, cheese, pizza).

Smoked products

– sausages sold in stores contain many spices and substances that harm the intestines.

Coffee

– can impair memory and make epilepsy worse.

Pickled and salted dishes

– cause kidney disease, hypertension, arthritis, and heart attack (sauces, vinegar, pepper, horseradish, mustard).

Carbonated drinks

– contain caffeine, which is not included in the epilepsy diet because it worsens spasms and causes frequent fatigue.
If you use these products with epilepsy, their symptoms will worsen significantly, and they may turn into worse manifestations. Therefore, the best decision is to follow a diet for epilepsy and replace unhealthy food with a healthy one.
Bottom Line 
As you can see, epilepsy requires serious health care. But all this can be alleviated with the help of the epilepsy diet. A diet is properly selected foods your body needs. Following it, this significantly improves a person's condition, both physically and mentally, because the risk of epileptic attacks is reduced. So, it's why the key to the health of people with this disease is to follow a diet.
FAQs 
Is banana good for epilepsy?
Yes. In 2018, researchers found that a banana can reverse spasms in people with epilepsy. Also, it helps the disease not worsen and get nutrients. It is why this fruit is beneficial and often added to the epilepsy diet.
What can make your epilepsy worse?
Epilepsy can worsen if you do not take the appropriate medication and do not follow the prescribed diet. These are the most important things for maintaining health, so their absence can complicate the disease. Also, the reason for this can be alcohol consumption, stress and lack of sleep.
Can food trigger a seizure?
In fact, there is no exact evidence that certain foods can trigger seizures. But if you use those products that are prohibited for epilepsy, seizures can appear much more often. Such products can include, for example, a lot of sugar and caffeine consumption.
What juices are good for epilepsy?
To improve the condition of people with epilepsy, they are prescribed grape juice. It  contains many vitamins that help improve immunity and can reduce the appearance of spasms. Carrot and cucumber juices can also be good options.
What is the best vitamin for epilepsy?
Vitamin B6, magnesium, vitamin E, manganese, Vitamin B9 and AEDs, taurine, folic acid, and omega-3 fatty acids. All these vitamins could affect people with epilepsy in good ways. But you should take it only with a doctor's prescription.