Many therapists and neurologists approve physical activities as effective mediums to avoid triggers associated with epilepsy, seizures, and mental or psychological disorders. Muscle strength exercises are dedicated to reducing cognitive deterioration and suspending disease progression.
Yoga, pilates, walking, jogging, and elementary aerobic exercises relate to successful epilepsy therapy programs. Some active or team sports are also acceptable to people with high seizure risks; however, workout partners should control such activities to prevent threatening situations.
Despite medical cautions concerning physical activities for epilepsy-diagnosed people, clinical surveys declare opposite conclusions to doubtful assumptions and significant improvements in neurological, cardiovascular, and motor functions.
Before choosing the most effective physical exercises and organizing an active lifestyle schedule, you should request the proper neurological recommendations. Remember, the epilepsy recovery processes are beneficially accomplished if patients put maximum effort into disease prevention measures.
Can You Exercise with Epilepsy?
Sports and physical activities are synonyms for a healthy neurological system. Practising yoga, meditation classes, chess game strategy, or walking along the street refreshes your mind and refocuses your feelings and emotions on something different from seizure triggers.  
Most neurologists consider the best way to eliminate seizures, and their periodicity is muscle strengthening workout exercises. Strong motor functions and distressed psycho-neurological and vegetative-vascular systems are the key results you may receive upon regular sports activities.
Moreover, you accelerate active substances in your prescribed medication if you supplement your epilepsy treatment with physical development. The secret to a productive rehabilitation workout is strictly adhering to clinical recommendations and modifications in line with your recovery progress. 
Can exercise cause seizures? Boxing, diving, bungee jumping, parachute jumping, skiing, snowboarding, wind sports, or surfing are enlisted to epilepsy-provoking physical activities. Due to high adrenaline rates, people with epilepsy could suffer from frequent seizures and other neurological disorders.
Activities for Epilepsy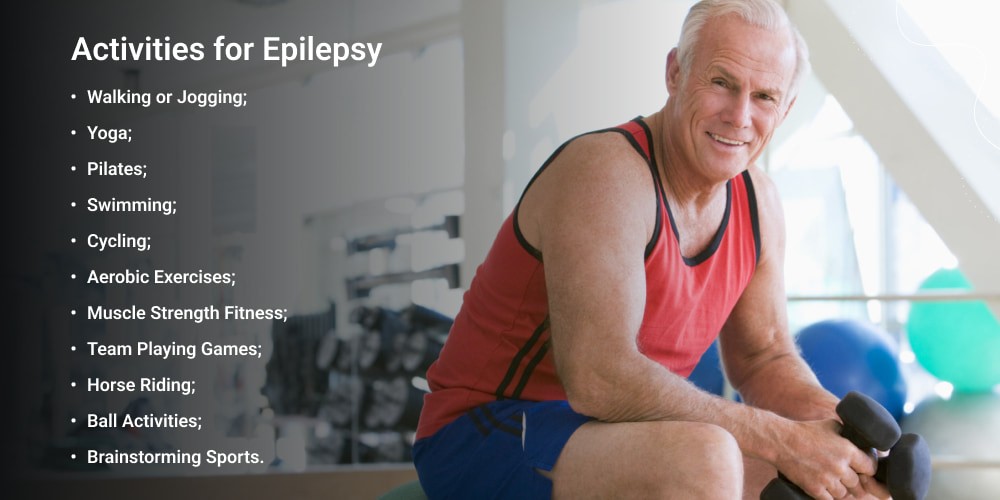 The epilepsy-related physical activities could be subdivided into two categories:
safe exercises approved by single training (yoga, walking, elementary aerobic exercises, brainstorming activities);

partner fitness activities with moderate hazardous risks (team playing games, swimming, cycling, horse riding).
The treating neurologists prescribe the most effective methods to eliminate seizures and avoid progressive health deterioration risks.
Walking or Jogging
Constant outdoor walking or jogging exercise are sources of essential oxidation intake to your brain and blood pressure regulations. The benefits of these physical activities for epilepsy-diagnosed people are about zero adverse effects or precautions. As such, you may plan forest, park, or street exercises at least for 45 minutes per day.
Any epileptic form accepts this neurologist's recommendations, strengthening the immune system and decreasing stress. Therefore, seizure frequency gradually shortens.
Yoga
It is a complex of philosophical and physical activities that develops your mind and body. The muscle flexibility exercises and meditation sessions focus your attention on mental and physical growth and mitigate the chances of repeated epilepsy seizures. 
Air yoga with gymnastic elements could be appropriate in case of particular epilepsy types or early-diagnosed disease progress, according to clinical surveys. Always consult neurologists to select effective yoga asanas.
Pilates
Pilates combines aerobics with yoga poses. Like yoga, pilates ideally normalizes cognitive functions and is allowed for epilepsy cure. Smooth movements and modest rhythms are perfect for gradually mitigating convulsion symptoms and renovating neurological health.
To minimize the risks of accompanying diseases or epilepsy deterioration, be careful with the training schedule and do not exceed the class duration of more than 45 minutes. Pilates is also suitable to practise with partners who could supervise highly probable seizure periods.
Swimming
Classic swimming races or water aerobics are marked as approved epilepsy treating exercises only under the partner's supervision and the neurologist's recommendation. During these activities, foreign assistance is essential if seizures attack a patient in water. As such, the patient could receive qualified first aid.
Opposite to potential risks, water therapy is beneficial for neurological disorders. Moreover, epilepsy is better recovered with delphine treatment because of healing contact with animals. 
Cycling
Epilepsy researchers and most therapists qualify cycling as an excellent exercise to relax and improve neurological functions. These activities benefit blood pressure and the respiratory system. However, people with progressive epilepsy should avoid extreme fast cycling or racing.
Also, you are prohibited from cycling without partner support in emergencies. You are recommended to use protective items like helmets and knee or elbow guards in order to eliminate unpleasant risks.
Aerobic Exercises
Fitness exercises to improve the vestibular apparatus and strengthen the deteriorated nervous system are identified as the epilepsy-consented activity and included in the treatment program for seizures elimination. However, be careful when compiling the appropriate program and do not neglect the neurologist's recommendations.
Aerobic exercises boost your energy and optimize cognitive functions. Avoid intense physical loading and try to select activities that harmonically supplement each other.
Muscle Strength Fitness
The workout complex is dedicated to strengthening muscles and balancing fat and muscle rate. According to general neurological principles, strong muscles mean a significant resistance to progressive signs of the disordered nervous system. As such, you may suspend adverse reactions and reduce epileptic seizures.
Choosing a muscle-strengthening fitness program, you should get your friend or family member involved in partner training. The initial workout classes could hardly satisfy the expected results.
Team Playing Games
Football, basketball, or respective team games are worth recommending for people with epileptic seizures and physical exercise amateurs. The team-building sports establish beneficial people-to-people ties and create significant psychoneurological effects on nerve-deteriorated cases.
The team playing games is a pretty risky activity. So, you are permitted to go in for these physical exercises in case of slight epilepsy signs and absent aggressive movements.
Horse Riding
Horses are good doctors for patients with deteriorated nervous systems. Horse riding is recommended in many ailment cases to treat psychological, emotional, and even physical traumas.
Physical activity during horse riding sessions is perfect for those who wish to relieve stress, strengthen contact with nature, and avoid depression jointly with epilepsy seizures. 
Ball Activities
Ball exercises could be used to diversify aerobic, yoga, or pilates classes. These ball qualities are positively assessed by medicine in pain treatment and coordination improvement. The neurologists recommend applying ball techniques during partner training.
Epilepsy seizures could be gradually reduced and completely disappear by the exercise ball activities, and injury risks are minimal thanks to partner support.
Brainstorming Sports
Regular activities prolong disturbances provoked by seizure-associated states (epilepsy, Alzheimer's, Parkinson's diseases). Distressful and passive physical activities like chess, bingo, crosswords, and sudoku develop cognitive functions. Such exercises are not limited in time and are recommended daily.
You may conduct other entertainment activities through intelligent sports like puzzles, painting, or monopoly. Relaxing exercises normalize the psycho-neurological background and suspend adverse transformations in the brain.
Benefits of Exercising for Epilepsy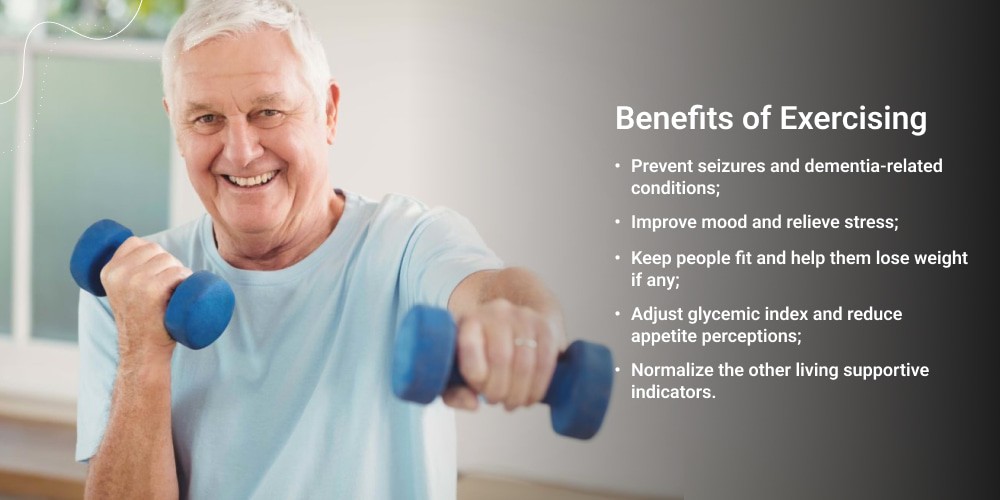 Epilepsy-diagnosed people could identify significant improvements in their neurological health and harmonized emotional balance due to well-organized and adequately performed physical activity. In addition to the considerable benefits received from physical exercises, you may discover good results:
prevent seizures and dementia-related conditions;

improve mood and relieve stress;

keep people fit and help them lose weight if any;

adjust glycemic index and reduce appetite perceptions;

normalize the other living supportive indicators.
Exercising for Epilepsy: How to Make it Safe?
You may consider several points of safe sports to minimize the chances of being injured or damaged. Physical exercise is safe for people with pathological dementia, stressful and epileptic seizures in case of:
using special facilities to protect themselves;

checking your general health indicators (blood pressure, body temperature, coordination abnormalities);

requesting your fitness partners for first aid once seizures start;

taking medication before you go in for sports;

drinking enough water during training to avoid dehydration factors.
Any sports fan should follow safety rules specific to each type of physical exercise. If neurologists diagnose epileptic seizures, following strict instructions regarding personal safety is a priority.
Discover More Details About Epilepsy Treatment Methods From Lone Star Neurology Specialists
Epilepsy is not a diagnosis that restricts your everyday activities or isolates you from social life. This neurological disorder is treated better if medicine prescriptions accompany regular physical loading and outdoor walking. So, ask the qualified Lone Star Neurology doctors for good sports activity in line with our health history, clinical tests and surveys, and diagnosis specifications. We are located in different cities in Texas, including Dallas, Fort Worth, Allen, and others. You can schedule an appointment by calling the number 214-619-1910.
FAQs 
Is exercise safe for people with epilepsy?
Physical exercises are the most popular method for reducing seizures among people with epilepsy. Neurologists could draft tentative sports-approved activities depending on epileptic seizure nature and frequency for the accelerated rehabilitation process.
Does exercise help epilepsy?
Sports and physical exercises beneficially treat epilepsy, dementia, and other neurological disorders. These activities help relax and relieve the nervous system. However, do not forget that physical activities are only accompanying measures to the medication prescriptions and hardly qualify as a panacea.
Yoga is a seizure-curing physical exercise that unifies aerobic elements and unique philosophical knowledge. However, you should enhance the asana complexity step-by-step in order to avoid adverse factors.
What exercises can not be done with epilepsy?
Sports to Avoid:
mountaineering;

motorsport;

diving (platform, springboard);

horse racing (competitive);

parachuting (and some sports);

rodeo;

scuba diving;

ski jumping;

solo sailing;

surfing, windsurfing.