In the development of schizophrenia, both biological and socio-psychological factors are important.
Biological reasons include, for example, genetic abnormalities and heredity. This disease does not result from the breakdown of any one gene, but there are many genetic disorders that most often accompany this disease. "Candidate genes" are already well known to scientists. But there is no unambiguous and consistent relationship "there is a breakdown – there is a disease". On the one hand, some patients do not have a single sick relative. On the other hand, even if both parents suffer from schizophrenia, the risk that the child will have it is only 40%. If only one of the parents is sick, it is even less – 6-10%. This is much higher than the average for the population (in general, the incidence is 0.7-0.8%, 7-8 people out of a thousand), but still too little to talk about a direct relationship.
In addition to heredity, biological factors include the consequences of drug use, including the 
lungs, 

complications of pregnancy and childbirth, 

infections in early childhood,

previous infections, for example, viral encephalitis. 
Social and psychological factors can also have an impact. One of the most significant is family relationships. American anthropologist Gregory Bateson concluded that "double communication" in the family is becoming a significant prerequisite for the development of schizophrenia. It is known that words are not the only way to convey information. For one reason or another, some parents transmit multilevel messages to their children. For example, the father verbally praises his son for his success in the chess club but non-verbally demonstrates contempt and disappointment that the boy did not go to the football section. Children do not ask again in such cases and are left alone with this conflicting information. It is these situations that can become one of the reasons for the development of schizophrenia.
Phases of Schizophrenia
In the prodromal phase, individuals may not show symptoms or may have mild impairment of social adaptation, mild cognitive disorganization or perceptual distortion, decreased ability to experience pleasure (anhedonia), and communication problems. Such signs can be mild and detected only retrospectively, or they can be more pronounced and manifest as violations of social, educational, and professional activity.

During an advanced prodromal period, subclinical symptoms may appear as withdrawal or isolation, irritability, suspicion, unusual thoughts, distorted perception, and disorganization. The onset of

schizophrenia

(delusions and hallucinations) can be sudden (over several days or weeks) or slow and imperceptible (over several years).

During early psychosis, symptoms are active and, in most cases, very severe.

At the intermediate stage, symptoms can be episodic (with a clear exacerbation and remission) or persistent. In this case, the functional deficit gradually increases.

During the advanced stage of the disease, the disease pattern stabilizes, but there are many variations: the disorder can stabilize, worsen, or even subside.
Categories of Symptoms in Schizophrenia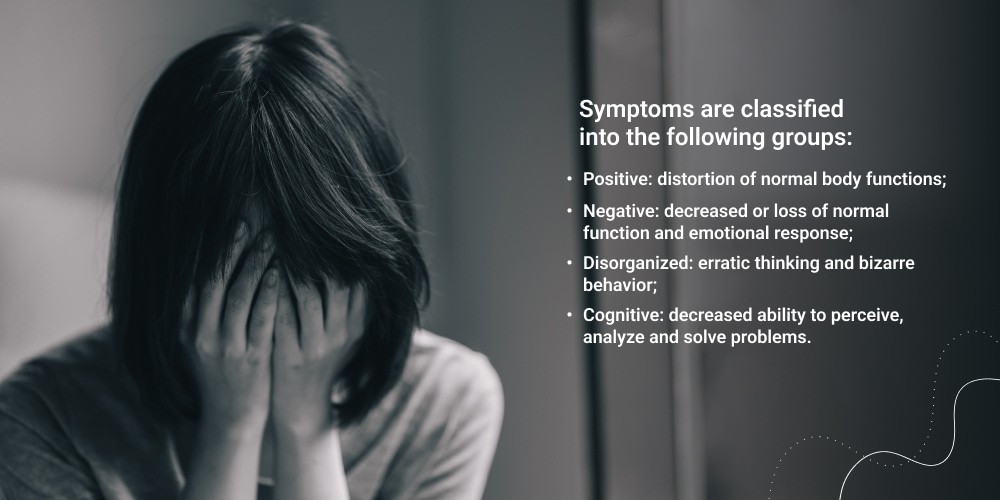 Symptoms are classified into the following groups:
Positive: distortion of normal body functions.
Negative: decreased or loss of normal function and emotional response.
Disorganized: erratic thinking and bizarre behavior.
Cognitive: decreased ability to perceive, analyze and solve problems.
The patient may have symptoms from one or two categories.
Positive symptoms are divided into:
Delusional states

Ravings
Delusions are erroneous beliefs that the patient adheres to despite the presence of obvious conflicting facts. There are several types of delusions:
Persecutory delusions: patients believe they have been tortured, persecuted, deceived, or watched over.

False Relationships: patients believe that passages from books, newspapers, lyrics, or other environmental cues are directed at them.

Delusions of detached thinking or forced thinking: patients feel that others can read their thoughts, that their thoughts are transmitted to others, or that their own thoughts and impulses are imposed from the outside
Delirium in schizophrenia does not come from the experience of ordinary life situations (for example, the belief that someone has removed the patient's internal organs without leaving scars).
Ravings are sensory experiences that are not perceived by other people. They can be auditory, visual, olfactory, gustatory, or tactile, but auditory ravings are the most common. Patients may hear voices commenting on their behavior, talking to each other, criticizing, or making offensive comments about the patient. Delusions and ravings can be very annoying to patients.
Negative schizophrenia symptoms (defects) include:
Blunted affect: the patient's face is motionless, with poor eye contact and lack of expression.
Poor speech: the patient speaks little and gives short answers to questions, giving the impression of an inner emptiness
Anhedonia: lack of interest in any kind of activity and increased hectic, hectic activity.
Asociality: lack of interest in relationships with others.
Negative symptoms often reduce the patient's motivation and sense of the need to achieve a goal.
Disorganized symptoms that can be considered positive symptoms include:
Thought disorders;

Abnormal behavior;
With schizophrenia, the patient's thinking is disorganized, differs in incoherent, aimless speech, he quickly moves from one topic to another. Speech can range from mild disorganization to complete inconsistency and unintelligibility. Bizarre behavior can manifest itself as childishness, agitation, lack of hygiene, and sloppy appearance. Catatonia is an extreme degree of behavioral disturbance in which the patient can assume a forced, rigid posture and resist attempts to move him or be involved in aimless and unstimulated motor activity.
Cognitive deficits include impairment in the following areas:
Attention functions;

Processing speeds;

Working or declarative memory;

Abstract thinking;

Problem-solving ability;

Understanding social interaction.
The patient's thinking can be inflexible. There is a decrease in the ability to solve problems, understand the point of view of others, and learn from experience. The severity of cognitive impairment is a major factor leading to disability.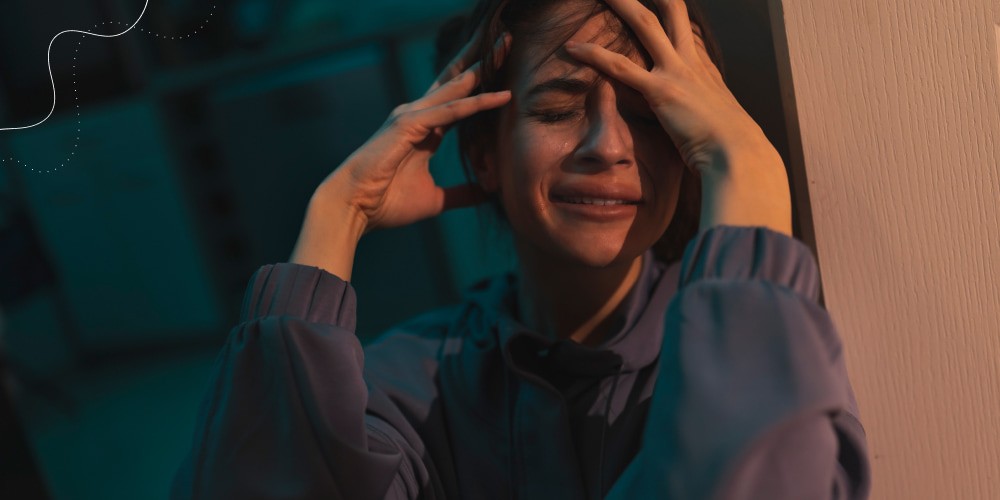 Types of Schizophrenia
Some scientists divide this psychotic disorder into deficient and non-deficient types of psychotic disorders, depending on the presence and degree of manifestation of negative symptoms, such as affective dullness, lack of motivation, and a decrease in the sense of achievement.
In patients with the deficiency type of schizophrenia, negative symptoms prevail with a blurred manifestation of other symptoms (such as depression, anxiety, in a stimulating environment, and side effects of drugs).
In patients with the non-deficient type of schizophrenia, delusional states, hallucinations, and thought disorders may be present, but negative symptoms are relatively rare.
Suicide
About 5 to 6% of patients with schizophrenia commit suicide and about 20% attempt suicide. Others are serious about committing suicide. Suicide is the leading cause of death in people with this psychotic disorder, which partly explains the decrease in their life expectancy by 10 years.
The risk may be especially high for young men with this psychotic disorder and substance use disorders. The risk is also increased in patients showing symptoms of depression or hopelessness, in the unemployed, and patients who have just experienced a psychotic episode or have recently been discharged from the hospital.
Patients with late-onset and normal premorbid courses are also at increased risk of suicide. Because these patients retain the ability to experience sadness and longing, they may be more likely to act in despair based on a realistic awareness of the effect of their disorder.
Violence
Schizophrenia is considered a relative risk factor for the development of violent behavior. Threatening behavior and outbursts of aggression are more common than dangerous behavior. Individuals with this psychotic disorder are generally less aggressive than non-schizophrenic individuals.
Highly abusive patients include those with substance abuse disorders, delusions, or imperative hallucinations and those who do not take their prescribed medications. People with severe depression, autism, or paranoia rarely attack or kill someone they perceive to be the only source of their illness (boss, celebrity, spouse).
Treatment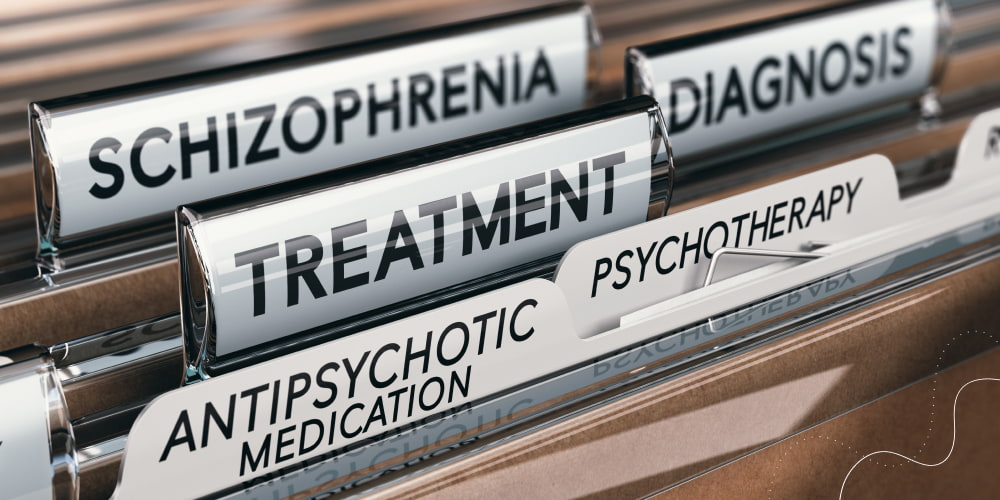 Treatment methods include: 
antipsychotic drugs;

rehabilitation, including cognitive recovery, community-based training, and support services;

resilience-focused psychotherapy.
The time between the onset of psychotic symptoms and the initiation of the first course of treatment correlates with the rate of response to treatment and its quality. If treatment is started early, the patient's response is faster and more complete. Without a long course of antipsychotics, 70–80% of patients relapse within 12 months after the first episode. Long-term use of antipsychotics can reduce the relapse rate in the first year by 30%, or even lower with long-acting drugs. Medication is given for at least 1 to 2 years after the first episode. If patients have been ill for a longer period, it continues for many years.
Early detection and comprehensive treatment have transformed the care of patients with psychotic disorders like schizophrenia. Coordinated specialized care, which includes resilience education, personal and family therapy to address cognitive dysfunction, and employment assistance, is an important contribution to psychosocial recovery.
Antipsychotic drugs are classified into typical antipsychotics and second-generation antipsychotics, depending on their affinity and activity against certain neurotransmitter receptors. ANLs can improve the effectiveness of schizophrenia treatment and reduce the likelihood of involuntary movements and associated side effects. Nevertheless, against the background of the use of ANL, the risk of developing metabolic syndrome (excessive formation of adipose tissue, insulin resistance, dyslipidemia, and hypertension) is higher than against the background of typical antipsychotics. Some antipsychotics of both classes can lead to long QT syndrome and ultimately increase the risk of fatal arrhythmias; these drugs include thioridazine, haloperidol, olanzapine, risperidone, and ziprasidone.
FAQs:
Can people with schizophrenia suddenly attack and try to kill?
Some factors can lead to an outbreak of aggression. But this does not mean that the sick is just waiting for someone to attack. If you have to deal with this, then protect the patient (close the windows, turn off the gas, take away knives and matches, etc.), yourself, family members, and animals and call an ambulance. There is no need to argue with the patient, mock, or demand to calm down or remember martial arts techniques. Maintain self-control and speak in a calm voice. 
When can a person with schizophrenia be considered healthy?
There is still no cure for schizophrenia. And there are many such diseases that, with the help of drugs, can only be brought into remission. For example, with diabetes mellitus or hypertension – people have to take drugs all their lives, but no one considers them to be damaged people. And, of course, the scientific world is looking for, developing, and testing drugs that can act as efficiently as possible.
Are you born with schizophrenia, or do you develop it?
This psychotic disorder tends to run in families, but no single gene is thought to be responsible. It's more likely that different combinations of genes make people more vulnerable to the condition. However, these genes do not necessarily mean you'll develop this psychotic disorder.
What does it mean to take schizophrenia "under control"?
To control means with the help of drugs and additional methods (psychotherapy, for example) to make the symptoms of the disease as little as possible affect life. This is called remission. With a favorable course of the disease, a person will remain in society and live almost the same way as before the diagnosis.