Among spinal cord injury symptoms are tingling and numbness in the back and loss of sensation. It can be due to a car accident, a fall, a sports injury, or a medical condition, such as a tumor or infection. 
Spinal cord disorder has two types: complete and incomplete. The first one involves a total loss of sensory and motor function below the level of damage. The second one involves a partial loss of sensory and motor function. There are various levels of incomplete spinal cord injury:
anterior cord syndrome;
central cord syndrome;
Brown-Séquard syndrome;
cauda equina syndrome.
Signs of spinal cord injury significantly impact an individual's life. It can result in various physical, emotional, and social effects. Prompt medical attention can play a big role in minimizing the severity of the injury. So it can improve the quality of life for those affected.
What Is a Spinal Cord Injury?
Spinal cord injury is a medical condition resulting from damage to the spinal cord. Or it's a trauma of a bundle of nerves that runs down the back. When the spinal cord has damage, it can disrupt the connection between the brain and the body. It leads to a range of physical and sensory impairments. Spinal cord injury causes can be different. It includes trauma, disease, or degeneration. Besides, it has many various symptoms that interfere with everyday life. 
Depending on the level and location of the injury, patients with spinal contusions need ongoing medical intervention. It includes physical therapy, rehabilitation, and medication. It is for managing patients' symptoms and improving their overall health. A spinal cord injury's severity depends on the damage's location and extent. In general, injuries to the cervical (neck) region tend to be the most severe.
To treat it, doctors need to understand the anatomy and physiology of the spinal cord deeply. Besides, they should know the various diagnostic and treatment options available for patients. Healthcare providers can better serve their patients by staying up-to-date on the latest research and developments in this field. This way, they provide more effective care for your signs of spinal cord injury. Then, it leads to better outcomes and improved quality of life.
Types of Spinal Cord Injuries
There are complete and partial signs of spinal cord injury. With the first damage to the spine, the spine is damaged in the transverse plane. In partial damage, it occurs only to the processes and arches of the vertebrae. In addition, spinal cord injuries are:
Uncomplicated: without impairment of the functions of the spinal cord and its roots.
Complicated: with severe impairment of the functions of the spinal cord.
Closed: without violating the integrity of the skin
Open: with damage to the skin near the spinal cord.
Penetrating:

damage

to the integrity of the dura mater.

Non-penetrating: without disruption of the spinal cord sheath.
Depending on the severity of the trauma, specialists distinguish the next types of spinal contusion:
This type of damage temporarily disrupts the conduction of specific nerve pathways. It is often manifested by muscle weakness and unexpressed disorders of sensitivity. These conditions appear immediately after the injury and persist for 1-3 weeks. 
It causes swelling, hemorrhages, and softening of some regions of nerve tissue. Damages of the conduction of nerve fibers at the same time persist for a long time. Then paralysis and delays in urination and defecation appear.
Compression of the spinal cord
It can develop due to the compression of bone fragments. And another reason is an increase in the volume of an epidural hematoma. The development of spinal cord injury symptoms in these cases occurs gradually. It is characterized by raised motor and sensory disturbances below the injury. Besides, it has the progression of dysfunction of the pelvic organs. 
Shock occurs immediately after the injury, and the failure of all functions appears. As a rule, it develops due to complete damage to the spine. It happens in motor, sensitive, and reflex activity. Besides, a person has a decrease in systemic vascular resistance. Then, spinal cord injury causes venous stasis.
Transverse damage syndrome
A transverse spinal cord injury pattern usually results from a sudden factor. It can be trauma, bleeding, or intense inflammation. Depending on the extent of the injury, a patient exhibits varying degrees of loss of mobility. Below the damaged spinal cord is complete paralysis and cancellation of any sensation within the limbs. Initially, the muscle structures are flabby and characterized by reduced tension. After some time, they begin to manifest pathological spasticity.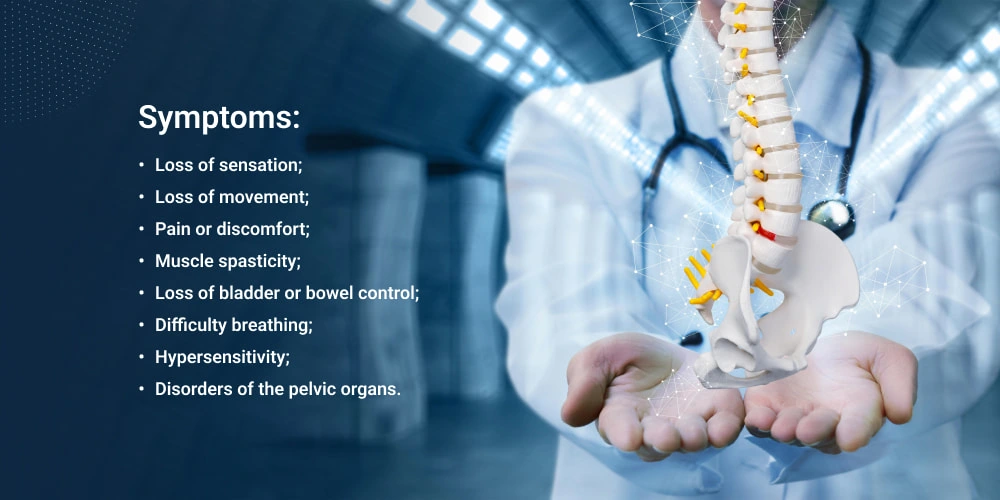 How Do You Know if Your Spinal Cord Is Damaged? – Symptoms
When the spinal cord is damaged, the brain stops receiving information about the organs located below the injury area. Depending on the localization, the symptoms also vary. But the higher the spinal cord is affected, the more pronounced and severe the signs will be:
Spinal contusion can also cause loss of sensation in different parts of the body. 
Depending on the extent of the injury, trauma can result in partial or complete loss of movement. It happens in the arms, legs, or other body parts.
Some people with spinal cord injury experience chronic pain and muscle stiffness.
Spinal cord injury causes muscle spasms or stiffness, making moving difficult.
Loss of bladder or bowel control
It can affect the nerves that control the bladder and bowel. It leads to a loss of control over these functions.
If the spinal cord injury occurs in the upper neck area, it can affect the muscles for breathing. It leads to difficulty in breathing or even respiratory failure.
If you feel chronic pain and numbness, it is clearly a sign of spinal cord injury.
Disorders of the pelvic organs
You may experience urinary and fecal incontinence. 
With serious injuries, the so-called spinal shock develops. It is a complex damage of all spinal cord functions, lasting several months. This condition has symptoms of complete interruption of the spinal column. It makes it difficult to diagnose the degree of trauma for emergency care visually. So, if you suspect any signs of a spinal cord injury, it is crucial to seek medical attention immediately. Early diagnosis and treatment can improve your chances of recovery.
What Type of Doctor Should You See?
If you have a spinal cord injury, you should see a doctor who specializes in a certain area. The next specialists have the expertise and experience to manage spinal cord injuries. So, they can provide appropriate treatment options:
Neurologists

are doctors who specialize in the diagnosis and treatment of nervous system disorders. So, it includes

spinal contusion

. They use diagnostic tests such as magnetic resonance imaging (MRI). Or they use a computed tomography (CT) scan to evaluate the extent and location of your injury.

Neurosurgeons

are specialists who perform surgery on the brain and nervous system. They implement emergency surgery if your

spinal cord injury symptoms

require immediate treatment.

Physical medicine and rehabilitation (PM&R) doctors

, also known as physiatrists. They specialize in non-surgical cures for traumas that affect the musculoskeletal systems. They can help you manage pain and improve mobility and function. Besides, they develop a rehabilitation plan to help you recover from your trauma.
Besides these specialists, you can also work with healthcare providers. They help you manage your spinal cord injury and optimize your recovery.
A Word From Lone Star
Spinal cord injury can cause many difficulties in patients' lives. And the severity of it can vary widely. It ranges from mild and temporary to severe and permanent. So, the main task is to identify the symptoms in time. Lone Star Neurologists can help you with this. Doctors working in neurology know how to prevent the detection of this disease and stop its worsening. Thus, contact our specialists at the slightest suspicion of a spinal cord injury.
FAQ
What are the 5 signs of a spinal injury?
There are the main five signs of a spinal injury:
Extreme back pain;

Sudden changes and difficulties when walking;

Numbness of the limbs or tingling in the back;

Weakness, incoordination, or paralysis in any part of your body;

Loss of bladder or bowel control.
What can happen if the spinal cord is damaged?
It can cause numbness in your limbs or even complete loss of sensation in your fingers and toes. In the worst cases, it leads to paralysis of any body part.
What are the three types of spinal cord injuries?
There are three types of spinal cord injuries:
complete and incomplete;

closed and open;

penetrating and non-penetrating.
Do spinal injuries get worse over time?
It can happen if you do not diagnose and treat your injury. If you detect the problem at an early stage, you can avoid its progression.