Did you know spinal cord disorders are one of the leading causes of disability in the U.S.? Each year, more than 17,000 people in America are diagnosed with spinal cord injury, which is only growing as our population ages. Many people don't realize that there are many spinal cord disorders, and each can cause unique challenges for those affected. And this lack of knowledge can harm your well-being and spoil your life for many years when this problem is quite simple to solve.
If you or someone you love is living with a spinal cord disorder, it's essential to learn as much as possible about this condition. This article will provide an overview of common spinal cord disorders, including their symptoms and treatment options. Our clinic has prepared this article specially for you, so stay tuned for future articles focusing on specific conditions in more detail. Thanks for reading!
Symptoms of Spinal Diseases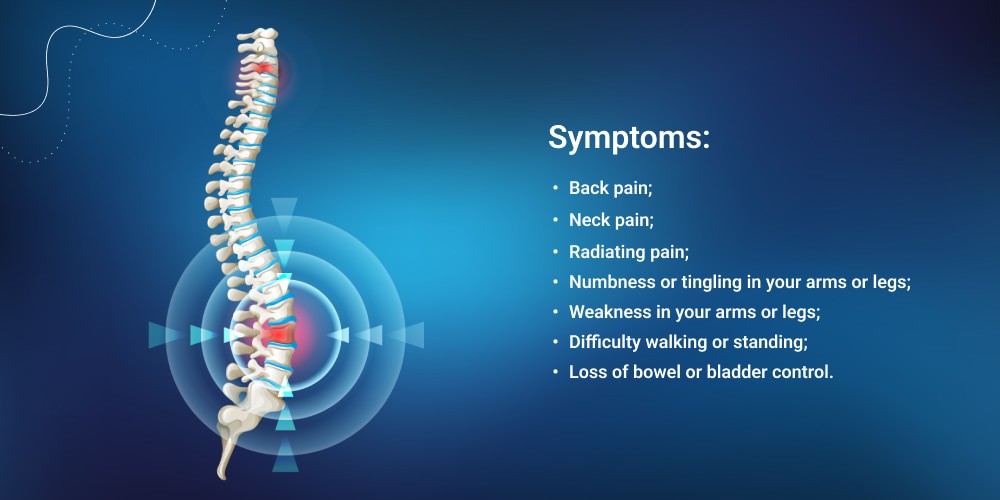 Most spine problems are asymptomatic. When they are, the location and severity of the problem will determine the spinal cord injury symptoms. If you have a herniated disc in your lower back, for example, you may experience pain that radiates down your leg. You may experience pain in your back or neck if you have a spine tumor. In addition, if you have a spinal cord injury, you may lose feeling and movement in certain areas of your body.
Common symptoms of spinal cord injury include:
Back pain.

Neck pain.

Radiating pain (pain that spreads from your back or neck to other parts of your body).

Numbness or tingling in your arms or legs.

Weakness in your arms or legs.

Difficulty walking or standing.

Loss of bowel or bladder control.
If you have any of these symptoms, you must see a spine specialist to get an accurate diagnosis and treatment.
What Are the Causes of Spinal Disorders?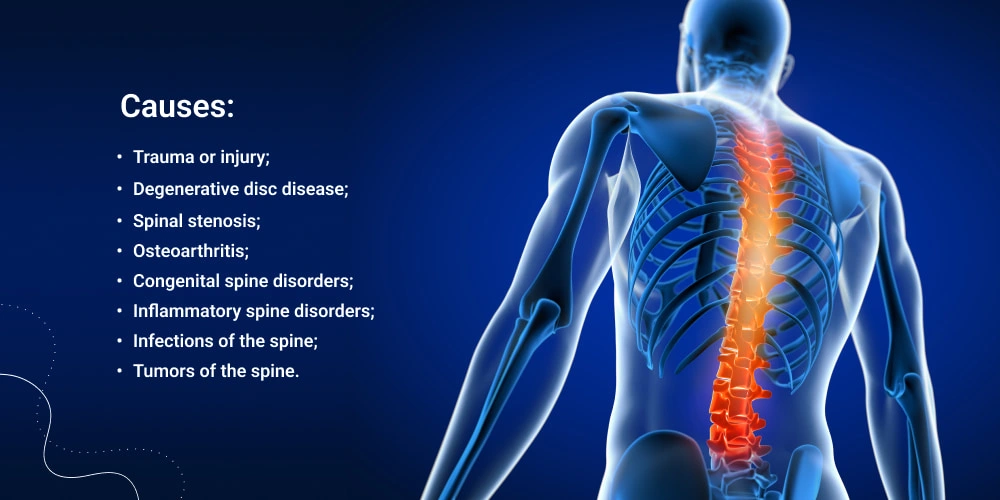 There are many different causes of spinal problems. Some spine problems are caused by injury or trauma to the spine. Others, such as degenerative disc disease and spinal stenosis, develop over time due to wear and tear on the spine. And some spine conditions are congenital, which means they're present at birth.
Some of the most common causes of spine disorders include:
Trauma or injury.

Degenerative disc disease.

Osteoarthritis.

Congenital spine disorders.

Inflammatory spine disorders.

Infections of the spine.

Tumors of the spine.
No matter the cause of your spine disorder, you must see a spine specialist for an accurate diagnosis and treatment plan.
What Are the Complications of Spinal Diseases?
While many spine disorders can be managed with conservative treatments, some can lead to serious complications. Spine problems can cause permanent nerve damage, paralysis, and even death if not treated properly. 
Remember that self-medication can be dangerous for your health, because if you are not a specialist in the medical field, you can misdiagnose and treat the disease incorrectly. That is why it is very important to seek help from a specialist, and not to treat the disease on your own.
When Should You See a Doctor?
If you're experiencing any spinal disease symptoms, you must see a spine specialist for an accurate diagnosis and treatment plan. With proper treatment, most people with spine disorders can manage their symptoms and live full, active lives. 
So if you're experiencing back pain, numbness, tingling, or weakness, see a spine specialist as soon as possible. Early diagnosis and treatment can help prevent serious complications and ensure the best possible outcome.
Diagnosis
A spine specialist will likely order one or more imaging tests, such as an X-ray, MRI, or CT scan, to better look at your spine. They may also recommend other tests, such as a nerve conduction study or electromyography, to rule out other conditions causing your symptoms.
Treatment
Treatment for spine contusion varies depending on the underlying cause. But in general, treatments aim to relieve pain and restore function. Common treatments include: 
Medication.

Physical therapy.

Epidural injections.

Surgery.
If you have a spine problem, you can do few things to help manage your symptoms and improve your quality of life:
First, it's important to stay as active as possible. Exercise can help reduce pain and improve spine function.
Second, try to maintain good posture and alignment. This can help reduce stress on your spine and prevent further injury. 
Finally, take breaks throughout the day if you're doing activities that strain your spine, such as lifting heavy objects or sitting for long periods.
If you have an injury to the spine, following these tips can help you stay symptom-free and live a full, active life.
With proper treatment, most people with spinal contusion can manage their symptoms. 
What Are the Prevention Methods for Spinal Diseases?
You can do a few things to help prevent spine problems:
First and foremost, staying physically active and maintaining proper posture and alignment are critical. This can help to reduce spinal stress and prevent further injury.
Second, if you're doing activities that strain your spine, such as lifting heavy objects or sitting for long periods of time, take breaks throughout the day.
Finally, maintaining a healthy weight and following a healthy diet are crucial.
In general, all those measures that are most often included in the treatment will also apply to the prevention list.
This can help reduce your risk of developing degenerative disc disease and other spine conditions. Ask your spine specialist if you have any questions about preventing spine problems.
Bottom Line 
So if you're experiencing any symptoms, it's high time to visit a doctor. As you can see, the disease, although serious, has a treatment and therapy that all patients can handle. With the right treatment plan, you can always successfully get back on your feet and feel great.
And to receive timely assistance from top-class specialists, you can use the contact button and contact us. You can also call us on one of our phone numbers and get all the information and help you need.
FAQ
What is the most common spine disorder?
Lumbar stenosis: This condition causes a narrowing of the spine in the lower back. The most common type of spinal stenosis.
How do you fix spinal problems?
Unfortunately, there is no way to repair spinal cord damage. However, researchers are constantly developing new treatments, such as prostheses and medications, that may promote nerve cell regeneration or improve the function of the nerves that survive a spinal cord injury.
How do you know if spinal pain is serious?
Signs it's time to see a doctor about your back pain:
You've been in pain for more than a week.

Your pain has spread to other body parts.

You have numbness, tingling, or weakness.

You have pain after an accident.

Your pain is worse at certain times or in certain positions.

You have bowels or urination issues.
What is the life expectancy of someone with spinal stenosis?
With a spinal stenosis diagnosis, you can live a normal life and work on improving your mobility and comfort. Unfortunately, because spinal stenosis is caused by daily wear and tear, nothing can stop its progression.