When a person has a symptom, the main question is, "which specialist should I contact?" But if you worry about neck, back, lower back, or leg pain, it is a reason to see a neurologist. Besides, there are several other signs of this:
deterioration of vision;
frequent dizziness;
pains in the face, neck, back, and limbs;
muscle spasms, limb tremors;
numbness in hands and feet;
sleep, memory, and concentration disorders;
loss of coordination, fainting;
impaired speech function.
Diseases of the nervous system are a wide range of body disorders. Various symptoms can manifest this. Thus, with any signs of nervous system deterioration, you need to see a neurologist. A professional consultation will reveal the causes of the disease. And it also helps to determine treatment tactics to improve the patient's condition. It is a timely and clearly established diagnosis that is the most critical factor for further treatment of the patient by a neurologist.
What Does a Neurologist Do
?
Scoliosis, migraines, facial pain, and other illnesses are all treatable in neurology. Neurologists treat conditions that affect the nervous system. It includes the brain, spine, and nerve endings. These systems have a terrible effect on the body and provoke various conditions. 
"What does a neurologist do?" Such a question arises when specialists say to visit this doctor. So, not to face this question again, find out what a neurologist treats:
These can be spine and spinal cord injuries. Or these are conditions caused by overloads, intervertebral hernias, osteochondrosis, and protrusion.
When walking, a person loses balance, can faint, or simply fall. Often the cause of this phenomenon is damage to the vestibular apparatus.
It is a sudden and rapid disruption of blood circulation in the brain. It affects certain areas of it. Both the functionality of the brain and the nervous system have a connection with it. So, neurologists and brain specialists solve this problem.
Weakness in the legs or arms
Muscle weakness can be in some individual muscles or many at once. It develops gradually or suddenly. Most often, it is associated with compression of the spinal cord. So, a neurologist is responsible for the treatment of this disease.
Diseases of internal organs
It is also the field of competence of a neurologist. Because back pain is often not the result of osteochondrosis or hernia. It is how the pathology of any internal organ can manifest itself. A good neurologist will distinguish one from the other and prescribe competent treatment.
Besides, the neurologist is also responsible for treating insomnia, Parkinson's disease, incoordination, and panic attacks. After all, the nervous system controls consciousness, muscle movement, thinking, and senses such as smell, touch, and sight. When any of these lose their functionality, this is a reason to see a neurologist. The doctor looks at the state of your peripheral and autonomic nervous systems. For this, they use special tools and perform simple tests. They check reflexes, muscle strength, and sensitivity. Everything is painless and does not cause discomfort. The main thing is to contact them for an appointment on time.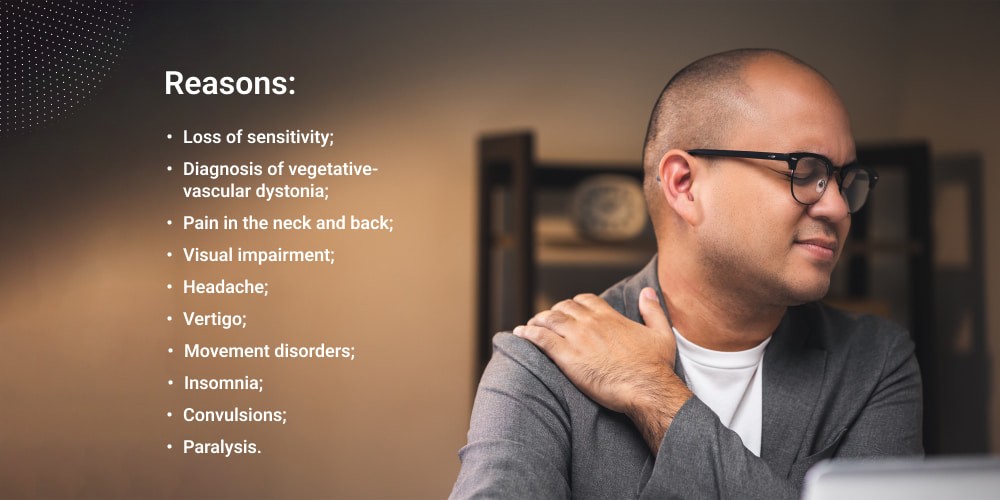 Top 10
Reasons to See a Neurologist
Seeing a neurologist is important to prevent your health from developing serious diseases. You can do it even for prevention to ensure you are doing well with your health. A professional consultation will reveal hidden ailments in your body. And it will also help determine treatment tactics to improve the patient's condition. 
Symptoms of many neurological conditions are not prominent enough at the initial stage. Thus, people often ignore them and turn to doctors already with acute pain. For this reason, the number of them in the population is increasing yearly. 
Today it is difficult to find a person who does not face the problem of pain in the back, head, and joints. Stress, a sedentary lifestyle, bad habits, and other factors lead to these disorders. And it happens to both the elderly and the young. So, to avoid facing this, you should know when to see a neurologist. And there are many reasons why you should do it.
1. Loss of sensitivity
Sensitivity in any part of the body can disappear. It feels like a particular body part is numb from a freezing prick. Then a person feels some tingling. Sometimes, it is normal. But it is not very good when the sensitivity disappears entirely or often. Because if this happens all over the body, you most likely have problems with the central nervous system. And such body signals tell you to see a neurologist. They determine the loss of sensitivity by specific places of damage:
Pain and paresthesias in the area of ​​innervation. Later it turns into a loss of all kinds of sensitivity. 
Transverse spinal cord injury
Bilateral loss of all types of sensitivity below the lesion.
Loss of pain and temperature sensitivity with preserved deep sensitivity.
2. Diagnosis of vegetative-vascular dystonia (VSD)
You should see a neurologist if you have been diagnosed with it at least once. Because other diseases can hide behind it. In general, VSD is a disorder of the autonomic nervous system. And doctors observe the following symptoms with this diagnosis:
Feeling unwell during weather changes;
Paleness or redness of the skin during physical work and stress;
Increased heart rate;
Increased sweating;
Pain in the heart;
Rapid heartbeat;
Increase in body temperature;
Anxiety;
General weakness;
Dizziness;
Pressure increases or decreases.
All these symptoms are the consequences of a failure in the nervous system. And if you often encounter this, it's when you need to see a neurologist. They will prescribe treatment and improve your autonomic system.
3. Pain in the neck and back
These are signs of osteochondrosis. Depending on the affected part, pain appears not only in the back and neck:
Besides, you can feel it in the chest and lower back.
In osteochondrosis, the intervertebral discs are most often affected.
If the disease starts, you can get an intervertebral hernia. Then you need a consultation with a neurologist and brain specialist to treat it.
4. Visual impairment
Visual impairment can be a natural aging process. But it can also be a sign of problems in the work of the nervous system. When to see a neurologist:
If it happens suddenly and both eyes suffer.
If your visual acuity drops sharply and diplopia changes.
If you often experience darkening of the eyes. Especially when you suddenly change the position of your body.
5. Headache
The head can hurt because of a stuffy nose, sore teeth, or back pain. More intense headaches, such as migraines, can be accompanied by vomiting. And if this happens regularly, you should visit a neurologist and brain specialist:
It can occur spontaneously or worsen with stress. 
It can also lead to visual disturbances or even be accompanied by convulsions.
Such a headache is often a manifestation of a severe nervous system disease. 
It is especially worth paying attention if the pain is long-lasting and intense.
Unfortunately, people have a widespread opinion that you can tolerate any pain. But you should not do this. After all, any prolonged manifestation of the same pain can indicate problems in the body. And a headache is one of the reasons to see a neurologist.
6. Vertigo
More and more people are facing vertigo. And most ignore it. After all, they believe this is a normal manifestation of physical overwork or exhaustion of the body. But unfortunately, dizziness is a signal of bodily disturbances:
If you often encounter this, it indicates problems in the neurological field. 
In such situations, you should contact any type of neurologist.
Dizziness can also have a different nature. A neurologist can help if you or the objects around you feel spinning.
7. Movement disorders
At any moment in his life, a person may encounter movement disorders. These include:
Difficulty walking.
Clumsiness.
Involuntary movements.
Hand tremors.
Unsteadiness and change in gait.
Changing posture when walking.
It also includes difficulties when changing the position of the body. For example, you can not stand on heels or toes. If these problems create substantial obstacles to life, consult a specialist. What does a neurologist do in this situation? They try to find the cause of such a concern and to cure it as soon as possible.
8. Insomnia
Sleep disorders are a fairly common problem. It regularly occurs in 30-45% of people. Studies have shown that these disorders can develop against the background of neurological diseases. These can be:
Stress;
Depression;
Panic attacks.
If you often experience emotional distress due to such disorders, insomnia is inevitable. And the problem is that over time it turns into serious neurological problems. Thus, the appearance of insomnia signals when to see a neurologist.
9. Convulsions
The intensity of convulsions can range from barely noticeable to painful:
Attacks can appear as a frozen look with subsequent loss of consciousness.
It can also be a twitching of the muscles of the upper and lower limbs.
It includes trouble breathing, confusion, or fainting.
Sometimes this happens due to deficient sugar levels. But sometimes attacks occur suddenly and for no plain reason. Such conditions are severe symptoms that you can't ignore. Because, in most cases, it indicates neurological problems. It is a serious reason to see a neurologist.
10. Paralysis
A person can encounter such a problem unexpectedly. And if you have the next manifestations, seeing a neurologist is necessary:
If you can not move an arm, leg, or finger.
If you feel weakness in the facial muscles. 
In most cases, these symptoms have a connection with damage to the nervous system. So, it's crucial to reveal this issue in time.
How to Understand What
Type of Neurologist
You Should See? 
Some neurologists specialize in everything related to the vessels of the brain. Others focus their work on treating problems related to the evolutionary stage. That is, there are several types of neurologists. So, we will analyze each of them in detail:
Type
Description
Vascular neurologists

They are responsible for the diagnosis and treatment of neurological problems. They

find

the cause of improper blood flow in the brain. Such neurologists use advanced neuroimaging methods for diagnosis and treatment. They also use tiny cameras, inserting into blood vessels.

Neuromuscular neurologists

There are illnesses that have an impact on the long-term development of the patient. For example, it is Down's syndrome and

cerebral palsy

, which can not be cured. People with this problem need lifelong treatment. And this

type of neurologist

can help them.

Geriatric neurologists

Such specialists are responsible for diagnosing, treating, and caring for older people suffering from certain neurological problems. It includes

dementia

, Alzheimer's disease, Parkinson's disease, and gait disorders. They also specialize in how the central nervous system ages. 

Pediatric neurologist

A pediatric neurologist deals with disorders of the nervous system in children. Unfortunately, problems with it in babies have been occurring more and more recently. So, monitoring the child's health and knowing

when to see a neurologist

is very important.

Autonomic neurologists

They focus on symptoms caused by problems with the autonomic system. Most of the vegetative signs present in these ailments are heart rhythm disturbances. Besides, it includes involuntary movements during breathing and changes in the diameter of blood vessels. Such changes in the body are an important

reason to see a

vegetative

neurologist

.

Behavioral neurologists

In most cases, they treat disorders such as dyslexia, amnesia, and dementia. They focus on how to treat patients after a neurological injury. In addition, they treat patients with memory, speech,

concentration

, and emotional problems.
Seeing a neurologist, you can determine the type of your condition and get treatment. And more specifically, you can deal with this with a specific type of neurologist.
A Word From Lone Star Neurology
Most processes in our body involve the nervous system. And the slightest failure can cause serious diseases. To avoid this, contact Lone Star Neurologists if you notice some neurological symptoms. Our goal is to help people ensure good health. Thus, we can become your assistants in the fight against neurological illnesses.
FAQ 
How to see a neurologist?
You need to go to this doctor in a private or public hospital. You can do this by referral or self-referral.
What symptoms require a neurologist?
There are some common signs that neurologists require:
Chronic or severe headaches;

Dizziness;

Numbness of the limbs;

Movement problems;

Back and neck pain.

What will a neurologist do on their first visit?
The doctor will perform a neurological test. It examines muscle strength, reflexes, coordination, and response to pain in the limbs.
What questions will a neurologist ask me?
The doctor will ask you about your medical history. Neurologists write down your complaints, other existing diseases, and what treatment you have had.