The human body is a unique mechanism. Our bodies can:
Adapt to extreme conditions.

Live without food.

Heal itself from certain diseases.
But even the most stable ones can sometimes fail. To avoid negative consequences, pay attention to your body's signals.
One of the diseases that a person cannot cope with on their own is essential tremor. It is a neurological disorder that affects many people. While ET can be bothersome, it does not typically cause serious health issues. But it can still be disruptive and difficult to live with on a daily basis.
Let's take a closer look at it, including its symptoms and causes of essential tremor. After reading our guide, you will be able to distinguish the disease. And also, you will be able to understand the basic principles of the occurrence of this disease. Thereby, you will be able to carry out prevention.
What Is an Essential Tremor?
An ET is a state of nervous excitement. It manifests through the inability to control one's movement.
One way to deal with it is to get psychological help, such as working with a psychologist.
It may also be helpful to lead a healthy lifestyle. It should include regular exercise, sleep education, proper nutrition, and self-care. Learning to manage your emotions can also be helpful, such as through:
Relaxation techniques.

Meditation.

Deep breathing.
Hands and head shaking syndrome is a severe condition. It can affect a person's quality of life and social integration. Thus, it is important to seek help if you or someone close to you is experiencing an essential tremor. With the proper treatment and support, one can manage this condition. And even returning to a healthy and happy lifestyle is possible.
Essential Tremor Symptoms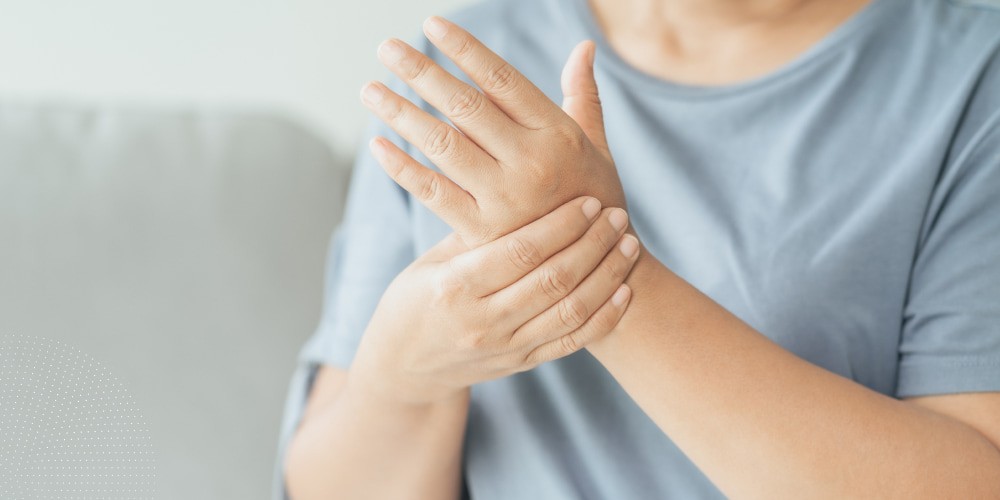 ET can cause a wide range of physical symptoms:
Some common signs of essential tremor include shaking hands or arms and trembling. It happens when trying to reach for an object with your hands. 
Also, a common symptom is trouble speaking clearly and writing. It's due to vocal tremors and difficulty writing due to hand tremors.
Additionally, shaking syndrome can affect other parts of the body, such as the head and legs. This can cause involuntary head nodding or jerking motions in your legs. It can interfere with walking or standing still.
Always pay attention to the symptoms. Timely detected signs of the disease can help you get help or provide it to your loved ones on time.
Causes of Essential Tremor 
ET is a neurological disorder. It causes uncontrollable shaking, usually in the hands and arms. While the cause of ET is still unknown, there are potential triggers. Let's take a look at what can cause essential tremor.
Genetics

Essential tremor appears to run in families. Doctors suggest that genetics may often play a role. It has been estimated that up to 70% of cases are hereditary. If you have a family history of ET, talk to your doctor about your risk of developing it.

Certain medications

In some cases, essential tremors can be caused or worsened by medications. Stimulants like caffeine or nicotine can trigger or worsen tremors, and some antidepressants and cold medicines do the same. Herbs and supplements such as ephedra and ginseng have also led to tremors in some people. It's important to talk with your doctor if you think a medication you're taking might be causing your tremors.

Neurodegenerative diseases

Neurodegenerative diseases such as Parkinson's disease can cause ET. Other movement disorders, including dystonia and chorea, can lead to ET. Talking with your doctor about any symptoms you may be experiencing is important. It will help to rule out these types of diseases as possible causes for your tremors.

Stress and fatigue

Stress and fatigue are two common triggers for

essential tremors disorder

. It's because they put extra strain on the body. And it exacerbates existing symptoms or even causes new ones to manifest themselves. 

To reduce stress, try engaging in activities such as yoga or meditation. It will help you relax and unwind after a busy day. Making sure you get enough restful sleep each night is also key to managing stress levels. It also prevents further episodes of trembling or shaking due to fatigue-related issues. 
As you can see, many triggers cause this disease to appear. To make effective prevention, be sure to consider the above factors. In this case, you will significantly reduce the chance of the onset of the disease.
Risk Factors of Essential Tremor
There is no known cure for ET. But understanding the risk factors helps patients develop an effective treatment plan. Let's look at the risk factors of ET:
Age-Related Risk Factors. Age is a factor when it comes to ET. The disorder typically begins between 40 and 60 years of age and worsens as you get older. The risk of developing

essential tremor disorder

increases with age. But younger people can also experience symptoms. In rare cases, children are even diagnosed with ET.

Gender-Related Risks. Women appear to be at higher risk for developing ET than men. Studies suggest that more women than men are affected by this disorder. However, researchers do not know why this is the case. 
Genetic Risk Factors. Studies have shown that ET tends to run in families. And it can be passed down from one generation to the next through a genetic mutation. This suggests that genetics plays a role in who develops this disorder and who does not. But scientists are still researching exactly which genes may be responsible for this.  
Bottom Line 
As you can see, essential tremor disorder is a severe condition that can harm your health. It is worth noting that without proper diagnosis and analysis of symptoms, the disease can aggravate a person's condition and lead to bad consequences. That is why it is crucial to check the symptoms and analyze them. It is also essential to consult a doctor on time for help.
The specialist will be able to make the correct diagnosis. And they will prescribe the appropriate treatment and medical procedures for you. And only in this case can you significantly improve your condition and get better.
FAQs 
Why do my hands shake when I hold something?
This symptom is potentially indicative of an essential tremor. People with essential tremor often experience tremors in their hands or arms. It happens when they attempt to perform activities such as writing or drinking from a cup.
What can be mistaken for an essential tremor?
Essential tremor may be confused with Parkinson's disease. PD also causes involuntary movements. Other conditions like generalized anxiety disorder, hyperthyroidism, and sclerosis can display similar symptoms. If you suspect you have an essential tremor, speak with your doctor to get an accurate diagnosis.
Is essential tremor a serious condition?
Essential tremor itself is not life-threatening. But the effects of this disorder can be very disruptive to one's daily activities. In some cases, essential tremor interferes with the ability to work or have a normal life.
Does anxiety cause essential tremor?
No, anxiety is not a direct cause of essential tremor. But stress and emotional upheaval may exacerbate symptoms of ET in some individuals.
What are the best essential tremor's treatments?
For this, you can include: 
Physical therapy. Exercise and stretching help improve muscle control. 

Occupational therapy. ET patients learn techniques for doing everyday tasks.

Deep brain stimulation involves implanting electrodes in the brain. It delivers electrical stimulation to specific areas. 

Lifestyle changes. Reducing caffeine intake and avoiding stressful situations also help.