Parkinson's syndrome is a degenerative disease of the central nervous system. Another name for this condition is shaking palsy. It occurs more often in older people and males. It is characterized by a gradual decline in motor function. Everything that happens to a person with Parkinson's affects their articulatory system. More than half of patients with Parkinson's experience varying degrees of speech, swallowing, and coughing problems. Other symptoms are also noted: 
As the syndrome progresses, the patient's movements become sluggish and uneasy.

There is stiffness in the muscles of the arms, legs, and neck that prevents regular movements and interferes with coordination. 

And because of it, later on, the same facial expression freezes: staring, blank stare.

Speech becomes quiet, slurred, and monotonous. 
Even relatives and carers may not be able to understand what the person is saying, causing significant problems. Parkinson's disease is also accompanied by excessive salivation and difficulty swallowing food.
What are the Diagnoses for Parkinson's Difficulty Swallowing?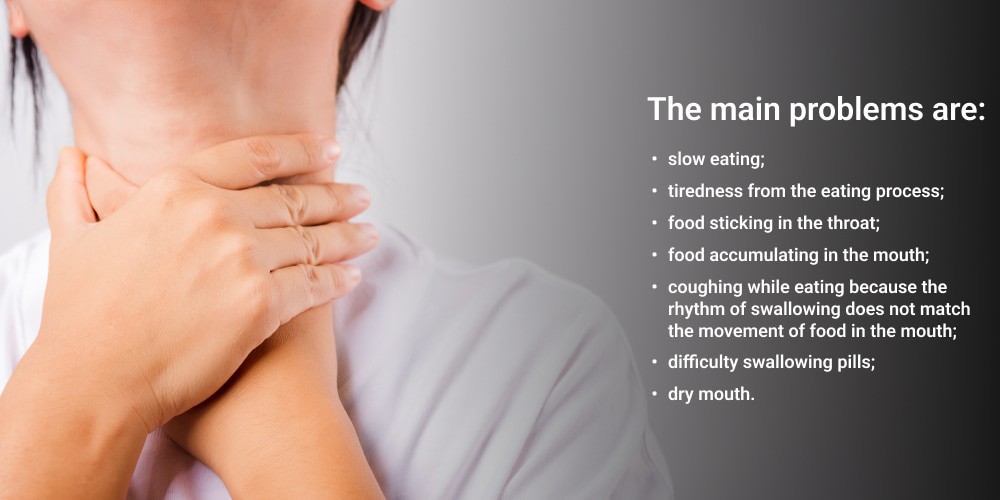 Parkinson's disease can impair the sensitivity of the pharynx and cause dysfunction of the muscles in the pharynx and tongue, resulting in food either falling out of the mouth or into the esophagus, even in the absence of swallowing movement. 
The main problems are:
slow eating;
tiredness from the eating process;
food sticking in the throat;
food accumulating in the mouth;
coughing while eating because the rhythm of swallowing does not match the movement of food in the mouth;
difficulty swallowing pills;
dry mouth.
It is caused by limited mobility of the mouth and throat muscles caused by an underlying disease of mouth and pharynx muscles. A dry mouth can be caused by medication or breathing through the mouth while sleeping. 
How to Make Chewing and Swallowing Easier with Parkinson's?
In some cases, swallowing disorders may persist during Parkinson's disease, making it very difficult for patients to function independently. However, regular exercise strengthens the muscles involved in swallowing. Patients can regain swallowing alone without assistance or a nasogastric tube.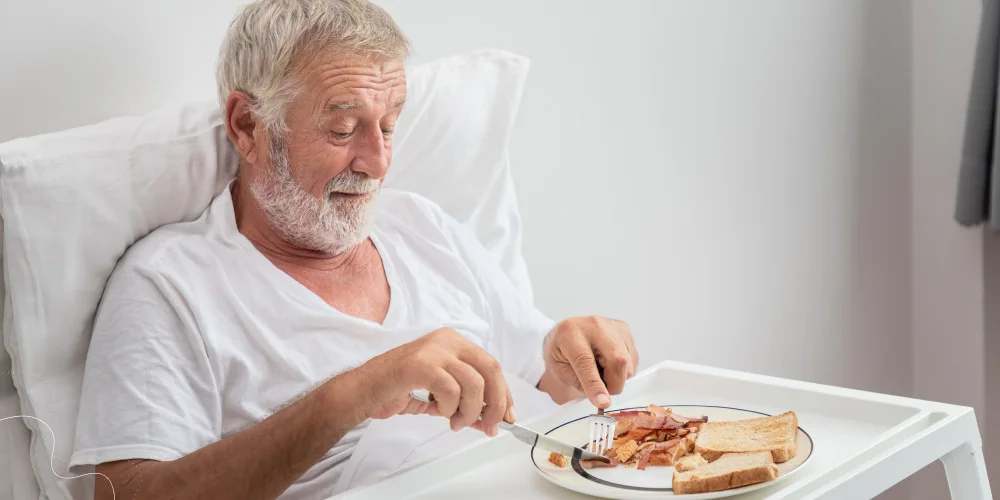 There are other general  recommendations to make eating and swallowing with Parkinson's easier:
sit up straight with your head slightly tilted forward while eating;

reflect on the steps of swallowing before consuming;

the patient should eat small portions of food to avoid food piling up in your mouth;

if necessary, repeat the swallowing several times to empty the mouth several times;

you should set aside enough time to eat;

don't put the next portion of food into the mouth until the previous one has been appropriately swallowed.
If you have a coughing fit, stop eating and rest. Also, sit upright for half an hour after you have eaten. Always swallow before getting down to eating and speaking, which means
often. Keep your lips pressed together; the head must be kept straight because saliva collects in the back of the throat, from where it can be more easily transported downwards.
Recommendations for dry mouth:
often drink water in small sips or suck ice cubes;

you should limit your intake of caffeine and avoid soft drinks;

avoid alcohol and tobacco, peppermint, cinnamon, and caramels, which exacerbate dry mouth;

sugar-free chewing gum or lemon juice may be used to increase saliva production.
How to Prevent Parkinson's Swallowing and Coughing Difficulty?
To stay healthy for many years, you must start caring for yourself at a young age. Considering that much in the body depends on a well-functioning immune system, it is necessary to strengthen the body regularly:
Have a medical check-up every year;

Promptly treat infectious and chronic diseases;

Engage in physical exercise, avoiding sports with risks of head injuries;

Get at least two hours of fresh air daily;

Do not abuse alcohol;

Avoid smoking tobacco products to get rid of

swallowing problems with Parkinson's

disease;

Choose professions that are not connected with harmful production;

Not use concentrated household chemicals and fertilizers in the household;

Control the level of hormones;

Limit the intake of fried, spicy and sweet food.
Green leafy vegetables, liver, nuts, sunflower seeds, and olive oil contain folic acid and vitamin B12, which reduce blood levels of the amino acid homocysteine and are considered helpful in preventing Parkinson's.
Bottom line 
Swallowing problems often occur with Parkinson's disease, although patients may not know the problem. Speech therapists, nurses, and dieticians use methods to improve swallowing and reduce the risk of constipation and respiratory tract infection. At Lone Star Neurology, the best specialists in the field can help you find the proper treatment. 
FAQ
What stage of Parkinson's is difficulty swallowing?
Swallowing and speech disorders may be one of the first symptoms of Parkinson's disease, but they can also appear later as the disease progresses.
When should I be worried about trouble swallowing?
It is something to worry about if you have Parkinson's disease. If this is the case, consult the doctor immedieately. Therefore, it is advisable to have an annual check-up to monitor the situation. 
Why do Parkinson's patients have difficulty swallowing?
A lack of the hormone dopamine leads to disorders. The nervous system produces alpha-synuclein proteins. Due to a malfunction in the body, the proteins mutate and become abnormal. These are considered to be the biomarkers of Parkinson's. The abnormal proteins combine to form complexes, negatively affecting the brain. Nerve cells become poisoned and die, and the production of dopamine, which is responsible for coordinating movements and controlling memory and attention, is reduced.
How do you help someone with Parkinson's swallow?
Suppose swallowing is impaired, but the reflex is maintained. In that case, it is vital to retain the ability to eat independently. Soft, semi-liquid, and liquid foods are recommended and are consumed under the supervision of medical staff or caregivers. You should remember to eat at regular intervals and reduce the portion size. Also, exclude from your diet foods that irritate the mucous membranes.