Migraine triggers are things that cause migraine. There are various triggers that might trigger migraines, including hormonal, emotional, physical, nutritional, environmental, and medication-related ones. These triggers are quite personal.
Every tenth person on the planet knows what migraine is, and unfortunately, this knowledge is derived not from medical reference books but their own bad experience. It manifests in childhood or adolescence, most often during puberty. 
Migraine is a serious health condition that can cause raging pain. Migraine pain is periodic and may be accompanied by several related symptoms.
Women, statistically, have this neurological condition much more often than men. Although the reasons for migraine are not fully elucidated, some known triggers can increase the likelihood of their occurrence. 
In this blog, we'll look at the symptoms, the reasons for what causes migraines in females and males, and how to deal with them. If you have frequent migraines, we recommend that you contact Lone Star Neurology for diagnosis and follow-up treatment.
Symptoms of Migraines
Before we delve into the reasons for migraine, let's understand what symptoms can occur with migraine.
Many people mistakenly believe that frequent headaches are the causes of migraines. However, frequent headache is not the leading and reliable sign of migraine. The clinical picture of the disease is much more complex.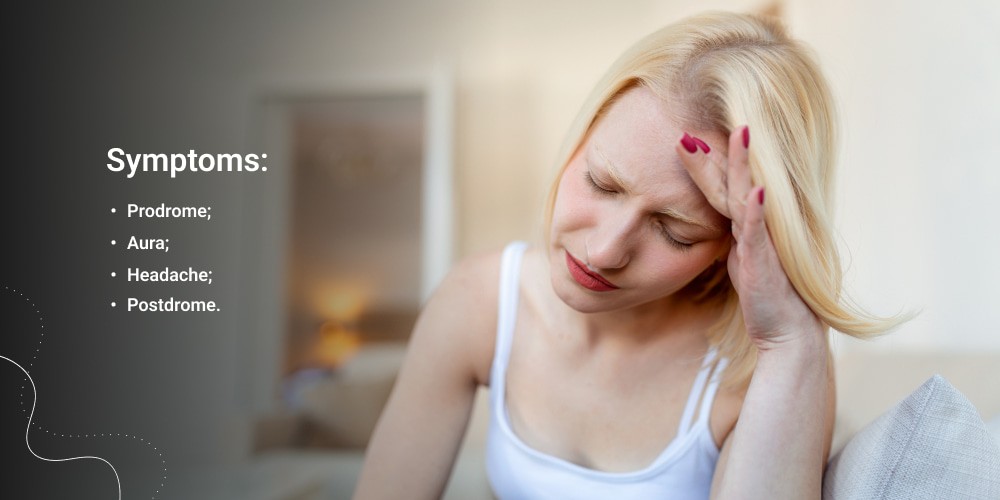 Four stages of migraine are distinguished, each having a specific set of symptoms. At the same time, not all patients have a noticeable manifestation of all stages. Many, on the contrary, note the presence of only one or several of them.
Prodrome. Occurs a few days or hours before

migraines

attack and may appear as irritability,

stress

, fatigue, depression, or change of appetite.

Aura. Lasts from five minutes to an hour and is characterized by specific sensations. Most often, there are visual effects in the form of blind spots, multicolored zig zags, and flashes of light. There may also be numbness of the face and fingertips, difficulty speaking, and hearing loss. Migraine with aura occurs in only one-third of all patients. In some, it is a precursor of headache; in others, it is an independent manifestation of migraine.
Headache. The most difficult to tolerate stage. It lasts from a couple of hours to two to three days. So if anyone was wondering if a

migraine can last

for several

days

, the answer is yes, unfortunately. Pain is extreme, throbbing, or rasping. Most often covers half of the head. Nausea, vomiting, and sensitivity to sound and light may occur.

Postdrome. The last stage is when the pain goes away, but depression, irritability, and reduced concentration may persist for about 24 hours.
Where do Migraines Hurt
?
Migraine pain can have different localizations. It all depends on which vascular bundle is affected. So, migraines come in several types, and each has a different localization of pain:
Migraine without aura (typical migraine)
It is usually felt in one part of the head. When exercising, the pain may worsen. This migraine can last several days but is not considered the most challenging type.
It is often concentrated behind the eyes but can also be felt in part of the forehead. The aura exacerbates the usual migraine, adding many unpleasant symptoms we wrote about above.
According to the American Migraine Foundation, 25 to 30 percent of people with migraines experience migraine with aura. 
Where does this type of migraine hurt? Mainly at the forehead and behind the eyes. It's easy to tell the difference: If you experience 15 or more days of migraines a month, you probably have chronic migraine.
In this case, there is no pain, but unpleasant aura symptoms are present.
This type is felt in the abdomen near the belly button. As you can see, bad migraines can be not only on the head.
It is clear from the name that the pain is felt behind the eyes, most often just one eye.
Main R
easons for Migraines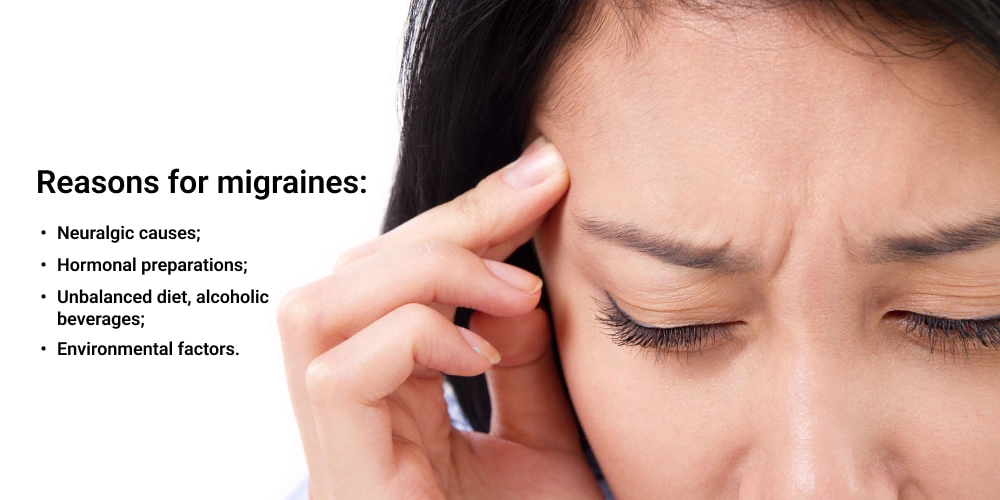 The exact cause of what triggers migraines has not yet been established, even though this problem affects a large number of people around the world. However, several contributing factors catalyze the manifestation of acute symptoms. These include several types:
The appearance of a migraine attack can be provoked by constant or periodic stressful situations, anxiety, and overexertion. And also sharp emotional shocks, excessive load, fatigue (it does not matter – physical or mental), the tension of the neck muscles, riding on a carousel, and lack or excess of sleep.
Taking hormonal drugs can provoke a sharp change in the hormonal background of the body, which leads to the appearance of a migraine attack. These drugs also include hormone-based contraceptives.
Unbalanced diet, alcoholic beverages
One of the central irritants that trigger migraine attacks is alcohol, especially sparkling wines, cider, and champagne (carbonated alcoholic drinks). Also, various foods and their combinations may cause an attack, including fish, cheese, chocolate, and nuts.
Environmental factors include sudden weather changes, air pressure variations, temperature and microclimatic conditions, and moving or flying to other climatic zones over a short period (a few days/hours).
What Causes Migraines in Females?
So, we have already written about the leading reasons for migraines, but let's take a closer look at why women suffer from it more often.
According to statistics, women suffer from migraines 2-3 times more often than men. The reasons for this phenomenon are not fully clarified but most likely have to do with the influence of female hormones – estrogen and progesterone.
There are several causes of migraine in women:
Hormonal changes during the menstrual cycle;

Taking hormonal medications, including oral contraceptives;

Pregnancy and premenstrual syndrome (PMS);

Menopause.
As you can see, the causes of migraine are multiple. And it is not always possible to determine the actual reasons for migraines. If you regularly suffer from migraines, it is best to see a doctor who can prescribe the appropriate treatment.
Read about difference between migraines and headaches in our other blog article.
Diagnostic of Migraines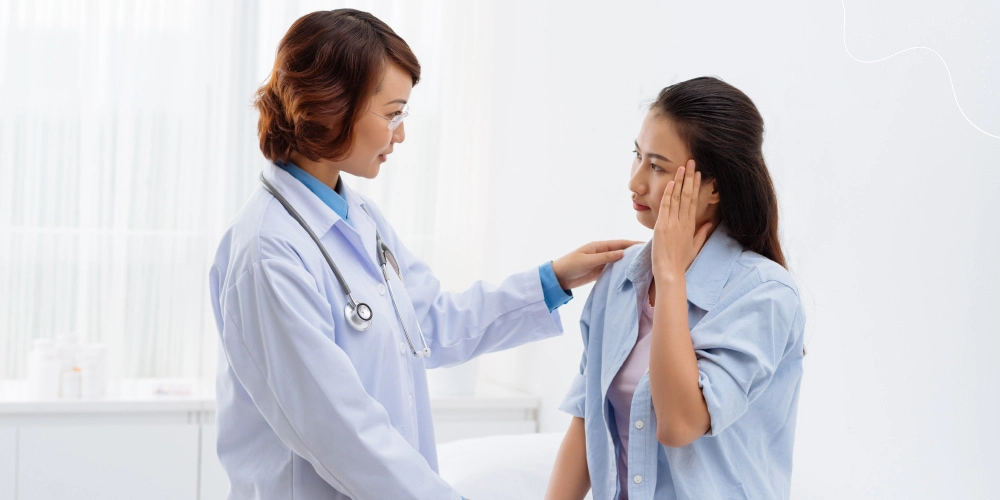 There is no specific test to determine the cause of headaches and migraines. To make an accurate diagnosis, the general practitioner must determine the nature of the recurrent headaches and the related symptoms.
However, migraine disease is not as simple as it seems at first glance because it can pass asymptomatically. It means that making a diagnosis can take a considerable amount of time. Where do you start:
Visiting the General Practitioner
When you first visit a doctor, they may perform a medical exam to check your vision, coordination, reflexes, and sensations. It should be done to identify the nature of the bad migraines and to rule out other possible underlying causes of the symptoms. The doctor may ask you some questions about the nature of your headache:
Pulsatile;

Pain on one side of the head;

Sufficiently severe pain that interferes with daily activities;

It is made worse by playing sports or engaging in regular vigorous activity;

Feeling of nausea;

Sensitivity to noise and light.
Migraine Diary
To understand what triggers a migraine, diagnose it, and treat it successfully, the doctor may prescribe you a migraine diary. It would be best to write down essential indicators for several weeks so the doctor can better understand the problem. Write down indicators such as:
Date and time;

What were you doing when the migraine started;

What symptoms were you experiencing;

What medications were you taking (if any).
The fact is that taking regular doses of painkillers can provoke complex migraine treatment. And if you use the medication and take them for a long time without a doctor's prescription, it may conversely start an even more severe migraine. It would help if you told your doctor what things to help with the headache you are taking. You should not use painkillers for more than ten days a month.
Referral to a Specialized Doctor
Sometimes, your general practitioner may refer you to a specialized doctor – a neurologist. A neurologist is a specialist in diseases of the brain and nervous system. You may be referred to a neurologist if:
The

reasons for

your

migraine

are unclear, and a diagnosis cannot be made;

You have a migraine 15 or more days a month (chronic migraine);

Treatment is not helping control your symptoms.
Things to Help with Headaches
If we talk about medications, this is a proven way to reduce migraine, but only a doctor has the right to prescribe medicines. 
However, there are other things to help with headaches besides medication: for example, a healthy lifestyle. If you have a severe migraine, you can combine the medicines your doctor prescribes with a healthy lifestyle and eliminate the ailment.
As soon as you feel that you have a migraine, take a break and get some rest. Take your mind off things; the best option would be to turn off all stimuli (light, sound), lie down on the bed, and, if possible, sleep.

If a migraine has already occurred, it is possible to try and apply compresses. You may use a cold or hot compress to the place where the migraine hurts:
Cold compress: use an ice pack; it will dull the sensation of pain;
Hot compress: use a hot water bottle; it can relax tense muscles.
Some experts advise drinking a drink with caffeine, which may relieve the pain in small doses. However, it would be best to be careful because drinking large caffeine doses may be a

reason for migraines

.
There are a few more tips to follow to reduce the risk of migraines:
Poor sleep patterns can cause migraines, so you need to determine when you will go to bed and wake up.
Because of stressful work, demanding schedules, and lack of sleep, you may get stress migraines. You need to relax and make time for yourself to prevent this from happening. Do this before bed, such as taking a warm bath or listening to classical music while drinking warm chamomile tea.
Eating habits can affect the occurrence of migraines. Therefore, you must choose the healthiest food possible. It is advisable to eat at the same time every day; in no case, skip meals and do not starve; and keep track of the foods you eat. If you suspect that certain foods are causing your migraine, you should eliminate them.
Lone Star Neurology Can Help You
If you are suffering from migraines and do not know how to deal with them, you can contact our clinic Lone Star Neurology. Our top specialists know all about the nature of migraines and their types, so they can help you eliminate unpleasant feelings.
Lone Star Neurology has several clinics, so browse which clinic will be closest to you and make an appointment for a new life without migraines as soon as possible.
FAQs 
What is the main trigger for migraines?
Many doctors point out that stress is the main trigger of migraine. However, there are other causes as well.
How do you stop a migraine from triggering?
First of all, it is necessary to pay attention to the lifestyle. People should exercise, eat healthy food, rest, and try not to be stressed.
What drinks help migraines?
Some doctors suggest drinking a caffeine-containing drink, such as coffee or green tea. However, if migraines are present regularly, it is better to see a doctor.
What foods to avoid if you have migraines?
Alcohol, especially those containing gas (beer, cider, sparkling wine, etc.), aged cheeses, chocolate, citrus fruits, and nuts. However, you should also consider personal intolerances, for example, if you notice that you get a migraine after eating tomatoes.