A person with dementia in the middle and more severe stages requires care from relatives. You will need to help them with basic tasks such as walking, feeding, and showering. Being a caregiver is not easy, as you will have to spend all the time with the patient. But you can also ask for help if you need it.
When your relative has such trouble as dementia, you ask such a question as "How to deal with someone with dementia", but we must say that not only the patient needs help and support. The person who cares for the patient may also need help and support. To do this, you can ask for help in the support department or customer service of carers, talk to other carers, take a break from caring for a patient with dementia, and get home help from a paid caregiver.
In this article, we'll look at how to deal with someone with dementia, and how you can help yourself as a carer.
How You Can Help a Person With Dementia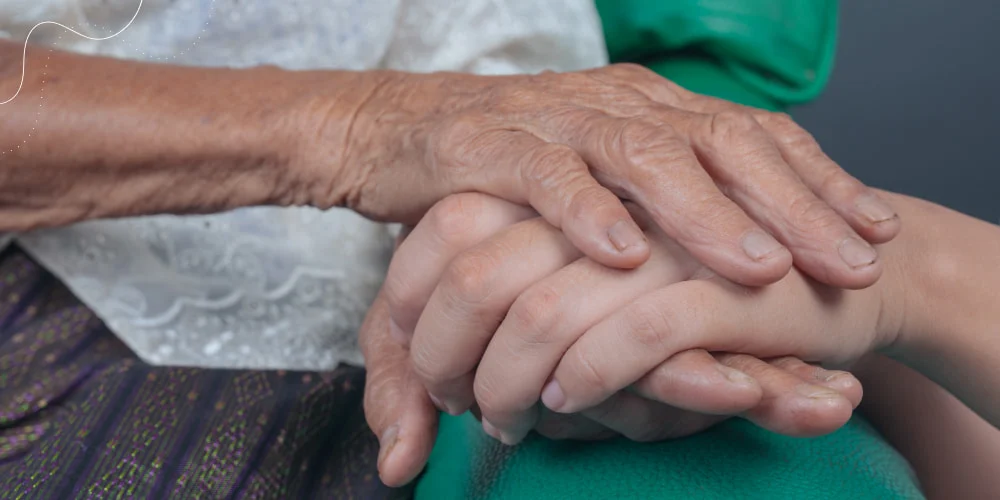 When a relative is diagnosed with dementia, the future caregiver realizes that they now have the responsibility for another person's life. The caregiver begins to wonder how they can help their close person. Let's take a closer look at what you will need to help your close person with dementia.
Stay Connected to Family 
Maintaining social connections is vital for both the dementia patient and their caregiver.
The patient needs to stay in touch with his family, friends, and other people with whom the connection has been before the disease onset.
Sometimes patients with dementia share that their acquaintances and friends are moving away from them and they are upset because of this. This may be due to the fact that others simply do not know how to properly behave around a person who has dementia.

Relatives may need to

help

their close person

with dementia

communicate with others, and explain to them the features of the patient's condition.

You can also advise the patient's friends to be sincere and yourself when interacting with your loved one. Sometimes people think that patients with a disease are some other people and they need a special approach, but they need the same thing as everyone else – the most common communication with relatives, friends, and relatives.
Adjust to change
Dementia leads to a large number of changes in the life of the patient and his relatives. This requires adaptation to new changes. Some of them will be painful, but it is worth remaining open to the possibilities of new changes and you will notice what new things they can bring to life instead of experiencing longing and denial of what is happening.
This is to ensure that all points of change can be recognized, although it may be difficult for the patient to let go that things could have been different. The patient can continue to live as he lived before, try to meet the standards of behavior, and try to be the way his relatives would like him to be; however, sometimes, this leads to disappointment and a feeling of inferiority if the patient fails.
Accepting this situation can be difficult, but it can also be a useful start to change. If a person is diagnosed with dementia, it is not necessary to try to hold on to the things they've had in their life. They still have to change things in their life, but accepting some things will help them make the right plans and actions for the rest of their lives, helping them continue to be as active as possible with their diagnosis.
Focus on Abilities And Opportunities
When dealing with a dementia patient, experts recommend focusing on the patient's personality and psychological well-being, not just the physical aspects you will need to help them.
Don't just focus on what limitations the patient will face, and don't put dementia first in the patient's life. Experts recommend remembering that this patient is, first of all, a person who has had a misfortune in the form of an illness.
Find out about 10 Best Mobile Apps for Dementia Patients to broaden the horizons and enthuse people with dementia.
Find Support Groups With The Same Diagnosis
Connecting with groups of people with dementia is a great way to get support from people who have the same thing as you. In addition, to support, they can give you valuable advice by sharing their experience.
Most groups meet regularly and may offer speakers, leisure activities, travel, and time just to sit and chat. In these groups, people with dementia can make new friends, learn about coping with change, and go for walks together.
Helping With Everyday Tasks
In the early stages of dementia, patients may continue to live the same rhythm of life they had before the diagnosis. A person can continue to engage in their professional and social activities and not need care from strangers.
However, over time, the symptoms of the syndrome worsen, and the patient begins to experience feelings of anxiety, fear, and stress because their cognitive functions can deteriorate significantly, gradually decreasing concentration and memory loss.
At this stage, relatives of this patient begin to think about how they can help their close person with dementia to do necessary tasks. Relatives of the patient need to support them and help maintain an active social life constantly.
If you want to know how to help people with dementia with their everyday tasks, this can involve:
Purchasing products and clothes;

Cooking;

Helping in the garden;

Providing animal care;

Giving reminders regarding important dates, meetings, doctor's recommendations, and names of acquaintance

s.
As for the last point, you can help your close person with dementia not forget essential information thanks to labels, stickers, and notes on the furniture surfaces. You can also help the patient set reminders and alarms so that your relative does not forget about any necessary action.
Help With Incontinence And Using The Toilet
Patients with dementia may have difficulty using the toilet. They may experience waste incontinence, and this is indeed a severe problem.
Probable reasons for this issue can be connected with:
Urinary tract infections;

Сonstipation, which causes pressure on the bladder;

The use of certain drugs that can cause incontinence;

Forgetting to go to the toilet, or not finding it.
How can you help people with dementia if they have incontinence?
This is indeed one of the most unpleasant and serious problems, providing inconvenience to the patient and the relatives caring for them.
To help the patient with dementia cope with this problem, use the following tips:
Hang a sign on the toilet door that will tell the patient where the toilet is.
Always leave a light in the toilet or make it sensory lighting.

Pay attention to signs that your relative wants to

use the toilet – they may be fidgeting, standing up, and tense. Help your loved one to the toilet if necessary.

Help the patient walk daily. Walking in the fresh air improves digestion and, as a result, makes it easier to go to the toilet.
Try to include going to the toilet in your relative's daily routine.
If your relative has an incontinence problem, take them to a doctor who can help identify and manage incontinence problems. They can also recommend waterproof bedding and pads for the elderly.
Read our article about Foods That May Help Prevent or Slow Down Dementia in our blog.
Support When a Person With Dementia Has Sleep Problems
Among the symptoms of dementia, the patient may experience sleep-related problems. So, for example, patients may get up at night and forget where they are. They may not even be aware that it is nighttime, which may lead to them getting dressed and leaving the house.
Often such a symptom as a sleep disorder resolves in the later stages of dementia. And at this stage, your loved one needs your help.
If you need advice for helping a patient with dementia who has a sleep disorder, use the following guidelines:
Hang a special clock for peopl

e with dementia next to their bed, which will show them the time of day;

Provide them with plenty of daylight and physical activity during the day;
Make sure that patient does not drink tea and coffee, especially in the evening;
Check if the bedroom is comfortable for them. If possible, put a night light in the room or use blackout blinds;

Try not to let the patient sleep during the day.
If insomnia bothers your close person for too long, take them to the doctor for a consultation.
How To Look After Yourself When You Support Someone With Dementia
In addition to supporting your close person in coping with dementia, you will also need to help yourself through this difficult time.
Let's take a closer look at how you can help yourself as a caregiver for someone with dementia.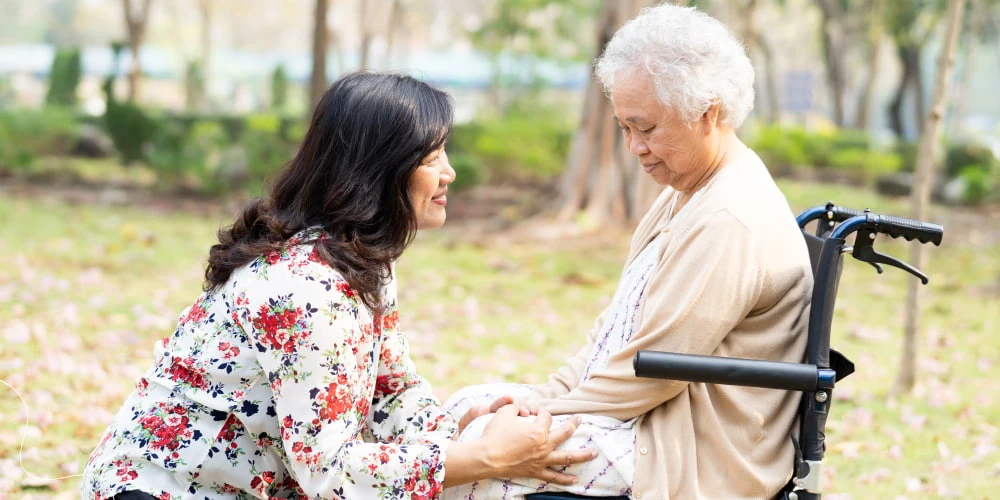 Ask For Help In the Support Department Or Customer Service Of Carers
Your family and loved ones can help you care for someone with dementia in many ways. Their help may include giving you a break for at least a few hours or helping you contact an organization that helps people with dementia. Various charities and volunteer organizations help care for people with dementia.
Talk To Other Carers
As a caregiver of a patient with dementia, you will benefit greatly from sharing experiences with other caregivers. They try supporting a person with dementia as they care for people with dementia, just like you do on a daily. They may also suggest new methods and ways to make your job of caring for a patient with dementia easier. In addition, it will also be important for other caregivers to hear your support and advice on caring for the sick.
You can attend regular dementia care groups. However, if you find it challenging to do this, you can become a member of one of the online forums, such as ALZConnected. It is a free online community for anyone with Alzheimer's or dementia. On this platform, patients and their relatives can ask their questions, share their experiences, and exchange information.
You can also go to Healthtalk.org for tips and video interviews with people who have taken care of people with dementia. They can share important information with you.
Helping someone with dementia is not easy. Therefore, you may experience stress because of this. If you are having difficulty, reach out to support groups for advice and sympathy.
Take a Break From Caring For a Patient With Dementia
If you're tired of helping someone with dementia, take small breaks to take care of yourself.
So, you can ask your family or loved ones to look after your relative while you can take some time for yourself.
If you don't want to disturb your relative, you can contact nursing care centers such as:
Day centers – Social services or local care centers will provide information;
Respite Care – You may be given nursing assistance in your home or offered a temporary solution in the form of a nursing home.
Home Help From a Paid Caregiver
Another way that relates how to help people with dementia is to seek the help of a paid guardian. You can hire a paid guardian for several hours a day, during which you can take time for yourself, your health, and work.
Discuss with the hired caregiver their area of work, what they will help you with, and what features your relative with dementia has.
Paying For It Yourself For Saving Money 
Caring for a relative with dementia and getting paid for it is not a bad option. You spend a lot of time with a person, taking away opportunities from yourself, which can take a toll on your pocket. Some organizations pay caregivers money that patients' relatives can use to pay for care and food, treatment, vitamins, and personal items for the patient.
Carers of relatives with dementia should be aware of the financial assistance options they can receive while caring for a loved one.
How you can receive compensation if you help to deal with necessary affairs for someone with dementia:
Determine your eligibility for self-service Medicaid;

Enroll in a

Home and Community Services program;

Find out if your close person is eligible for help;

Determine, if patient has a

long-term care insurance policy;

Find out if your company offers paid leave for carers;

If you need to become a paid carer, look at the following options for carer compensation.
Bottom Line 
Dementia is a dangerous disease, and in its last stages, relatives need to support a person with dementia with all necessary tasks. To do this, you can be their guardian or hire a professional guardian. If your loved one has dementia or another disease, visit our clinic's website. Call us at (214) 619-1910, and make an appointment.
We treat various neurological disorders such as:
Concussion;

Dementia;

Stroke;

Dystonias;

Peripheral neuropathy;

Headaches and migraines;

Multiple sclerosis.
It is not a complete list we can help with; our neurologists deal with many diseases.
Go to our website to read more about our clinic. Check out the blog with many helpful articles about different diseases, their diagnosis, and treatment.
FAQs 
What to say to a person caring for someone with dementia?
If hiring a paid carer to help care for your patient, you will need to discuss things like your family member's behaviors or symptoms, recommended food intake, and what pills and vitamins they need to take.
Does a person with dementia know they are confused?
In the early stages of dementia, memory loss and confusion may be mild. A person with dementia may be aware and frustrated with the changes that are taking place. Difficulties associated with memory and thinking become a problem for them, because of which they can get upset and try to change something.
Is it possible to remember the past with a person with dementia?
While the patient may not remember what happened to him yesterday, it is usually easier for patients with dementia to remember events that happened to them a long time ago. 
Can a person with dementia be left alone at home?
The presence of such a diagnosis as dementia does not mean that a person cannot live at home, but in the later stages, the patient will need the help of relatives. Therefore, if the relatives of the patient have the opportunity to help them, then yes, the patient can live at home.