The nerve network is a complex network of nerves and cells. They work for the transmission of signals among various body regions and the brain. It enables us to move, think and feel. It plays a critical role in maintaining our overall functioning.
Stress, unhealthy lifestyle, and various external factors can damage our nervous network in this fast-paced world. But you can improve and maintain the health of your nervous system.
We will cover a variety of tips, techniques, and lifestyle changes. They can contribute to the recovery of the nervous system. We'll also look at several strategies to impact your neurological health positively. This includes various methods, from exercise and nutrition to mindfulness and worry management.
So, if you're ready to take responsibility for your well-being, let's unlock the keys to a vibrant and healthy nerve network together. Welcome to the comprehensive guide on how to keep nervous system healthy!
How to Calm the Nervous System
Taking care of the nervous system is very important and necessary. Diseases that can occur as a result of its damage are severe. Therefore, it is better to prevent their appearance than to treat it hard and for a long time.
Based on our experience, it can be calmed down. Tension and worry are every day in today's world. But they hurt physical and mental health. Calming the nerves is essential to maintaining overall well-being. It contributes to a sense of balance and peace in our lives.
Our tests have shown that the following techniques effectively calm the nervous system.
Deep breathing technique
Do deep breathing exercises. This helps activate the body's relaxation response. Focus on taking a deep breath through your nose. Hold your breath for a few seconds and slowly exhale through your mouth. This technique helps to reduce the level of tension hormones. The method induces a state of rest.
Mindfulness and meditation
Engage in mindfulness practices and meditation. This will help reduce anxiety and promote relaxation. These practices help redirect your attention away from negative thoughts and stressors. They will allow you to stay present and focused. This can be good for strengthening nervous system.
Regular physical exercises
Add regular exercise to your daily routine. Exercise not only improves physical health. They also release endorphins, which act as a natural mood booster. They help calm the nervous system.
Limit caffeine and alcohol intake
Alcohol and coffee have terrible effects on nerve cells. Reduce your caffeine and alcohol intake. They can contribute to feelings of anxiety and nervousness. Choose herbal teas and plenty of water. This is necessary to stay hydrated and maintain a more balanced nervous system.
Adequate sleep
Make sure you get enough quality sleep every night. Sleep is vital for the recovery and rejuvenation of the nervous system. This allows it to function optimally during the day.
Time in nature
Spending time in nature can have a calming effect. Take a walk in the park, hike, or sit outside. Enjoy the fresh air to reduce worry and promote relaxation. These steps can help you to understand how to keep nervous system healthy.
A healthy diet
Eat a well-balanced diet rich in fruits, vegetables, and whole grains. Omega-3 fatty acids and B vitamins benefit the nervous system's health.
Social Connections
Develop positive social connections and spend time with loved ones. Social support can provide a sense of comfort and safety, helping to alleviate stress.
Limit screen time
Reduce the amount of time spent on electronic devices. This is especially true before bedtime. The blue light emitted by screens can increase feelings of restlessness.
Yoga and Tai Chi
Consider practicing yoga or Tai Chi. Both promote relaxation, flexibility, and mindfulness. These measures can help calm the nerve network and improve general well-being.
Remember, listening to your body and taking regular time to relax and rest is essential. As our tests have shown, incorporating these calming techniques into your daily routine can help you manage worry. With this advice, you know how to calm the nervous system.

Strengthening Nervous System
You need to take care of the nervous system regularly. This is especially important nowadays. There are many stresses around, which often affect the nerves. Don't let them destroy your health. The rules for maintaining nerve health are simple. Strengthening the nervous system is primarily a matter of the person himself. A doctor will only be able to prevent the development of diseases if you pay attention to the rules.
According to our research, simple steps help to preserve the nervous system. People who follow these simple recommendations feel better. It is essential to follow these recommendations regularly. Then, as our tests showed, health can improve significantly in just a few months. Below are simple tips to keep your nerves healthy.
Cognitive learning and mental stimulation
One powerful way to strengthen the nervous system is through mental stimulation. The brain is like a muscle, and it also needs to be trained. Engaging in mental tasks can improve neural connections and cognitive abilities. Here are some exercises that will help you develop mental strength.
Puzzles and mind games

. Solve puzzles. Sudoku, crossword puzzles, and puzzle games are good options. These actions activate different parts of the brain. They improve problem-solving skills.

Learning a new language. Learning a new language trains various cognitive functions, including memory and multitasking. It also improves the executive parts of the brain.
Playing musical instruments. Playing the guitar, for example, can improve coordination, memory, and concentration. Learning to read music and play by ear challenges different brain areas.
Reading and writing. Read books, articles, or educational materials. This will help you expand your knowledge and language skills. Writing also stimulates cognitive functions.
Regular aerobic exercise
Regular aerobic exercise is not only good for your physical health, but it's also a powerful way to strengthen your nervous system. Running, swimming, or cycling increases blood flow to the brain. This improves the delivery of oxygen and nutrients to the cells. The benefits of aerobic exercise for the strengthening nervous system include:
Neurogenesis. Regular aerobic exercise can stimulate the production of new neurons in the brain. It increases the plasticity of the brain and the ability to learn.
Brain-derived neurotrophic factor (BDNF). Aerobic exercise increases the production of BDNF protein. It supports the growth and survival of neurons, improving cognitive function and mood.
Reducing stress.

Exercise is a great way to reduce worry and promote relaxation.

Improved memory.

Our research has shown

that aerobic exercise can improve memory and focus. This leads to better cognitive performance.
Get at least 150 minutes of moderate-intensity aerobic exercise or 75 minutes of vigorous-intensity exercise per week. Find an activity you enjoy. This will make it easier for you to stick to your exercise routine.
What Foods are Good for the Nervous System
Based on our experience, food is essential for the nervous system. You have probably heard the thesis that we are what we eat. This thesis makes sense. Healthy food can improve the condition of the human nervous system. The brain and nerves depend on essential nutrients to function optimally. Including nutrient-dense foods in your diet can support and nourish the nervous system. A nutritious diet will also help you get nutrients. They are necessary for optimal nerve function and cognitive health. Such a diet includes fatty fish, berries, nuts, dark leafy greens, and other foods. They stimulate the brain.
Remember that every small positive change can contribute to the health of the nervous system over time. To keep your nerves in perfect condition, prioritize healthy food. Here are some beneficial foods.
Fatty fish
Salmon, mackerel, and sardines contain omega-3 fatty acids, especially EPA and DHA. These essential fats play a critical role in brain health. They promote neural communication and reduce inflammation.
Berries
Blueberries, strawberries, and other berries are rich in antioxidants. Among them are flavonoids and anthocyanins. They protect brain cells from oxidative tension. They can also improve memory and cognitive function. These products will be able to help you answer the question of how to keep nervous system healthy.
Nuts and seeds
Almonds, walnuts, flax, and chia seeds are excellent healthy fats, antioxidants, and vitamin E sources. These nutrients can support brain health. They protect nerve cells from damage.
Dark leafy greens
Spinach, cabbage, and broccoli are rich in vitamins and minerals. They include vitamin K, folic acid, and iron. These nutrients contribute to the proper functioning of the nerves. They can help reduce the risk of cognitive decline.
Whole grain products
Whole grain products provide the brain with a constant energy source and are rich in B vitamins. They are necessary for the functioning of the nerves.
Black chocolate
Dark chocolate (70% cocoa or more) contains flavonoids in moderate amounts. They can increase blood flow to the brain and improve cognitive function.
Eggs
Eggs are a good source of the nutrient choline. This substance is important for neurotransmitter production and overall brain health.
Beans
Beans, lentils, and chickpeas are rich in folate and magnesium. They support nerve function and help regulate stress responses.
Broccoli
Broccoli contains antioxidants and vitamin K. These are essential for maintaining healthy brain cells and cognitive function. This product can answer the question of what foods are good for the nervous system.
Oranges
Oranges and other citrus fruits are rich in vitamin C. It has antioxidant properties that protect the brain from oxidative stress.
A balanced diet is the key to obtaining all the necessary nutrients for a healthy nervous system. Include these foods in your diet regularly. This will help maintain brain health and nerve network function.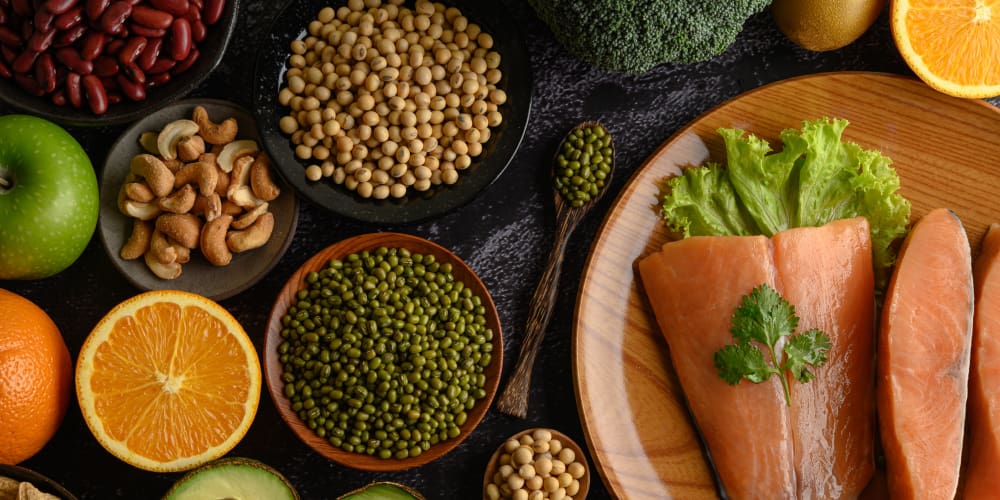 Conclusion
Maintaining a healthy nervous system is essential for overall well-being. You can take proactive steps to strengthening nervous system. You can do this through lifestyle choices, mental stimulation, and good nutrition.
Taking preventive measures is much better than treating serious diseases later. And as our tests show, simple rules will help keep your nerves healthy.
Include regular exercise in your daily routine. This way, you can promote a calm and balanced nervous system. Cognitive training, brain exercises, and continuous learning keep the mind sharp.
Take charge of your neurological well-being. This way, you will reap the benefits of strengthening the nervous system. This will allow you to have a happier and more fulfilling life. Your brain and body will thank you for your care and attention. If you are still trying to handle it yourself, contact specialists. Lone Star specialists will be happy to help you.
Stick to these simple rules, and you will lead to a bright and prosperous future.
FAQ
How do I know if my nervous system is weak?
Signs of a weak nervous system may include:
numbness,

tingle,

muscle weakness,

difficulty with coordination,

cognitive problems.
What vitamin is good for nervous system?
B vitamins, particularly B6, B9 (folate), and B12, are essential for a healthy nervous system.
Is my nervous system damaged?
Consultation with a medical professional is necessary. It will help determine if your nervous system is damaged. They can conduct tests and make an accurate diagnosis.
Can the nervous system repair itself?
Yes, the nervous system has a certain capacity for self-healing through neuroplasticity. Especially with minor injuries or damage. However, severe damage may require medical attention.