Dystonia is a neurological movement disease characterized by involuntary muscular contractions. This might result in aberrant motions and postures, making daily tasks like walking, talking, and writing difficult. Dystonia can also cause a great deal of pain and suffering. While the etiology of dystonia is unknown, therapies are available to alleviate symptoms. Early detection is critical for receiving the best effective treatment.
This guideline is dedicated to the in-depth study of dystonia, its treatment, diagnosis and complications due to the condition. Read on to be able to distinguish this disease from others. You will also find some practical tips that can help you in difficult situations and help you out more than once.
Diagnosis Of Dystonia At Any Age
To determine this disease, many different tests are used, including:
Blood test. It is usually the first step in diagnosing dystonia. If blood test results are abnormal, your doctor may recommend another test.
Urine tests are also done to check for certain substances that can cause dystonia.
MRI or CT scan. Your doctor may order magnetic resonance imaging (MRI) or computed tomography (CT) scans to rule out other conditions that can cause similar symptoms.
Electromyography (EMG). Electromyography (EMG) is a test that measures the electrical activity of muscles. This test can help your doctor determine whether dystonia affects a single or multiple muscles.
Genetic testing. Sometimes, doctors may recommend genetic testing to look for changes in your genes associated with dystonia.
What Complications Can Occur With Dystonia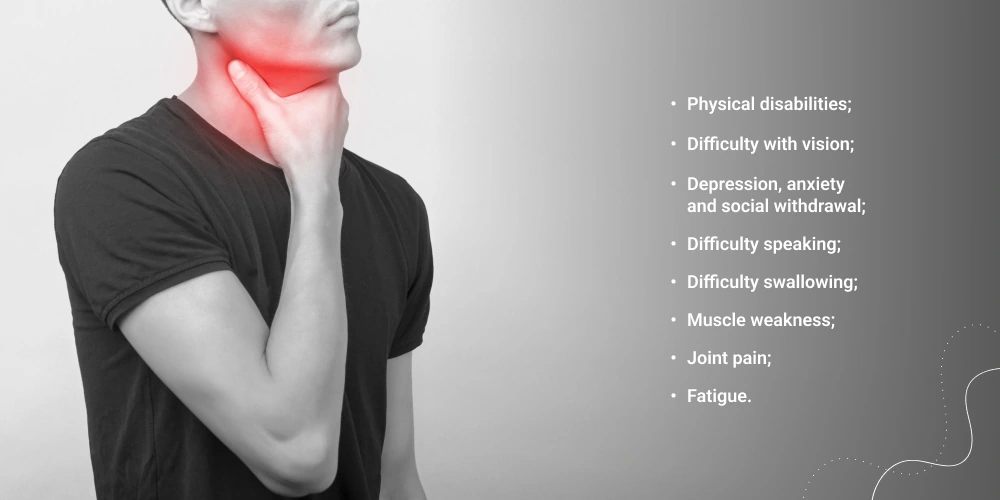 In addition, during life with this disease, patients often face the consequences caused by it. Among them:
Physical disabilities.

Difficulty with vision.

Depression, anxiety and social withdrawal.

Difficulty speaking.

Difficulty swallowing.

Muscle weakness.

Joint pain.

Fatigue.
If you notice similar symptoms in yourself or your loved ones, you should contact the clinic, as you have a chance to cure this disease and live normally. However, if everything is simple with your body and self-acceptance, talking with loved ones can be difficult.
If you think your relative has a disease, it is better to choose the right moment, calmly talk and discuss the problem. This approach will help to avoid unwanted quarrels and irritations.
How To Treat The Dystonia
Treatment of dystonia is essential to manage the condition and improve quality of life. Several treatment options are available, and your doctor will work with you to find the best treatment plan.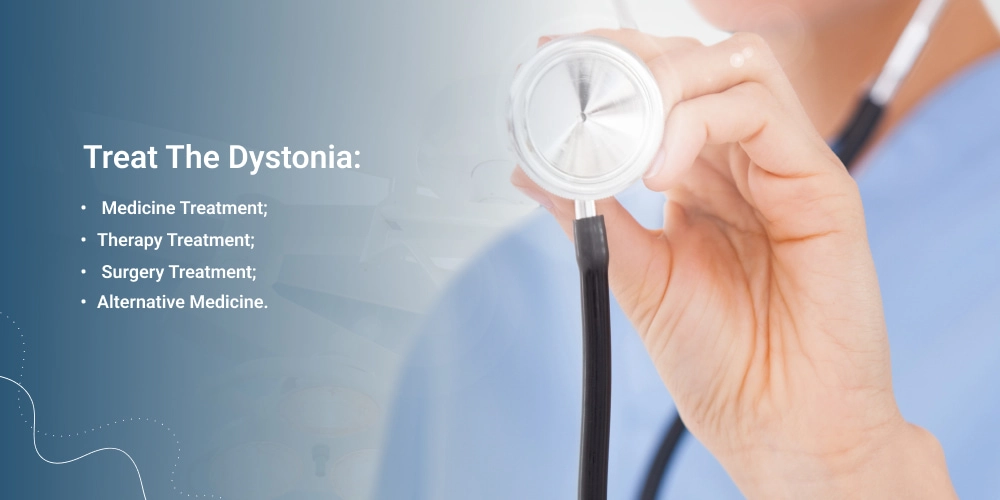 IMPORTANT TIP! To accurately convey to the doctor everything you feel, observe your well-being for a long time and write down everything that may be associated with your illness. This way, you will not forget any small details and can describe all the details accurately. And this will help you to properly and efficiently be treated.
As for the treatment itself, doctors rely on many integrated approaches that can help cure the patient. This includes using traditional medicines, therapeutic methods, surgeries, and alternative therapies using herbs and other medicines.
Medicine Treatment
Your doctor may prescribe medications to help relieve dystonia symptoms. Botulinum toxin injections are often used to cure dystonia. This treatment can help reduce muscle spasms and improve the range of motion. This method is the most classic but may not always help. Therefore, other types of treatment may come to replace medications.
Therapy Treatment
Different types of therapies can help relieve the symptoms of dystonia. Therapy is a type of treatment that tries to assist in the resolution of mental or emotional disorders. There are several forms of treatment available. Psychotherapy, often known as talk therapy, is a person conversing with a skilled therapist who can assist them in understanding particular feelings and actions.
Physical Therapy
A physical therapist can teach you exercises to help stretch and strengthen your muscles.
Mental Therapy
Different types of mental therapy can help relieve the symptoms of dystonia. Basically, they aim to discuss your problems and look for other solutions or sources of your disease.
Surgery Treatment
In some cases, surgery may be needed to correct the underlying cause of dystonia. For example, if a pinched nerve causes dystonia, surgery may be needed to release the pressure on the nerve.
Alternative Medicine
There is no known cure for dystonia, but there are some alternative treatment options that may help to improve symptoms:
Acupuncture: This traditional Chinese medicine treatment involves placing thin needles into the skin at specific points on the body.
Herbal remedies: Some people with dystonia find relief from taking herbal supplements such as ginger or Ginkgo Biloba. This is one of the famous

dystonia natural treatments.

Massage: Massage therapy can help to relax the muscles and ease dystonia symptoms.
You can read about the difference between dystonia and dyskinesia in our other article.
Bottom Line 
If you notice that you or your loved ones are experiencing similar symptoms or complications, you should urgently contact your doctor and start treatment.
Unfortunately, not all attending physicians can help with such narrowly focused diseases. Therefore, the best solution would be to contact a private, professional clinic that employs experienced specialists who can find the right and non-standard methods of treating diseases.
To contact the doctor, you can use the special contact button. After that, it is enough to wait for feedback and start treatment.
FAQs
There's no cure for dystonia, but the condition can usually be effectively managed. Treatment will vary depending on the type of dystonia and the precise nature of your symptoms.
What is the average age for diagnosis with dystonia?
The majority of the time, 90 to 95 percent of the time, the symptoms start in one limb before spreading to other parts of the body. The average age of onset for this type of dystonia is 12, and it seldom manifests after the age of 29.
How is dystonia diagnosed?
To do this, your doctor may begin with reviewing your medical history and performing a physical exam. Health care providers might advise the following: tests on blood or urine. These tests may show symptoms of toxins or other diseases.
What are the signs of dystonia?
Dystonia is characterized by: 
Uncontrollable muscle cramps and spasms.

Your body parts twisting into odd poses, such as your feet turning inside or your neck twisting to the side.

Trembling.

Uncontrollable blinking.