Dyskinesia and dystonia are two completely different diseases that people often confuse and consider as the same phenomenon.
Dyskinesia is a condition in which the patient has trouble moving due to impaired brain control when it is responsible for moving muscles.
Dystonia is a disease that manifests itself in involuntary muscle contractions that lead to strange postures or unnatural movements of a person.
Understanding the difference between dyskinesia and dystonia is critical if you or someone you know has been diagnosed with one of these conditions.
It is also essential to distinguish between these two diseases since the course of your treatment directly depends on this. It is vital to monitor your symptoms while you are sick. And not to forget all the small details, it is better to write them down in a notebook and provide it to your doctor. Thus, you will eliminate confusion about other diseases and select the only correct recovery solution.
What Is Dyskinesia?
Dyskinesia is a condition that results in involuntary, often repetitive, movements. It can affect any part of your body but it most commonly occurs in: 
The face.

Tongue.

Arms and Legs.
Dyskinesia can be caused by many things, including certain medical conditions, medications, and alcohol abuse. 
Tardive dyskinesia is thought to impact 500,000 people in the United States. Approximately 60% to 70% of instances are moderate, with only 3% being highly severe. Patients treated for schizophrenia, schizoaffective disorder, or bipolar illness are more vulnerable.
Symptoms Of Dyskinesia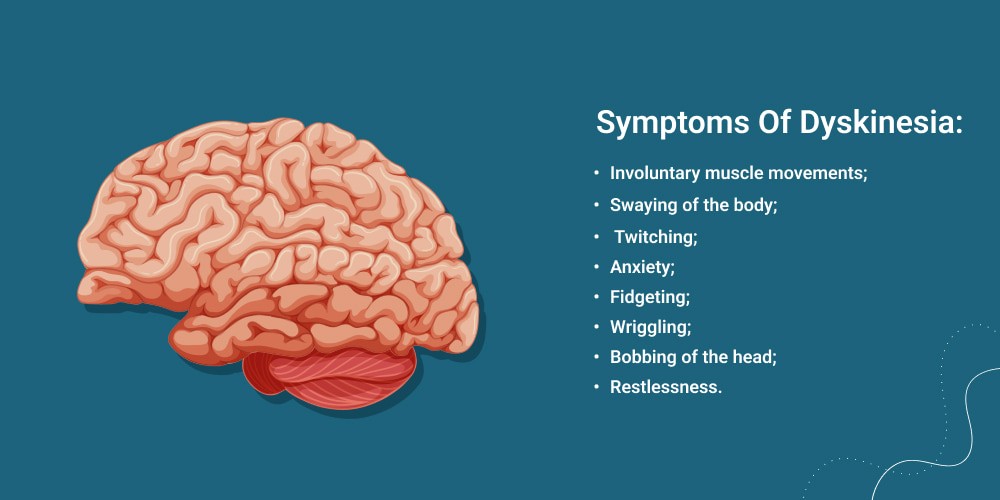 Among the standard and widely found symptoms there are:
Involuntary muscle movements.

Swaying of the body.

Twitching.

Anxiety.

Fidgeting.

Wriggling.

Bobbing of the head.

Restlessness.
Causes Of Dyskinesia
The exact cause of dyskinesia is unknown, but it is thought to be caused by problems with how messages are sent from the brain to the muscles. 
Because its causes are unknown, treatments can be problematic, which is why it's essential to be able to distinguish between two similar diseases and find the key differences.
Treatment Of Dyskinesia
Although there is no cure for dyskinesia, there are therapies that can help alleviate symptoms. Among the treatment possibilities are:
Medication.

Physical therapy.

Surgery.
What Is Dystonia?
Dystonia is a neurological disorder that causes muscle contractions and spasms. It can cause your muscles to twist involuntarily into awkward positions. Dystonia can be very painful and can make it difficult to perform everyday activities such as:
Talking.

Walking.

Eating. 
It can be caused by many different things, including certain medical conditions, medications, and genetic factors. Dystonia affects up to 250,000 persons in the United States, making it the third most frequent movement condition after essential tremor and Parkinson's disease. 
Symptoms Of Dystonia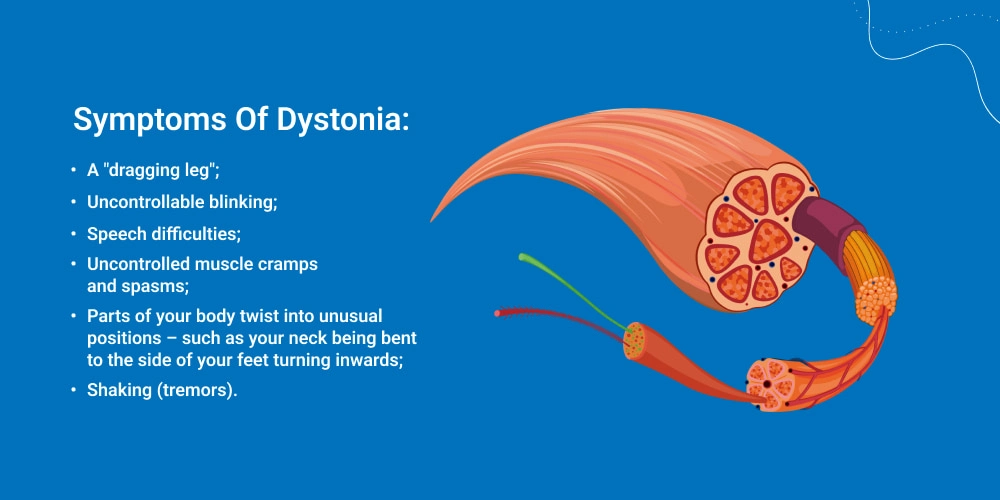 Among the most famous symptoms of this disease are:
A "dragging leg."

Uncontrollable blinking.

Speech difficulties.

Uncontrolled muscle cramps and spasms.

Parts of your body twist into unusual positions – such as your neck being bent to the side of your feet turning inwards.

Shaking (tremors).
If you find similar symptoms in your body, you should contact your doctor immediately to start treatment as soon as possible and not delay it.
Causes Of Dystonia
Dystonia is a neurological disorder caused by problems with how messages are sent from the brain to the muscles. Dystonia can be caused by many things, including certain medical conditions, medications, alcohol abuse, and drug abuse.
The following conditions can also cause dystonia:
Brain tumor.

Oxygen deprivation.

Infection.
Treatment Of Dystonia
There is no cure for dystonia, but there are treatments that can help reduce the symptoms. Treatment options include medication, physical therapy, botulinum toxin injections, and deep brain stimulation.
You can read more about diagnosis, complications and treatment of dystonia in our Lone Star blog.
Dyskinesia vs. Dystonia
: Comparison Table 
We have made a unique table to distinguish between these two diseases.
Dystonia

Dyskinesia

Affects:

Face.

Neck.

Eyes.

Vocal chords.

Torso.

Limbs.

Foot.

Affects:
Treated with:
Treated with:

Medication, physical therapy, botulinum toxin injections, and deep brain stimulation.

Medication, physical therapy, and surgery.
How to Prevent Those Diseases?
Because the symptoms of tardive dyskinesia and dystonia can be severe and even permanent, correct drug prescription and administration are critical to preventing these illnesses.
Antipsychotic drugs should be administered only when warranted and beneficial to the patient. Antipsychotic drugs should always be provided at the lowest effective dose, and the dose should be reduced as soon as signs of tardive dyskinesia or dystonia develop, if feasible.
If a patient is currently on the lowest effective dose and still has symptoms, the kind of antipsychotic drug may be changed. It will be stopped if there is no benefit to taking antipsychotic medication.
For the prevention of dystonia, an anticholinergic medication is most often prescribed along with antipsychotic medication to help prevent harmful side effects.
Bottom Line
You must correctly distinguish between very similar diseases to receive the necessary and correct treatment. To do this, it is not enough just to read an articles on the Internet. You need to be examined and conduct many tests that will show external signs and what is happening inside you.
This is only possible for specialists in the field of neurology. To make an appointment, click here and wait for a response or call 214-619-1910. 
Remember, self-care can be dangerous to your health. It would be better to consult the professionals and start the appropriate treatment. This approach will help you recover faster, avoid unwanted mistakes during self-diagnosis, and prevent harm to other systems of your body due to self-treatment. Your health should be approached with proper care.
FAQs 
What is an example of dystonia?
Examples include writer's cramps that affect the muscles of the hand and sometimes the forearm and only occur during handwriting. Similar focal dystonias have also been called typist's cramp, pianist's cramp, and musician's cramp.
What is dystonia life expectancy?
For most people with this disease, dystonia is not a death sentence and it does not shorten life. However, in more severe forms, additional complications may occur that require medical attention.
Dyskinesia goes away when you lower the dosage of the medication or stop taking it. However, there are cases when the patients' condition did not change and the disease did not stop after the completion of the treatment course.
Can you have dyskinesia without Parkinson's?
Dyskinesias are involuntary, erratic, twisting movements of the face, arms, legs, or trunk. They are often fluid and dance-like but may also cause rapid jerking or slow and extended muscle spasms. They are not a symptom of Parkinson's itself.