Brain cancer is a malignant tumor that affects various parts and tissues of the brain. The formation can begin with degeneration of the meninges, gray or white matter, blood vessels, or endocrine glands. Among all types of cancer, these tumors account for 6%. On average, up to 15 people out of every 100 thousand get the disease.
Brain cancer can develop at any age, including during childhood. But it's diagnosed less often in children 2-3 cases per 100 thousand. It mainly affects the cerebellum and brain stem, while in adults the meninges affect. 
Battling brain cancer can be a challenging journey. In the article, we will look at what causes a brain tumor and highlight the most common ones. We will discuss how different types of brain cancer can manifest themselves. Knowing these features can help you recognize the disease and get it treated in time. Discuss everything with your doctor, especially if you notice symptoms of cancer.
What is a brain tumor?
Brain cancer is a grave medical condition marked by malignant growths. That can impact the skull, meninges, and nerve endings. Failure to promptly undergo surgical intervention can lead to fatality.
The tumor's particular subtype determines the type of cells that create it. Its symptoms may differ based on its location and histologic category. Brain tumors are not very prevalent and account for only about 1.5% of all tumor types.
Moreover, the progression of this disease can vary widely from one person to another.  The following are some of the most typical symptoms associated with brain cancer:
| | |
| --- | --- |
| Symptoms | Frequency of occurrence (%) |
| Headache | 77-92 |
| Change in visual fields | 74-83 |
| Mental disturbance | 63-78 |
| Vomiting | 68 |
| Progressive neurological deficit | 68 |
| Dizziness | 40-50 |
| Epileptic syndrome | 15-46 |
| Aphasia | 9 |

Types of Brain Cancer
Cancer can manifest in any organ or system of the body. The classification of cancer types is based on the location of the tumor. The development of a malignant tumor can occur in many areas. 
Depending on the tumor's location and stage, all types of cancer display symptoms. Pain syndromes are usually noted at the site of the tumor. There is also a general deterioration in physical condition, a slight fever, and loss of appetite. Early detection is essential for effective treatment. It is especially important before cancer cells metastasize to the lymphatic system.
Gliomas and Related Brain Tumors
The most prevalent type of primary brain tumor originates from neuroectodermal cells. It originates from brain tissue surrounding nerve trunks. Also, it serves to protect and ease nerve impulses' transmission.  Gliomas, which take on various shapes, structures, and sizes, is characterized by infiltrative growth. That makes it difficult to distinguish between cancerous and healthy tissues. Gliomas usually develop as primary tumors and are more commonly diagnosed in children, adolescents, and young adults. And they are more common in men than in women. In adults, the incidence of gliomas peaks between 40 and 50 years old. Among children, gliomas are the third most common type of brain tumor. Occurring between the ages of 3 and 10 years old, following leukemia and lymphoma.
Choroid Plexus Tumor
Vascular plexus tumors are uncommon primary neoplasms. It originates from the neuroepithelium of the choroid plexuses in the brain's ventricles. They comprise only 0.4-1% of all intracranial tumors. About half of these tumors find in the lateral ventricles, 40% in the IV ventricle, and 10% in the III ventricle. 
The tumor can develop in people of any age. But most often it's diagnosed in children under the age of three. This is especially important in newborns and children in the first year of life. It occurs more frequently in males than females.
Embryonal Tumor
Tumors arise from embryonic cells in the human brain. Usually found in infants or young children. This is because these cells store in the brain after fetal development. These types of brain cancer are located in the lower part of the cerebellum. They can classify as either tetraid or rhabdoid tumors. Unfortunately, the prognosis for these types of brain tumors is typically poor. Rarely, early treatment is critical to preventing tumor growth.
Pineal Tumor
A tumor that originates in the pineal gland can be either benign or malignant. The following symptoms are typically associated with this type of tumor:
Hydrocephalus;

Oculomotor disorders;

Cerebellar disorders;

Signs of hypothalamus damage;

Hypogonadism;

Precocious puberty.
A specific type of pineal tumor is known as a mutant pineal tumor. It is a highly malignant tumor of the brain and characterizes by a distinct genetic mutation. This type of tumor is more commonly diagnosed in children and young adults.
Meningioma
It is the main class of all types of brain cancer. It occurs with meningitis. It is a protective covering of the brain that also protects the head and spinal cord. In most cases, the tumor is benign and has a low growth rate. Over 95% of tumors are benign. It can also note that this particular type is the most common. As a percentage, it is about 20-30% of all brain tumors. Often this type of cancer forms more in women than in men. And it's diagnosed in people of older age. It is important to note that a person can have several tumors at the same time.
Meningiomas can detect through imaging. Magnetic resonance imaging (MRI) or computed tomography (CT) use to recognize a tumor. The resulting tumor is usually solved by surgery. The specialists try to remove as much of the tumor as possible. At the same time, they try to preserve the function of the brain. There are cases when the tumor is in a hard-to-reach place. If this is the case, radiation therapy may use in treatment.
Nerve Tumor
It is a tumor that forms on or within peripheral nerves. It is important to note that if not treated in time, the tumor will spread to other masts of the brain. They also affect the spinal cord, causing more serious consequences.
In most cases, masses are benign and treatment is not always necessary. But, in some cases, the tumor damages nerves and causes pain and other functional damage. Even in these cases, treatment will be necessary. A tumor can develop slowly or quickly. The rate of growth will depend on the complexity of cancer. In either case, its development and treatment must monitor. When the tumor becomes malignant, aggressive treatment will be necessary. Also in the case of a malignancy, the tumor may spread to other organs.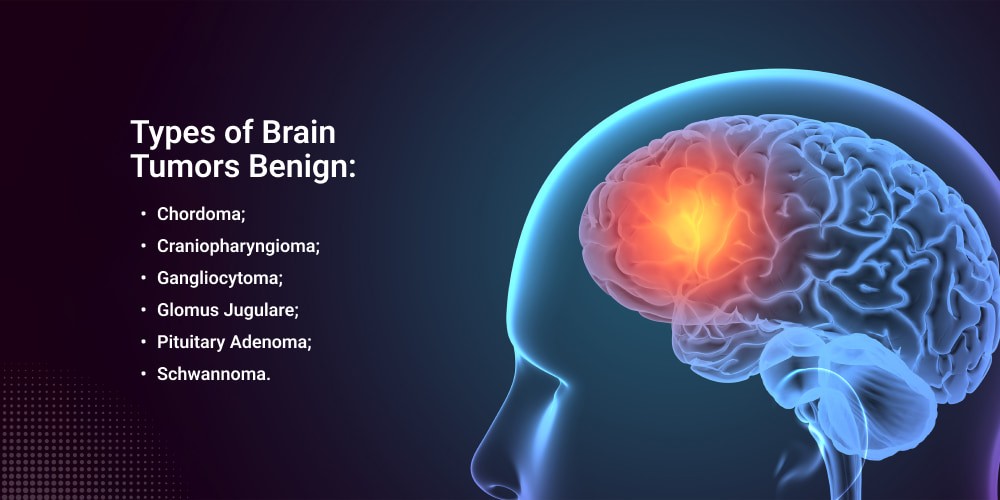 Types of Brain Tumors Benign
A benign brain tumor characterizes by a relatively normal appearance of its constituent cells, slow growth, lack of spread to other organs, and penetration into the tissues of the brain itself.
Despite this, all types of brain tumors benign can be quite dangerous. A benign tumor in the head goes by compression of sensitive nerve tissue. There is also an increase in intracranial pressure. We will concentrate on the most common types of benign brain tumors.
Chordoma
Chondroma is a benign tumor that develops from cartilage tissue. Occasionally, it can degenerate into chondrosarcoma (less than 5%). Chondroma has slow growth and destroys the base of the skull. Only with degeneration into chondrosarcoma, does the dura mater covering the brain increase. Chondromas become large. But, the risks of surgery are low. Chondrosarcoma characterizes by a recurrent course of the disease. They characterize by invasive growth, growing into neighboring ones.
Craniopharyngioma
Craniopharyngioma of the brain is a benign congenital tumor. It's localized in the chiasmal-sellar zone and the region of the third ventricle of the brain. Epitheliocytes of Rathke's pocket (pituitary course) give rise to neoplasms. Malignancy (transformation into cancer) is uncommon but may occur in individual cases. Craniopharyngiomas diagnose relatively rarely. 
Gangliocytoma
Ganglioneuroma is a benign tumor formed from elements of the sympathetic ganglia. Ganglioneuroma can have a wide variety of localization. Most often it's associated with various parts of the spine. The tumor can locate in the brain, less often than in other parts of the body. Diagnosis carries out mainly by methods of computed and magnetic resonance imaging. Histological examination of the tumor tissue biopsy is also used.
Glomus Jugulare
This is an unusual and slowly developing tumor. It arises from paraganglia cells. These cells are responsible for regulating blood pressure in the body. The tumors usually arise in the jugular fossa, which is a small area located at the base of the skull. The jugular fossa houses the jugular vein, inner ear, and various cranial nerves. Brain tumors causes compression of nearby structures. This in turn leads to neck pain and headaches.
Pituitary Adenoma
A pituitary adenoma is a noncancerous neoplasm. In all cases, it occurs in the anterior pituitary gland. It is usually located at the base of the skull or "Turkish saddle". These tumors are usually benign. But, they can become problematic as they grow and compress brain structures. This can lead to vision impairments as well as neurological and endocrine issues.
Schwannoma
Schwannoma (a type of neurinoma) is a tumor of Schwann cells of the myelin sheath of nerves. This is one of the types of benign brain tumors. It mainly affects the trigeminal, auditory nerve, and spinal cord. But there are also malignant forms. They can affect the sacral, brachial plexus, and sciatic nerve. The frequency of schwannoma occurs in 20% of all tumors of the spinal cord. Only in 8% of all neoplasms of the brain. Besides the vestibular nerve, the tumor can also affect the trigeminal nerve. In this case, facial pain awakens. These trigeminal schwannomas are much less common than vestibular.
Types of Malignant Brain Tumors
A malignant brain tumor is a newly formed tissue. It consists of cells with a modified genetic apparatus. That is, the cells divide continuously and uncontrollably. At the same time, they lose their functions' division. Neoplasms from such cells begin to compress neighboring areas of the brain and grow into its healthy tissues. So the brain can no longer function properly.
Different types of malignant tumors have distinct features. That distinguishes them from benign tumors. Understanding the specific characteristics of each type of cancer is important. Let's take a closer look at the unique characteristics of types of malignant brain tumors.
Astrocytoma
A brain astrocytoma is a glial tumor that develops from astrocytes. Astrocytes use to form new associative connections. Adverse conditions can cause a massive accumulation of cells, which will form a tumor. Many cysts can form inside it, which is characterized by slow growth and development. The cysts can reach large sizes and put pressure on the brain structures. Astrocytomas equally often affect men and women, regardless of age and lifestyle.
Ependymoma
Ependymomas are tumors of the central nervous system. They are also known as primary CNS tumors. They originate in the central nervous system. Tumors are not caused by metastases of other malignant tumors to other organs.
Ependymomas can metastasize along the CSF pathways. But, they usually do not spread outside the central nervous system. These tumors predominantly affect children. About 65% of cases are in childhood. Ependymomas are the third most commonly diagnosed brain tumor in children.
Glioblastoma Multiforme (GBM)
It is the most common and malignant type of brain tumor. Also known as grade IV astrocytoma or grade IV glioma. Tumors do not have clear boundaries and grow rapidly. This occurs by squeezing the brain and infiltrating its tissues. The aggressive growth of glioblastomas causes irreversible brain damage. Technically, the tumor is not classified as brain cancer. Besides, a tumor is often referred to as such in a non-medical context due to its wide distribution.
Medulloblastoma
A malignant tumor of medulloblasts, immature glial cells. The location of the tumor is usually in the cerebellar vermis. It's located near the 4th ventricle of the brain. In adults and mainly children, symptoms of cancer intoxication are characteristic. According to our statistics, medulloblastoma diagnoses infrequently. It accounts for about 8% of all CNS neoplasms. Unfortunately, it is the second most common brain tumor in children. There are 2 medulloblastomas per 100 thousand. In most cases, this pathology metastasizes through the cerebrospinal fluid pathways. It is different from other malignant pathologies.
Causes of a Brain Tumor
The exact what causes of a brain tumor are currently unknown to scientists. The difficulty is that tumors can develop without any noticeable symptoms. But, several factors identified as potential causes of the development of brain tumors. The table below lists the primary brain tumor causes that can lead to the growth of cancerous cells.
Factor
Explanation

Family history

Cancer cells can often form in people with a hereditary history of the disease

Exposure to radiation

Radiation therapy can cause cancer. This is especially fraught with strong exposure to ionizing radiation

Immune system disorders

People with HIV/AIDS may have an increased risk of developing certain types of brain tumors

Environmental factors

Eating food with a lot of pesticides and solvents causes cancer. The effects of these chemicals are still not fully understood. But their effects determine to contribute to the development of tumors

Head injury

Ignoring

craniocerebral injuries

and concussions lead to more serious consequences.  Injuries to the brain and head can develop into tumors

Contact with harmful substances

This applies to work in hazardous industries that are harmful to human health and life. Such as acids, alkalis, pesticides, and other chemicals

Pathologies of the genetic apparatus

The abnormal growth of cells can cause by genetic abnormalities. If the DNA chain fails, it can lead to the formation of a tumor
The presence of these factors may not always lead to the appearance of tumors. But all this will depend on the individual characteristics of the person. If you're concerned about these factors, and they often appear in your life, it is better to consult a doctor. So you can prevent the appearance of a tumor and start treatment on time. In this case, the chances of a cure will be much higher than if you start this process.
FAQ
What are the most common types of brain cancer?
The most common types of brain cancer are gliomas, which include astrocytomas, oligodendrogliomas, and glioblastomas. Other types of brain tumors include meningiomas, pituitary adenomas, medulloblastomas, and schwannomas. The incidence and prevalence of brain tumors vary by type, age, and other factors.
Does brain cancer spread fast?
The rate at which brain cancer spreads can vary widely, depending on the type of tumor and other factors. Some brain tumors grow slowly and may remain localized in a small area of the brain for many years. Others are more aggressive and quickly spread to surrounding tissues or other parts.
What is the final stage of brain cancer?
It is important to note that the stage of cancer can vary depending on the type of brain tumor and other factors. So, no one "end-stage" brain cancer applies to all cases. As a rule, brain cancer in the late or last stage refers to large tumors.