Caring for a parent at home can be both challenging and deeply fulfilling. As your loved one's cognitive abilities evolve, your caregiving approach must adapt accordingly.
In this guide, we will delve into vital tips and strategies aimed at ensuring the highest level of care for your parent coping with dementia at home.
Navigating the complexities of care requires:
Patience.

Understanding.

Adaptability.
Our aim is to provide you with the knowledge and guidance needed to navigate this journey.
Understanding Dementia
It's crucial to have a clear understanding of the condition.
Dementia is a broad term. It encompasses various cognitive impairments. They affect memory, thinking, and the ability to perform everyday activities. The most common form is Alzheimer's disease. However, other types need care for patients with dementia. It includes vascular, Lewy body, and frontotemporal types. It's a progressive condition, meaning symptoms worsen over time.
The condition's impact extends beyond just memory loss. It affects the ability to communicate, recognize loved ones, and even perform basic tasks. Understanding the specific type of illness your parent has is essential. It can influence the progression of symptoms and the care they need.
The Importance of Home Care for Dementia Patients
Caring for a patient at home offers many advantages. They can significantly contribute to their well-being and quality of life:
Familiar Environment. One of the benefits of home care for patients with dementia is providing a familiar and comforting setting. Familiarity can help reduce confusion and anxiety, which are common symptoms. Your parent is more likely to feel secure when surrounded by the same belongings, routines, and faces. Consider decorating their space with familiar photos and mementos, and cherished possessions. These reminders of happier times can provide emotional comfort.
Personalized Care. Caring for your parent at home allows you to tailor their care to their specific needs. You have the flexibility to adjust your caregiving approach. This caring for dementia can lead to better outcomes and a higher quality of life. It's essential to engage your parent in conversations about their preferences whenever possible. This may include discussing meal choices, daily routines, and activities they enjoy. Involving them in decision-making empowers them and helps maintain a sense of control.
Cost Savings. Home care can be more cost-effective than institutional care options. There are expenses associated with home caregiving. But they are often lower than the fees charged by long-term care facilities. This financial advantage can be important for long-term care of patients with dementia.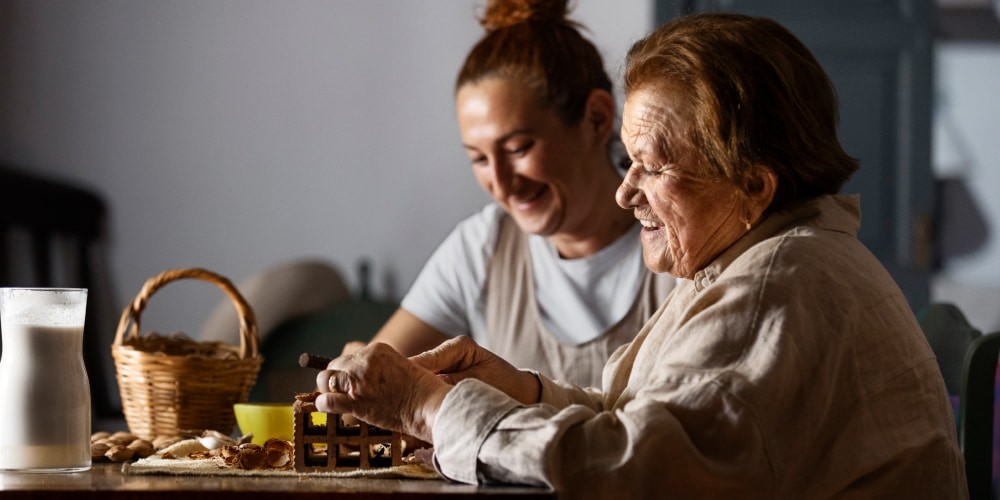 Activities for Dementia Patients at Home
Engaging activities are vital for the well-being of patients. These activities can help stimulate their minds. It reduces restlessness and enhances their quality of life. Here are some activities to consider.
Memory Games
Engaging in memory games such as puzzles, crosswords, and card games offers a fantastic way to boost cognitive functions and enhance memory recall. These activities provide mental stimulation. And they can be adjusted to suit your loved one's cognitive abilities. Start with simpler games. And gradually increase the complexity as their cognitive decline progresses.
Craft Activities
Painting, knitting, or crafting offer a creative outlet. It's both enjoyable and therapeutic. Engaging in hands-on activities can help your parent express themselves. And it maintains their fine motor skills. Also, the sense of accomplishment derived from completing a craft project boosts self-esteem.
Customize craft activities for dementia patients at home. It's to align with your loved one's interests and abilities. If they have a background in art, encourage them to create paintings or drawings. Or explore new hobbies together, fostering a sense of discovery and achievement.
Music and Dancing
Music possesses a remarkable influence on patients. Playing their favorite tunes or encouraging them to dance can uplift their mood. And it may trigger cherished memories. Music therapy has demonstrated its effectiveness in reducing anxiety and agitation in patients. It makes it a valuable tool for caregivers.
Construct playlists featuring your parent's beloved songs. And use music as communication and connection. Sing along with them, and if they relish dancing, indulge in impromptu dance sessions. This activity for dementia patients at home not only stimulates memory. But it also provides emotional comfort and serves as a source of joy.
Gardening
It delivers sensory stimulation, a sense of purpose, and a connection to nature. Planting flowers, tending to potted plants, or relishing time outdoors can be therapeutic. Gardening allows your parent to engage their senses. It's about the tactile experience of feeling the soil or the delightful scents of the flowers. Thereby it creates a source of joy and relaxation.
Other Activities
Consider individual interests and abilities when choosing activities for dementia patients at home. Here are some extra ideas:
Reading. Share books, magazines, or newspapers that align with your parent's interests. Reading together can be an enjoyable and mentally stimulating activity.
Watching Favorite Movies or TV Shows. Enjoying familiar movies or television shows can provide comfort and entertainment. Choose shows or movies that evoke positive memories.
Nature Walks. If your loved one enjoys being outdoors, take short walks in the neighborhood or local parks. Nature has a calming effect and can stimulate the senses.
Cooking Together. Simple cooking activities can be engaging for dementia patients at home. Prepare easy recipes together. It allows your parent to take part as much as they can.
Pet Therapy

. Spending time with pets can provide comfort and companionship.
Remember that the key to successful engagement is flexibility. The condition can affect a person's ability to start or sustain activities. So it's essential to adapt to their changing needs and interests. Be patient and open to trying new activities. And be attentive to cues that state when your loved one may need a break or a change of activity.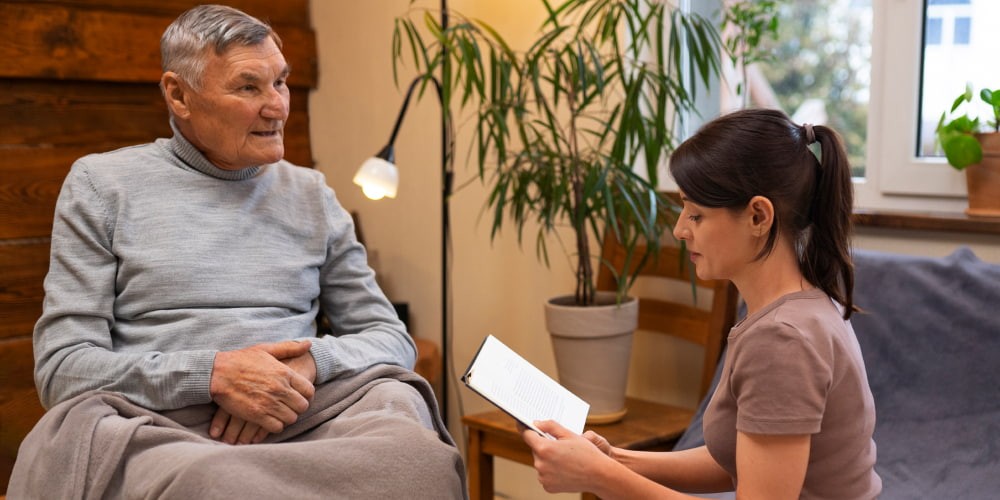 Creating a Safe Environment
Safety is a top priority when caring for a patient at home. The illness can lead to behaviors such as wandering, confusion, and forgetfulness. It can put your loved one at risk. Here are some strategies on how to care for dementia patients at home.
Adapting Your Home
For this:

Remove Tripping Hazards. Begin by ensuring that your home is free from tripping hazards. Remove loose rugs, clutter, and any obstacles that could cause falls. Secure electrical cords and cables along walls or under rugs to prevent tripping.
Install Handrails and Grab Bars. Install handrails along staircases and in bathrooms. These provide essential support for your loved one when moving around the house. In the bathroom, grab bars can help them maintain balance and prevent accidents. It's especially when getting in and out of the shower or bath.
Lock Away Potentially Harmful Items. This is another way how to care for dementia patients at home. Patients may mistake everyday household items for something else. Or they can forget how to use them safely. Lock away potentially harmful items. They're medications, cleaning supplies, sharp objects, and even kitchen appliances. Consider installing childproof locks on cabinets containing dangerous items.
Create Clear Pathways. Ensure that there are clear, unobstructed pathways throughout your home. This allows your loved one to move safely without encountering obstacles. Arrange furniture to create open spaces and cut the risk of accidents.
Improve Lighting. Adequate lighting is crucial for caring for dementia parents at home. It's especially for those who may have difficulty seeing clearly. Ensure all areas of your home are well-lit, including hallways, staircases, and entrances. Consider motion-activated lighting to assist nighttime navigation.
Monitoring Systems
For this:
Security Cameras. Consider using home monitoring systems, such as security cameras, to keep an eye on your loved one. These cameras can provide peace of mind. It allows you to check in on them remotely and ensure their safety. Be sure to respect your loved one's privacy and inform them about the presence of cameras.
Door Alarms and Motion Sensors. Patients may wander and become disoriented, which can be dangerous. For caring for dementia parents at home. install door alarms or motion sensors on exterior doors and windows. These devices can alert you if your parent attempts to leave the house unsupervised. Also, consider using a GPS tracking device or wearable technology. It's to help locate your loved one in case they wander away from home.
Medication Management Systems. Your parent may need medication. Then, consider using medication management systems. They dispense the correct doses at the right times. These systems can help prevent missed doses or accidental overdoses.
Routines and Schedules
Establishing a consistent daily routine can help reduce confusion and anxiety. Here are some tips for caring for dementia parent:
Meal Times. Set consistent meal times. And

ensure your parent eats

a

balanced diet

for their health. Be mindful of any dietary restrictions or preferences. And aim for nutritious and appealing meals.

Medication Management. If needed, establish a medication schedule. And use pill organizers to ensure correct doses at the right times. Consider using alarms or reminders to stay on track with medications.
Activity Planning. This is one of the best ways how you can care for dementia patients at home. Plan activities at regular times during the day. They're memory games or crafts. It's to provide structure and mental stimulation. Be flexible and adapt activities to your parent's energy and interests.
Bedtime Routine. Create a calming bedtime routine for better sleep. It includes activities like reading, listening to soothing music, or dimming the lights. Adequate sleep is essential for cognitive function and well-being.
Regular Exercise. Encourage gentle physical activity. For example, short walks or chair exercises. It's to maintain mobility and reduce restlessness. Exercise can also improve sleep patterns.
Social Interaction. Arrange regular visits from friends and family. It's to offer social interaction and emotional support. Loneliness can worsen symptoms, so staying connected with loved ones is crucial.
Conclusion
In conclusion, caring for a dementia parent at home is a multifaceted responsibility. It requires patience, understanding, and adaptability. By creating a safe and supportive environment, establishing engaging activities, and maintaining consistent routines, you can significantly improve the quality of life for both you and your loved one during this challenging journey.
FAQ
How can I stimulate my parent's memory?
Engage them in memory-enhancing activities. They're puzzles, reminiscing about the past, or playing memory games. Create a structured daily routine. Use memory aids like notes and calendars and encourage social interaction.
How do I handle aggressive behaviors in dementia patients?
When dealing with aggressive behaviors in dementia patients, prioritize safety. Stay calm, avoid confrontation, and redirect their attention. Identify triggers and try to address underlying causes like pain or discomfort. Seek professional advice and consider support groups for caregivers.
Are there any recommended diets for dementia patients?
A diet rich in fruits, vegetables, whole grains, lean protein, and healthy fats is good. Consider the Mediterranean or DASH diets. They emphasize these foods and have shown potential benefits for cognitive health. Consult a healthcare professional or a registered dietitian for personalized dietary recommendations.