Having an understanding of the phases of seizures is crucial when it comes to managing this condition effectively. This knowledge is especially helpful for providing suitable treatment. It's worth noting that not all individuals experience every stage of a seizure. But recognizing the stages can help people with seizures to identify warning signs.
It's crucial to keep in mind that seizures can vary in type, severity, and symptoms. This is why it's important to collaborate closely with your healthcare provider. So that a personalized seizure treatment plan can develop, taking into account each individual's unique needs and symptoms.
This article will focus on three stages of seizures: the prodromal stage, the stage during the attack, and the stage after the attack. Separately, we will consider how seizures work. The symptoms and behaviors that occur at each stage will discuss. Also, the characteristics of each stage take into account.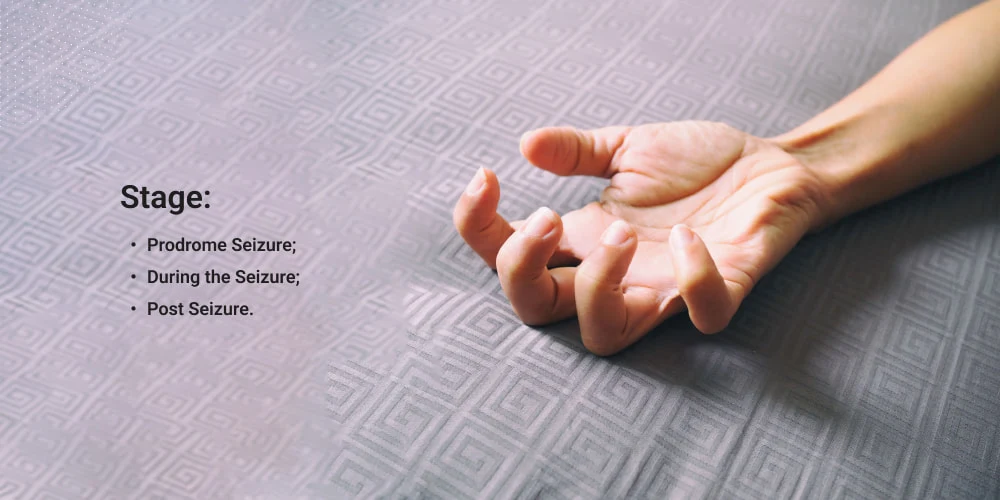 How do Seizures Work
?
Stages of seizures occur when there is abnormal electrical activity in the brain. But, during a seizure, this activity becomes uncontrolled and excessive. This disrupts the normal functioning of the brain and leads to various symptoms. This may depend on which part of the brain affects it. Normally, the brain's neurons communicate with each other through coordinated electrical impulses. During a seizure, this activity becomes uncontrollable and excessive. Disrupting the normal functioning of the brain and leading to various symptoms.
Seizures can cause by various factors. They include epilepsy, brain injury, infections, genetic disorders, and other diseases. Treatment may include medication to prevent seizures. This includes lifestyle changes and other interventions to treat underlying conditions.
Most people with experience can predict the onset of an attack by specific symptoms. But many patients attack at the most unexpected moment. It proceeds according to the following scenario:
In the first seconds of an attack, a person has a spasm of the vocal cords. Unintelligible screams are also possible;

Loss of ability to control movement. There are tonic convulsions with full tension of the body and a characteristic throwing of the head;

Intermittent breathing heard, vessels in the neck swell, and pallor of the skin observed;

Due to convulsions, there is a strong compression of the jaws. People often bite their tongue;

There are convulsive movements of the neck, limbs, and the whole body;

Foam comes out of the mouth, the tongue sinks in, and a noisy hoarse breath appears. This phase is the longest and can take up to 3 minutes;

Disappearance of convulsive phenomena and complete relaxation of body muscles.
After the seizure, the person may confuse, disoriented, or sleepy. They may have difficulty speaking or moving and may feel weak or tired. Some people may also experience headaches, muscle aches, or other physical symptoms after all the stages of seizures.
What happens after a seizure call the postictal phase. This may depend on the severity of the attack. We'll talk about this and other stages next.
Prodrome Seizure: 1 Stage
The prodrome stage is the initial phase of a seizure that precedes the actual onset of the seizure. At this stage, a person may experience minor changes in the condition. They serve as warning signs that an attack is imminent.
Symptoms
Not all people with epilepsy experience the prodromal stage. Also, symptoms can vary from person to person. Some common signs of the prodromal phase of seizures include emotional changes. These include anxiety, irritability, or depression. Physical symptoms such as headache, fatigue, or muscle tension may also occur. Besides, there may be changes in appetite or sleep patterns. It is not uncommon to have difficulty concentrating or thinking clearly.
Features
Recognizing signs of the prodromal stage of seizures can be helpful for people. This allows them to take preventive measures and avoid injury. But, it is important to remember that not all seizures have a prodromal stage. Some of them may appear suddenly and without warning.
People need to work closely with their healthcare providers. Communication with a specialist is important to develop individualized treatment.  This can tailor to their symptoms and needs. This can help manage seizures and improve the quality of life.
During the Seizure: 2 Stage
During a seizure, abnormal electrical activity in the brain triggers the ictal stage. This stage manifests many symptoms. Symptoms can vary in number and intensity depending on the type and severity of the seizure.
Symptoms
Some common symptoms of the ictal stage include:
Uncontrolled muscle contractions or convulsions;

Stiffening or rigidity of the body;

Loss of consciousness;

Confusion or disorientation;

Changes in breathing or heart rate;

Sensory symptoms, such as tingling, numbness, or visual disturbances;

Hallucinations or other changes in perception.
Symptoms of the ictal phase of seizures can vary greatly depending on the type of seizure. Some people may experience more than one seizure in a row. It is important for people with epilepsy to know the symptoms of seizures and to seek medical help. It is especially important to know this when seizures last for a long time. These may last longer than a few minutes or by other distressing symptoms.
Features
people with epilepsy need to recognize these symptoms. If they find it, seek medical attention. At this stage, it is extremely important to take measures to prevent injury to the person. This includes moving them to a safe place and unbuttoning clothing or jewelry. There may also be a refusal to hold them or put anything in the mouth. The ictal stage can be difficult. But treating seizures properly can help people cope with seizures.
Post Seizure
: 3 Stage
The third stage of a seizure is the post-seizure, which occurs after the seizure has ended. The brain may need time to recover and return to its normal function during this stage.
Symptoms
Symptoms of the postictal stage may vary depending on the type and severity of the seizure. But some common symptoms include:
Confusion or disorientation;

Fatigue or exhaustion;

Headache or muscle aches;

Nausea or vomiting;

Changes in mood or emotions, such as irritability or depression;

Memory loss or difficulty remembering what happened during the seizure.
Features
The duration of the post-seizure may vary from a few minutes to several hours. Thus, it is important to give the epilepsy patient time to rest and recover. At this stage, it is worth observing the patient. In this way, you can prevent the subject from showing signs of injury or complications. The rare complications are difficulty breathing or seizures that do not stop.
Once the postictal phase of seizures is over, it is important to see your health care provider. This is to check the seizure treatment plan and adjust it if necessary. This may include medication changes, lifestyle changes, or other interventions. All actions should aim at preventing future seizures.
A good understanding of seizures is critical to recognizing warning signs. It is important to work closely with your doctor. This way, you can maintain a stable state and effectively cope with seizures. In the event of a relapse, a doctor can help prevent further seizures.
Seizures can be complex. But proper care and treatment can enable people with epilepsy to lead full and active lives. Focus on seizure management by working with health care providers. This way, you can achieve the best possible results. This may include sticking to your medication regimen, making lifestyle changes, and avoiding triggers that can lead to seizures. With the right resources, people can live fulfilling and meaningful lives.
FAQ 
What is the most serious seizure?
One of the most serious types of seizures is status epilepticus. These are prolonged seizures that last more than five minutes without stopping. They may also be with incomplete recovery of consciousness.
Seizures can trigger by a variety of factors, and triggers can vary from person to person. Some common triggers of seizures include: sleep deprivation, anxiety, alcohol/drug use, missing medication doses, hormonal changes, infection, and others. It may not be possible to identify a specific seizure trigger. Seizures can also occur without warning. People with epilepsy need to prepare for seizures and have a plan to stop them.
What are the 3 phases of a seizure?
The three phases of a seizure: 
The prodromal phase. This is the first phase of a seizure, which may occur hours or even days before the seizure itself; 

The ictal phase. This is the second phase of a seizure, which is the actual seizure itself;

The postictal phase. This is the third and final phase of a seizure, which occurs after the seizure has ended.