Scientists have not yet fully explored the multifaceted and complex human body. Many systems, subsystems, and organs work harmoniously to prolong life. And one of the most critical systems in the body is the musculoskeletal system. If there is a failure in it, it significantly worsens a person's life. Common musculoskeletal system diseases include:
Osteoporosis;

Scoliosis;

Fibromyalgia;

Osteoarthritis.
All people are prone to pathologies of the musculoskeletal system. But the risk group includes athletes. Besides, the risk is high in elders and people with osteoporosis. It is due to calcium deficiency, which leads to weakening of the bones.
Diseases of the muscular system have various symptoms. They depend on the illness's nature and degree of development. In the absence and untimely treatment, clinical manifestations become more pronounced. And over time, pathology can even lead to disability. Thus, it is important to contact specialists immediately when signs appear. It can prevent the progression of musculoskeletal problems.
Understanding Musculoskeletal System Diseases
Each of you has a musculoskeletal system. It is an intricate network of bones, muscles, tendons, ligaments, and joints. They work together to support your body and enable movement. However, like any other system in the body, it is susceptible to various conditions. And they can affect its function. So, understanding musculoskeletal system diseases is essential to taking care of your health. For many people who experience these states can lead to pain, limited movement, and reduced quality of life.
Doctors have a relatively long list of musculoskeletal disorders. And unfortunately, they can attack anyone at any time. The reasons for their appearance can be different. Often, such conditions result from injuries, untimely treatment, or an unhealthy lifestyle. Also, if you often give yourself physical exertion, it damages the musculoskeletal system.
Thus, knowing issues of the musculoskeletal system is vital for effective health management. The better you understand the causes, symptoms, and possible treatments, the more control you have over your health.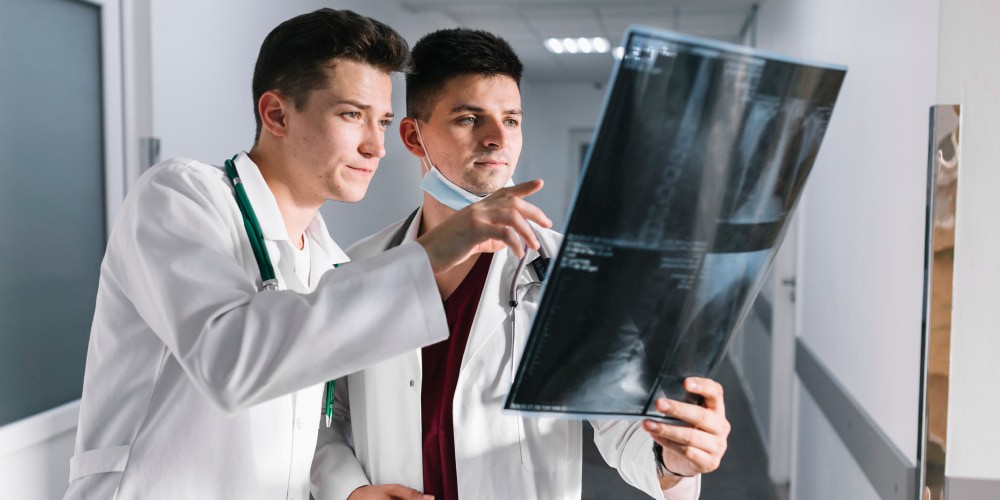 Common
Musculoskeletal System Diseases
It is difficult to overestimate the general threat posed by common musculoskeletal problems to people's lives. These conditions can significantly affect a person's ability to function normally.
One of the most common diseases of the musculoskeletal system is arthritis. It is an inflammatory ailment of the joints that can lead to serious complications. Arthritis can cause severe chronic pain, swelling, and limited joint movement. In extreme cases, this can lead to disability.
Other common diseases include muscular dystrophy and tendonitis. Muscular dystrophy is a group of genetic disorders. They lead to progressive degeneration of muscles. Tendonitis is an inflammation or irritation of a tendon. It is often caused by repetitive motion or overuse.
You can continue listing this type of disease for a long time. According to our experience, more and more people turn to doctors with musculoskeletal problems every year. And what other examples of them exist? Read the following list of musculoskeletal disorders:
Osteoarthritis
Degenerative-dystrophic joint damage is osteoarthritis. Injury to the joint surfaces' cartilage tissue is the root of this problem. At the same time, not only cartilage tissue is involved in the pathological process. Also, it includes bone, joint bursa, ligaments, and muscles. Osteoarthritis can develop at any age. It occurs in every third person aged 60-70  and is present in 43% of people over 80.
Rheumatoid Arthritis
It is a complex inflammation in the connective and bone tissues of the joints. Small joints of fingers and toes, wrists begin to suffer first. More often, the lesion appears symmetrically. If the joints on the right hand begin to hurt, a little later, pains appear on the left as well. People with such signs of musculoskeletal disorders face difficulties in everyday life. If it progresses, a person cannot pick a glass of water normally because of the pain.
Osteoporosis
Osteoporosis is a chronic disease of the bone system. It is characterized by decreased bone density and an increased risk of fractures. Symptoms of osteoporosis can include back pain, stooping, and bone fractures. The consequences of the disease can be severe. It has reduced quality of life, limited movement, and disability.
Fibromyalgia
Fibromyalgia is a chronic neurological disease. It causes widespread pain in the muscles and connective tissue. Fibromyalgia symptoms include constant pain, fatigue, sleep disturbances, and low mood. This musculoskeletal system disease can significantly affect the quality of life. It limits physical activity, work productivity, and social interaction.
Muscular dystrophy
It is a group of chronic muscle diseases. It is characterized by progressive muscle weakness and muscle degeneration. At the same time, the diameter of muscle fibers decreases. The process mainly involves skeletal muscles, rarely internal organs. Diseased muscles gradually lose their ability to contract and fall apart.
Scoliosis
It is one of the most common diseases of the muscular system. It is a spinal defect with a lateral curvature of the spine. Our research shows that it occurs most often in teenagers. Symptoms of scoliosis include uneven shoulders, body tilt, and uneven shoulder blades. In severe cases of scoliosis, breathing problems, and limited movement can occur.

Diagnosis of Musculoskeletal System Diseases
Doctors usually begin the diagnosis by taking a medical history. They ask patients about the duration and intensity of pain.
During observation, the doctor evaluates the patient's movements and signs of musculoskeletal disorders. It can be brokenness, swelling, limited movement, or poor posture. After that, the doctor can prescribe extra studies. These include X-rays, computer tomography, or MRI. These studies can provide detailed information about the condition of the bones, joints, and muscles. 
Most often, patients with musculoskeletal system diseases turn to neurologists. But based on research, you may need the advice of other specialists. In general, diagnosis is made thanks to the following steps:
1. Physical Examination and Patient History
These are essential stages in diagnosis. During the physical examination, the doctor evaluates the mobility of the joints and conducts test movements. Taking a patient's history helps identify symptoms and factors that influence the condition. Both elements contribute to an accurate diagnosis.
2. Imaging Techniques
The imaging technique is MRI, CT, and ultrasound studies. Doctors use them for the whole list of musculoskeletal disorders. These techniques are for obtaining detailed visualization of the musculoskeletal system. They allow medics to assess the patient's condition. The images' results help the doctor get objective information about the patient's health.
3. Laboratory Tests
These tests check indicators that may be associated with musculoskeletal disorders. They help detect inflammatory markers, rheumatic factors, and other biochemical indicators. The results of laboratory tests help the doctor establish a diagnosis better.

Treatment Approaches for Musculoskeletal System Diseases
Any disease requires appropriate treatment. If you skip this stage, the disorder will begin to progress. The same thing happens with the musculoskeletal system. So, a comprehensive treatment approach is necessary for this.
Usually, treatment can include conservative methods to avoid

signs of musculoskeletal disorders

. These are physical therapy, pharmacological drugs, and rehabilitation procedures.

The doctor may prescribe anti-inflammatory drugs and pain relievers.

Physical therapy, such as massage, muscle exercises, and stretching, can help restore mobility.

A healthy diet and regular physical activity can help improve the condition of the musculoskeletal system.
When conservative treatment does not bring enough results, doctors prescribe surgical intervention. But they usually include the following treatment steps:
1. Medications
Doctors use different types of medicines. For diseases of the muscular system, it includes:
nonsteroidal anti-inflammatory drugs to reduce inflammation;

pain relievers for pain relief;

immunomodulators

and biological agents to control disease activity;

corticosteroids for local treatment of inflamed joints and muscles;

chondroprotectors to strengthen cartilage tissue and improve joint function;

muscle relaxants to relieve muscle spasms.
Medics individually select drugs, ensuring the greatest therapeutic effect. The doctor's supervision and individual approach guarantee optimal treatment.
2. Physical Therapy and Rehabilitation
Doctors conduct them considering the specific needs of each patient. Types of physical therapy include:
movement exercises that improve muscle strength and flexibility. They also increase joint mobility;

stretch marks to preserve tissue flexibility;

massage, ultrasound therapy, and electrical stimulation. They are to relieve pain and reduce inflammation;

walking on simulators, pool therapy, and balneotherapy. It is to improve functionality and return to an active life.
Symptoms of musculoskeletal problems can be different. Thus, the rehabilitation plan for each patient is individual.
3. Surgical Interventions   
Doctors prescribe surgical interventions when the disease progresses strongly. Such interventions may include:
arthroscopy for joint reconstruction;

arthrodesis for the treatment of severe forms of arthritis;

corrective surgery to correct deformities;

endoprosthesis for the treatment of arthrosis.
To do surgical treatment, medics first test signs of musculoskeletal disorders. Doctors carefully plan and perform the operation. They do everything to ensure the optimal function of the joint or spine. Postoperative rehabilitation plays a vital role in the complete restoration of functions.
Conclusion
Sometimes a careless attitude to health leads to musculoskeletal system diseases. And sometimes it appears due to other valid reasons. So, taking care of your health and consulting with doctors regularly is crucial.
If you encounter such conditions, contact us for help. Lone Star Neurologists will perform the examinations and tests you need. Based on them, we will evaluate your musculoskeletal system. And then, we will provide you with effective modern treatment.
FAQ  
What are the common signs of musculoskeletal system disorders?
Some common signs are muscle weakness and joint instability. Also, it can be difficulty to perform everyday tasks.
Can I prevent musculoskeletal system diseases?
You can reduce the risk of their occurrence. For this, you need to do sports and practice proper posture regularly.
What are the treatment options for arthritis?
It includes physical therapy, exercise, and lifestyle modifications. They are a part of the treatment plan for arthritis to improve joint function.
How can exercise improve your muscular system?
Exercise stimulates muscle growth and increases muscle mass. It enhances strength and power.