Raynaud's disease is a chronic disease of the autonomic nervous system. Peripheral capillary spasms usually characterize it. It occurs in response to cold or stress. Doctors may also be unable to treat due to external circumstances. Progressing leads to tissue atrophy, up to the appearance of:
non-healing ulcers;

gangrene. 
The pathology causes the patient physical and psychological discomfort. Sometimes it leads to disability. Doctors make the diagnosis clinically. The disease can be primary or secondary. Professionals perform an examination to differentiate between the primary and secondary phenomena. Raynaud disease treatment in uncomplicated cases includes:
cooling prophylaxis;

auto-training;

smoking cessation;

if necessary, vasodilators of calcium channels (e.g., nifedipine) or prazosin. 
Timely visits to a doctor and adequate treatment for Raynaud's syndrome will help to stabilize the process. So a person can avoid complications and maintain a high quality of life for a long time. Read on to learn more about this disease.
What is Raynaud's Syndrome
Raynaud's syndrome is a serious condition caused by peripheral vascular spasms. It causes a disturbance of blood flow in small blood vessels in the legs and hands. This syndrome is usually one of the symptoms of many other diseases. People face it in rheumatism, endocrine disorders, psychopathies, etc.
Women and residents of regions with cold climate often suffer from this syndrome. There are three main stages in Raynaud's disease diagnosis:
Angiospastic stage.

The patient experiences mild tingling, goosebumps, and chills.  The skin pales, the fingers lose sensitivity, and a breaking pain sensation may appear. Hyperemia follows this.

Angioparalytic stage.

People have exacerbations of longer duration, cyanosis (blushing), and pronounced swelling occurs. The pain becomes worse. The patient may often run a high fever and break into cold sweats. And human even experiences anxiety and apprehension.

The condition is difficult both physically and psychologically. In th

e

tropho-paralytic stage

, the pain becomes less. But if Raynaud's disease is not treated, the consequences for the fingers are much worse. Ulcers and areas of necrosis appear – the fingers are literally destroyed. Then the patient becomes disabled.
The third stage is truly dangerous, while the first two stages only lead to it. But treatment and observation by a doctor should begin as early as possible. It is necessary to prevent complications.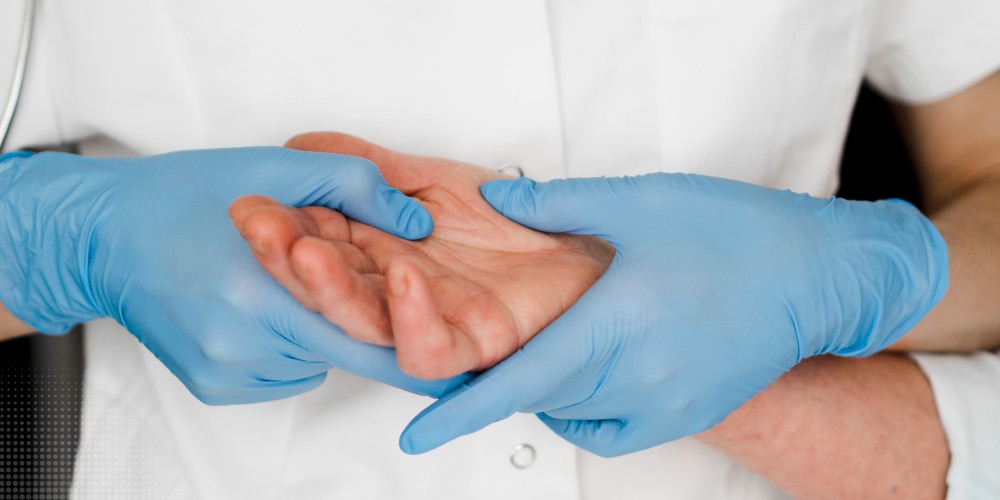 Raynaud's Diagnosis
Only a specialist like a neurosurgeon can determine the symptoms. A good professional can prescribe treatment for a condition like Raynaud's disease.
Diagnosis of the disease includes:
analysis of complaints. It can be consecutive changes in the coloration of the skin of the fingers:
pallor;
blueness;
lividity;
analysis of medical history, including questioning about how the disease began and continued;

general examination.
The medical practitioner performs a cold provocation test. It happens if there are no clinical manifestations during the examination. Typical symptoms manifest if Raynaud's phenomenon is present. The medical practitioner excludes other diseases in which Raynaud's syndrome may manifest. It helps to make a proper Raynaud disease treatment as an independent condition. 
To properly determine Raynaud's diagnosis, the following examinations are necessary:
general blood test;

examination of the capillaries of the nail bed;

blood tests for markers of possible background diseases;

rheovasography and plethysmography. It helps assess blood flow in the extremities and the condition of the vessels;

ultrasound of the kidneys;

consultation with a rheumatologist or

neurologist.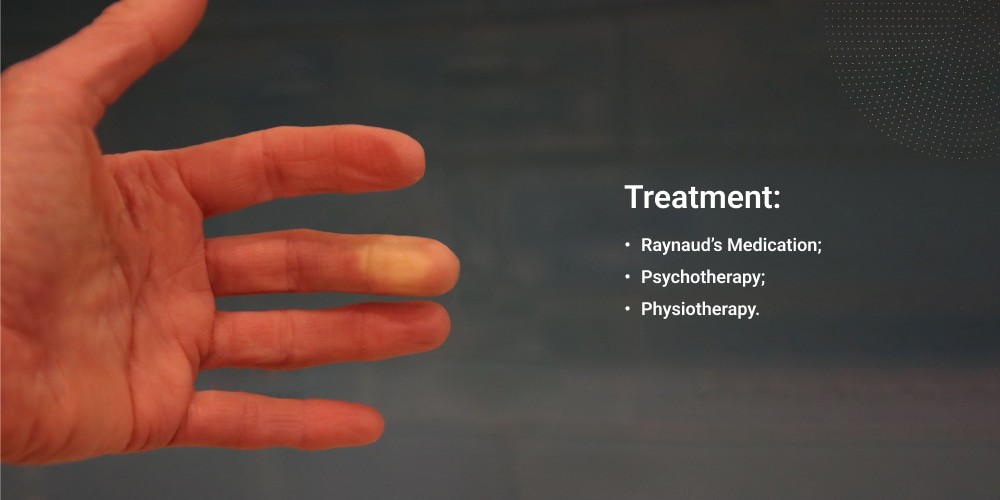 How to treat Raynaud's disease?
Raynaud's diagnosis shows that stress is one of the possible factors in the development of the disease. Thus, the treatment aims to work with the blood vessels and improve the person's quality of life. The medical practitioner may use:
vasodilators;

antispasmodics;

glucocorticosteroids;

cytostatics, and other medications to restore the physical condition. 
The medical practitioner may prescribe a sparing operation as a surgical intervention as Raynaud disease treatment. But in extreme cases, patients may require amputation of a limb or part of it. It is important if it is necessary to correct the blood vessels.
At the same time, doctors use other methods to treat Raynaud's syndrome:
psychotherapy

. It is excellent at reducing the level of stress, as well as discovering the hidden causes of repressed stress, if any;

physiotherapy

of different kinds. These are magnetotherapy, electrophoresis, paraffin applications, etc.;

treatment with mud

;

diet

focused on a healthy diet;

special massages

and much more.
After consultation with a doctor for a syndrome, you can use some home remedies, such as pine baths.
Treatment for Raynaud's syndrome, as a rule, is long. So it requires patience and strict adherence to all the treating physician's recommendations. Read more about some of the treatment methods below.
Raynaud's Medication
There is no cure for Raynaud's phenomenon. But some medications can help manage the symptoms.
One of most common Raynaud's medications is calcium channel blockers, such as:
These medications work by relaxing and widening the blood vessels. As it helps improve blood flow to the affected area. Humans can take them orally or as a topical cream. Doctors often prescribe them for long-term use.
Alpha-blockers, such as prazosin, are another type of Raynaud's medication. They work by blocking the action of certain hormones. These hormones cause the blood vessels to constrict. Topical nitroglycerin is a medication that helps relax the affected area's blood vessels.
Drugs that improve blood flow, such as prostaglandins, may sometimes be prescribed. These Raynaud's medication works by:
opening the blood vessels;

increasing blood flow to the affected area.
Psychotherapy
Living with Raynaud can be challenging and may cause:
anxiety;

depression;

other emotional symptoms. 
Psychotherapy, such as cognitive behavioral therapy (CBT), can be used. This Raynaud disease treatment helps individuals develop coping strategies and address any underlying psychological factors. As they may be exacerbating their symptoms.
CBT is a talk therapy that focuses on:
changing negative thoughts and behaviors;

replacing them with more positive and adaptive ones. 
This Raynaud disease treatment can help individuals to:
develop a more positive outlook;

reduce stress and anxiety;

improve their quality of life.
Physiotherapy
Physiotherapy may be used as a supportive treatment for Raynaud's syndrome. Especially if individuals are experiencing pain or limited mobility due to their symptoms. Physiotherapy cannot cure Raynaud's, but it can help individuals to:
manage their symptoms;

improve their overall quality of life.
Physiotherapy for Raynaud may involve exercises to improve circulation and range of motion. It can be:
hand and finger exercises;

stretching;

low-impact aerobic exercises.
These exercises can help increase blood flow to the extremities. Also, they reduce the severity and frequency of Raynaud's attacks.
In addition to exercises, physiotherapy may also involve other modalities such as heat therapy or massage. Heat therapy, such as using warm compresses or paraffin wax baths, can help improve circulation and reduce pain and stiffness. Massage as Raynaud disease treatment can also help increase blood flow and promote relaxation.
If you are looking for specialized and compassionate care for Raynaud's disease, look no further than Lone Star Neurology. Our team of experienced neurologists is dedicated to providing individualized treatment plans. So we are to help manage your symptoms and improve your quality of life.
Our team of experts will work with you to develop a personalized treatment plan for Raynaud's syndrome. It will address your unique needs and concerns. So you can be sure that you receive the best possible care.
We understand the impact that Raynaud's can have on your daily life, and our goal is to help you manage your symptoms and live your life to the fullest. Contact Lone Star Neurology today to schedule an appointment and take the first step towards a more comfortable and fulfilling life with Raynaud's disease.
FAQ
What is the best treatment for Raynaud's? 
The best treatment for Raynaud is medications. However, lifestyle modifications can effectively manage symptoms and prevent complications. You can try keeping warm, stress management, regular exercise, and medication management.
What triggers Raynaud's disease?
Exposure to cold temperatures or stress among other factors can trigger Raynaud's disease. Also it can be , smoking, and certain medications.
Raynaud's disease is generally not considered a serious or life-threatening condition. But it can cause discomfort, pain and may lead to complications in some cases. It is important to diagnose and treat the symptoms. So you can prevent further complications properly.
How does Raynaud's syndrome manifest itself?
Raynaud's syndrome is represented by short-term episodes of discoloration of the skin of the fingers and feet. It occurs in response to low ambient temperatures, contact with cold objects, and stressful events. The vascular reaction may affect the nose, lips, and ears.