Wondering what causes Parkinson's disease, you may find different triggers. Gender, age, genetics, and environmental factors are the most frequent reasons for gradually or suddenly developing severe neurological deterioration in tremors and motor dysfunctions. 
According to Michael J. Fox Foundation research, a combination of the different Parkinson's-provoked causes contributes to a sharp growth of this syndrome cases by 2040. Therefore, the precise diagnosis with a detailed justification of relevant ailment reasons allows for forecasting treatment plans and drawing up an effective relief program with pharmaceutical products, specific dietary formulas, and physical exercises. All actions aim to prevent the spreading of this syndrome modification. The highly qualified Lone Star Neurology team has the proper experience and knowledge to find out:
What causes Parkinson's

ailment and stimulates its development;

And ways to prevent Parkinson's disease.
Causes of Parkinson's Disease
The potential patients suffering from neurological disorders like Parkinson's syndrome could forecast their indicative diagnosis after analyzing some exact causes of the particular ailment. So, the complexity of risk factors that could have progressive or chronic intervention effects depends on triggers that unify internal and external factors or detected diseases to stimulate Parkinson's progress.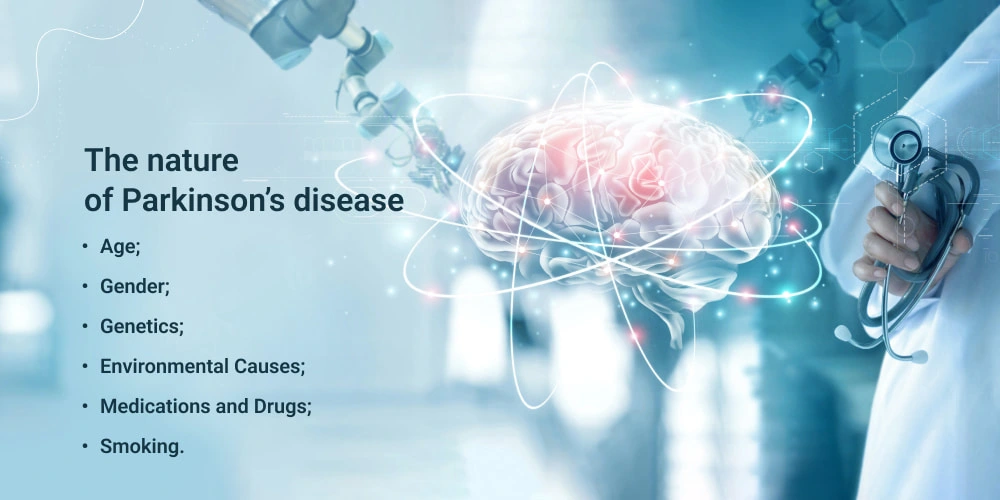 The nature of Parkinson's disease makes close ties with neurological ailments like dementia, depression, anxiety, and other mental deterioration. At the same time, this Parkinson's feature allows distinguishing a particular spectrum of the syndrome causes, provoking different ways of developing its symptoms.
Therefore, the success of therapy procedures depends on:
In-time diagnosis concluded by the certified specialist upon the respective clinical tests and examinations;

Patient's physical, emotional, and mental readiness to put maximum efforts into the effective treatment process;

Helpful methods to mitigate intensive risk factor impact and eliminate irreversible modifications of the motor and cognitive functions.
The detailed analysis of risk factors creates a comprehensive picture for adjusting therapy to approaches to dynamic Parkinson's ups and downs.
Age
The age line of 60 years is a sign to pay particular attention to health state and neurological disbalances. However, intensive therapy exercises and medical prescriptions are the only consequences of an accurate diagnosis. Potential groups' preliminary activities should initiate to eliminate risk factors beforehand to prevent risk factors from provoking age-related diseases.
Once you are 40 or 50 years old, you need to follow some advice for maintaining brain activities and keeping the nervous system toned:
Reading expands vocabulary size and strengthens memory qualities;

Physical exercises train muscles and improve cardiovascular and respiratory functions;

Crossword puzzles and logic quizzes stimulate brain activities and relieve nerves.
Gender
To build a reasonable diagnostic approach suitable for any patient living with neurological disorders, treating neurologists should determine the primary trigger answering the question: "How do you get Parkinson's?". The gender analysis of the Parkinson's-positive patients shows that men are more frequently diagnosed with this syndrome than women. According to clinical fact-findings, the number of male Parkinson's patients exceeds the total female number.
However, there are some aspects related to the gender factors and capable of making corrections in the overall statistic trends:
Age-and-gender combined

investigations

show average feminine and masculine indicators aged 53.4 and 51.3, respectively. Therefore, women have Parkinson's later than men. So, male patients should be aware of their mental and physical health when they turn 40 years old.

Bad habits and stressful lifestyles increase neurological problems among the male population. The constant troubles and stresses lead to different motor, cardiovascular, and respiratory dysfunctions that shorten men's lives. In addition, psychologists classify men as more reserved persons who hide their emotions and worries.
Genetics
This neurological pathology mainly results from heredity. Parkinson's causes are often inherited from previous generations like grandparents or great-grandparents. Children do not always receive the Parkinson's transmitting genes from their parents. A comprehensive picture of family health abnormalities or diseases is a massive step toward effective treatment of this neurological syndrome.
If you have a relative with Parkinson's, it is necessary to be examined by professional neurologists and diagnosticians to ensure the absence or slow progress of the motor deterioration.
To detect abnormal brain activities and suspend impairment effects, the patients are requested to perform:
MRI provides a detailed and comprehensive picture of probable ailments;

CT is similar to the MRI technique to find out epicenters of neurological abnormalities;

And blood tests are clinical mediums to identify the patient's health state and the semi-confirmed diagnosis.
Environmental Causes
Ecological triggers have natural and anthropogenic origins:
Fauna representatives with specific poison formulas.

Biological

risk factors

mainly refer to poison-like reactions

to

deteriorating vegetative systems and treating

Parkinson's

background. The typical samples of biological reasons are dangerous human insects. Tick-borne encephalitis spreads substances particularly to develop paralysis effects related to late-stage Parkinson's signs;
Harmful industrial and transport emissions. Inhale and exhale of highly concentrated agricultural, metallurgical or relevant manufacturing products gradually lead to respiratory and neurological ailment; 
Permanent contact with chemical substances. The tremor epicenters are more frequently formed during a long-term period of the persons working with harmful chemical agents. Therefore, Parkinson stimulated brain areas could become focal points directly influenced by toxic liquids or steams.
Herbicides and Pesticides
Farmworkers and garden keepers are in the group at risk. Exposure to herbicides and pesticides is divided into two subtypes: 
Inhale toxic odors.

When you use pesticides or herbicides to spray plants or trees, you can inhale chemical substances. A small amount of solution could also infect your skin or cloth. If such actions are random, you have a low chance of receiving neurological disorders. Otherwise,  permanent usage progressively destroys cognitive, respiratory, and motor functions.

Intake of non-organic foods.

Consumption of non-organic and GMO products indirectly deteriorates tissues and cells, affecting health indicators

.

Vegetables, fruits, or berries cultivated with chemical protectors are dangerous for human organisms.  
Heavy Metals
Iron, mercury, lead, and manganese are the main chemical agents with long-term deterioration abilities:
Such harmful substances are spread in the territories of large metallurgical or manufacturing industries;

Acid rains and pollution emissions caused by vehicles, highly energy consumed equipment, and irrational waste management provokes the accumulation of heavy metals in the air, waters, and soils.
The final consequences of their permanent impact demonstrate the additional risk factors for developing the Parkinson's syndrome subtypes. In particular, heavy metals choose brain areas and core muscles to destroy main channels and functions responsible for motor and cognitive abilities.
Solvents
Solvents are chemical substances used to dissolve solutions, greases, and dyes. Such agents are of liquids, gases, and solid forms. Constant working with toxic detergents also leads to neurological ailments like Parkinson's disease.
Clinical tests determine Parkinson's disorders, and reactions of solvents are unlikely to unify. However, a few cases confirmed are evidence of the long-term adverse effects of solvents which develop tremors and other motor dysfunctions.
Head Trauma
The head traumas or injuries are directly associated with the increased probability of developing Parkinson's symptoms. Accidental, work- or home-related emergencies frequently cause head injuries and severe back and neurological systems problems.
In this case, the post-treatment period should include scheduled examinations and consultations with the neurologists. Such actions will prevent secondary risk factors for pathological process progression, including significantly severe consequences of Parkinson's disease.
Emotional crises and other provoking cases like depression and anxiety have a double meaning:
They result from physical traumas and mental deterioration, decreasing the chances of avoiding neurological disorders;

They could be independent factors gradually destroying brain areas and making neurological balance

.
Medications and Drugs
The side effects of many medicines and drugs induce Parkinson's deterioration signs:
People with cardiovascular or psychological problems take medications that contain some Parkinson's-induced substances;

Dopamine is commonly used to control motion functions. However, these substances are present in the brain structure and regulate neurotransmission functions. The increased amounts of dopamine qualify as

Parkinson's risk factors

and reduce motor activities;

Calcium channel blockers are used to adjust high blood pressure and chest pains. Digestive deterioration is required for pharmaceutical products with some substances which could provoke Parkinsonism.
People who treat psychological and mental health problems should carefully follow the medication prescriptions and pay attention to the products. Pharmaceutical ingredients acceptable to many neurological and depression cases identify positive reactions for stimulating Parkinson's development.
Smoking
Bad habits are a source of various fatal health problems and even qualify as one of Parkinson's causes. Smoking has different scientific justifications regarding its effects on tremor symptoms:
Nicotine, alcohol and drugs provide harmful deterioration to the central nervous system. Permanent smoking is identified as a negative factor associated with respiratory dysfunctions. 

You may find some scientific discussions stating that smoking is part of the integrated treatment approach used to stimulate sedative effects and relaxing qualities. However, experiments and tests are not enough to promote such extraordinary rehabilitation therapy as an independent therapy method. Obviously, such clinical assumptions do not emphasize that starting smoking is a preventive measure for Parkinson's treatment. The relief powers of nicotine-contained products probably refer to a Parkinson's reduction medium but require proper medical control and consent.
Ways To Prevent the Parkinson's Risk Factors
Physical exercise and healthy foods are helpful for preventing Parkinson's development. It is necessary to:
Eat organic and healthy products;

Choose active physical exercises;

Dietary formula enriched with vitamins and Omega 3s;

Keep mental health strong and balanced;

Do not neglect scheduled health examinations;

Use special medicine prescriptions.
Also, neurological specialists recommend applying scientifically approved methods to avoid potential Parkinson's inducers.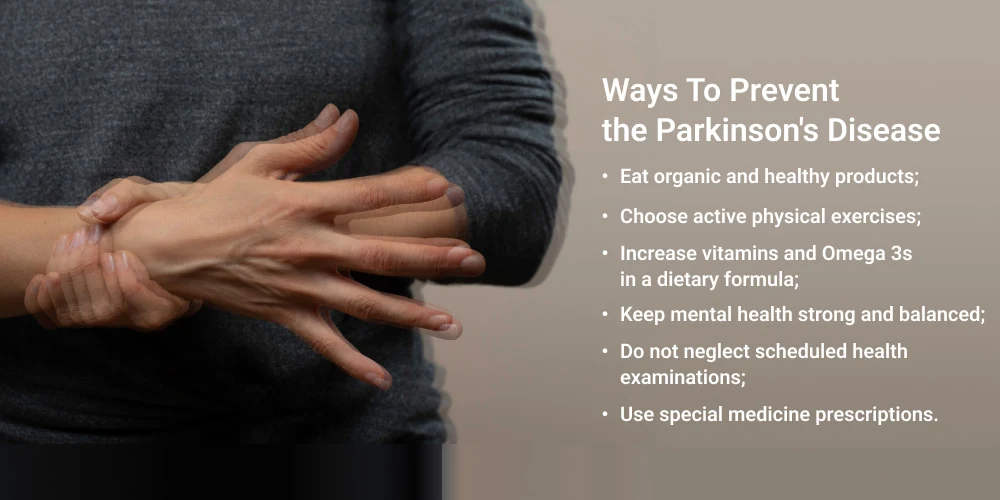 Now let's look at these useful tips in more detail. They will help you improve your motor and memory abilities:
Eat organic and healthy products. Fatty GMO-contained products, fast foods, preservatives, vegetables, and fruits cultivated with environmentally harmful substances block cognitive abilities and provoke Parkinson's symptoms.
Choose active physical exercises. Inside or outside activities like walking, yoga, jogging, aerobic training, and active sports help to strengthen muscles and improve attention concentration. Such health-supportive methods are approved therapy measures during experimental and scientifically justified Parkinson's treatment plans.
Increase vitamins and Omega 3s in a dietary formula. Organic foods or capsules full of vitamins, minerals, and Omega 3s components should be taken every day to reduce

Parkinson's

-induced

causes

.

Keep mental health strong and balanced. Along with modified fitness and eating habits, you need to practice activities that calm your emotional and mental condition. Some meditation sessions could become helpful and boost positive brain impulses.
Do not neglect scheduled health examinations. If you have assumptions about your neurological dysfunctions, you should adhere to annual consultations with appropriate specialists. The preliminary interventions drastically reduce

risk factors

for

the

progression of the

Parkinson's

disease subtypes.

Use special medicine prescriptions. To address the early detected Parkinson's symptoms, the treating neurologists prescribe particular medicine. Do not refuse to use such recommendations if you wish to suspend the deterioration effects.
Examine Parkinson's Triggers with Lone Star Neurology
The self-assessment activities could hardly identify an accurate diagnosis, especially if you try to distinguish neurological disorders. Our certified Lone Star Neurology specialists with rich experience can detect the patient's health condition and the core Parkinson's risk factors provoking motor and brain dysfunctions. Our doctors are always ready to provide professional and timely medical care.
FAQs 
What is the greatest risk factor for Parkinson's disease?
According to open medical research fact-findings, age and genetics are the most dangerous risk factors for Parkinson's disease.  
What is the risk of getting Parkinson's?
Females and males over 60 years old have a significant risk of getting Parkinson's. Slight signs resemble chronic fatigue or scarcity of vitamins. However, weak cognitive reactions and problems with the eyes, muscles, and the cardiovascular system should be subject to a detailed assessment by certified neurologists and diagnosticians to receive an accurate ailment.
Can an unhealthy lifestyle cause Parkinson's?
Some medical sciences consider that bad habits like smoking could directly provoke Parkinson's syndrome in the long term. At the same time, particular economic activities also affect human health. Farming or chemical processing industries pollute the environment and destroy living functions provoking fatal diseases.
Can Parkinson's be prevented?
If you assume pathological factors affecting your mental, motor, and respiratory abilities or recognize family chronic or progressive diseases, you need to undergo a medical examination at a neurological clinic. The in-time diagnosis helps draw up effective therapy programs and preventive measures to prolong normal life activities.
What are the early warning signs of Parkinson's disease?
Slow motions, slight tremors of the hands, sleeping problems, and deteriorated digestive functions are determined as the first signs of neurological disorders, including Parkinson's syndrome. To identify the accurate diagnosis, you need to receive a qualified medical conclusion upon the specific tests and examinations.