Forgetfulness, loss of concentration, and the like can happen to anyone. And it happens regardless of human age. Such problems are associated with memory loss. It can be due to a variety of factors. It includes aging, stress, medical conditions, and lifestyle choices. And the most important thing, in this case, is to take medicine for memory loss on time. Several drugs are available for memory loss, including cholinesterase inhibitors and memantine:
Cholinesterase inhibitors are medications that increase the levels of acetylcholine in the brain. It plays a key role in memory and learning. 

On the other hand, memantine works by regulating

glutamate activity

. It is a neurotransmitter that is involved in memory and learning.
These medications are typically for people with mild to moderate memory loss. It can be conditions such as Alzheimer's disease and dementia. However, it is crucial to note that these memory loss treatments may not work for everyone. You need to consult a doctor to be sure of the exact medication for yourself.
Tips to Deal with Losing Memory
Are you worried about memory loss because of aging? Or do you have trouble concentrating? Millions of people around the world experience memory loss every day. But in some, it turns into a disease, and in some, it is due to sleep or concentration disorders. If the brain's neurons remain alive, then the memory is okay. This way, you can restore your memory and keep it in good condition. In what ways? Read the following tips on it:
Eat foods rich in antioxidants, vitamin E, healthy fats, and zinc for better brain function. First of all, pay attention to oily fish. It has many benefits for brain function. Salmon, trout, tuna, and sardines are also good. They all contain omega-3 fatty acids. They help the brain produce nerve cells because they act as memories medicine. And also, they slow down the mental decline that inevitably comes with age.
The brain needs concentration to remember information better. When you don't get enough sleep, your memory activity drops to a deficient level. So, try to sleep an average number of hours. And also fall asleep at the same time every day.
Train your memory regularly
An excellent analog to memory loss treatment is memorizing one verse weekly. If not, get to know the words of your favorite poet. Remember the verse you learned on the way to work. Or learn a couple of foreign words every day. It helps to adjust your recollection and avoid further memory loss.
One of the best tips is medicine for memory loss. But you need to select them strictly with a doctor. Only doctors can choose the correct version of drugs and maintain your health.
Remember that each person's experience with memory loss is unique. What works for one person may not work for another. So, it's crucial to be patient with yourself and take the time to find strategies that work finest for you.
Can Medication Help Slow Memory Loss?
None of the medications can cure memory loss. Even with proper memory loss treatment, this disease will continue and will not go away. However, some medications can slow down memory loss. They do not stop the disease, but they slow down its progression.
One class of drugs to improve memory is cholinesterase inhibitors. They work by inhibiting the breakdown of acetylcholine in the brain. Thus, it increases the available levels of this neurotransmitter.
It is important to note that while these medications can help slow memory loss, they can not reverse or cure the underlying causes of cognitive decline. Additionally, these drugs may come with possible side effects. For example, it can manifest itself in the form of nausea, diarrhea, and headaches. So, it is crucial to consult a healthcare professional before starting any new medication to treat memory loss. It is forbidden to choose medicine for memory loss on your own. Do not choose to self-medicate, and do not try to fight this problem yourself. It is better to consult doctors, especially neurologists. They can identify the symptoms early and prescribe a suitable treatment.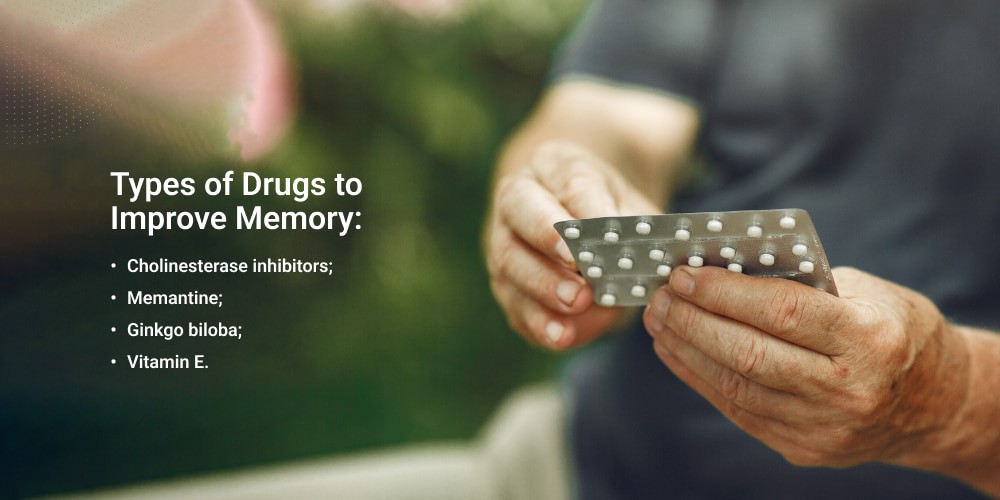 Types of
Drugs to Improve Memory
Note: You need to strictly use all the medicines listed below according to the doctor's prescription. DO NOT self-medicate or prescribe these drugs at your own will. Self-medication can be harmful to your health.
Memory loss and cognitive impairment can be frustrating and challenging experiences. It is mainly for people with conditions like Alzheimer's disease. While there is no cure for these disorders, several drugs to improve memory can help you. One of the most common types of medicines is cholinesterase inhibitors. Antidepressants, anxiolytics, and certain natural supplements also improve memory and cognitive function. 
Sometimes patients with memory loss do brain exercises, solve puzzles, and the like. But this is not enough to slow down memory loss. So, there are several types of memory medicine to help you improve memory loss. Some commonly used ones include:
1.Cholinesterase inhibitors
These medicines for memory loss work by increasing acetylcholine in the brain. Examples include donepezil, rivastigmine, and galantamine. They are a neurotransmitter involved in memory:
In the brain, they are released by certain neurons. It helps to transmit signals between nerve cells. 

By increasing the levels of acetylcholine, cholinesterase inhibitors help improve cognitive function. 

This way, it enhances memory, concentration, and thinking abilities.
2. Memantine
Memantine is a medication used to treat memory loss and cognitive impairment associated with conditions such as Alzheimer's disease. It works by blocking the activity of a neurotransmitter called glutamate. Very often, doctors prescribe this memory loss treatment combined with cholinesterase inhibitors. It provides a more comprehensive approach to treating cognitive impairment. Memantine blocks a specific type of glutamate receptor called the NMDA:
It is involved in the excessive activation of glutamate. 

By blocking this receptor, memantine helps to regulate the activity of glutamate in the brain. 

It acts as a protection for brain cells from damage.
Besides its effects on glutamate, memantine also has neuroprotective effects. This way, this memory medicine helps improve blood flow to the brain. 
3. Ginkgo biloba
It is a natural supplement thought to improve blood flow to the brain. Also, it protects against oxidative stress, which can contribute to memory decline:
Ginkgo biloba also has anti-inflammatory effects. 

It can help reduce brain inflammation that contributes to memory failure. 

Besides, ginkgo biloba protects brain cells from damage caused by free radicals.
While some studies have suggested that Ginkgo biloba can positively affect memory, the evidence is not clear. Because doctors need more research to understand its effectiveness fully. It is also important to note that this drug, to improve memory, can interact with other medications. But to ensure it, you need to consult with your doctor. Only they know what medicine for memory loss is best and safe for you.
4. Vitamin E
Vitamin E is a natural supplement and antioxidant. It is sometimes used to treat memory loss and cognitive impairment. It is another medicine for memory loss to protect against memory decline:
Vitamin E helps protect cells from damage caused by free radicals and stress.

Studies have suggested that vitamin E has neuroprotective effects. 

Exactly this helps to protect brain cells and promote their survival. 

Besides, it provides good blood flow to the brain. 

So

,

with the consumption of vitamin E, you can make your brain healthier.
It is important to note that these memory medicines are not suitable for everyone. Because each person accepts drugs differently. So, only your healthcare provider can give the right medication prescription.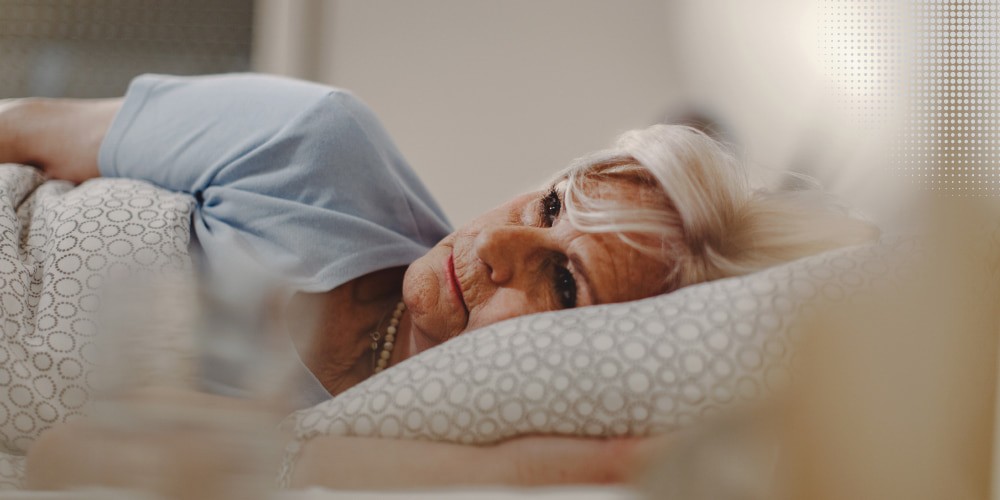 What Can Cause Memory Loss?
Medical conditions, lifestyle choices, and natural aging processes can cause memory loss. Sometimes these phenomena are normal age-related changes in the human body. And with its appearance, people just take a course of memory medicine for prevention. But memory deterioration can often indicate degenerative diseases. And the reasons for the appearance of memory loss can be:
As you age, your brain's ability to process information can decline.
Lack of sleep can badly affect cognitive function.
Medical conditions like Alzheimer's, dementia, stroke, and brain injuries can cause memory loss.
Chronic stress and anxiety can affect memory function and impair cognitive abilities.
Deficiencies in specific nutrients can cause memory loss. It refers to vitamin B12 and folate. 
Traumatic brain injuries can cause cognitive impairment.
Changes in hormones, such as those that occur during menopause, can affect memory function.
Alcohol and drug abuse can damage the brain and lead to memory loss.
That is, there are many reasons for memory loss. And it is almost impossible to detect it on your own. So, at the appearance of the slightest symptoms of memory loss, contact specialists. They will find the correct drugs to improve your memory. So, it will help to stop or slow down your problem in time. 
A Word From Lone Star Neurologists
Problems with memory and thinking can arise at any time in your life. And there can be many reasons for this, among which the most popular are neurological. So, to detect this problem early, visit Lone Star Neurologists regularly. Our wide experience will help you get your health back to its best state. And our newest approach to medicine will preserve your memory for a long time.
FAQ
What is the main cause of memory loss?
It's impossible to identify a specific cause for memory loss. After all, there are many of them, and they are all different. But among the popular options are alcohol, brain diseases, and emotional disorders.
What drugs help improve memory?
Cholinesterase inhibitors are popular drugs that help improve memory loss. They have a positive effect on brain function and enhance memorization.
What is the new prescription medication for memory loss?
Aducanumab is the new prescription medication for memory loss. Doctors only recently approved it. They say it is good for treating Alzheimer's and dementia.
Does age affect memory loss?
Yes. During aging, changes occur in the brain. Some of them lead to memory loss. But it happens to everyone individually.