A transient ischemic attack is a medical condition that demands our attention and understanding. We will delve into the world of TIA, shedding light on its definition, causes, symptoms, and potential consequences. This neurological event is very unpleasant and requires immediate treatment. The diagnosis is dangerous, so only experienced doctors should handle it. The diagnosis violates blood circulation in the brain, which is dangerous. So, if you or a loved one has manifestations of this attack, call an ambulance.
In most cases, doctors provide high-quality care for this condition. However, it is worth noting that an ischemic episode can have long-term consequences for the health of the whole body. In the management of this ailment, not only is immediate clinical care essential, but also further rehabilitation and control.
We will help you understand "what is TIA?", its symptoms, and what to do when they appear.
Understanding TIA: A Detailed Look
Professionals and patients often refer to such conditions as "mini-strokes" or "warning strokes." These are brief episodes of neurological dysfunction caused by temporary disruption of blood flow to the brain. These episodes usually last from a few minutes to several hours. They can cause stroke-like symptoms. Among these manifestations, the most common are sudden weakness, numbness, confusion, trouble speaking, and loss of balance.
To get a detailed understanding of TIA, it is worth paying attention to the following aspects:
Definition and symptoms

. Start by understanding "

what is TIA

?" and the common manifestations associated with it. They can vary depending on which part of the brain is affected.

Reasons

. Research the leading causes of TIA. They are usually the result of a temporary blockage of the blood vessels that supply the brain. Blood clots, atherosclerosis, or other aspects can cause these blockages.

Risk factors.

Learn about threat aspects that increase the likelihood of a TIA. These can be age, hypertension, smoking, diabetes, and high cholesterol.

Diagnostics

. Understand how TIAs are diagnosed. Doctors often use a medical history, physical exam, and imaging tests to confirm the presence.

Treatment

. Learn about TIA therapy options. Typically, the goal is to address the underlying cause and reduce the menace of future strokes. Medications, routine changes, and sometimes

surgical procedures

may be recommended.

Prognosis and long-term consequences.

It is essential to treat transient ischemic attacks promptly. They can be a warning sign of a more severe stroke in the future.

Prevention.

Learn about precautionary steps you can take to minimize your likelihood of TIA. Routine changes are often recommended: adopting a healthy diet, quitting smoking, and treating chronic diseases.
To learn more about TIA, you can consult a healthcare professional. This information can help you better understand the condition, its treatment, and its implications for your overall health.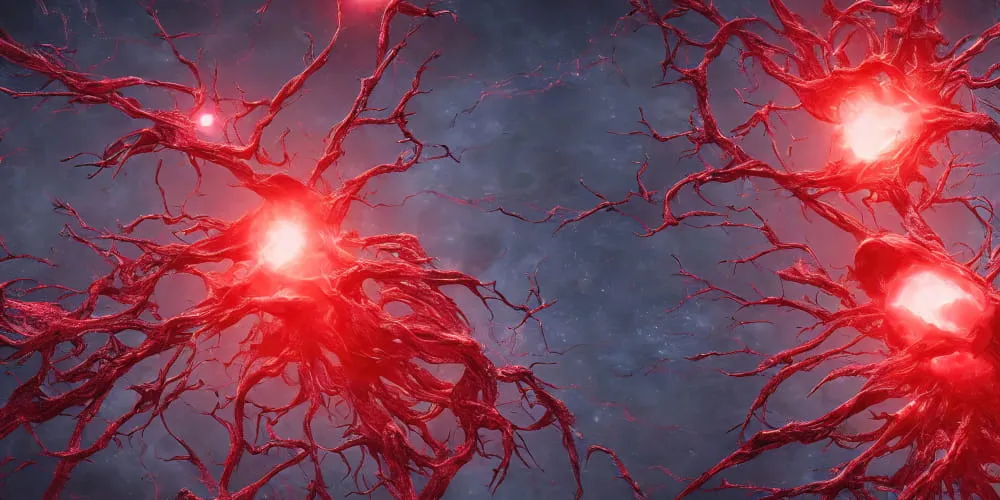 How Long Does TIA Last? The Importance of TIA Duration
A temporary nature characterizes TIAs. They are transient episodes. These episodes usually last a few minutes but sometimes last several hours. Understanding the duration of a Mini-stroke is critical to distinguishing it from a full-blown stroke.
The signs a person experiences relate to the TIA Duration. Signs of a TIA are similar to those of a stroke. Specific manifestations and their duration may vary depending on the affected area.
How long does TIA last? Knowing it is vital for several reasons:
This is crucial in distinguishing them from a stroke. A stroke results in more lasting damage.

Clinical professionals consider TIAs as warning signs of a potential future stroke. Knowing the duration helps healthcare providers assess the urgency of the situation.

The duration of the Mini-stroke may influence the choice of therapy. Some treatments are more effective if they are used soon after symptoms appear. This emphasizes the importance of a quick response.

It is essential to seek medical attention immediately. Clinical professionals will examine to confirm the diagnosis and assess the episode's duration.
Thus, the TIA Duration is a critical factor in the recognition of these neurologic events. It may lead to a faster and more effective medical response.
TIA and Seizure
TIAs and seizures share many features. Both of these phenomena are the result of neurological disorders.
Summarize the relationship between TIA and seizures as follows: 
Both TIAs and seizures can present with manifestations that affect neurological function. In some cases, individuals may coincide or confuse the symptoms. 

Accurate diagnosis in this matter is essential. The treatment of mini-stroke and seizures can differ significantly. Healthcare providers must perform a thorough examination to distinguish between the two conditions.

Certain menace aspects can predispose people to both TIA and seizures. These threat factors may include hypertension, diabetes, and underlying neurological conditions. 

Although it is not common for someone to experience both a Mini-stroke and a seizure at the same time, a person can have a history of both. In such cases, healthcare providers will work to manage each condition appropriately.

The prognosis and therapy of patients with TIA and seizures depend on various factors. These include the causes, severity of signs, and the person's overall health.
Individuals with symptoms suggestive of a TIA or seizure must seek immediate medical attention. The two conditions are similar but often require different treatments. In this case, it is essential to find professional doctors who can help.
Who gets TIA?
Transient ischemic attacks can affect a wide range of people. However, specific demographic aspects may influence who will likely have a TIA. Here's an overview of those at risk:
Age.

TIAs are more common in older people, and the threat increases with age. They are more common among people over 55 years of age.

Sex.

There is a slight gender difference in the occurrence of TIA. Men are more likely to experience Mini-stroke than women.

Hypertension. High blood pressure is a significant menace factor for Mini-stroke and stroke.
Diabetes. People with diabetes are at increased threat because of its effects on blood vessels.
Smoking. Smoking contributes to the narrowing and hardening of the arteries. It increases the threat of TIA.
High cholesterol.

Elevated cholesterol can lead to plaque buildup in the arteries, increasing the risk.

Atrial fibrillation. Irregular heart rhythms can lead to blood clots. They, in turn, can cause TIA.
Family history

. A family history of strokes or TIAs can also increase your threat.

Clinical history. A history of previous TIAs, strokes, or heart disease may increase the menace of having a transient ischemic attack in the future.
Lifestyle.

An unhealthy diet, lack of physical activity, and excessive alcohol consumption can contribute to the risk.

Genetic factors.

In some cases, hereditary diseases may play a role in the threat of TIA.
Understanding "what is TIA?" and these menace factors are critical for healthcare providers and patients. Preventative measures include routine changes and treating underlying health conditions. If you belong to a risk group, monitor your health and seek help quickly.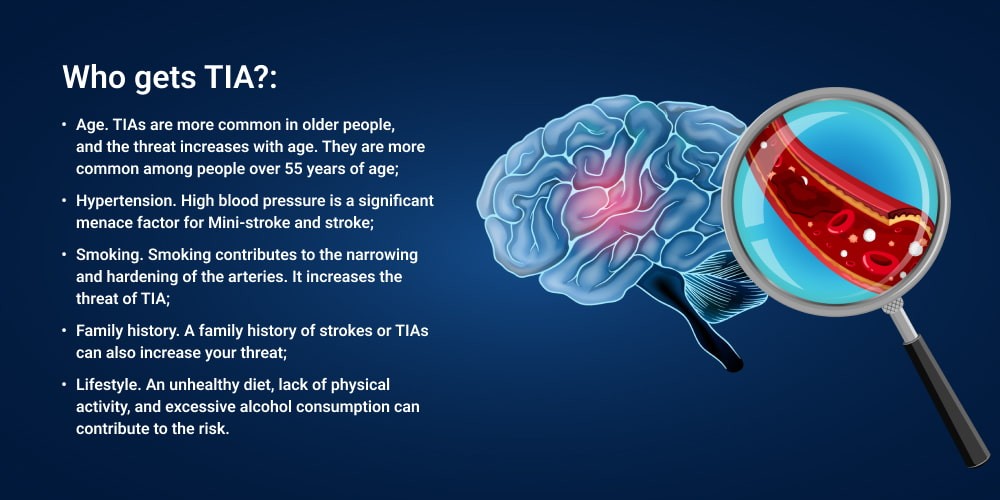 Conclusion
Transient ischemic attacks are temporary disturbances in the blood supply to the brain. They can affect a wide range of people. However, certain demographic and vulnerability elements can increase the likelihood of a Mini-stroke. These include age, sex, risk factors, and a history of stroke or heart disease. Ethnicity, race, lifestyle choices, and genetic elements may also affect TIA menace.
Identifying who is at risk for TIA is essential for early intervention and preventive measures. By addressing menace factors and following a healthy lifestyle, people can reduce their chances of experiencing a mini-stroke. It will also help reduce the risk of future, potentially more severe, strokes. Getting a medical evaluation and listening to clinical advice are essential. This contributes to better long-term neurological health and well-being.
FAQ
What exactly is a Transient Ischemic Attack (TIA)?
A brief episode where the brain experiences a temporary lack of blood flow is often called a "mini-stroke."
How long does a TIA typically last?
TIA can last anywhere from a few minutes to a few hours but often leaves no lasting symptoms.
Are TIA and seizures the same thing?
No, TIA and seizures are distinct medical events, but there can be some overlapping symptoms.
What should I do if I think I've experienced a TIA?
Seek medical attention immediately, even if the symptoms resolve quickly. A TIA can be a warning sign of a future stroke.
Can lifestyle changes help in preventing TIA?
Yes, managing risk factors can help reduce the risk of TIA and stroke. Among these factors are:
high blood pressure, 

quitting smoking,

maintaining a healthy weight.